Despite the rain, a joyful procession of University of Virginia graduates streamed over the marble steps of the Rotunda Saturday morning, buoyed by the cheers of poncho-clad family and friends gathered on the Lawn to celebrate the University's 189th Final Exercises.
Saturday's ceremony honored graduates of the College and Graduate School of Arts & Sciences, the largest of UVA's 11 schools. Students in the University's 10 other schools and the Data Science Institute will receive their degrees in a second ceremony on Sunday.
UVA awarded 3,113 degrees to Arts & Sciences students on Saturday. In total, the University will confer 7,072 degrees, including 4,238 baccalaureate degrees, 2,377 graduate degrees and 457 first professional degrees. Of those graduating with baccalaureate degrees, 103 earned their degrees in three years and five did so in two years. More than 400 of the graduates are the first in their families to earn a college degree.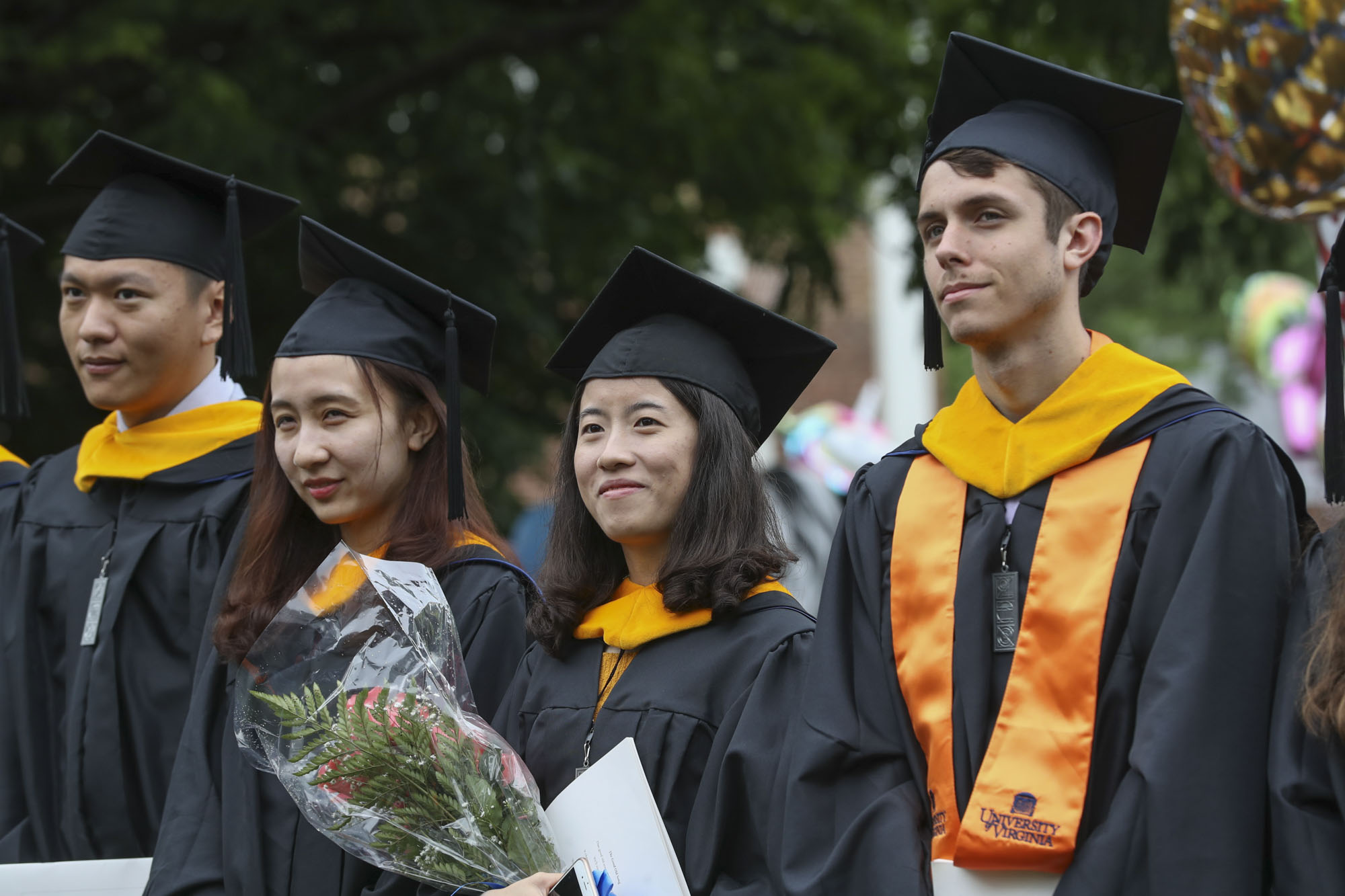 The Lawn began to fill early Saturday morning, as parents like Anna and Roger Brown and their son Justin streamed in to claim their seats. Umbrellas in hand, the Fredericksburg family awaited their graduate, Ramsey Brown, a biology major in the College.
"We are very excited," Anna Brown said.
"Though, I don't think Ramsey really wants to leave," his father joked. "He has loved it here."
Another family, the van der Voorts, said they were having a great day despite the drizzle. Elizabeth and Rachel van der Voort, grandmother and aunt, respectively, to graduate Arrietta van der Voort, were eager to see her process in.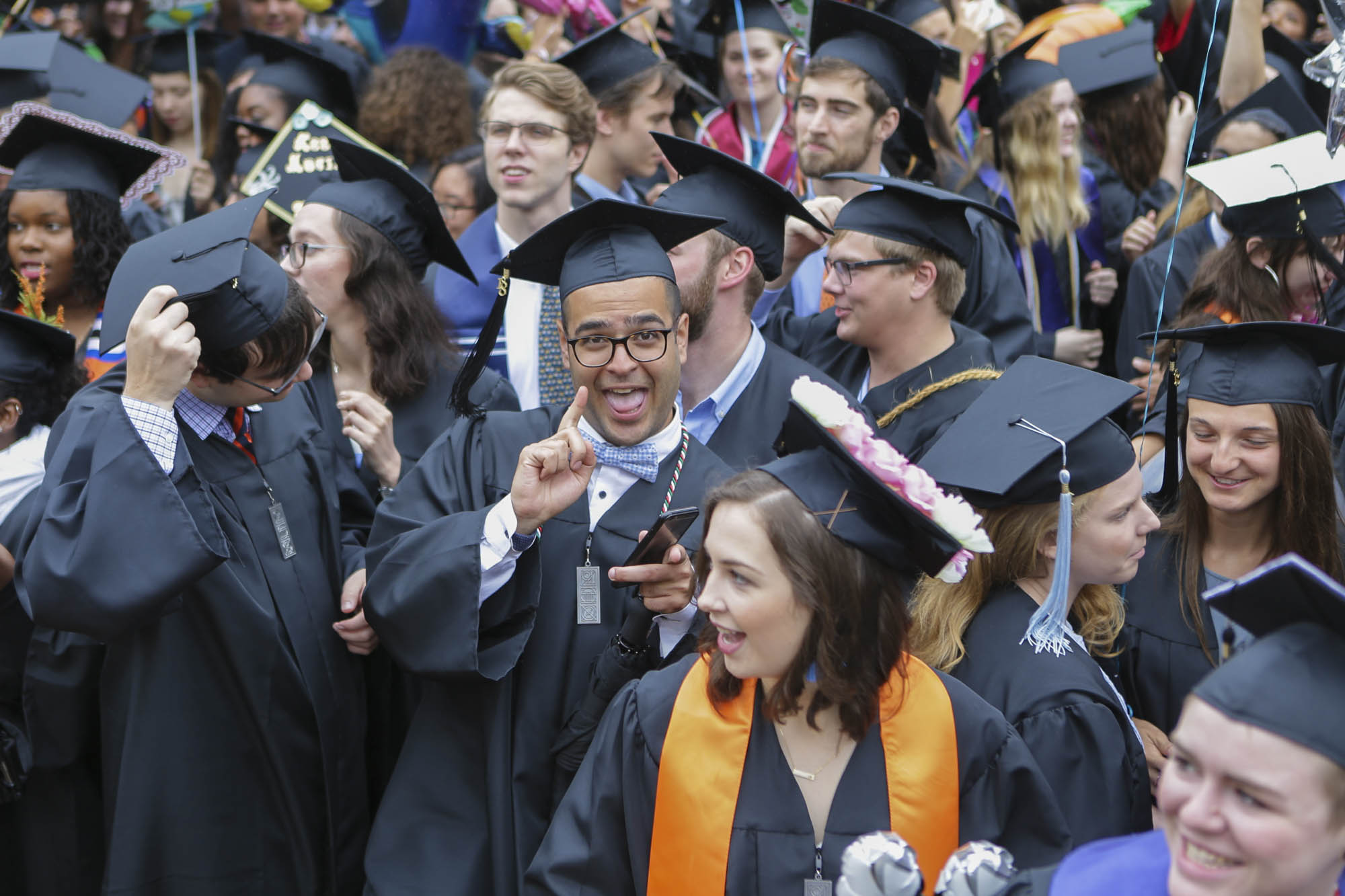 "It's exciting," Rachel van der Voort said. "I think she is very excited about what's next, too."
Arrietta, who studied art history and photography, will be moving to Los Angeles to pursue a career in the arts.
"We are looking forward to having someone to visit out there," grandmother Elizabeth van der Voort said.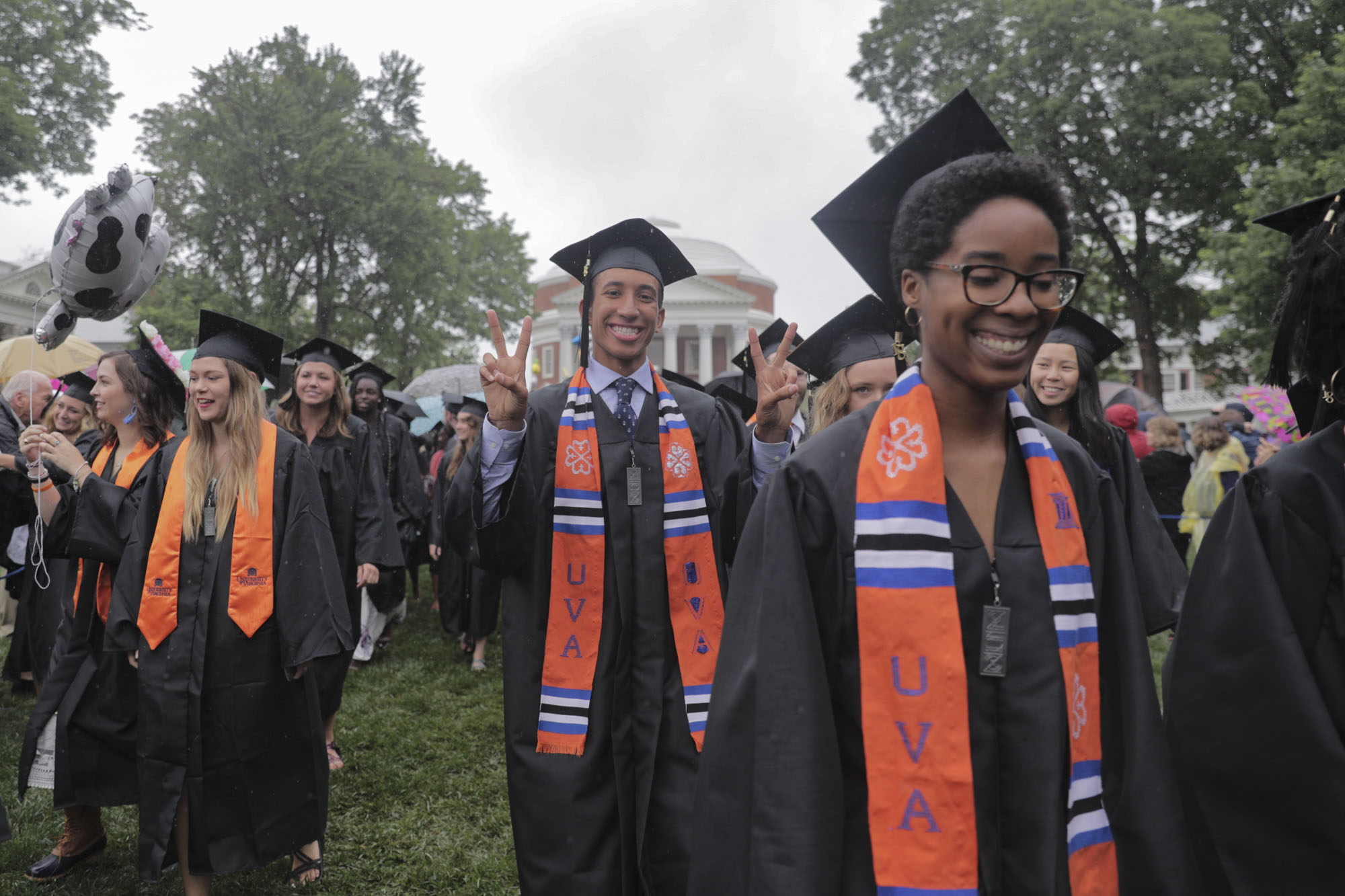 (See more photos and video from Saturday's ceremony.)
As the graduates took their seats, the crowd turned its attention to the blue-and-orange-covered stage in front of Old Cabell Hall. UVA President Teresa A. Sullivan, who is stepping down in July, presided over the ceremony and gave the commencement address, as is traditional for outgoing University presidents. Sullivan will also address graduates on Sunday.
Sullivan, UVA's eighth president and the first woman in the role, has led UVA for eight years. In that time, she has championed programs that limit student debt and enhance financial aid, developed a comprehensive plan addressing generational turnover among faculty members and overseen the establishment of a Strategic Investment Fund that provides significant support for scholarships, research, academic initiatives and health care services without using tuition dollars.
Sullivan also oversaw the restoration of UVA's iconic Rotunda and the launch of the bicentennial commemoration last fall, and created two commissions reexamining the University's past and its role in race relations: the President's Commission on Slavery and the University and the President's Commission on the University in the Age of Segregation.
Introducing the president to the crowd, University Rector Frank M. "Rusty" Conner III said Sullivan's achievements have positioned the University for success as it enters its third century. (Read the full text of Conner's speech.)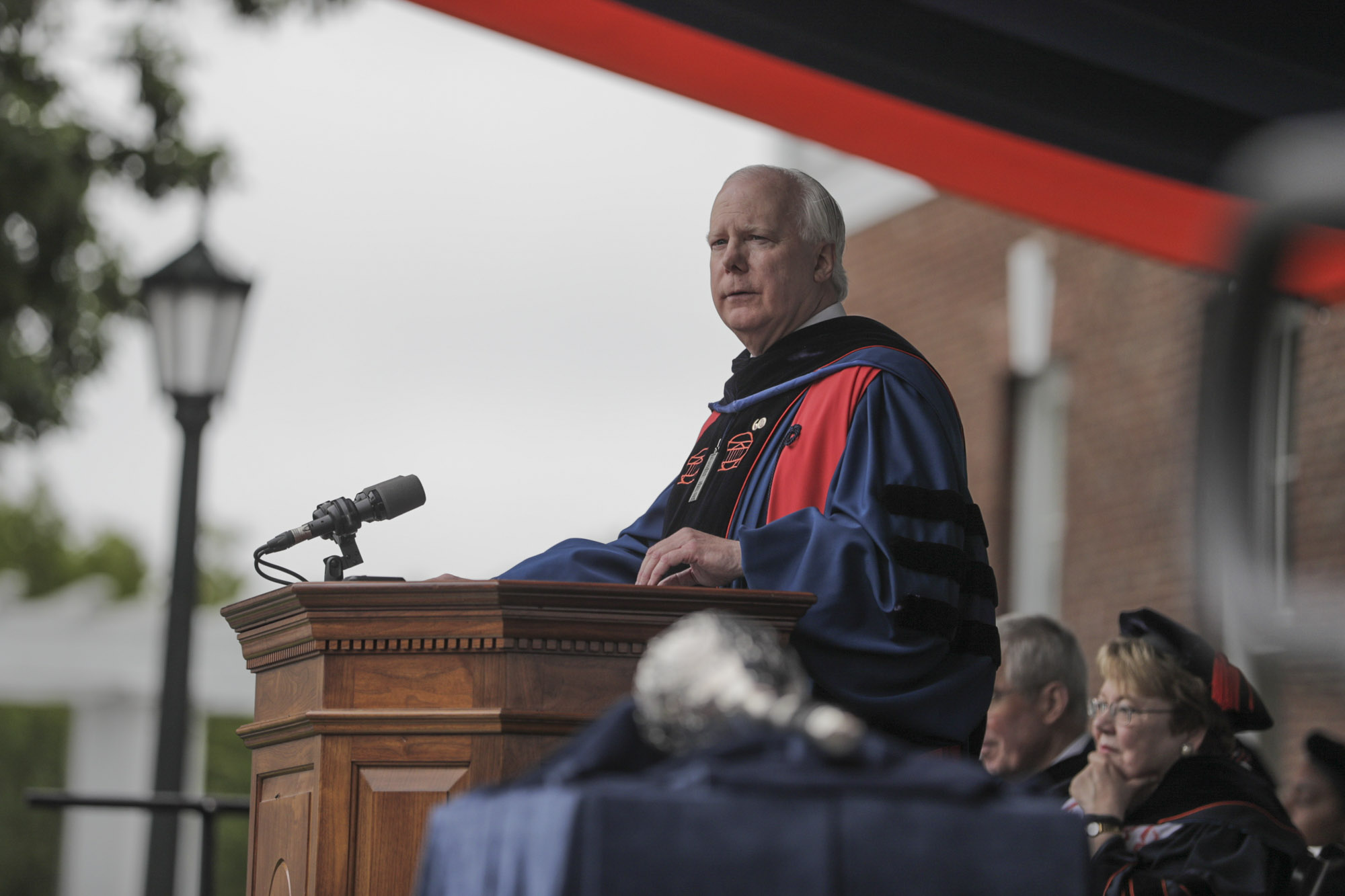 University Rector Frank M. "Rusty" Conner III
"She has patiently gone about her work as one would make a quilt – stitch by stitch, panel by panel – without the full impact of her effort being realized until her work's completion," Conner said. "In looking back, the overall effort is cohesive, elegant and impressive."
After taking a moment to look out over the sea of graduates, the president began her remarks with a story that took place far from UVA – about British explorer Sir Ernest Shackleton's famous expedition in Antarctica. Shackleton and his men survived a shipwreck, spent months camping on the ice and finally survived by navigating their lifeboats to an inhabited island.
Shackleton's crew displayed extraordinary resilience, Sullivan said. It's a trait, she told the graduates, they will need in spades throughout their postgraduate lives.
"You have acquired deep knowledge and training at UVA, but knowledge and training are not enough," she said. "You will need to be resilient, because you will face challenges in your own journey."
Sullivan noted that the Class of 2018 had already displayed exceptional resilience throughout its time at UVA. This year's class persevered through a number of challenging, tragic situations, ranging from the disappearance and death of then-second-year student Hannah Graham during their first year in 2014 to the white supremacist attacks on Grounds at the start of their fourth year.
"With each situation, you faced glare of the national spotlight," Sullivan said. "Each time, you showed your strength and your resilience."
The president closed her speech with a poem from Walt Whitman's "Leaves of Grass," called "Poets to Come." In it, Whitman addresses the next generation of poets and scholars, calling them "a new brood, native, athletic, continental, greater than before known." At the end of the poem, Whitman notes that his own work is mostly done and tells the young poets he is "expecting the main things from you."
Looking out over the sea of graduates during her last Final Exercises, Sullivan echoed the famous poet's sentiment.
"We have helped you develop your ability. And now we step aside as you step forward," she said. "We watch you go forth – expecting the main things from you."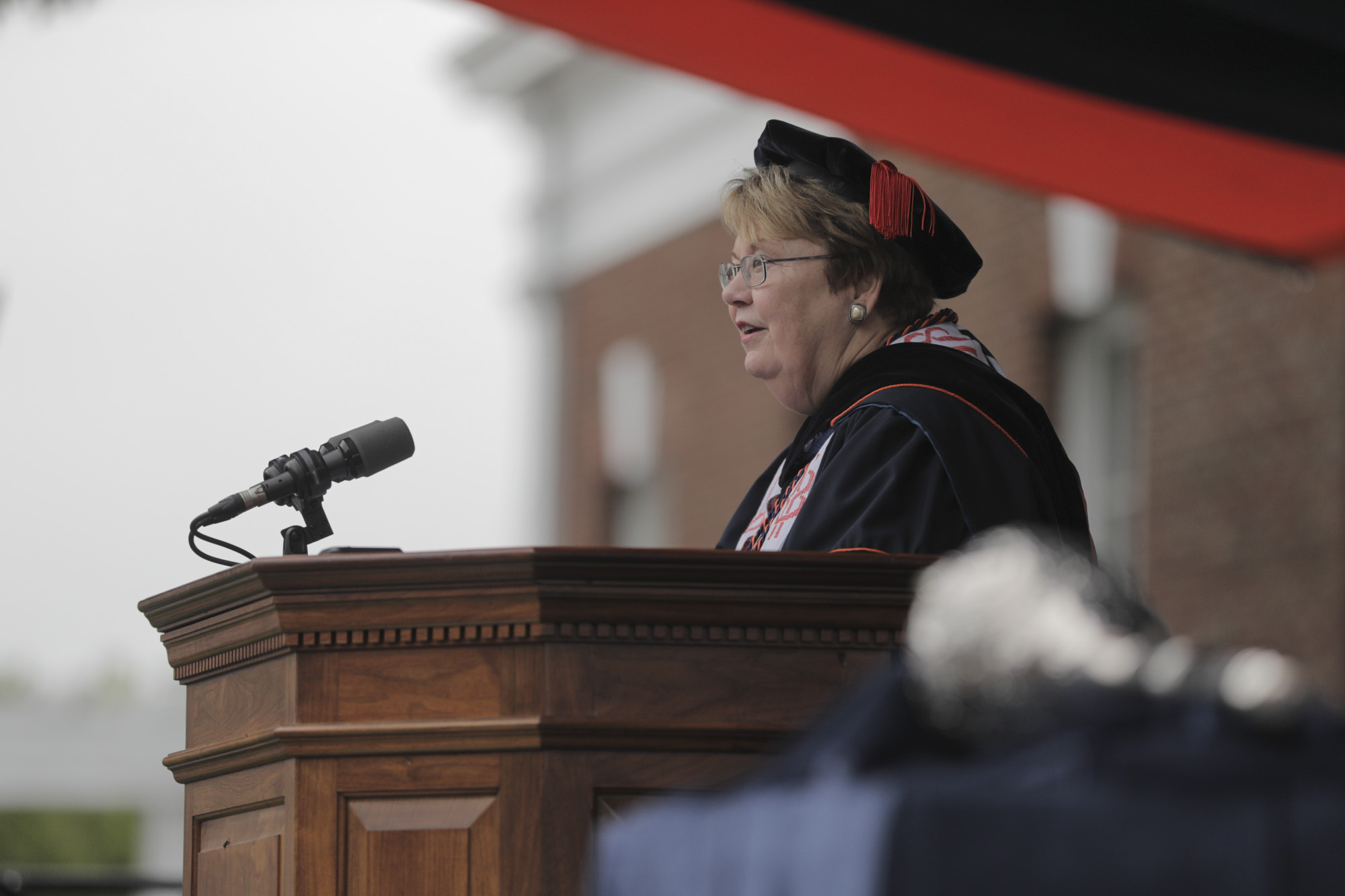 President Teresa A. Sullivan addressed graduates Saturday. (Photo by Sanjay Suchak, University Communications)
More than that, Sullivan said, she expects "spectacular" things from this class.
"We expect you to solve the difficult problems that have confounded us in our time; to find the disease cures that have eluded us; to develop solutions to wicked environmental problems; to seek reason and cooperation in our nation's public discourse, without stifling dissent and disagreement; to seek justice without forgetting mercy," she said.
"As you take your degrees today, you embody our greatest hopes," Sullivan concluded. "We have great faith in our future, because we have great faith in you." 
Before they marched into that future, however, the graduates had one more collective task as UVA students: a rendition of the "Good Ol' Song." It was as loud and as joyful a chorus as any heard on the Lawn.
Media Contact
Article Information
May 19, 2018
/content/despite-drizzle-joy-abounds-first-graduation-ceremony-weekend