It was a Friday morning, a day before the University of Virginia football team's home victory over Old Dominion University, and wide receiver Ben Hogg was leaning over 2-year-old Eliza Detweiler's bed at the UVA Children's Hospital.
Hogg wasn't saying a whole lot. And that was totally fine. Just his presence in the room where the adorable blonde-haired child lay was making a difference.
Maybe not to Eliza, who was just starting an eight-month cycle of chemotherapy. But certainly to her parents, as they, for a few minutes, were able to think about something other than their daughter's health.
Hogg was one of about a dozen Cavalier football players visiting the Detweilers and other families, part of a weekend home game ritual.
The Detweilers broke into wide smiles as soon as Hogg and a couple of his hulking teammates, dressed in UVA apparel, walked into the room.
"We all went to Liberty," said Tim Detweiler, Eliza's father, "but my wife's sister went to UVA, so we're all fans of UVA."
Hogg, coincidentally, is a Lynchburg native.
After tearing the anterior cruciate ligament in his right knee three times, he's now a sixth-year senior. Granted a rare sixth season of eligibility by the NCAA, is hoping to make it back on to the field from his latest injury in a few weeks.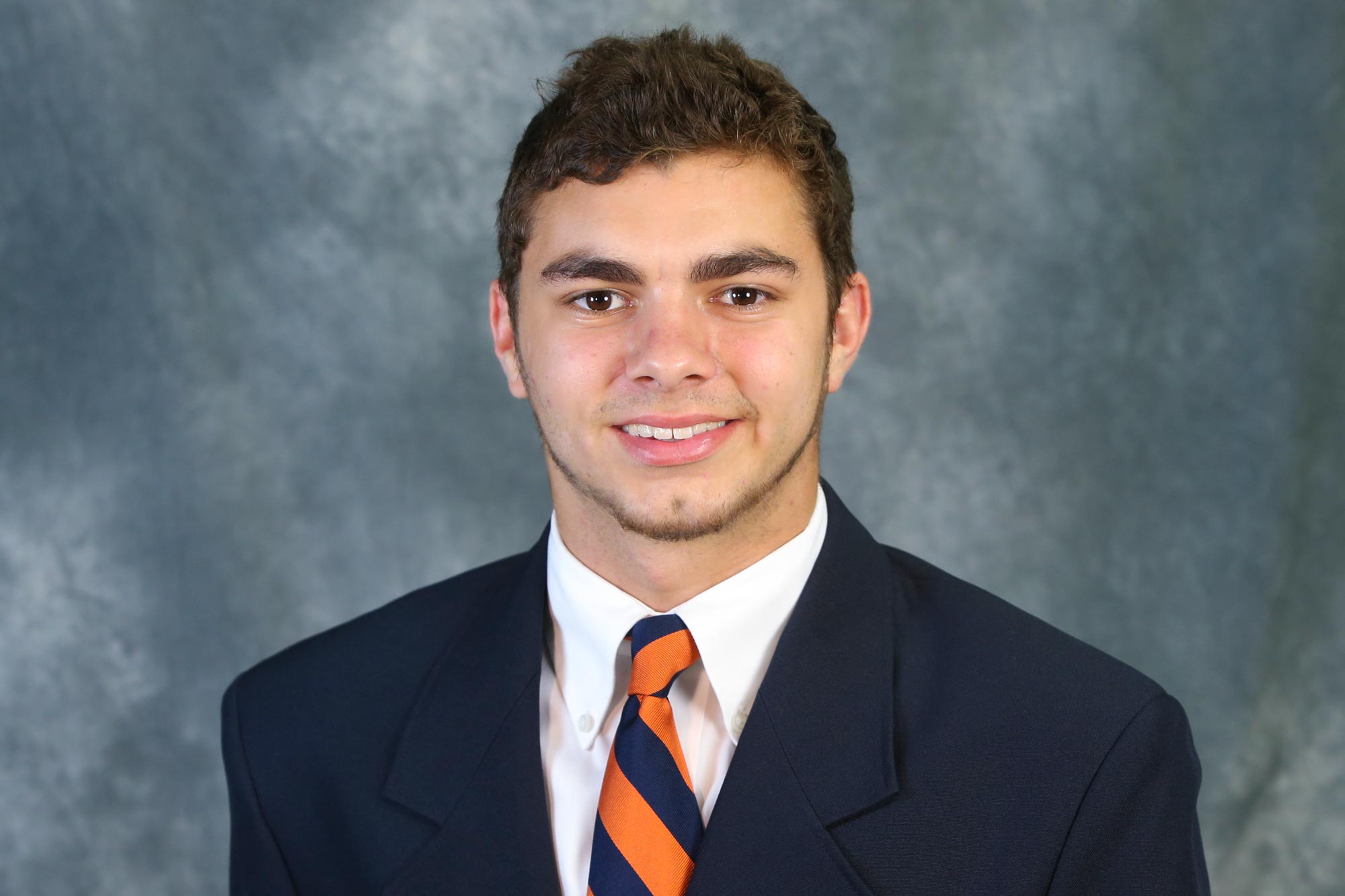 UVA wide receiver Ben Hogg hopes to make it back onto the field in few weeks. (Photo courtesy UVA Athletics)
But whether or not he ever plays another meaningful down for the Hoos, Hogg has left his mark – not just on the UVA program, but on the Charlottesville community. From frequent visits to the Boys & Girls Clubs to regular mentoring and tutoring of kids at local elementary schools, Hogg has done it all.
"It's hard to put Ben Hogg into words," said UVA head coach Bronco Mendenhall. "There's no one more compassionate, more empathetic or more driven. What brings him satisfaction is seeing other people happy and other people thrive.
"The joy that he is able to help create – that's what fills his cup. He loves to see others reach their potential. It seems almost daily that I receive texts that [say], 'Ben was here doing this' or 'Ben was here doing that.' And none of these things are things he does to publicize himself. Ben builds others. That's kind of what is at his core."
Hogg's father, Robert, was born in England. He came to the United States for college and wound up meeting Hogg's mother, Susan, in grad school at Miami of Ohio University.
Hogg said his mom, who is a career coach at a community college, and father, who works at an engineering company, have been his biggest role models.
One of four children, Hogg said his parents instilled a "value system" and "moral compass" that was foundational.
"My parents were always about doing for others," Hogg said, "and being that person who would rather do something for other people rather than themselves.
"That's been big."
Hogg calls volunteer work his "fuel."
"When you leave activities and service events like this," said Hogg, speaking in the UVA Children's Hospital lobby, "you feel so ready to attack the day, be a better person and be grateful for the things we have. That's really what keeps me going.
"I think as athletes at UVA, we have a chance to be on a big platform and give back. I think that's really important."
Many players probably would have called it quits after three serious knee injuries.
However, for Hogg, it was important to "keep fighting."
"I wanted to show guys that there is a bigger purpose – that there is nothing that can break me," said Hogg, who had an 18-yard catch in last season's Belk Bowl win over the University of South Carolina, "and that there is always an option to keep going."
As an undergraduate, Hogg studied psychology. Last spring, he earned his master's in higher education from UVA's Curry School of Education and Human Development. This year, he's taking doctoral-level higher-education classes.
After his football career is over, Hogg hopes to go into coaching, teaching or counseling.
"I'd like to give back some of the stuff that's been given to me," he said.
UVA All-American cornerback Bryce Hall said the word "resilient" best describes Hogg.
"He's just a dude who has high energy and is one of the toughest guys I ever met before," Hall said. "And he's a leader on this team. He kind of leads in the shadows, but is someone who is very good at getting things done. He's goal-oriented and has helped me a lot with my organization, because when I first got here, I was literally all over the place. He's really helped me in my development process in terms of my goal-setting process and being tough when adversity comes."
"The joy that he is able to help create – that's what fills his cup. Ben builds others. That's kind of what is at his core."

- Bronco Mendenhall
UVA head football coach
Of course, when Hogg steps foot in the hospital every Friday before a home game, he knows the adversity he has faced pales in comparison to what the people he meets are going through.
"It's been a humbling experience and given some perspective about what to be grateful for," he said.
That's one of the main ideas behind everything service-related that the UVA football does.
"Even though games are viewed as important and there's all this attention on them," Mendenhall said, "it's important to recognize that other people are going through unique challenges."
The Detweilers certainly fit that description.
It was about a month ago that they learned that Eliza had Wilms tumor, a rare kidney cancer that primarily affects children.
The Detweilers say the prognosis for Eliza is good, though she still has eight months of chemo ahead of her.
"They said there's only about 500 cases in the U.S. every year," Tim Detweiler said. "She had the tumor and the kidney removed, and they said they're pretty sure they got everything, but they're doing the chemotherapy to make sure they got all the bad cells out."
"It hasn't spread anywhere," Brittney Detweiler said.
It was obvious that the Detweilers – who also have a 4-year-old son and another child on the way – appreciated the visit from Hogg and his teammates.
"It's really nice," Brittney Detweiler said, "that they come by and do this."
Article Information
September 23, 2019
/content/despite-his-own-challenges-football-player-gains-fuel-helping-others