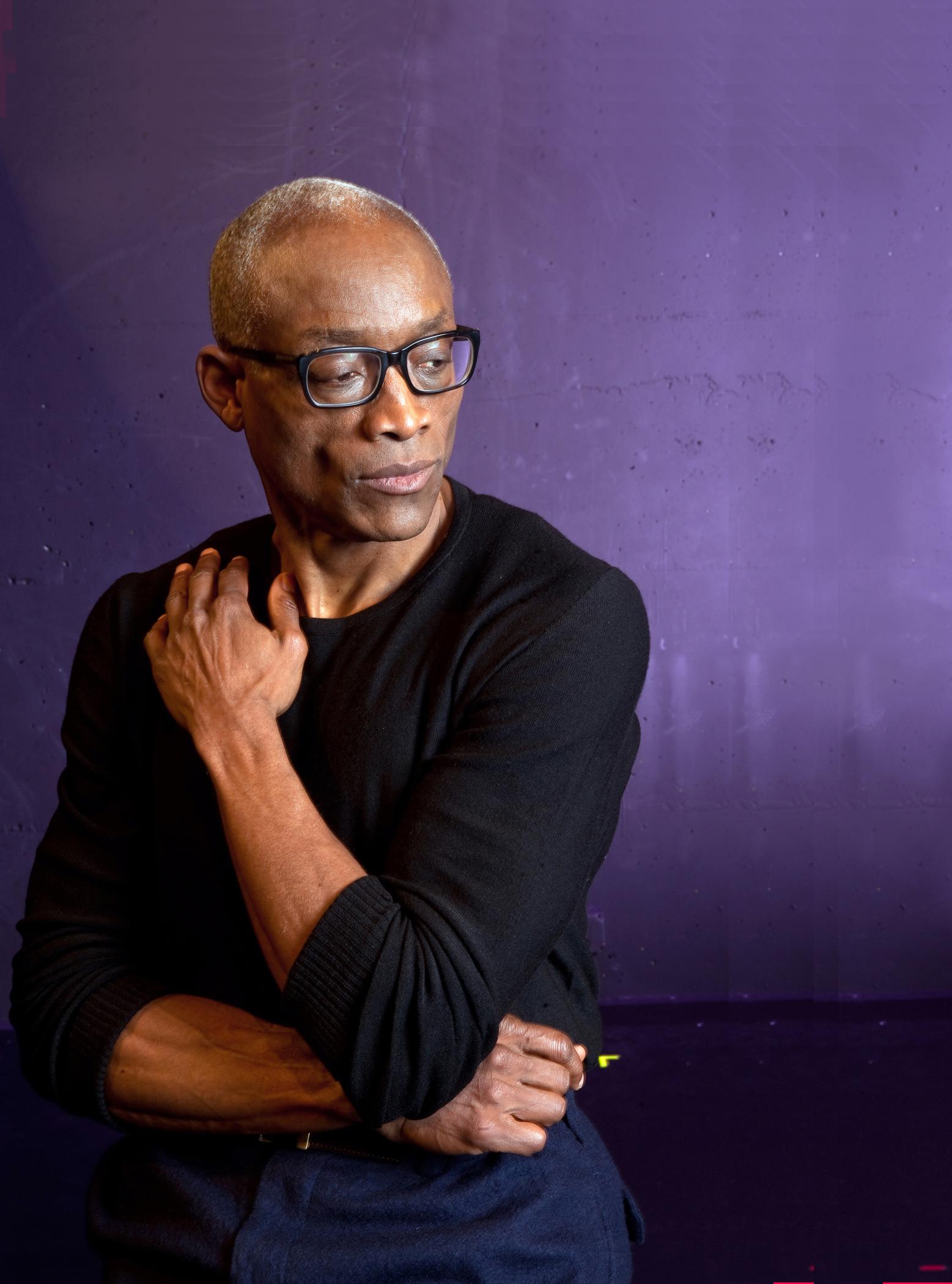 April 15, 2011 — 2010 Kennedy Center Honors recipient and Tony Award winner Bill T. Jones and the Bill T. Jones/Arnie Zane Dance Company will return to the University of Virginia for a weeklong residency April 18-22.
Jones and his company will conduct research for a new work, tentatively titled "Story/Time," in which Jones's inventive choreography will accompany a selection of short stories drawn from his life. U.Va. is a development site of the project and Ted Coffey, a music professor in U.Va.'s College of Arts & Sciences, will participate in the research conducted on Grounds. The work is inspired by avant-garde artist John Cage's "Indeterminacy," a performance work wherein Cage read 90 short stories over 90 minutes while an accompanying musical score was performed at chance intervals.
During its visit, the company also will seek to reconstruct the classic Jones work, "D-Man in the Waters," a celebration of life and the resiliency of the human spirit, which the company will perform when they return to Charlottesville in November.
Throughout the residency, Jones will share his creative process with the U.Va. and Charlottesville communities. Small groups of invited students, faculty and community members will attend company rehearsals of both "Story/Time" and "D-Man in the Waters," and a rehearsal of "Story/Time" will be available for all to view online on April 20, from 4 to 5 p.m. It will be video-streamed on the University's HooVision monitors across Grounds and online.
Janet Wong, associate artistic director of the Bill T. Jones/Arnie Zane Dance Company, will lead a master class in modern dance technique – open to U.Va. students and community members – on April 20, from 5:30 to 7:30 p.m., in Memorial Gym. The event is first-come, first-served and is free to U.Va. students. There is a $7 fee for community members.
The company will also teach four classes in the Drama Department's dance program and company dancers will interact with U.Va. dance students in informal settings throughout the residency. Jones will participate in studio design reviews in the School of Architecture and the fifth- and fourth-year Distinguished Majors Program thesis reviews in the McIntire Department of Art. Jones will also participate in drama associate professor Marianne Kubick's movement class and architecture lecturer George Sampson's arts administration class.
"The weeklong visit of Bill T. Jones and the Bill T. Jones/Arnie Zane Dance Company coincides with a vibrant time at the University when many end-of-year exhibitions, performances and critiques highlight student exploration of creativity," Vice Provost for the Arts Elizabeth Hutton Turner said. "It is also a time when Bill's own research into space and movement and narrative can enter the life of the University in a very meaningful way."
The April visit is the second of a three-part extended residency this year. Earlier this year, Jones participated in "Design Thinking Mashup," a multi-disciplinary event at the School of Architecture. The visit provided time for Jones and his collaborators to explore the Grounds for inspiration and ideas for the new piece in development. They will return in November for another week's residency prior to the Charlottesville performance of "D-Man in the Waters."
In 2008, Jones and the company were in residence at U.Va. where they collaborated with students and community members in the creation of "100 Migrations," a site-specific event that explored the legacy of Abraham Lincoln in honor of his bicentennial.
The Bill T. Jones/Arnie Zane Dance Company events are sponsored by the Office of the Vice Provost for the Arts, U.Va. Arts Council and the Office of the Vice President for Research.
"Story/Time" is co-commissioned by Peak Performances at Montclair State University, Walker Art Center and Arizona State University's Gammage Auditorium. The work will be developed in residence at those locations, and at Bard College and U.Va.
For information about the residency, click here or contact Lindsey Turner at BTJatUVA@gmail.com.
— By Jane Ford