Linking everything from the boardroom to the classroom to the boiler room, the University of Virginia has unveiled a comprehensive Sustainability Plan, encompassing specific short- and long-term goals.
Announced Wednesday during the Earth Week Expo at Newcomb Hall, the plan involves engagement, increasing sustainability awareness on and off Grounds; stewardship, reducing the environmental impact of University operations; and discovery, encouraging sustainability research and scholarship.
"At UVA, we want to create policies and practices that create positive change, both on Grounds and beyond," University President Teresa A. Sullivan said. "We can set goals to minimize our environmental impact and also to protect and preserve the environment through education and research initiatives. From the classroom to the laboratory, our students, faculty and staff are leading a dialogue about sustainability and developing solutions that will change the way we interact with the environment."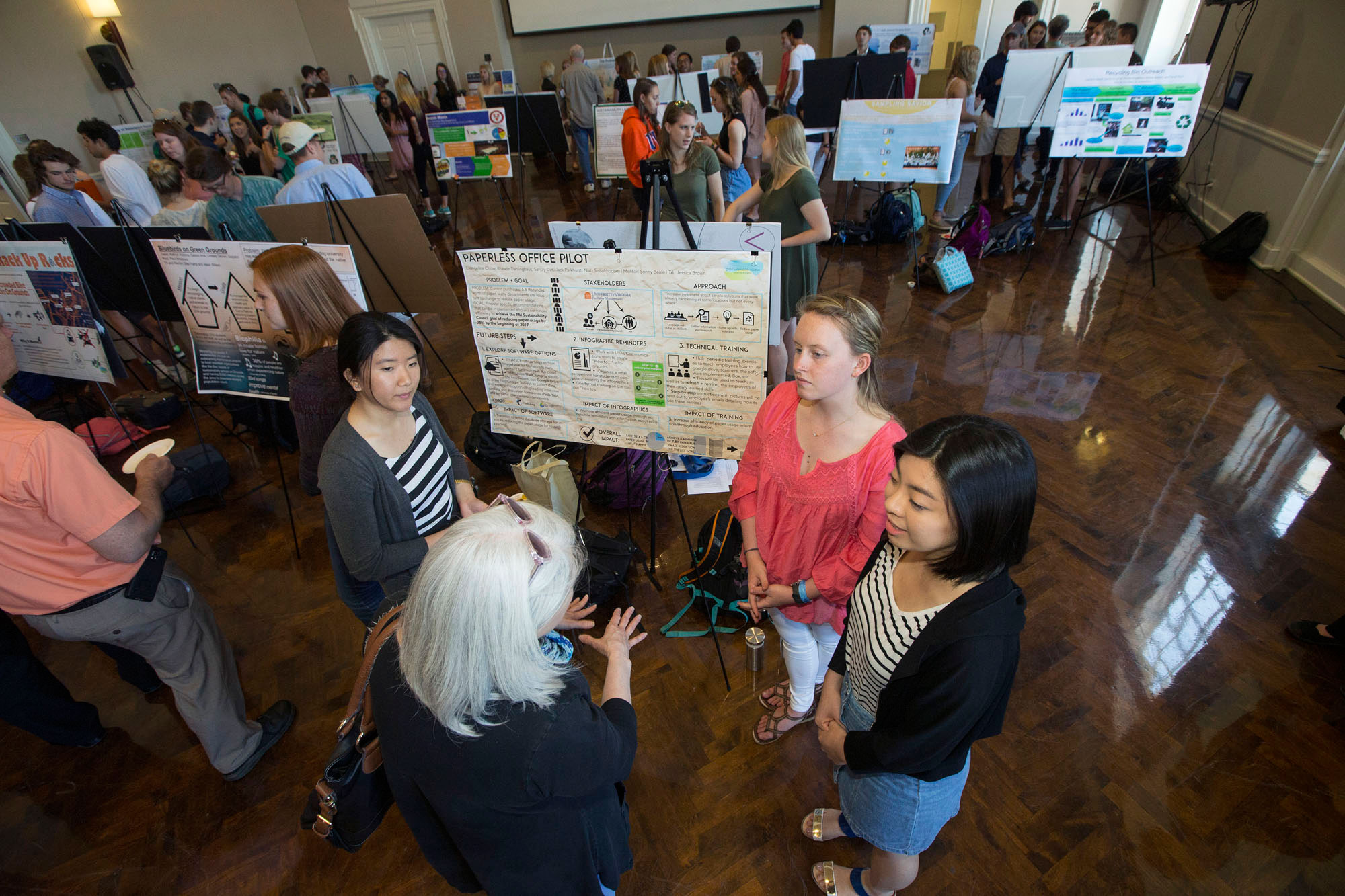 "This is a road map that has been formalized with a lot of input," said Mark White, an associate professor in the McIntire School of Commerce and co-chair of the University Committee on Sustainability, which devised the plan. "It's a five-year plan with milestones."
Included in the milestones UVA aims to reach are commitments to reduce:
greenhouse gas emissions 25 percent below 2009 levels by 2025;
energy use in University buildings by 20 percent below 2010 levels by 2020;
reactive nitrogen losses to the environment 25 percent below 2010 levels by 2020;
potable water use 25 percent below 2010 levels by 2035;
and the total tonnage of waste generated at UVA 50 percent below 2014 amounts by 2035.
The plan incorporates social, environmental and economic sustainability considerations into its strategic initiatives. It calls for making purchasing practices more environmentally responsible, increasing the efficient use of buildings and lands to reduce the need for new construction, and enhancing and expanding the number of sustainable sites and buildings.
The plan also seeks to annually increase the percentage of sustainably sourced food and beverages available on Grounds, as well as to reduce food waste and energy and water usage in dining operations.
While establishing targeted actions, the plan remains flexible to incorporate improved technology toward meeting its goals.
"We want to develop innovative solutions that will have a beneficial impact on the University and the global community," Sullivan said. "UVA is fortunate to have faculty, staff, students and alumni who share this commitment."
Andrea Trimble, sustainability director in UVA's Office for Sustainability, said, "Successful implementation of the plan will require significant collaboration and integration across the University, at all levels. We will work collaboratively to continually evaluate, refine and continue to develop both goals as well as strategies to enable and ensure continual progress."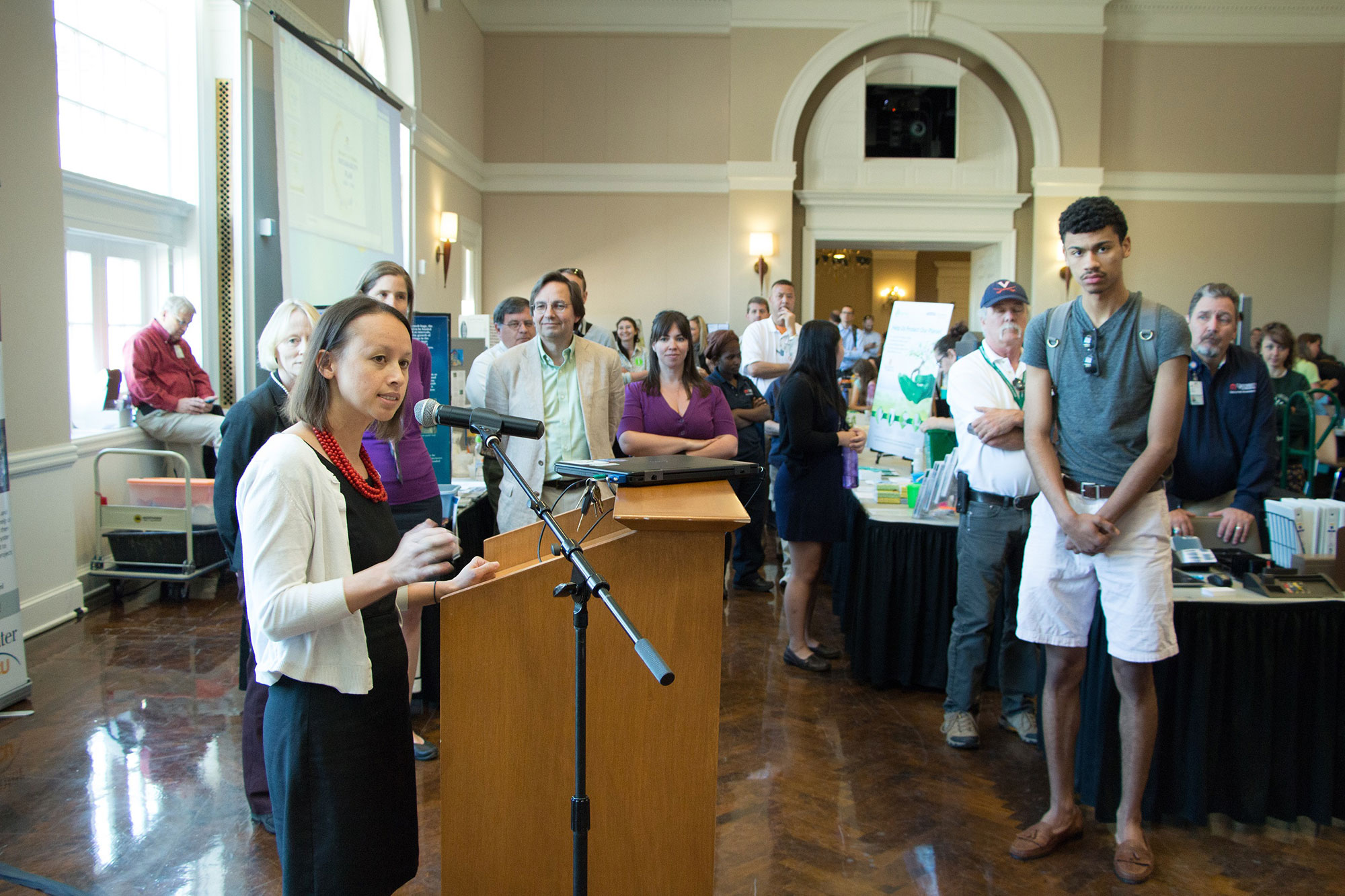 Cheryl Gomez, director of operations for Facilities Management and a co-chair of the University's Committee on Sustainability, said the savings could be significant. "When you are not using energy or water or not throwing things out, you are saving money," Gomez said. "The goals align with helping the environment and with savings for the University.
"This plan is a significant piece of work," she said. "It does focus on operations, such as water and energy, but equally important, like the other two legs in a three-legged stool, are the teaching and research and the civic engagement parts."White stressed the curricular elements of the plan, saying it is important to get students excited about sustainability.
"Teaching and research are important elements in this," White said. "We need additional classes and more teachers for interdisciplinary research."
He pointed to a cluster of students in the Newcomb Hall Ballroom standing next to posters of their sustainability projects, which included proposals for paperless offices, offering food samples in the dining halls to reduce food waste and raising awareness of water use in the residence halls.
Noting that the University created a sustainability minor in 2011, he said, "A few years ago those students weren't here. These students are presenting projects from a global sustainability class. They will go into other classes and bring their enthusiasm with them."
The Sustainability Plan is the culmination of more than a year of work, representing the input of more than 100 students, staff and faculty working through committees, subcommittees, task forces and working groups. It builds upon the University's existing goals, laid out in the 2011-13 Board of Visitors Sustainability Commitment, initiatives and accomplishments the board backed in order to continue to advance sustainability in a manner closely aligned with the University's strategic Cornerstone Plan. 
"Although the University of Virginia has a long tradition of environmental stewardship, much work remains to be done," Gomez said. "In the past five years, the University of Virginia has seen an unprecedented growth in interest in sustainability by its faculty, students, practitioners and alumni."
White agreed. "Increasingly, they see climate change as one of the defining challenges of the 21st century and are advocating for more opportunities on Grounds to learn, create and translate knowledge, incorporate sustainability practices and engage in effecting positive environmental and social change," he said. "Globally, the issue of climate change has taken on a mounting sense of urgency as world leaders are increasingly concerned about its long-term impacts on coastal and infrastructure resiliency, food security, water scarcity, political stability and environmental and economic health. In this context, the University of Virginia has a great opportunity as well as a great responsibility to respond."
Article Information
April 21, 2016
/content/earth-day-uva-spotlights-new-comprehensive-sustainability-plan