Bronco Mendenhall announced on Dec. 2 that he would step down as the University of Virginia's head coach after his team's bowl game this month, a decision that stunned the college football world.
Little more than a week passed before UVA landed Mendenhall's successor. Still, it was an unsettling period for everyone associated with the Cavaliers' program.
"It felt like a month," quarterback Brennan Armstrong said Monday.
The anxiety started to fade with Friday's announcement that Clemson offensive coordinator Tony Elliott had been hired. By the end of Elliott's introductory press conference Monday afternoon, held next to the George Welsh Indoor Practice Facility, optimism prevailed among the UVA football family.
"I love the move," said wide receiver Lavel Davis Jr., who grew up in South Carolina and was familiar with Elliott's accomplishments at Clemson. "I feel like the future is really bright for Virginia."
Armstrong said: "We've been hanging, just not knowing what was going to be solid and what wasn't going to be solid. So with him here now, we know we have him, and we trust him with what he wants to do with the program."
The Wahoos are preparing to meet Southern Methodist University in the Wasabi Fenway Bowl, Dec. 29 in Boston, and Mendenhall and his staff will coach them in that game. Elliott met with UVA's players Sunday evening to introduce himself and lay out his vision for the program.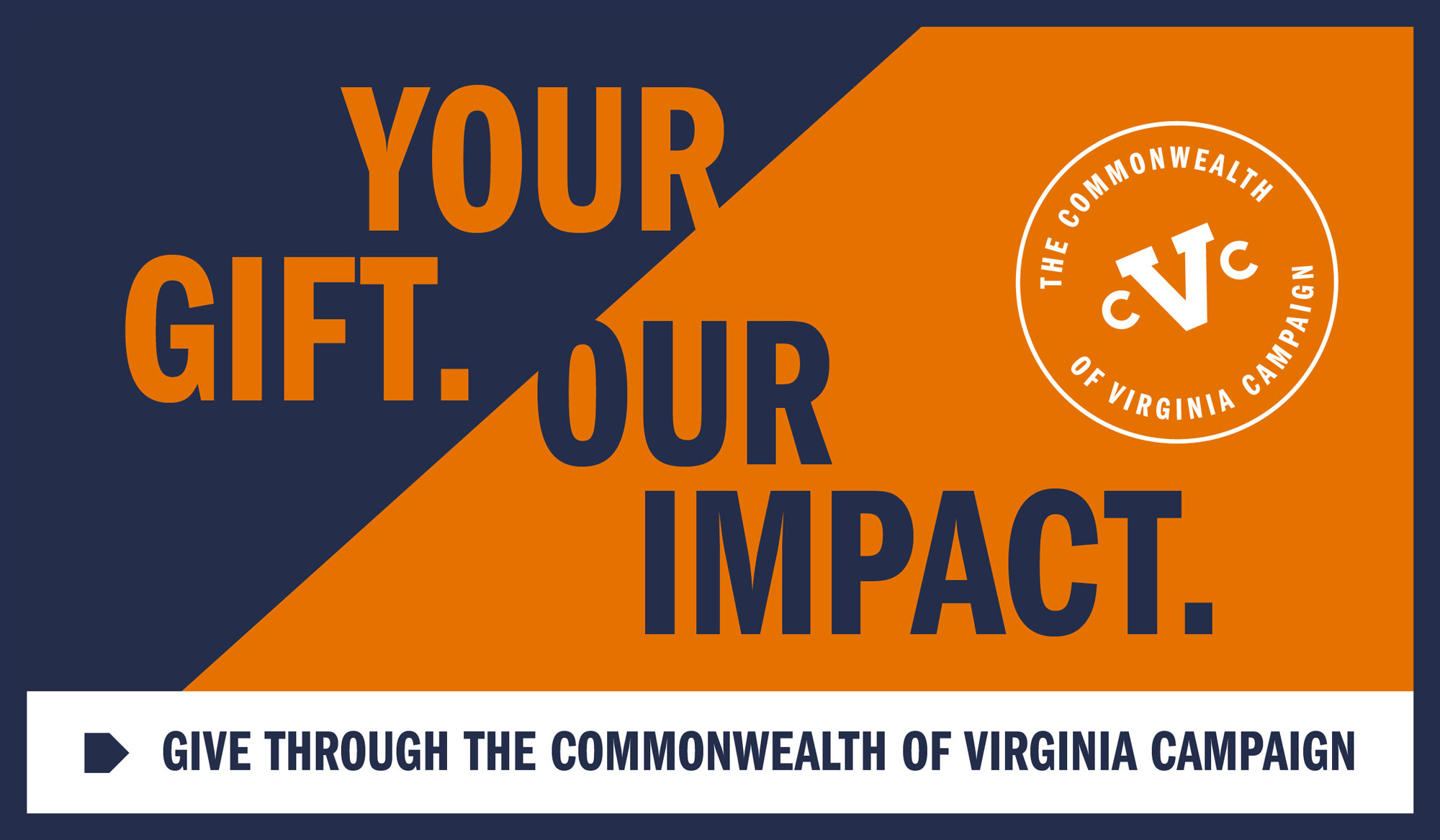 "Everyone looked at it as a positive thing," linebacker Nick Jackson said. "We saw the coach, he gave us his alignment and gave us his vision for the program and talked us through everything, and we were excited."
Elliott comes to UVA after 11 seasons as an assistant on head coach Dabo Swinney's staff at Clemson, which won two national titles during that span. Elliott was the Tigers' co-offensive coordinator for seven seasons before handling the job himself this year, when he was also assistant head coach.
"I have patiently waited for this opportunity, and I'm ready," Elliott said. "Over the past 11 years, I've seen the establishment of a championship culture, what it looks like, and I'm prepared for this moment.
"I chose UVA because I wanted to lead a program that was partnered with a university that had world-class academics. I wanted to be able to recruit the best and the brightest student-athletes … There is no better place for me than UVA, and there is no better time than now."
UVA's president, Jim Ryan, and its athletics director, Carla Williams, spoke before Elliott at the press conference.
"It's not always the case that I believe headlines," Ryan said, "but in this case I saw a headline that said Tony is the 'perfect fit' for UVA, and I believe that to be true. … The reason I believe Tony is a perfect fit for UVA is because of his values, because of his track record, and because of his life experience. His life story is one of resilience and of overcoming obstacles. It's a life guided by faith and by a sense of purpose. It's a life story of success, and it's a life story that is a powerful testament to the ability of education to transform lives."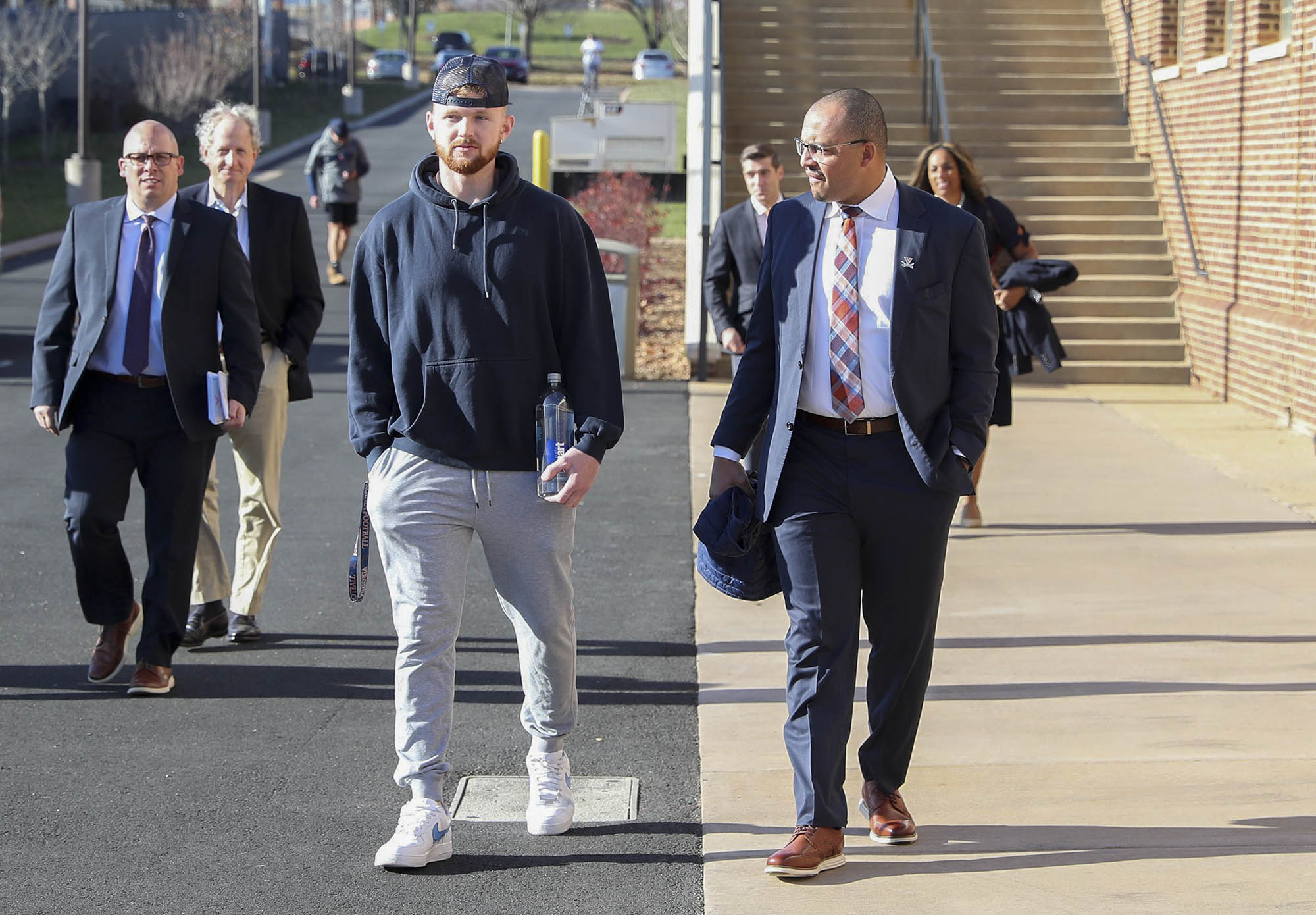 Williams said of Elliott: "Humble, hardworking, intellectually curious, a passionate educator, a gifted teacher and coach, a person of integrity and high character, innovative, analytical, genuine, competitive, loves the young men in his program, committed to developing champion men, role model, ambassador, champion, winner. These are just a few of the reasons Coach Tony Elliott is perfect for the University of Virginia."
Dozens of former UVA players, spanning multiple generations, attended the press conference. Elliott spoke to and took photos with the group afterward.
"I was ready to go play for him," said Chris Long, who spent 11 seasons in the NFL after earning All-America honors as a UVA defensive end. "Just the little things that are obviously important to him, they go a long way. He stood up there, shook everybody's hand, told us how important it was going to be to have our involvement and support, and I believe him.
"I've had a few coaches and former players hit me up talking him up, Clemson guys and guys that I respect. In football … I don't have to know Tony Elliott. If I know a guy and trust a guy that trusts him and knows him and loves him, that's good enough for me. That's how important your reputation is in football, and he's got a great reputation."
When the search for Mendenhall's successor began, some former players lobbied for the job to go to Anthony Poindexter, a Pennsylvania State University assistant coach who was an All-America safety at UVA. Poindexter decided to stay at Penn State, and the alumni are rallying behind Elliott, said Ahmad Hawkins, who played wide receiver and defensive back for the Cavaliers.
"I don't think it'll be an issue at all," said Hawkins, who lives in Charlottesville and supports the program in variety of roles. "It just took time to process, because Dex is so respected and loved, and I think Coach Elliott understands that as well. But once he was named head coach, I asked all those guys if they could be here in town and show their support, because it means a lot to somebody that's new."
Like his fellow alumni, Hawkins loved what he saw and heard from Elliott at the press conference.
"He's genuine," Hawkins said. "I've got a used-car-salesman radar, and it never went off."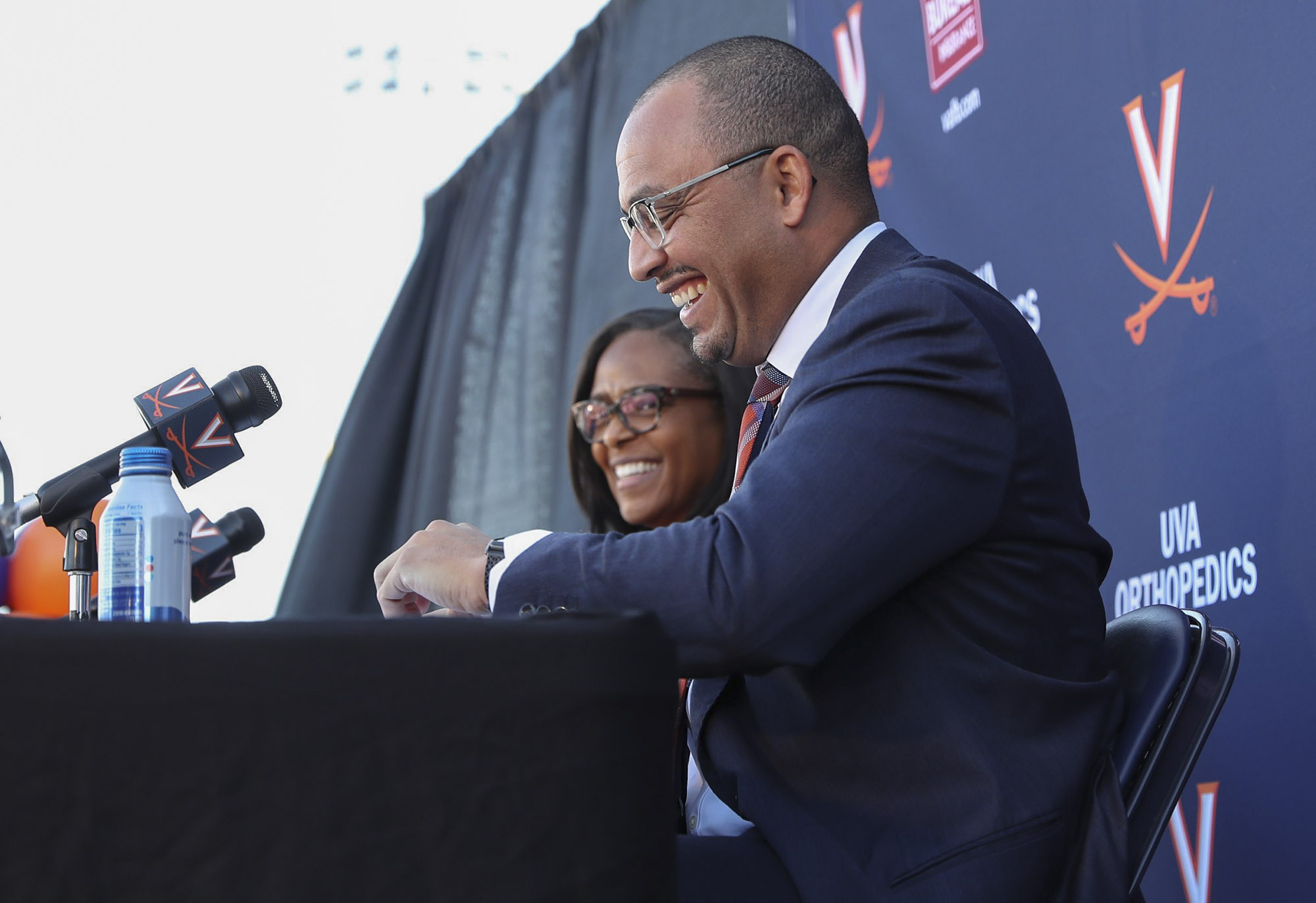 Chris Slade, who was an All-America defensive end at Virginia, has known Elliott for about a decade. The high schools Elliott recruited for Clemson included Pace Academy in Atlanta, where Slade was head football coach until stepping down recently.
Slade, who flew up for the press conference, remembers the first time he met Elliott.
"He came into Pace, and we ended up sitting and talking for about an hour and a half," Slade said. "I'd never even met the guy before. We just clicked. We talked about things outside of football and recruits and life and backgrounds. He wanted to know about me, I wanted to know about him."
Slade is in a text group with other former UVA players, and he talked up Elliott to them.
"I said, 'Let's get behind Tony. I've known him for a long time, and he's classy, he's got charisma, he's a sharp guy. He's what we need,' "  Slade recalled.
Joining Elliott at the press conference were his wife, Tamika, and their two sons, A.J. and Ace. Elliott called his spouse "the real head coach" and thanked her "for seeing things in me that I never would have never seen, inspiring me to walk in the gifts that have been given from above."
He also praised Mendenhall. "I'm very appreciative of his willingness to help me in this transition," Elliott said.
Mendenhall came to UVA after the 2015 season and helped the program become relevant again in the ACC. Elliott said he'll work closely with Mendenhall between now and the bowl game to ensure a smooth transition.
"I had a chance to address the current staff, and I appreciate their time and opportunity to speak with them," Elliott said. "I also get an opportunity to watch the team prepare for the bowl, so it's very unique, and it gives me time to make sure that I get a really good lay of the land and an understanding of where the program is under Coach Mendenhall and the direction that we need to go."
Elliott needs to put together a coaching staff, but he's not going to rush that process.
"I'm going to be very patient and make sure first and foremost that I get the right people," he said. "That's going to be the approach. It's not about the Xs and the Os to start, it's about the people, because at the end of the day this program is going to be about developing young men, and in order to develop young men you've got to have good people in place to pour into their lives and plant the proper seeds."
He told current staffers that "they'll have an opportunity to be evaluated as we go forward," Elliott said. "I'm going to get feedback from the players, and I've already talked to some, and they've given me their impressions of the coaches on the staff. I'm going to continue to meet with Coach Bronco and just get a full understanding of the structure and the challenges and some of the things that he's faced as I build the staff."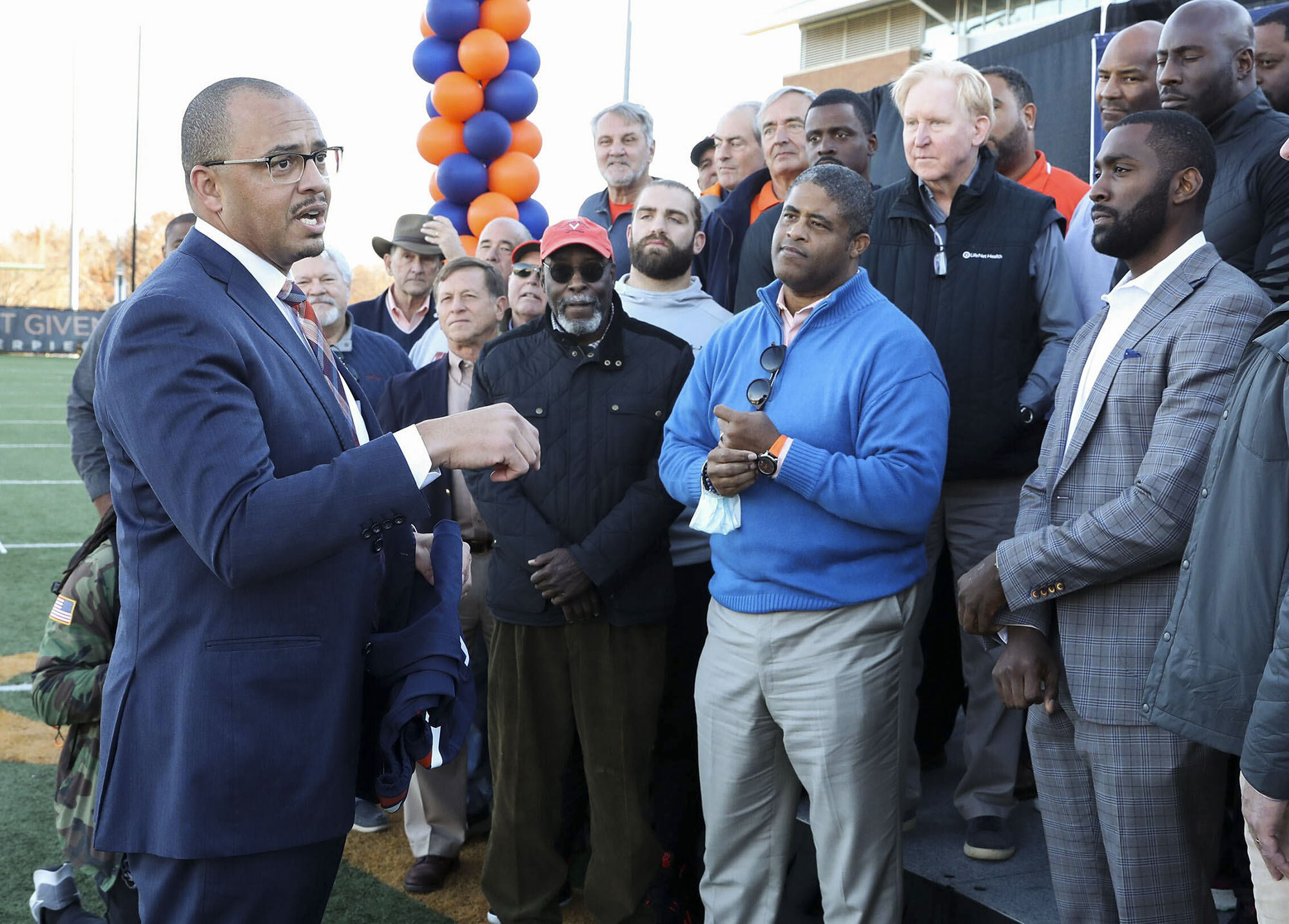 Ahead of the bowl game, Elliott said, he'll be around the team as much as Mendenhall will allow.
"I don't want to be a distraction," Elliott said. "Just as I said to the team, this is Coach Bronco's team until the end of the bowl, but I wanted you to hear who I am, what my vision is, so I'll be a fly on the wall, try to stay out of the way, and whatever he'll let me have access to, I'll take advantage of it."
At his meeting with the team Sunday evening, Elliott said, he challenged the players. "Finish," he told them, "and do so with purpose, passion and love for each other and love for Coach Mendenhall and the staff."
Elliott, who was born in California, was 9 years old when he survived a car crash in which his mother was killed. He ended up moving to South Carolina and living with an aunt there.
He enrolled at Clemson not planning to play football. After realizing he missed the sport, however, Elliott joined the team as a walk-on wide receiver. His position coach was Swinney.
"To Dabo Swinney, I cannot express how grateful I am that you took a shot on me both as a player and as a coach," Elliott said. "To all the current and former staff and players at Clemson, I appear larger than I really am today because I've had the privilege of standing on the shoulders of you giants, and I thank you. "
Elliott has a degree in industrial engineering from Clemson, and he's passionate about education.
"My vision for the UVA football program is to become the model in college football, the model program in college football," he said. "My goal is to contribute to changing the narrative in college football and demonstrate that you can win at the highest level and you can do so while achieving excellence in education, leadership and service.
"To bring the vision to life, it's going to take a tremendous amount of work and a ton of commitment. I certainly know that I cannot do it by myself. It's going to take a unified effort from the team, from the coaches, the support staff, the administration, the faculty, the student body, the alumni, the donors, the supporters and the fans in order to build something special. We will also have some room along the way for others to join in if they want to."
Elliott described himself as "a man who was once a lost child that overcame tragedy and difficult circumstances to learn that greatness and excellence is for everybody because greatness and excellence is a decision.
"I'm extremely passionate about developing young men through the transferrable life skills that football provides. I'm passionate about winning and winning the right way. Never did I imagine that I would sit here before you today, but the journey was worth it, and I appreciate every day that was invested along the way.
"The journey ahead is going to be filled with some mountaintop moments and also some moments down in the valley, and I look forward to both, because I know that both are important for growth."
Swinney has become a father figure to Elliott.
"Actually, the worst advice he gave me was to not get into coaching," Elliott said, smiling. "He tried to talk me out of it when I was trying to leave the engineering field. But in terms of moving forward, he's always been in my corner, and he understands who I am. He understands the right fit. He's been the one that's helped me to stay patient, to look for the right fit, to make sure that I get into a situation where there is alignment.
"There are jobs that he would give me his blessing on, and there were jobs that he wouldn't give me his blessing on, and when I heard him say that he felt like Virginia was the perfect fit for Tony Elliott, then that's all I needed to hear."
To receive Jeff White's articles by email, click here and subscribe.
Article Information
December 14, 2021
/content/elliott-era-begins-uva-football