It's been 60 years since William Faulkner first came to the University of Virginia as the Balch Writer-in-Residence. In February, the University is marking the diamond anniversary of the Nobel Prize-winning writer's arrival on Grounds with an exclusive new exhibition.
The Albert and Shirley Small Special Collections Library will open "Faulkner: Life and Works" on Feb. 6.
"The exhibition covers two bodies of work. There are the literary works that Faulkner composed, and then there's the person who he became over the course of his life," Special Collections Curator Molly Schwartzburg said. "We know that Faulkner liked constructing and playing with personae. The most famous – or infamous – example of this was that he pretended that he had been wounded in WWI and he hadn't. He loved performing that tall tale."
These different personae come to life throughout the exhibition. Along with the largest collection of Faulkner manuscripts in the world, the UVA Library also holds a great deal of the writer's personal effects, letters, interviews and audio recordings, all of which shed light on the many facets of his identity.
Below UVA Today offers a sneak preview of some of these items.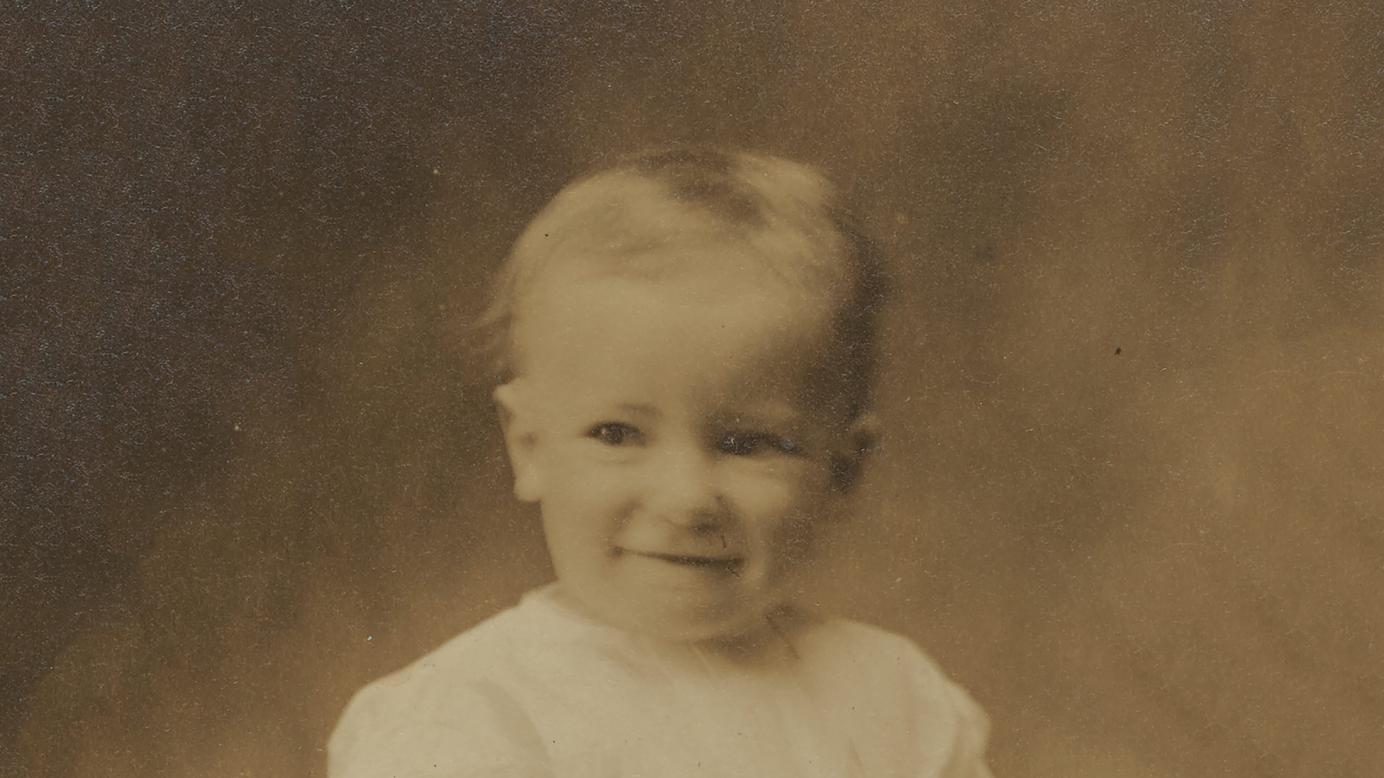 Born William Cuthbert Falkner, Faulkner added the 'u' to his last name shortly after returning from a few months of training in Canada as a cadet in the British Royal Air Force. This change in spelling was accompanied by an affected British accent and a fake limp he claimed he acquired in an equally false wartime plane crash.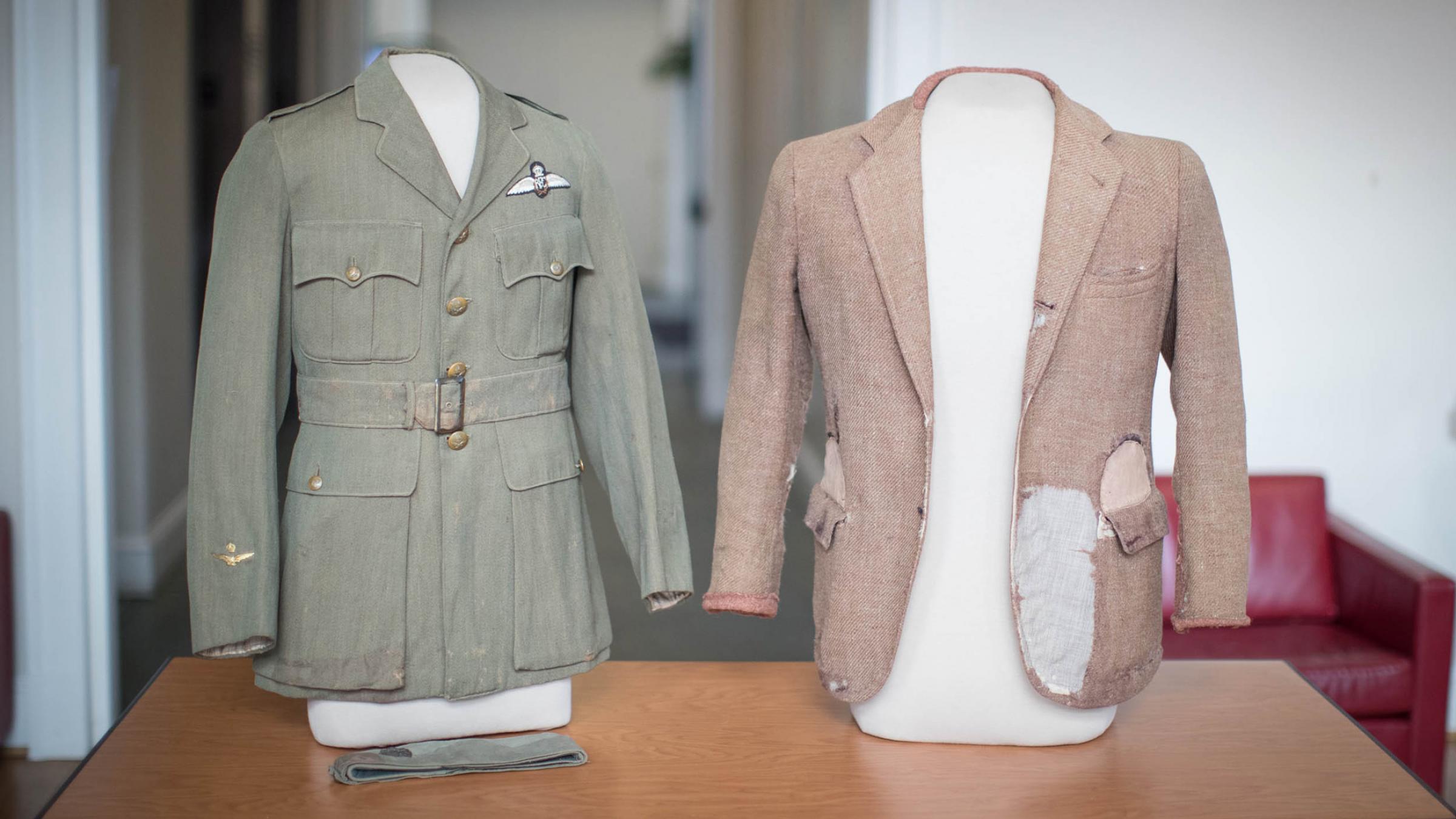 While he kept his RAF jacket (pictured above left with one of his tweed jackets) and the added 'u,' Faulkner's inhabitance of the British soldier character was otherwise short-lived. Still, it was the beginning of a trend that could be traced throughout his life. He often adopted the traits of the type of character he felt he should be at any given time.
"There were some personae that he really liked to inhabit, like that of the farmer from Mississippi. And then there were others that were thrust upon him, like that of the Nobel Prize-winner," Schwartzburg said. "The exhibition looks at how he is constructed through time, both by his own motivation and by circumstance."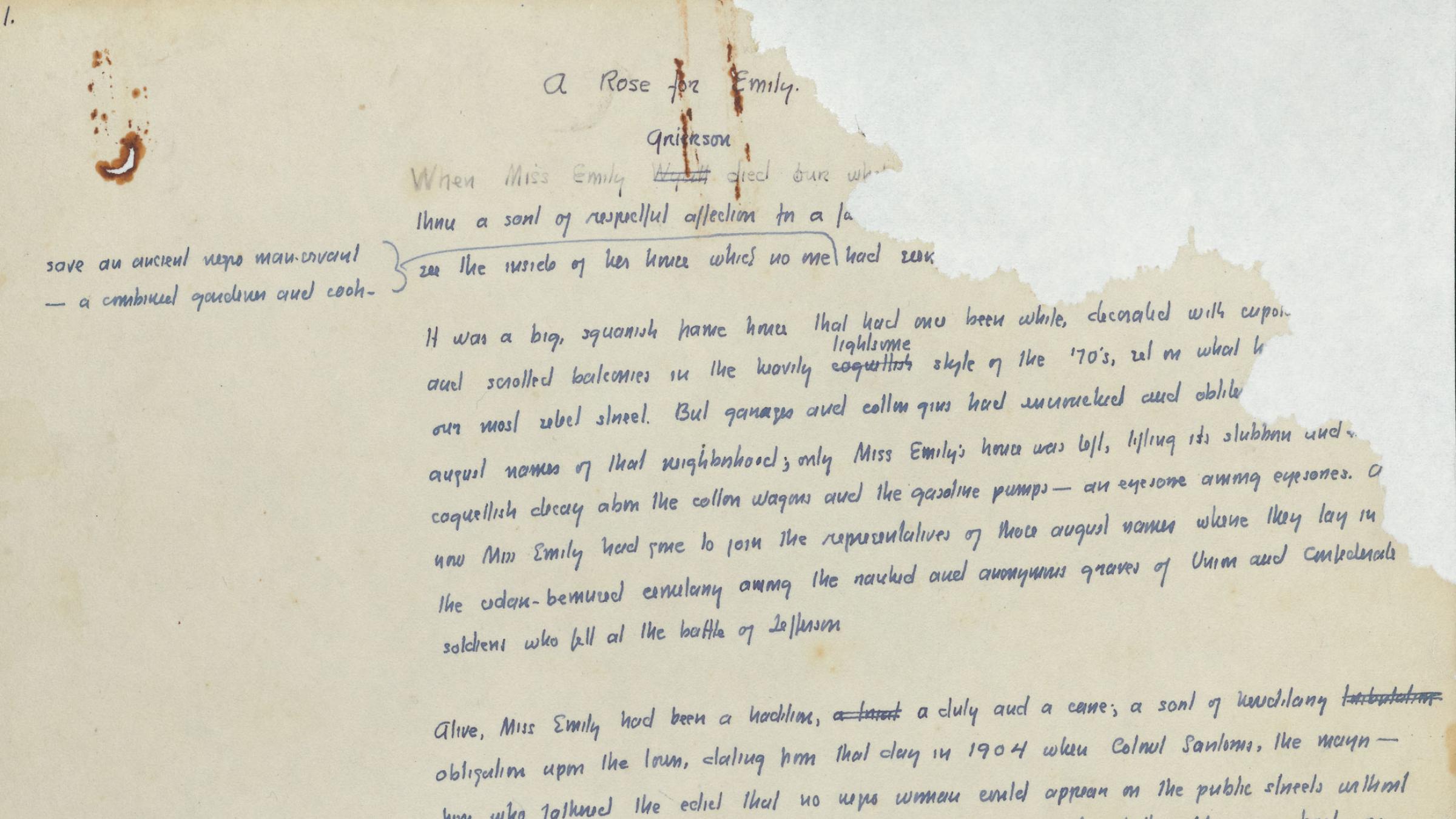 A look at early handwritten manuscripts, like the one for Faulkner's short story, "A Rose for Emily," offers a window into the mind of Faulkner as a young writer.
This is one of many handwritten manuscripts that were donated to UVA by the William Faulkner Foundation a few years after his death in 1962. Through the foundation and the efforts of many other generous donors over the years, the library has amassed a staggering collection of originals like the "Rose for Emily" manuscript. Visitors to the collection will even get a glimpse of never-before-displayed acquisitions such as the original bound typescript of Faulkner's first collection of poems, "Vision in Spring."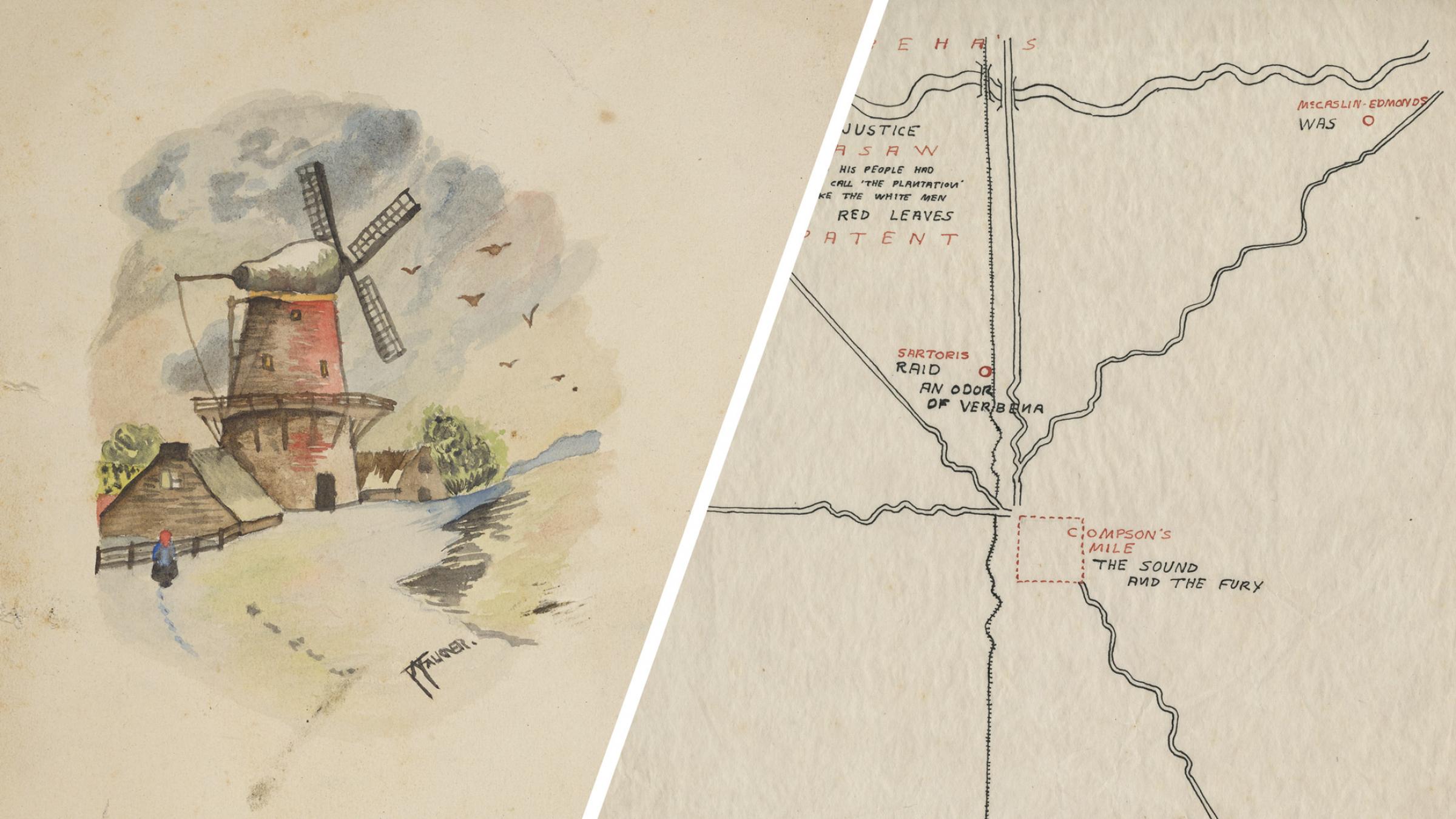 In addition to his creative work as a writer, the exhibitionion also highlights Faulkner's efforts as a visual artist. He often painted and sketched images like the undated windmill watercolor above and used his skills to help map out his stories depicting the fictional universe of Yoknapatawpha County, Mississippi.
Guests can take a deep dive into that universe through the "Digital Yoknapatawpha" project led by UVA English professor Stephen Railton. With interactive maps and timelines, this project places readers inside Yoknapatawpha and catalogs the progression of characters, places and events there. The exhibition will have a touchscreen portal where visitors can explore various aspects of this ongoing project.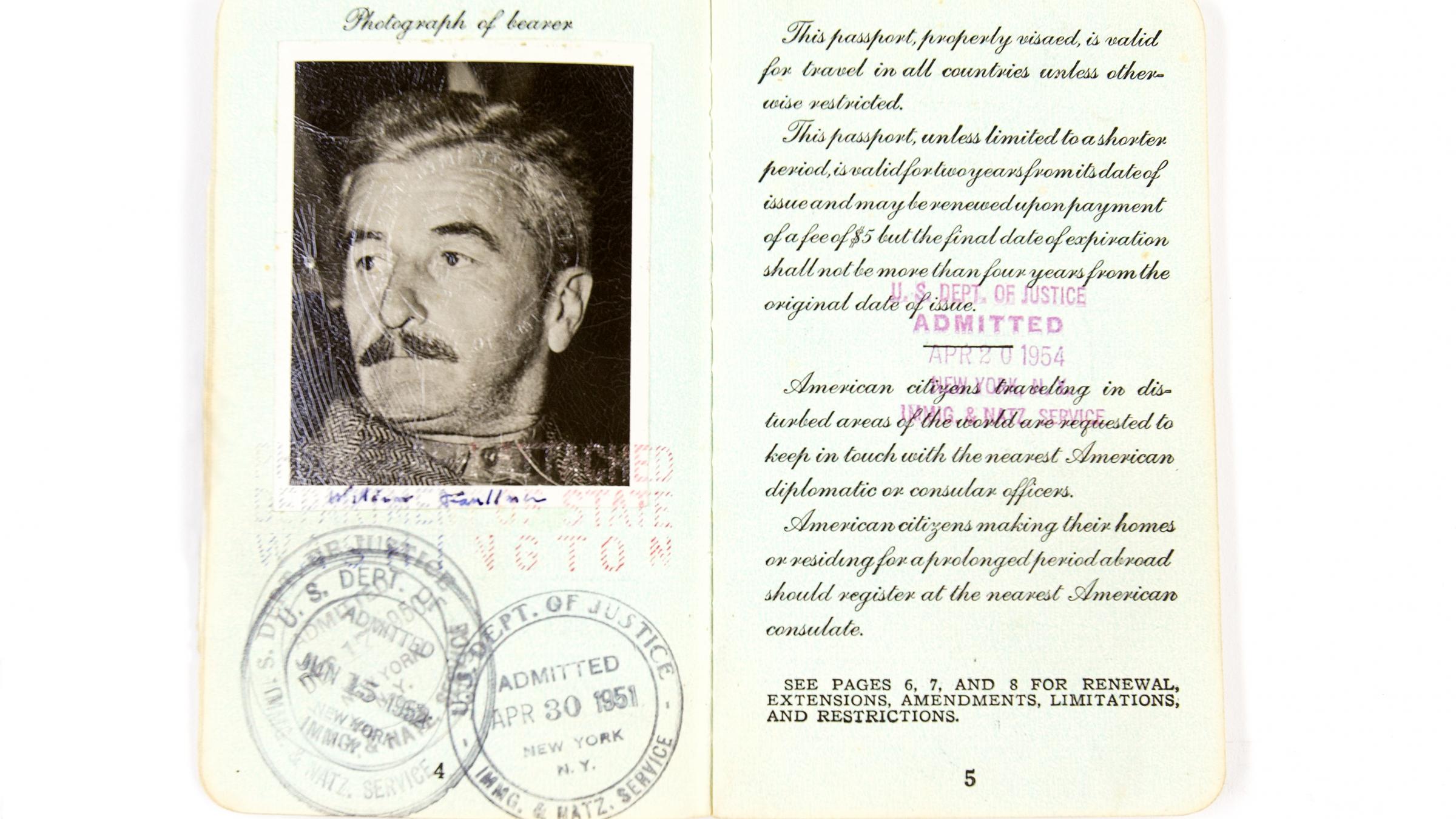 Speeches and interviews that Faulkner gave throughout the 1940s and 1950s indicate that he felt it was his duty to use his celebrity status for good. He traveled throughout Asia, Latin America and Europe advocating for peace.
"When he won the Nobel – not long after World War II – he used his acceptance speech to discuss the atomic bomb. He was clearly deeply affected by the war and felt strongly that if he could play a role toward peace among nations, he should," Schwartzburg said.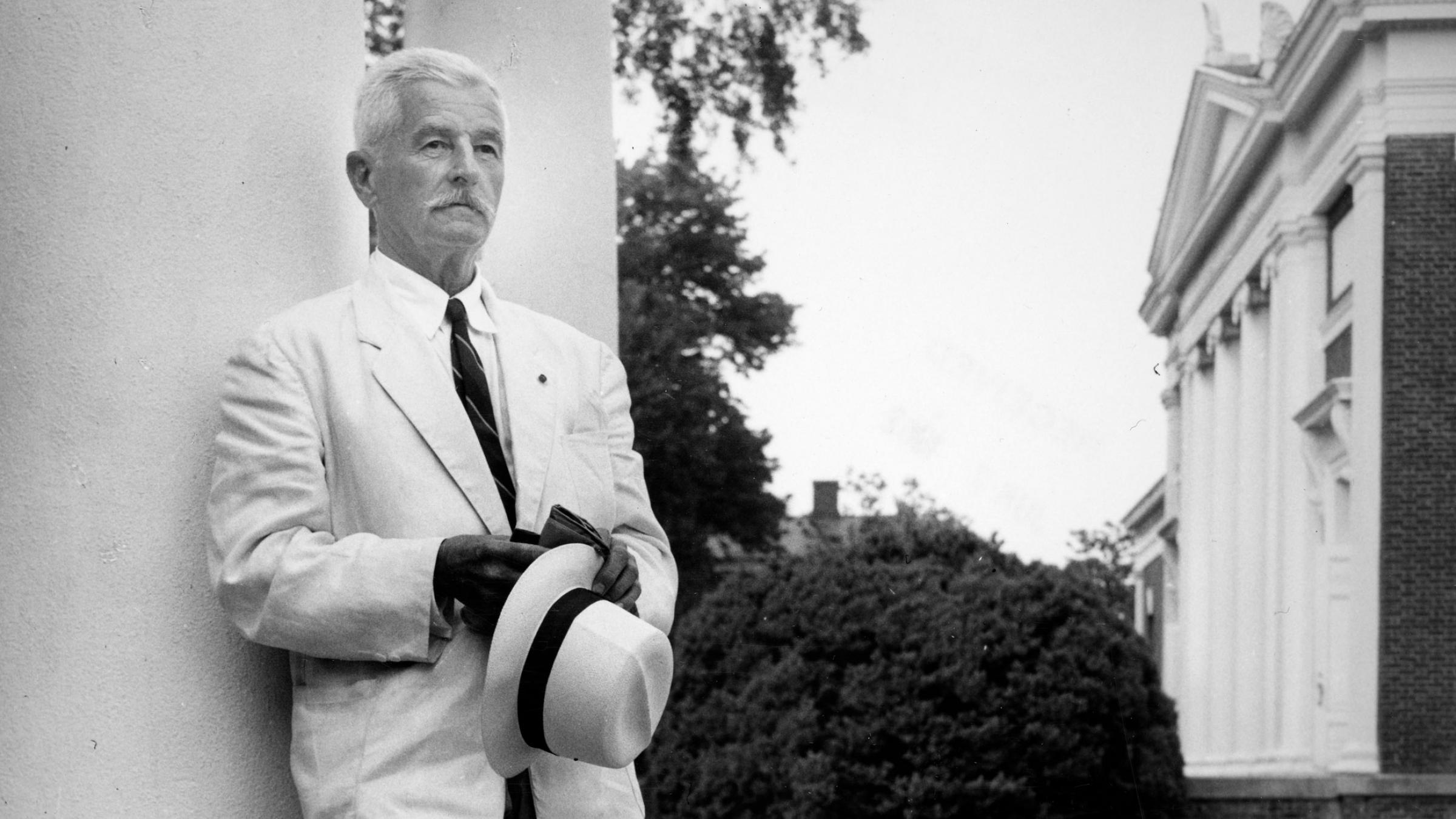 Faulkner's years of international travel overlapped with his time at the University, where he served in one capacity or another from 1957 until his death in 1962. It was during this same time that he also began to directly address one identity he had inhabited his whole life, that of the white Southern man.
"You can't easily summarize Faulkner's views on racial attitudes or views on integration or racial justice," Schwartzburg said. "It's surprisingly complicated. Every time I think I know what his position was, I encounter another document with a very different view. Our display tries to show how his views shifted from moment to moment.
"I hope the exhibition encourages more people to read and think about Faulkner's non-fiction writings on race – both public statements and in his private correspondence – and how they might help us understand the complex range of white Southern views on this topic in the 1950s."
The full exhibition will be open from Feb. 6 to July 7, and readers can also attend a celebration of "Faulkner: Life and Works" on Feb. 28 at 5 p.m. Additional details are available here.
Article Information
January 10, 2017
https://news.virginia.edu/content/exhibition-uncovers-many-faces-william-faulkner