Find the latest information on the University's response to the coronavirus here.
"My students' sense of urgency and motivation have skyrocketed."
"I am in awe of how resilient these students are in the face of these unprecedented times."
"I miss the joy of face-to-face teaching. Still, we're a community."
These are just a few of the comments University of Virginia professors recently conveyed as they proceed with teaching online. That doesn't mean they haven't had problems that recur, or that courses are the same in the virtual environment. Some have had to give up face-to-face activities that can't be replaced right now.
When the University announced March 11 that all courses – more than 4,200 offered this semester – would be moved online due to the coronavirus pandemic, some faculty members were ready to make the transition. Many others, however, had very little experience and could not imagine, at first, how their courses were going to function. Even some instructors who used online technology before still faced challenges with the changes they had to make.
They sought out help from the Center for Teaching Excellence, the College of Arts & Sciences' A&S Learning Design & Technology group, the University Library, information technology teams, the Teaching Continuity website, and colleagues. Some are also getting ideas from their students.
"There's no playbook for moving an entire academic enterprise online in a week," Archie Holmes, vice provost for academic affairs, said April 1. "Our success to date can be attributed to the commitment and dedication of our IT teams, our pedagogical experts, and of course our faculty. Everyone has pulled together to make this the best experience possible for our students."
In this sampling of teachers emailing about their experiences, they write that working with their students has yielded unexpected connections, and they are learning together – despite technical glitches, time zone differences and other challenges.
Vivien Chabalengula, "Teaching as a Profession"
The 75 students in Vivien Chabalengula's introductory class, "Teaching as a Profession," are a mix of undergraduates from several departments and schools. They are working from home all over the country, with others scattered in Europe, Asia and South America. In addition to different time zones, some of them don't have reliable high-speed connectivity.
Chabalengula, an associate professor of education in the Curry School of Education and Human Development's Department of Curriculum, Instruction and Special Education, keeps track of the organizational details of her courses, as she had done before everything changed, with technology tools in the Curry Canvas Learning Management system. Now, she's using more of the tools there, she said, because it ensures equal access for all her students taking her class.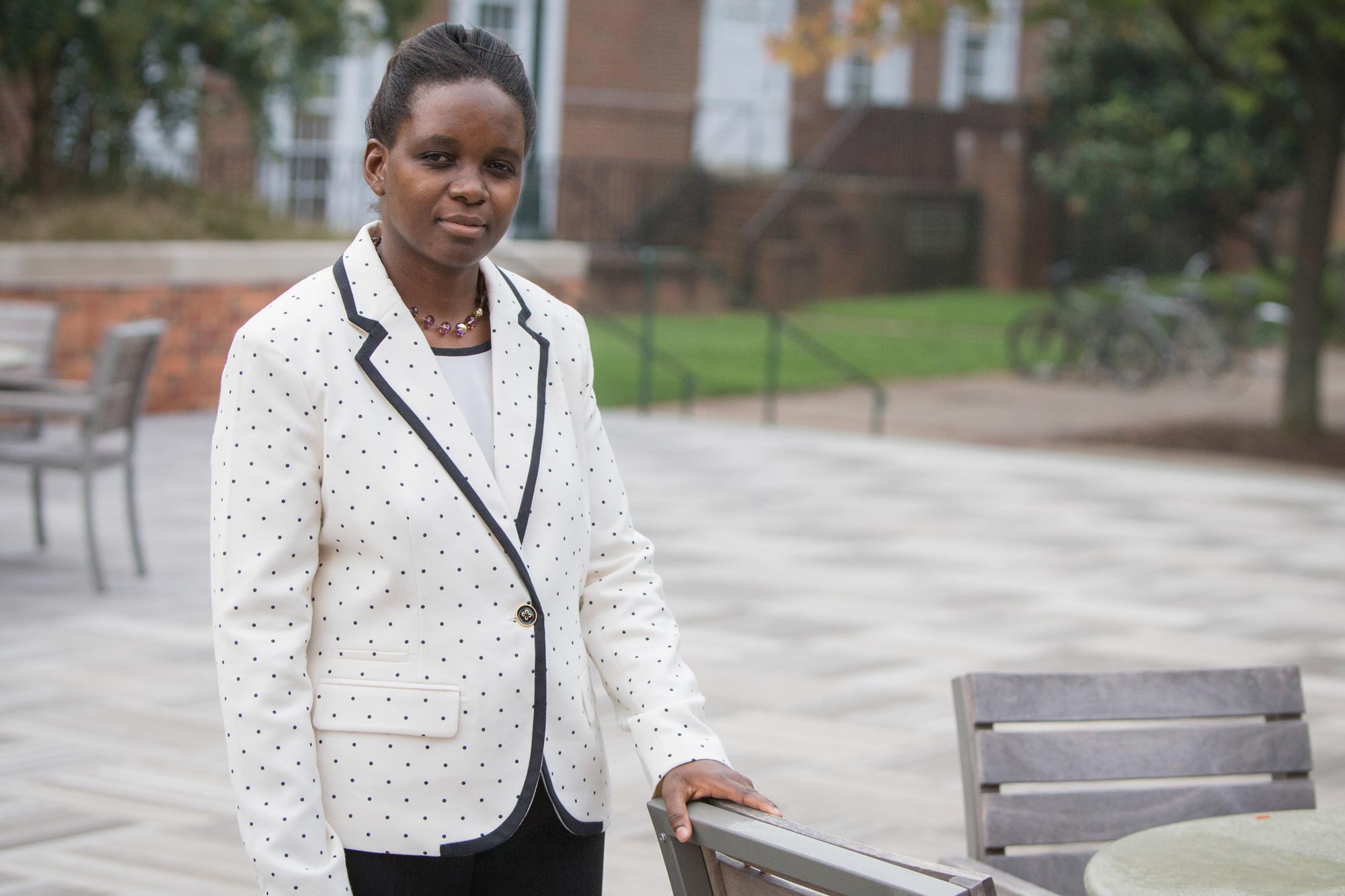 Mindful that not all of her students had equal access to the internet, Vivien Chabalengula chose to use more easily accessible tools to take her course online. (Photo by Sanjay Suchak, University Communications)
"I had to make hard decisions on how to ensure equitable access to all learners. For instance, I had to minimize the use of Zoom for the whole class, but use it for small groupings," Chabalengula said. Some students asked if they could also use other social media platforms they're accustomed to using in their everyday lives for small group work, particularly FaceTime, Groupme and Snapchat.
"With the aforementioned tools, they are utilizing them creatively in ways that make our classes more personable, and they communicate with one another in similar ways as if we were face-to-face," Chabalengula said.
The companion "field experience" course that took students into local schools had to be canceled due to all the school closings. ​Chabalengula, however, created an alternative assignment, asking students to reflect on how what they have learned in class can be applied to their own college learning experiences at UVA.
For small-group projects, in which they identify and analyze a current educational issue or problem, the students are creating them virtually. "In normal situations, groups would have presented their projects in front of their peers," she said. She is having the students add voice-over and video along with PowerPoint presentations, in an attempt to have them mimic the way it would have been in real time, Chabalengula said.
Stan Stepanic, "Dracula"
Stanley Stepanic, associate professor in the Department of Slavic Languages and Literatures, is one of those professors who was already using technology to make his lectures and presentations as engaging as possible. He also made some changes to make his courses more accessible to students, he said.
Now, when he teaches "Dracula," one of UVA's most popular courses, he appears on the computer screen in a little, separate box (called a HUD), headphones clamped on like a DJ at a night club. For his March 23 class, he showed a poster of actor Christopher Lee, who revitalized the role of Dracula in the 1958 film, "Horror of Dracula."
After going through a few technical details, Stepanic launched into his lecture on the vampire character in popular culture via YouTube as a livestream with active comments.
"This can be tricky," Stepanic said, "because YouTube tends to be extremely reactionary and will shut off a stream for something as simple as discussing a brief song clip or movie clip. You have to be familiar with your content to know when to avoid it or edit it. Facebook Live, by contrast, is far more lenient, except when it comes to music. Such platforms have a learning curve the user needs to be familiar with to make them effective for teaching."
Stepanic decided to use his own YouTube channel and Facebook page to make it more accessible to his students, he said.
 "The way I do it is very similar to commentators on YouTube or gamers who stream their games – in fact, it's technically a gaming set-up I'm using."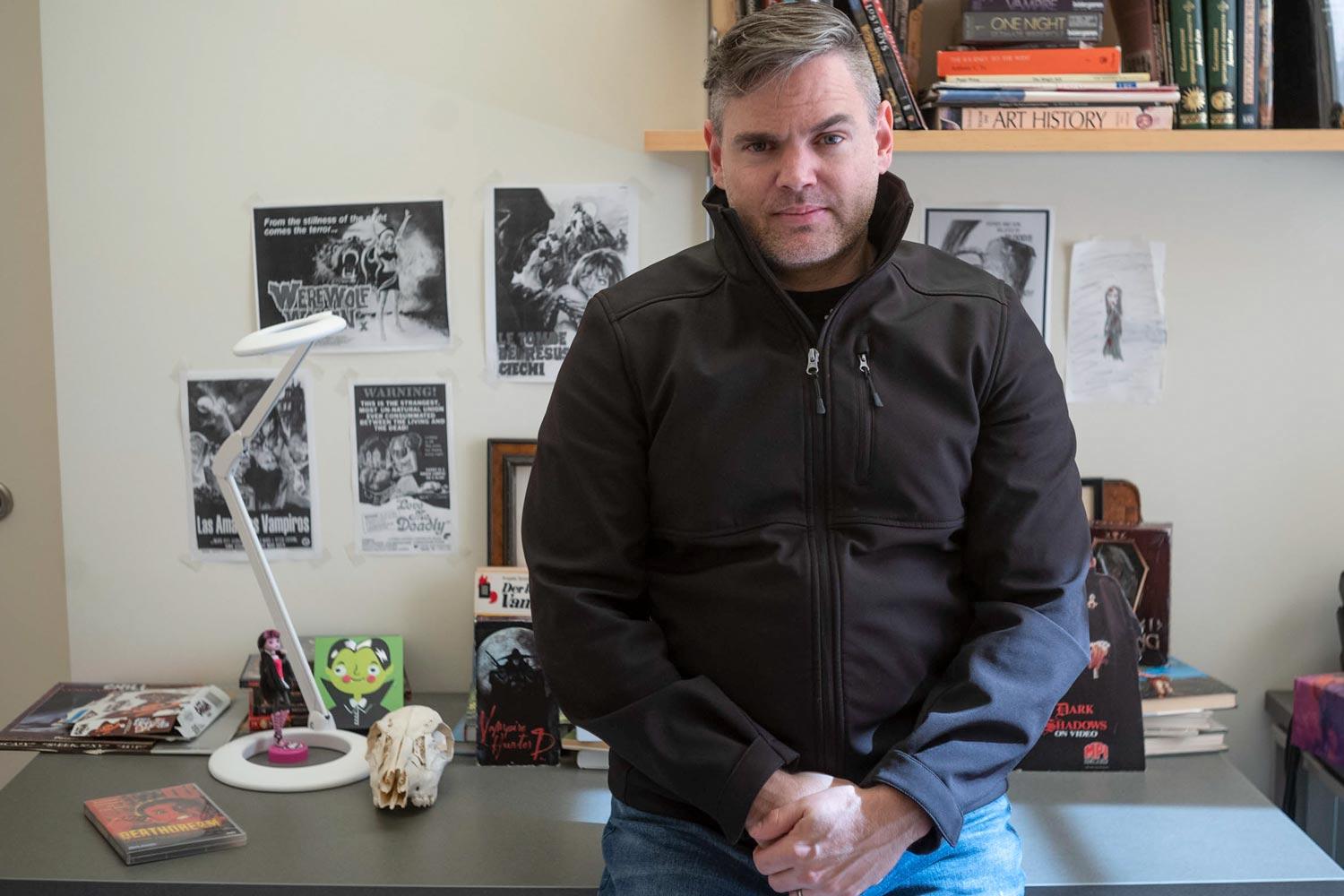 Stanley Stepanic teaches a popular course on Dracula, but has to be careful when using social media not to run afoul of copyright rules. (Photo by Sanjay Suchak, University Communications)
Stepanic also teaches "Russian and East European Film" and a course on Polish. Zoom works well for smaller classes, he said, but almost 300 students take his Dracula course, which covers a wide swath of culture and history, belief systems and folklore through Dracula and vampires in their many guises.
"I have a number of students in different time zones, or who come from disadvantaged backgrounds and simply cannot use Zoom, but all of them can find access to YouTube in some way – usually their smartphones, with which they can also access Top Hat [a digital lecture platform] at the same time or at a later time," Stepanic said.
Kiki Petrosino, Area Program in Poetry Writing seminar and graduate poetry workshop
In English professor Kiki Petrosino's two courses, an M.F.A. poetry workshop and a literature seminar for undergraduates in the Area Program in Poetry Writing, discussions using the Zoom videoconferencing application or UVA Collab software are working very well, she said. "In the transition to online learning, we've been able to continue a robust discussion about the artists' contributions to social and intellectual discourse."
Petrosino, a 2001 UVA alumna, returned to the Grounds last fall to teach in the Creative Writing Program, and in May expects to publish her fourth volume of poetry, "White Blood: A Lyric of Virginia."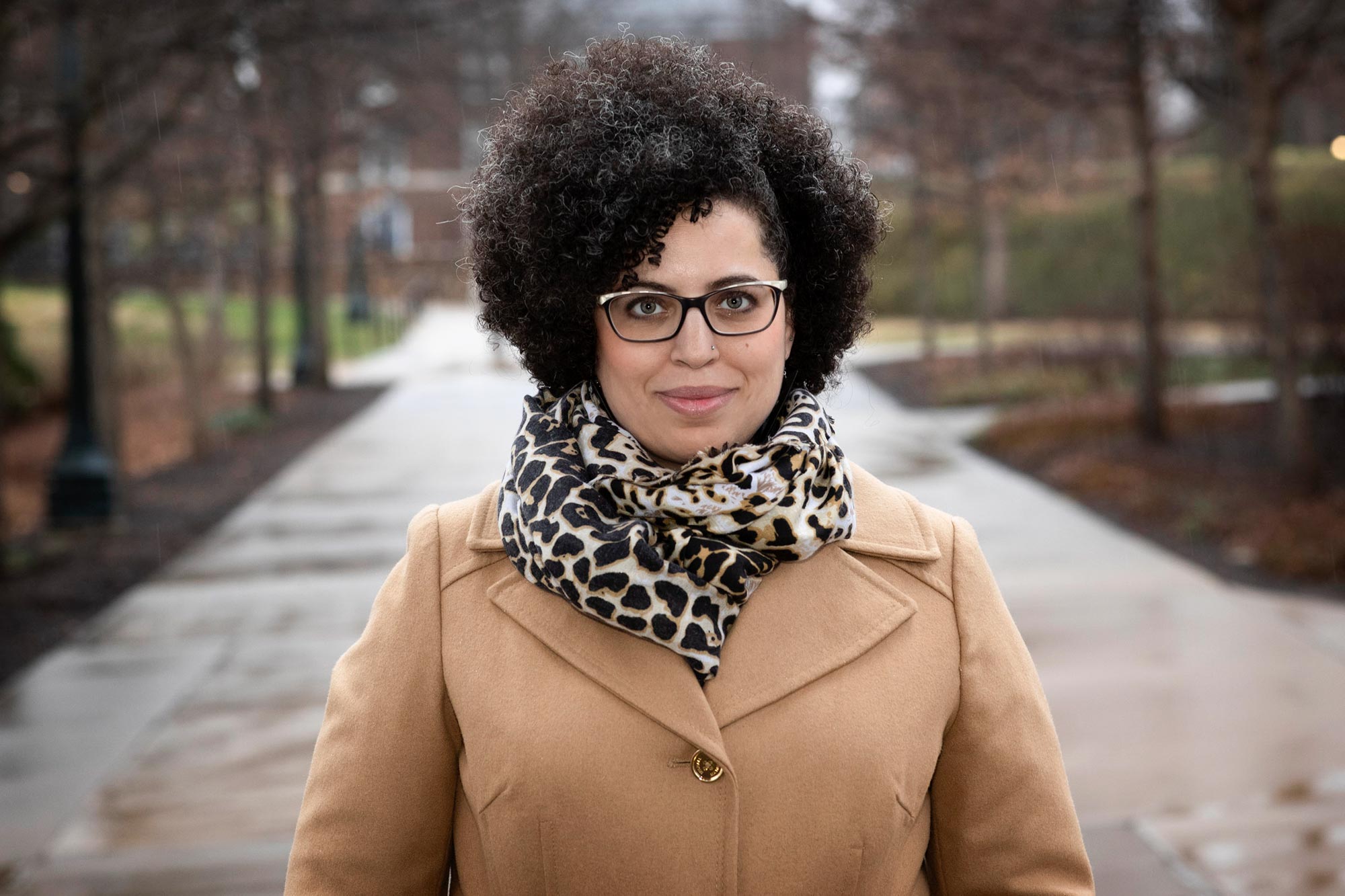 Poetry professor Kiki Petrosino says she misses the joys of face-to-face teaching, but said her students have been able to maintain a "robust discussion." (Photo by Dan Addison, University Communications)
Everyone is adjusting "with grace and resilience," she said of her students, adding that she still gets to read her students' poems and responses to each other.
The virtual setting only goes so far, however. "I know that we're all navigating the sadness of not being on Grounds," Petrosino said.
"I miss the joy of face-to-face teaching," she said. "While technology helps bridge geographical distance and keeps the learning process going, there's really no substitute for the exhilaration of witnessing a student arrive at a new understanding of a complex concept. I miss watching students riff on one another's ideas, take note of something in the moment, and walk out together, still in conversation, after class."
Jessamyn Manson, "Introduction to Biology: Organismal and Evolutionary Biology"
Assistant professor Jess Manson is "trying to maintain continuity from in-person delivery as much as possible, which I think helps a lot," she said. Teaching nearly 850 students in two lecture sections, with 33 lab groups, would not be possible without a great team, she said. That includes lab coordinator Joanne Chaplin and 20 graduate and undergraduate teaching assistants.
Lectures are offered in asynchronous delivery now, meaning students can tune in on their own time as opposed to a set class time.
Changing hands-on lab activities to digital worksheets and discussions also has been very challenging. "Students would normally be working in small groups to explore different organisms and organ systems at this time of year," Manson said. "We have converted our labs to Zoom discussions led by teaching assistants, which is a nice way for them to stay connected to their TA and peers, but is not a true replacement for in-lab instruction."
Essentially, Manson created digital worksheets that include questions, figures and links to short videos and websites. Students download them from Collab, meet with their TA during the scheduled lab time and work in small groups online. The TA adds supplemental activities to encourage discussion, she said.
"Learning how to deliver exams online was stressful," Manson said. "I have used online quizzes many times, but figuring out the logistics of having a full exam in Collab taken synchronously by hundreds of students, as well as the best practices for delivering an online exam, was new." She had to delve into Collab help files and reach out for support and ideas.
"We have a very supportive teaching community within the biology department and lots of tips and tricks for exams, lectures and other aspects of online teaching that have been circulating," she said.
Manson pointed out, however, that students' communications with her and her team "have been filled with gratitude for the work we have been putting in to make the course interactive, accessible and manageable under our current circumstances." 
"Despite the massive changes in all of our lives, kindness and compassion have been shining through," she said.
Andy Kaufman, "Books Behind Bars"
At first, Andrew Kaufman, an associate professor who teaches "Books Behind Bars," felt as if his course had been gutted, he said, and he couldn't imagine how it would work. The framework of the course entailed taking his UVA students to meet with youth committed to the Bon Air Juvenile Correctional Center in Richmond, where they explored questions of meaning, value and social justice through conversations about Russian literature in small, face-to-face discussion groups.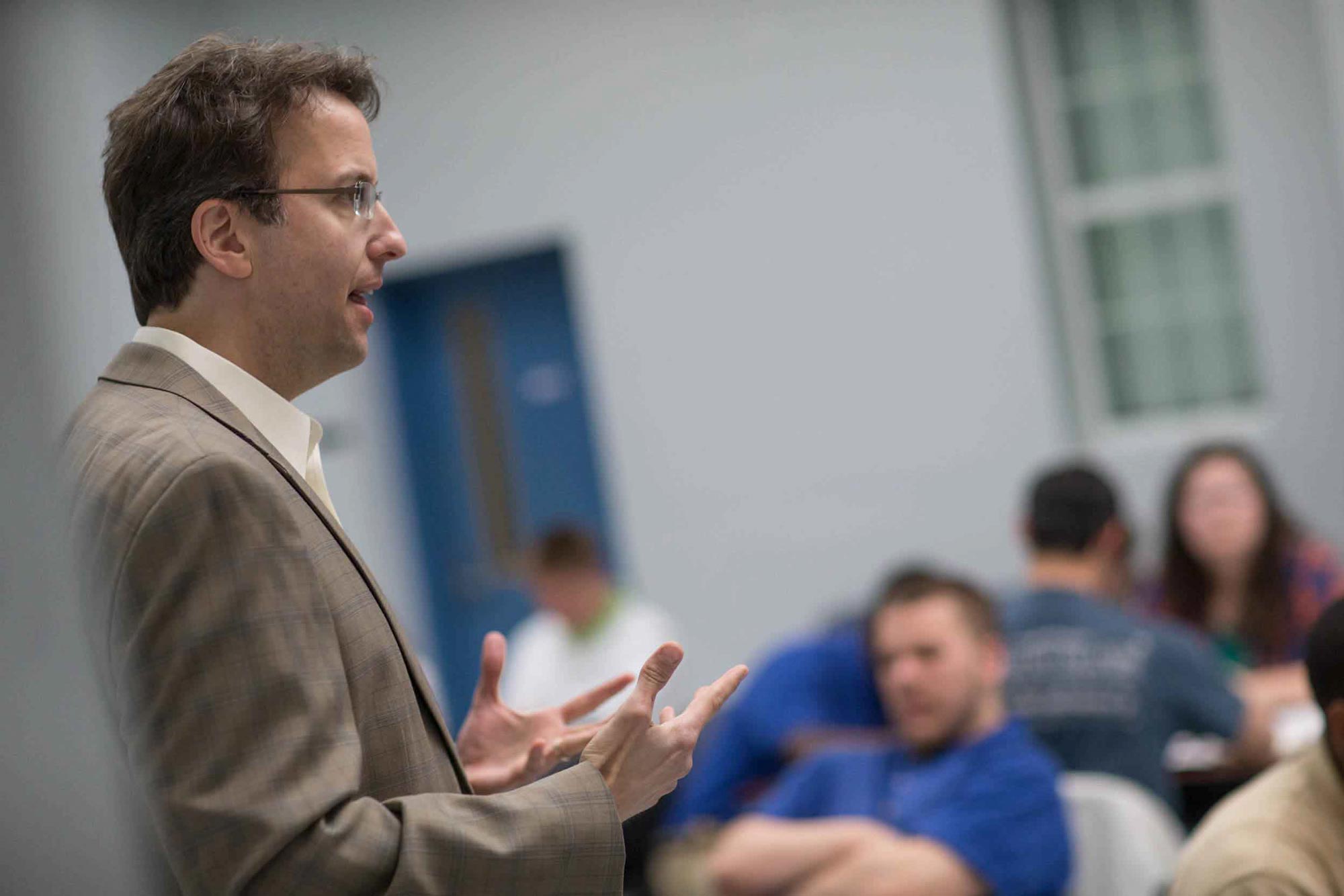 Andrew Kaufman said that redesigning his course, "Books Behind Bars," mid-semester allowed him to reconnect with the essence of what it is all about. (Photo by Sanjay Suchak, University Communications)
Now with the Grounds empty of students, they can no longer gather or go anywhere. The incarcerated youth the UVA students were meeting with weekly are not allowed to use computers or the internet. They have been given the readings, and Kaufman said he is working with the Department of Juvenile Justice to help the correctional center students complete the class without the presence of the UVA students. Kaufman, assistant director of Community-Engaged Learning Initiatives in the Center for Teaching Excellence, did not previously employ online teaching.
Having to reimagine what was most important at the core of the course has reminded Kaufman that beyond the content, the course is "about something more fundamental: human connection, creativity, and deep conversation inspired by powerful works of literature," he said.
He also enlisted his UVA students' help.
"I've been liberated to return to what I found so meaningful about the very first iteration of my class a decade ago: I get to co-create it once again with my students," Kaufman said. "Their sense of urgency and motivation skyrocketed."
Taking inspiration from Italians singing from their balconies and entertainers putting on shows from their homes without audiences, he asked his UVA students working in pairs (virtually, of course), to create videos of themselves discussing the course readings as if they were with the correctional center students, who will view the videos later.
Mariah Tighe, a third-year computer science major, said Kaufman "has kept our spirits high as he encourages us to be creative and think of ways to engage the Bon Air students from afar. My facilitation partner, Shaqual Reynolds, and I have recorded one video so far for our group members. It was a bit awkward at first, being so different from the in-person meetings we were accustomed to, but eventually we felt more at ease, talking to each other and the viewers directly."
Now, the students are relating to the Russian literature – works like Karolina Pavlova's "Strange, the Way We Met," Anton Chekhov's "Ward No. 6" and Nadeshda Mandelshtam's "Last Letter" –  through the lens of "what our class is going through, and what our world is going through, and we're finding that it has many surprising and relevant things to say to us in this moment," Kaufman said.
For Tighe, "Last Letter" – addressed to Mandelshtam's husband Osip, who died in prison and never got to read it – "was very relevant to our situation, because for a brief period of time, we didn't know if the Bon Air students would ever get to see our videos."
(Incidentally, an award-winning documentary based on the "Books Behind Bars" course, called "Seats at the Table," will air on PBS through the month of June, Kaufman said.)
Leslie Hubbard and Tim Rambo, "Personal Adjustment and the Science of Happiness"
Tim Rambo teaches the Curry School course, "Personal Adjustment and the Science of Happiness," in which the 77 students in the course examine factors that influence psychological adjustment during normal human development and the relationship between adjustment and personal happiness. The students choose a personal project as a primary assignment. One of the options is a mind/body wellness and resiliency project under the guidance of Leslie Hubbard in the Contemplative Sciences Center.
Rambo and Hubbard said they, also, have been inspired by their students' valiant efforts to carry on their schoolwork totally online and from home.
"Some of the students have even shared their ongoing wellness practices, such as yoga and mindfulness meditation, with family members."

- Leslie Hubbard
"I am literally in awe of how resilient these students are in the face of these unprecedented times," Hubbard said. She attributed this not only to the course content, but also the students' commitment to the personal wellness goals they made at the beginning of the semester.
"Their commitment to establishing personal wellness goals by engaging in weekly practices to promote well-being has given them the skills they need to thrive in these extremely challenging times and adapt to their new environment," she said. Some have even shared the videos and audio segments of wellness practices, such as yoga and mindfulness meditation, with family members.
Rambo added, "The students are asking important questions and making astute comments related both to the pandemic and adjusting to life off-Grounds," he said.
"Our students are the heart of this University."

- Kiki Petrosino
Article Information
April 7, 2020
/content/faculty-and-students-take-challenges-online-classes