Christopher Ali was in just his second year of teaching an introductory media studies class when the table he was sitting on in front of the class suddenly broke in half and caused him to tumble to the floor.
So there was Ali, in a lecture hall with about 300 University of Virginia students, lying flat on his back.
For a young professor just starting out, the moment could have been deflating.
But for Ali, a former competitive figure skater accustomed to both successes and failures on some of the sport's biggest stages, the sequence of events felt, well, strangely natural.
"I joke with my students that the thing that falling in front of 20,000 people teaches you is that it's not a big deal to fall in front of 20,000 people," said Ali, with a laugh. "I say, 'If I can fall in front of 20,000 people, I can certainly get up in front of 300 and lecture in media studies.'"
The mindset has served Ali well.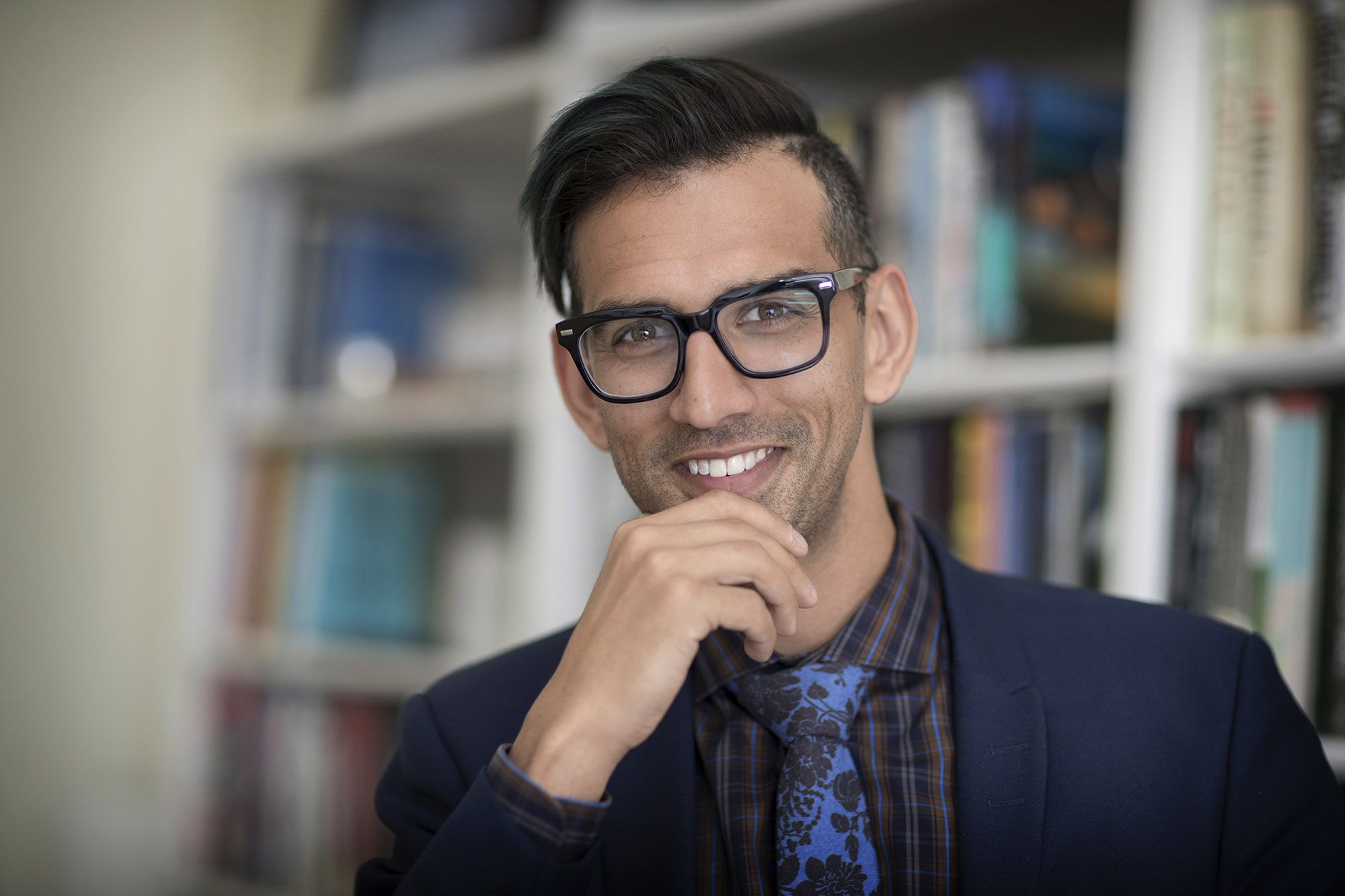 Media studies professor Christopher Ali has become a leading voice in the quest for rural broadband equality. (Photo by Dan Addison, University Communications)
Whether navigating the cutthroat and sometimes cruel world of competitive figure skating, coming out to his parents as gay or standing up for the rights of people in rural areas across the country who are suffering from the lack of internet access, Ali approaches everything he does head-on.
Born in Winnipeg, Canada, Ali started skating at the age of 2. His parents, Ray and Elaine, recall taking him to Duck Pond, an outdoor skating venue near their home.
Almost immediately, and without prompting, Ali started twirling.
A few years later, Ali sat mesmerized in front of the television as Canadian figure skating star Kurt Browning competed at the 1988 Winter Olympics in Calgary.
Unlike his younger brother, Jonathan, Ali didn't participate in a lot of team sports.
"He was a God-awful soccer player," Ray Ali said, laughing. "Figure skating was his only recourse."
"He loved to perform," Elaine Ali added. "His stage was the ice."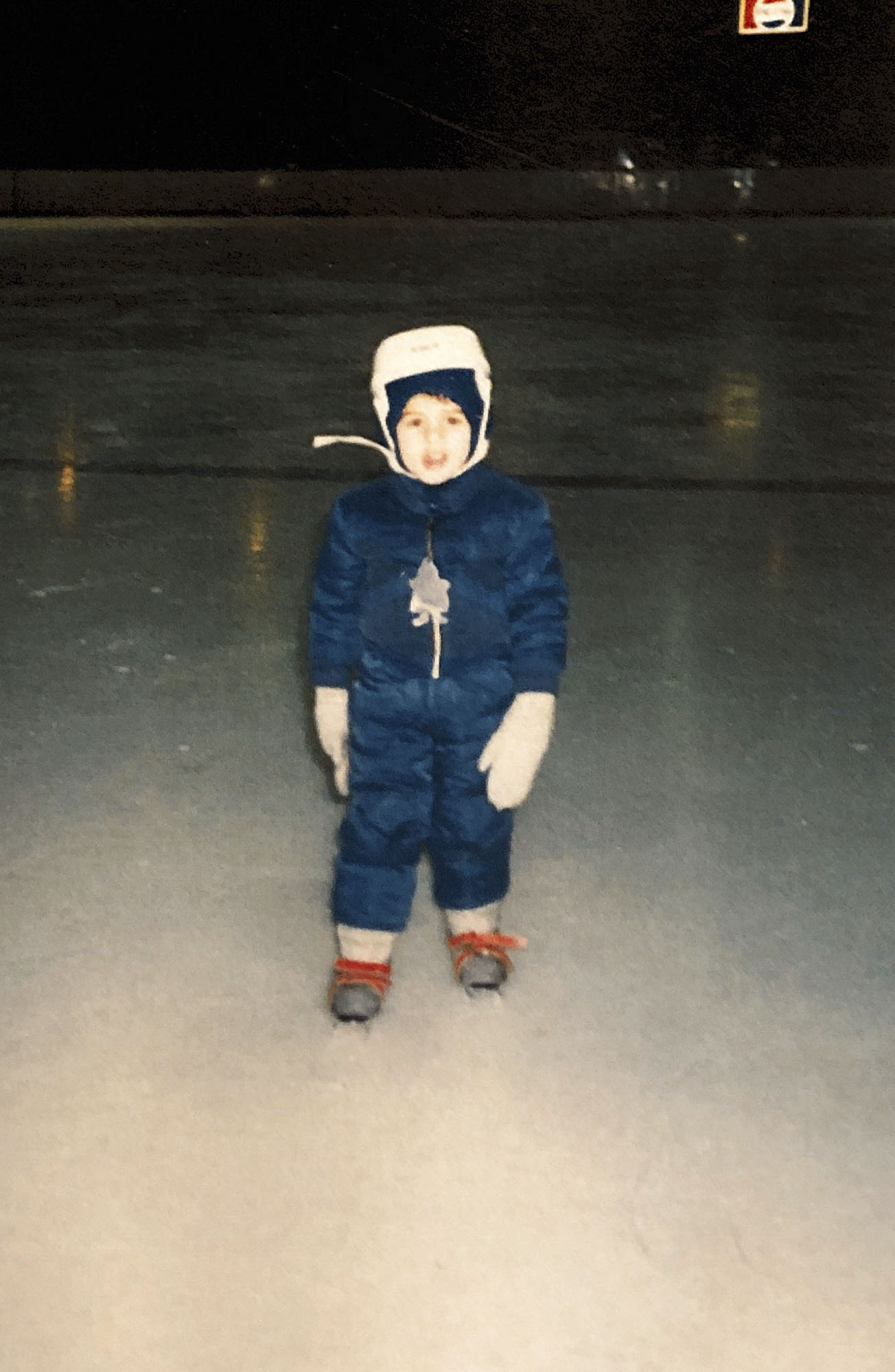 Ali first started skating on a pond near his family's home in Winnipeg when he was 2 years old. (Contributed photo)
Ali himself agreed.
"I think, quite frankly, I wasn't very good at any other sports – not that I was very good at figure skating at the time, either, but it was something I enjoyed," he said.
After standing out in a local learn-to-skate program at the age of 6, Ali came under the tutelage of a coach, Laurie Reade, who he would wind up working with for the majority of his career.
By his early teens, Ali had become known as one of the better skaters in the area; his breakthrough occurring when he won the Manitoba Championships as a 16-year-old.
"The great thing about being a guy in figure skating in a small province is that you get a taste of advancement pretty quickly because there were just so few boys doing it at that point," Ali said. "You sometimes end up being the only person in your category. … You get noticed faster than if you are a girl who has to work that much harder to stand out from the pack."
By the time he was 18, Ali was definitely standing out.
Heading into the Western Canadian Championships, he was a favorite to qualify for the Canadian Junior National Championships. Having trained hard, Ali was optimistic – but wound up having one of his worst performances.
"It turns out that I choke under pressure – or did," said Ali, with a chuckle.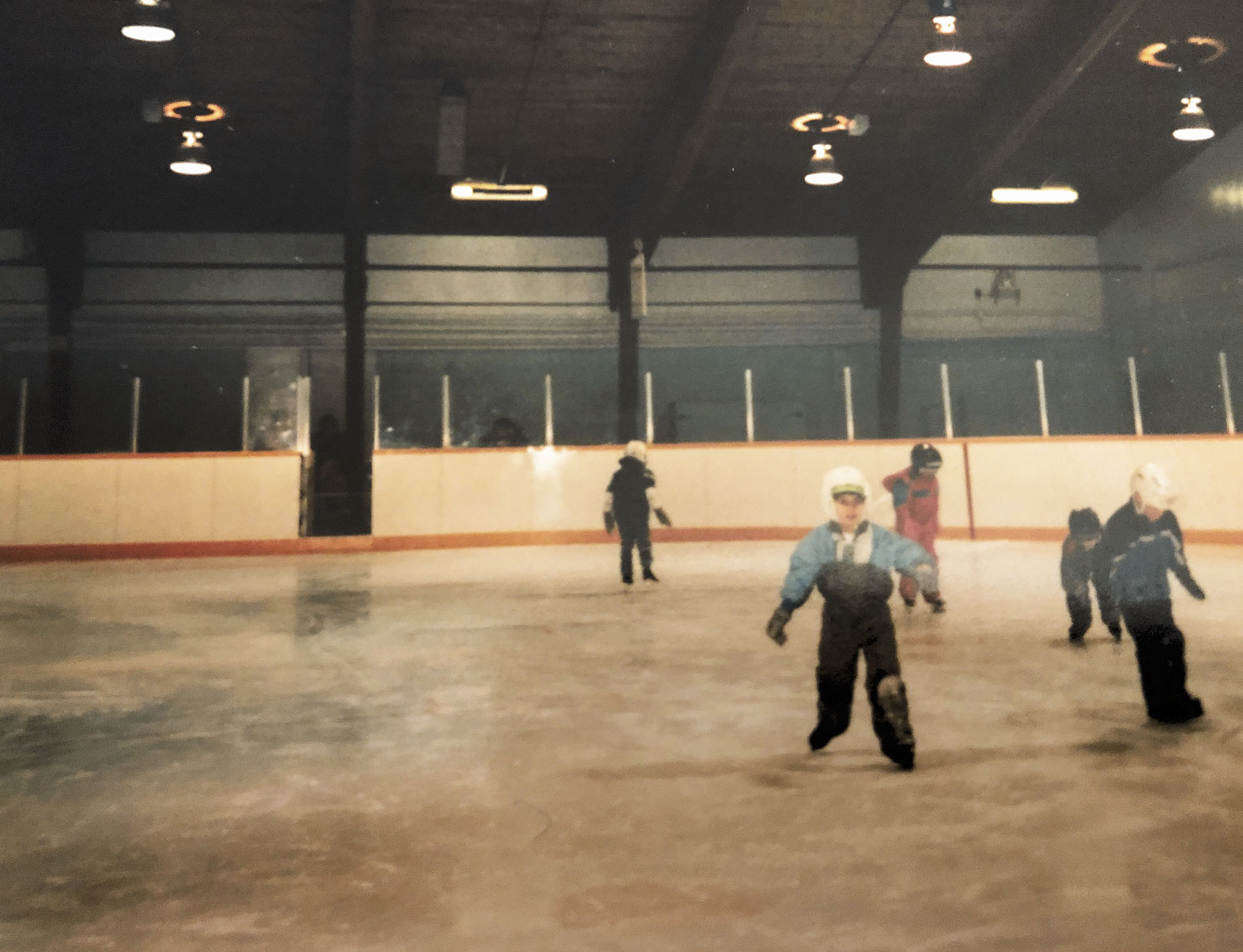 At the age of 6, Ali started working with a coach who had taken notice of his skating abilities. (Contributing photos)
At the time, Ali was devastated, but four weeks later he made it in as an alternate after another skater was injured.
The only catch was Ali had to make it from Winnipeg across the country to Hamilton, Ontario, in 24 hours. After a mad dash that included catching a last-minute flight and changing into his skating attire while in the car, Ali made it to the arena just in time.
Competing in the men's short program, Ali didn't skate particularly well, yet the experience provided an unforgettable memory. During the event, Ali was eating in the athlete's dining area when Elvis Stojko – a three-time world champion and two-time Olympic silver medalist – sat down next to him.
"He told me how cool it was that I got to be there, and how awesome it was that I had kept training – even though I didn't have a guaranteed spot," Ali said.
Ali was as motivated as ever.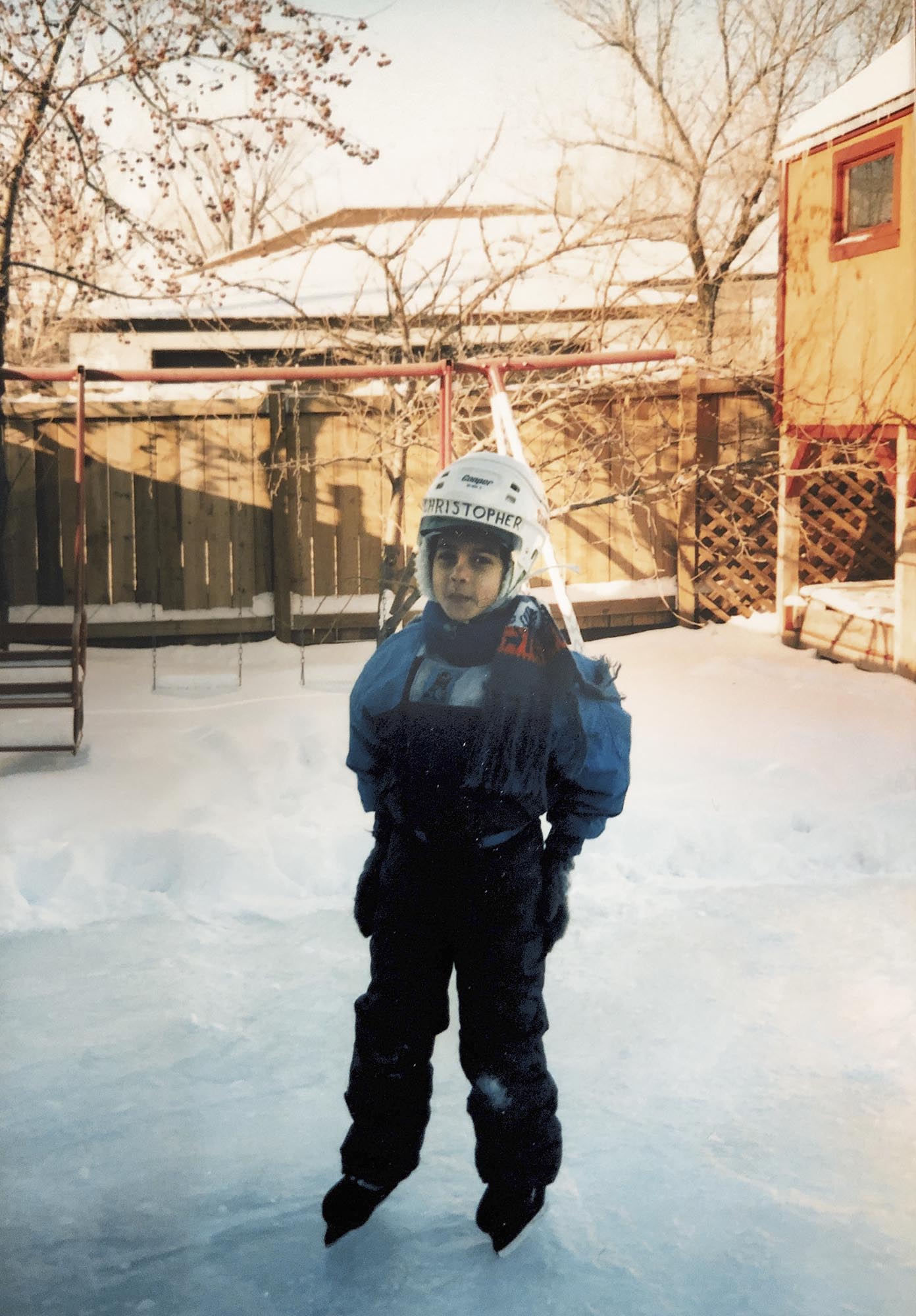 Growing up, Ali gravitated to figure skating rather than team sports like soccer. (Contributed photo)
Wanting to push himself to the next level, Ali decided he needed to leave Winnipeg, which was known more for producing good curlers than figure skaters. In 2002, at the age of 19, he moved to Edmonton to train under Jan Ullmark, a former Swedish national champion who would later coach Canadian stars Jamie Sale and David Pelletier to Olympic gold medals.
That summer, Ali began competing in the senior ranks against other Olympic hopefuls. It was a tough go.
"My coaches used to say that I would 'win the practices' and really wow some people, and then I would get in the competitions and just couldn't put it together," Ali said.
On many occasions, Ray Ali paced the arena concession stands, too nervous to watch his son perform.
"Figure skating is such a difficult sport to watch when you're attached to someone competing in it, because it's like two or three or four minutes of just anxiety and stress," said Jonathan Ali, who spent many hours in arenas cheering on his older brother. "You want them to hit every jump.
"We were on the edge of our seat every time he was out there."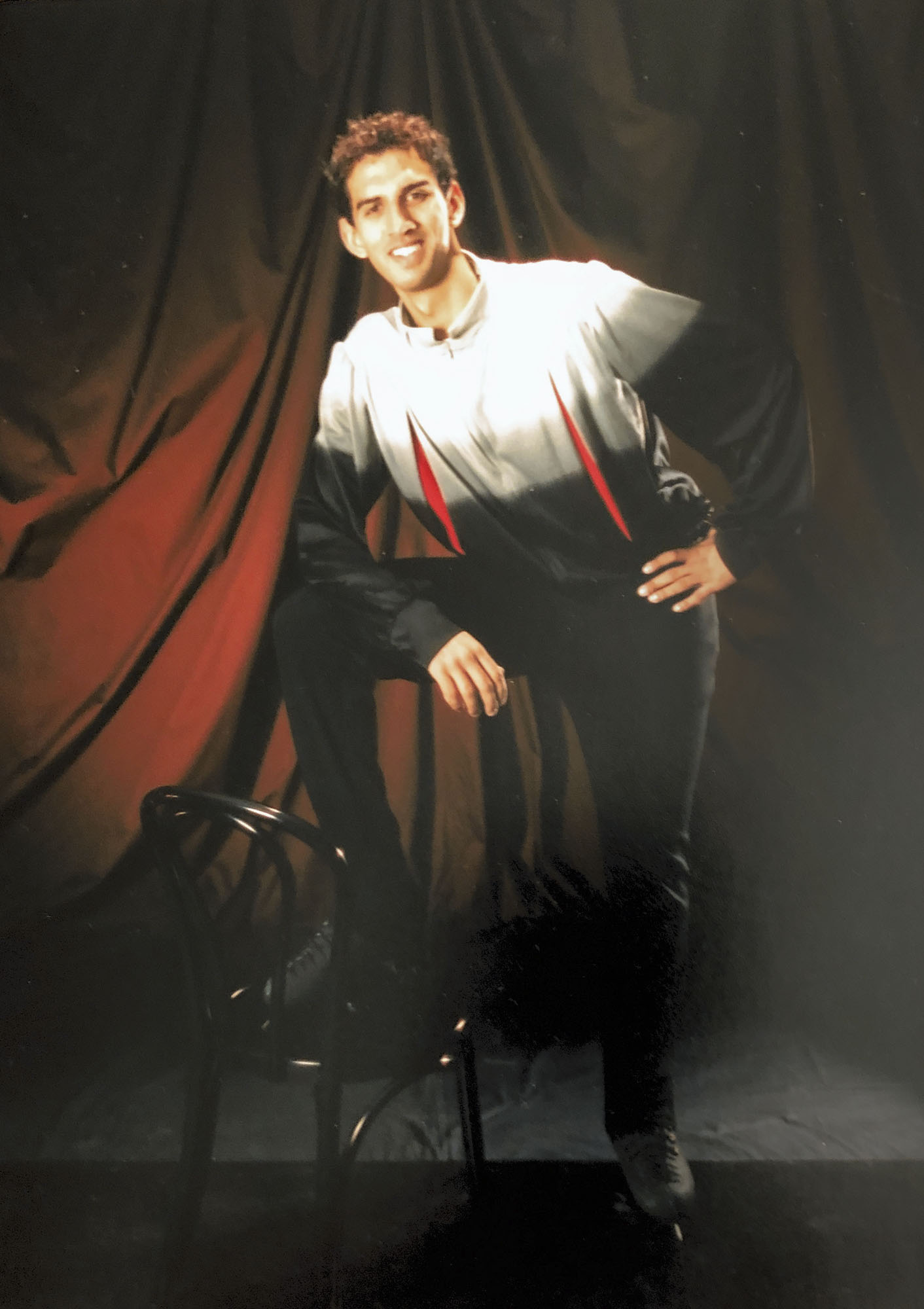 Ali made a deal with himself when he was a teenager that he could only continue to skate if he got good grades in school. (Contributed photo)
It wasn't until he grew older that Jonathan Ali – who played baseball at the University of Texas Rio Grande Valley – realized the mental hurdles his brother was facing.
"The thing that always got me so worked up with skating was that it was such a judgment sport, and sometimes so subjective in the judging process," he said. "I couldn't imagine how difficult that was. For me, it was either you scored more than your opponent or you didn't. It was pretty easy to evaluate wins and losses that way.
"With skating, I just can't imagine how exhausting it would be to deal with that kind of judgment as a 15-year-old, a 16-year-old in a sport like that. It just has to be mentally draining."
At one event, Ali had dyed part of his hair blonde. A judge called him a "badger" (not meant as a compliment) and told him that if he ever did it again, she would refuse to let him on the ice.
But Ali said one of his lowest moments occurred at the 2004 Canadian Championships in Edmonton. There, Ali placed higher than he ever had before, yet an article in an Edmonton newspaper suggested that he may as well quit if he wasn't going to make it to the very highest reaches of the sport.
Ali still recalls the headline of the piece: What was the Point?
"It was awful," Ali said. "I mean, I'm 20 years old and I felt they totally ripped on me – like what was the point of me being there? It was pretty low."
Ray Ali had attempted to hide the article from his son.
"It was very harsh," Ray Ali said. "It's impactful when some unknown person says, 'Get him off the ice.' That was really what was implied. But there are many more Christophers than there are first-place winners. It's amazing how hard these kids work. To me it was a reminder of all the hard work these kids put in."
Unfortunately, that wasn't of much solace to Ali, who was not only down about his performances, but, with all of his friends back home in Winnipeg, quite lonely.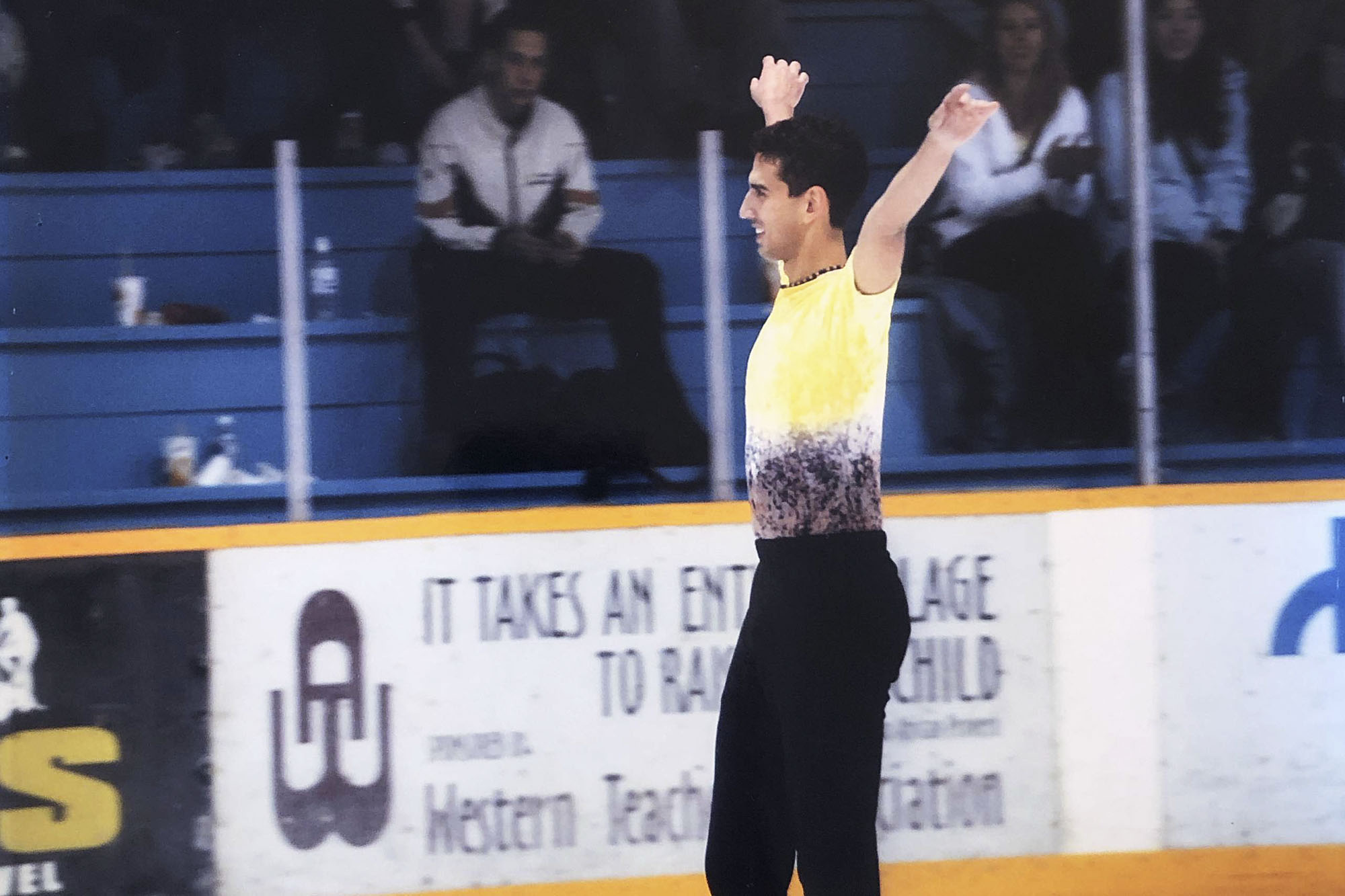 Ali enjoyed a great deal of success on the ice, including winning the Manitoba Championships when he was 16 years old. (Contributed photo)
He also had something else on his mind – Ali was still struggling with how to tell his parents he was gay. Looking back, Ali believes not doing so was detrimental to his skating career.
"How does one perform in front of 20,000 people when one can't even perform to themselves – or be honest to themselves?" Ali said. "And so there was an impasse there."
Fortunately, Ali had an outlet: academics. Within the competitive figure skating world, Ali was a rarity, in that he was also a full-time college student at the University of Alberta.
Ali's mother, a television executive, and father, a family counselor and therapist, modeled the importance of education – which was something Ali took to heart.
"I always had a deal with myself going through high school, and it continued through university, that I would only pursue figure skating so long as I got straight A's," Ali said. "I always got straight A's – so I always skated. That was the deal. Good grades meant I could keep skating."
Between skating sessions, you could find Ali buried in a book – which, as fate would have it, led to one of his fellow skaters nicknaming him "Professor."
From about the age of 15, Ali knew that becoming a professor was exactly what he wanted to do.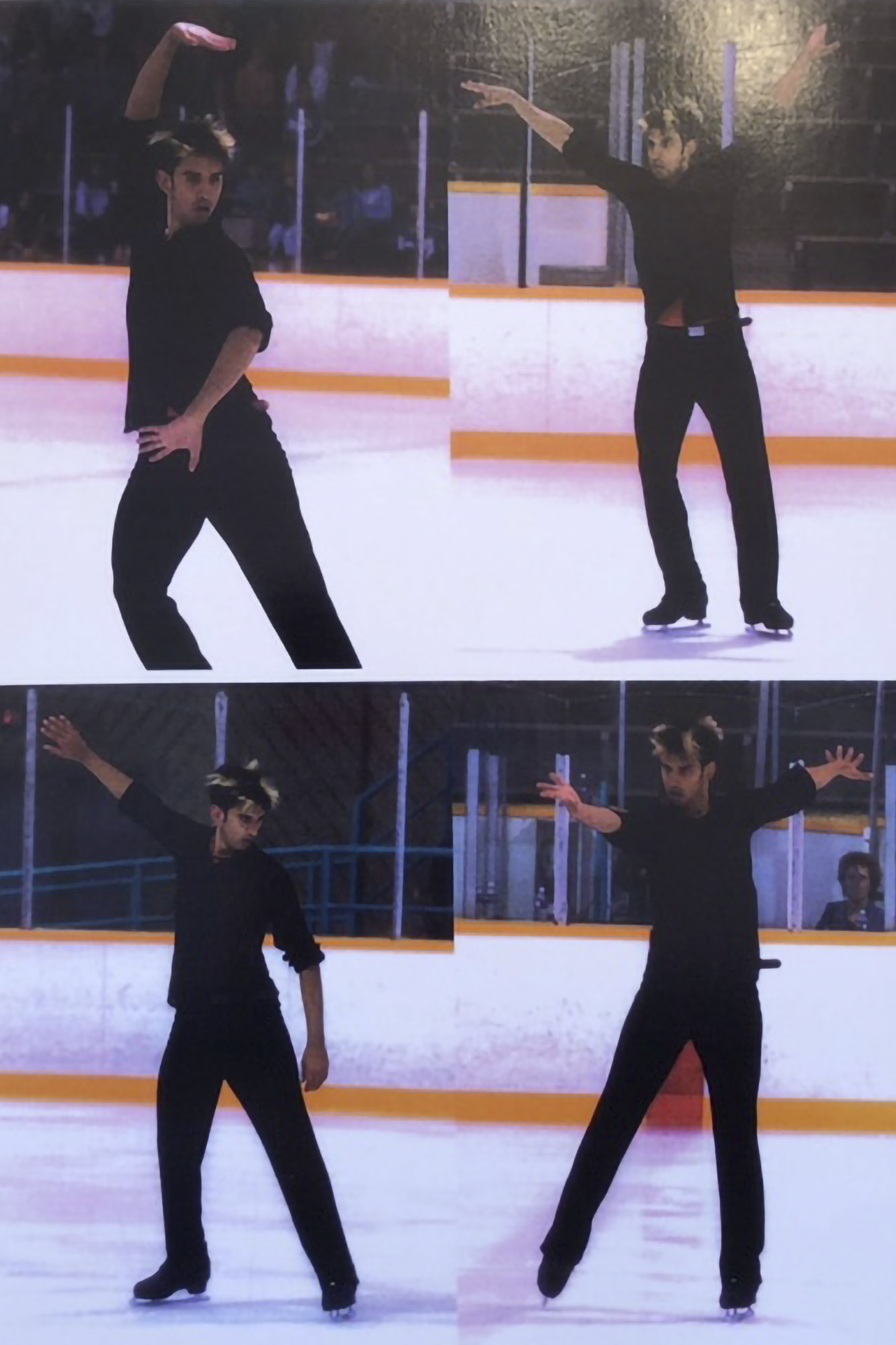 The ice was Ali's stage, according to his mother, Elaine. (Contributed photo)
Ali was always drawn to his mother's work, going as far as to examine documents she would bring home from her job as a senior vice president for the CTV Television Network in Canada.
"She was definitely a pathbreaker for women in media," Ali said.
Ali's studies gave him a respite from whatever challenges he might be facing on the ice – not that things were always so terrible.
Some of Ali's most cherished moments were ones that occurred in practice or behind closed doors, such as the time – after having failed twice – he passed the senior competitive skating test that allowed him to compete at the senior national and Olympic-qualifying level.
Then there was the time, in the lead-up to the Canadian Championships in Edmonton, when Ali did a practice routine featuring music from a "Harry Potter" film. "You could hear all these kids get really excited and yelling, 'It's Harry Potter!'" said Ali, grinning. "I like to think I had these kids glued to the edge of their seats."
Still, the stressful moments outweighed the fun ones. In 2005, after a sub-par performance at the Canadian National Championships in Ontario, Ali began to question how much longer he wanted to continue.
"That summer, figure skating just stopped being fun for me," Ali said. "I was miserable."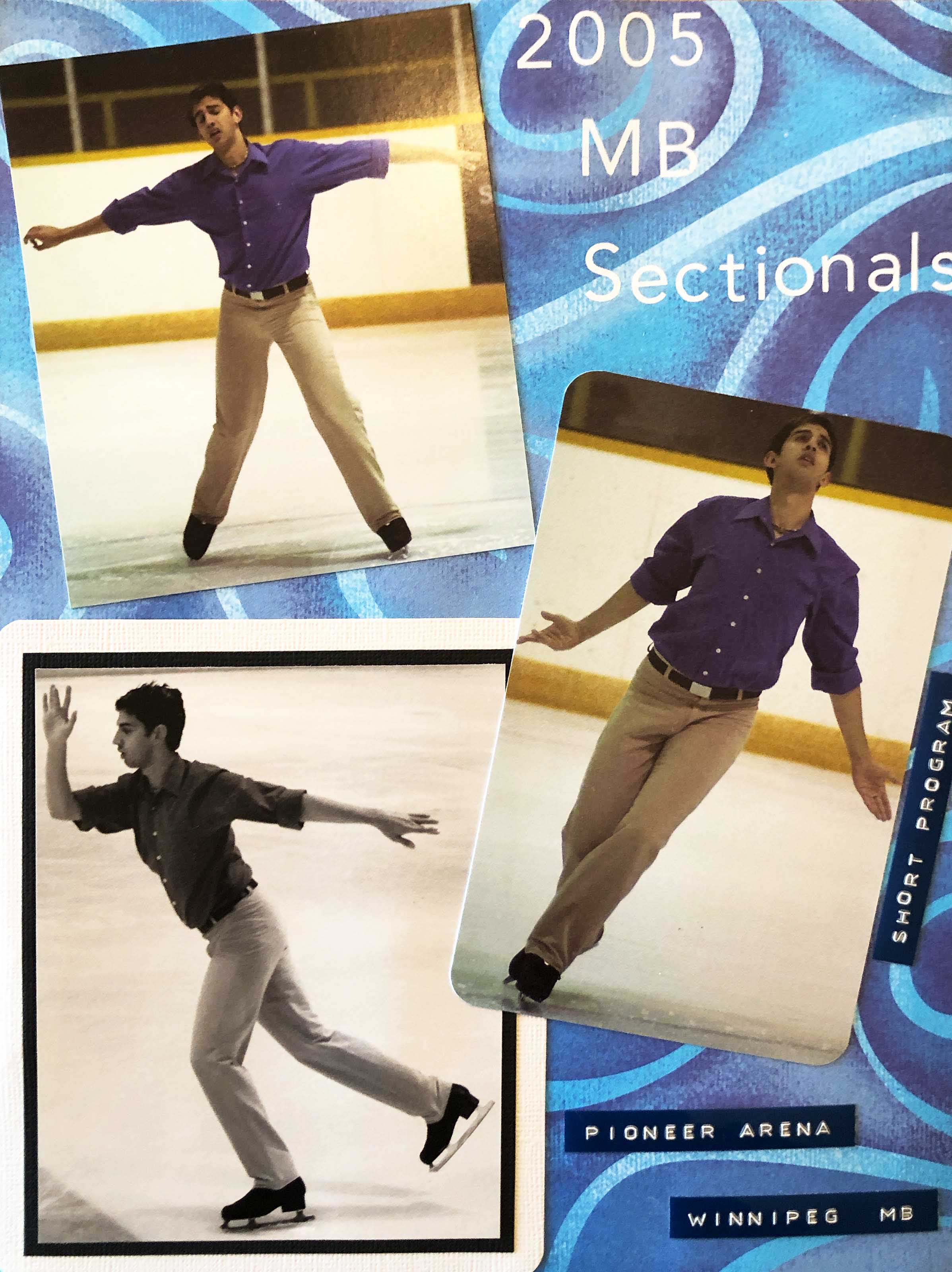 At the age of 19, Ali moved to Edmonton to work with Jan Ullmark, a former Swedish national champion. (Contributed photo)
But one September morning, everything became clear over a breakfast with roommate Jordan Wenzel, a former figure skater.
"He was like, 'You know what? You don't have to do this if you don't want to,'" Ali recalled.
"It was probably the first time in my life that somebody had told me that – and it was eye-opening."
Within two weeks, Ali had talked to his parents, his coaches and executives in the sport's governing body and made the decision, at the age of 22, to retire, despite the fact he had already earned a spot in the Olympic Trials.
"I think every athlete will call their parents at some point and say they're quitting, and I certainly had enough of those," said Ali, with a laugh, "but I think that September when I called my parents and said, 'I'm done,' they were like, 'OK, you're done.' There was never a moment where they said, 'We've invested all this money in you,' or 'Why don't you do one more nationals?' or something like that. They were like, 'OK, you're done.' That made my decision that much easier. I think they saw the stress it was putting on me and just supported my decision 100%."
But Ali wasn't quite done. Over the next six months, he participated in ice shows – skating exhibitions more for entertainment than competition – and a funny thing happened.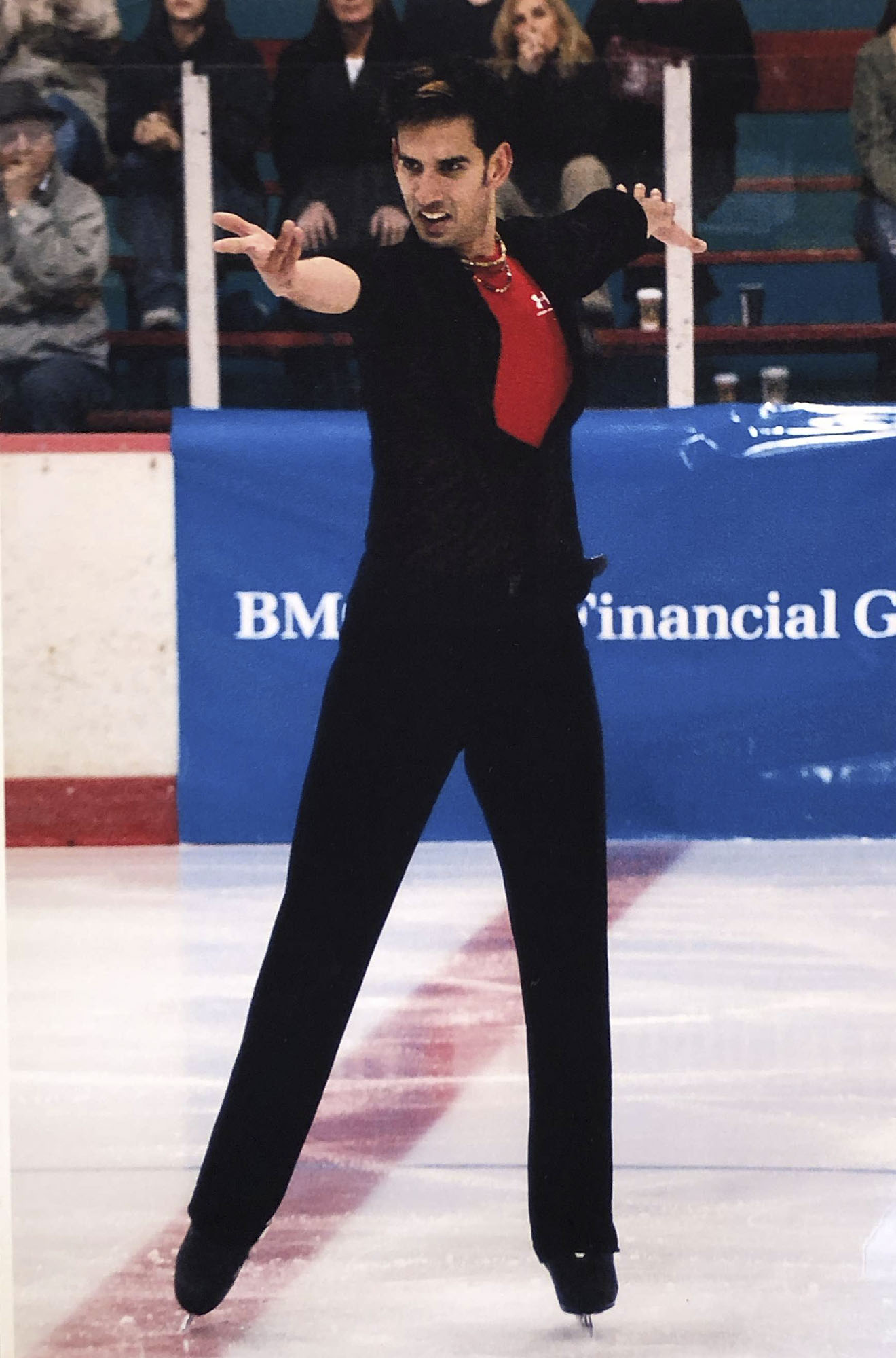 It took Ali many years to realize that he enjoyed training and performing more than competing. (Contributed photo)
"I was having the time of my life, landing triple jumps like you wouldn't believe, because the pressure was off," Ali said. "It turned out what I loved most about figure skating was not just the training aspect, but the performing aspect. I didn't love competing, and it would take me a decade to realize that I'm not a very competitive human.
"You would step on the ice with these guys who would one day go to the Olympics – Emanuel Sandhu, Jeffrey Buttle, Vaughn Chipeur. These were fierce competitors and you could see it in their eyes. You could see it in an Olympic athlete's eyes. I didn't have those eyes when I skated – or at least when I competed.
"But performing was another thing – I love performing. There's something safer about performing than competing – you're not being judged. Performing is just about making people happy."
That realization set the stage for what Ali calls the most eventful month of his life.
In April of 2006, Ali came out to his parents. "It didn't need to be as hard as I invented it to be in my head, because they were incredible and very supportive from the moment I said it," said Ali, who had only come out to a cousin prior to that point.
"It had taken such prominence – the worry, the fear, the anxiety. I had given it so much head space that it was so difficult to [come out], and so much more difficult than it needed to be."
Ray and Elaine Ali said they just wished the conversation had taken place sooner.
"It was heartbreaking for us to realize that when he was a teenager there was a whole lot of stuff happening," Ray Ali said. "He worked so hard that I think he just kept pushing it down and pushing it down."
In one 3 1/2-minute performance in mid-April, a lot of that emotion would come gushing out during a final show in Ali's hometown. Skating to Rufus Wainwright's version of "Hallelujah," Ali landed every one of his triple jumps in one of his most electrifying – and technically sound – performances.
When the music stopped, there weren't many dry eyes.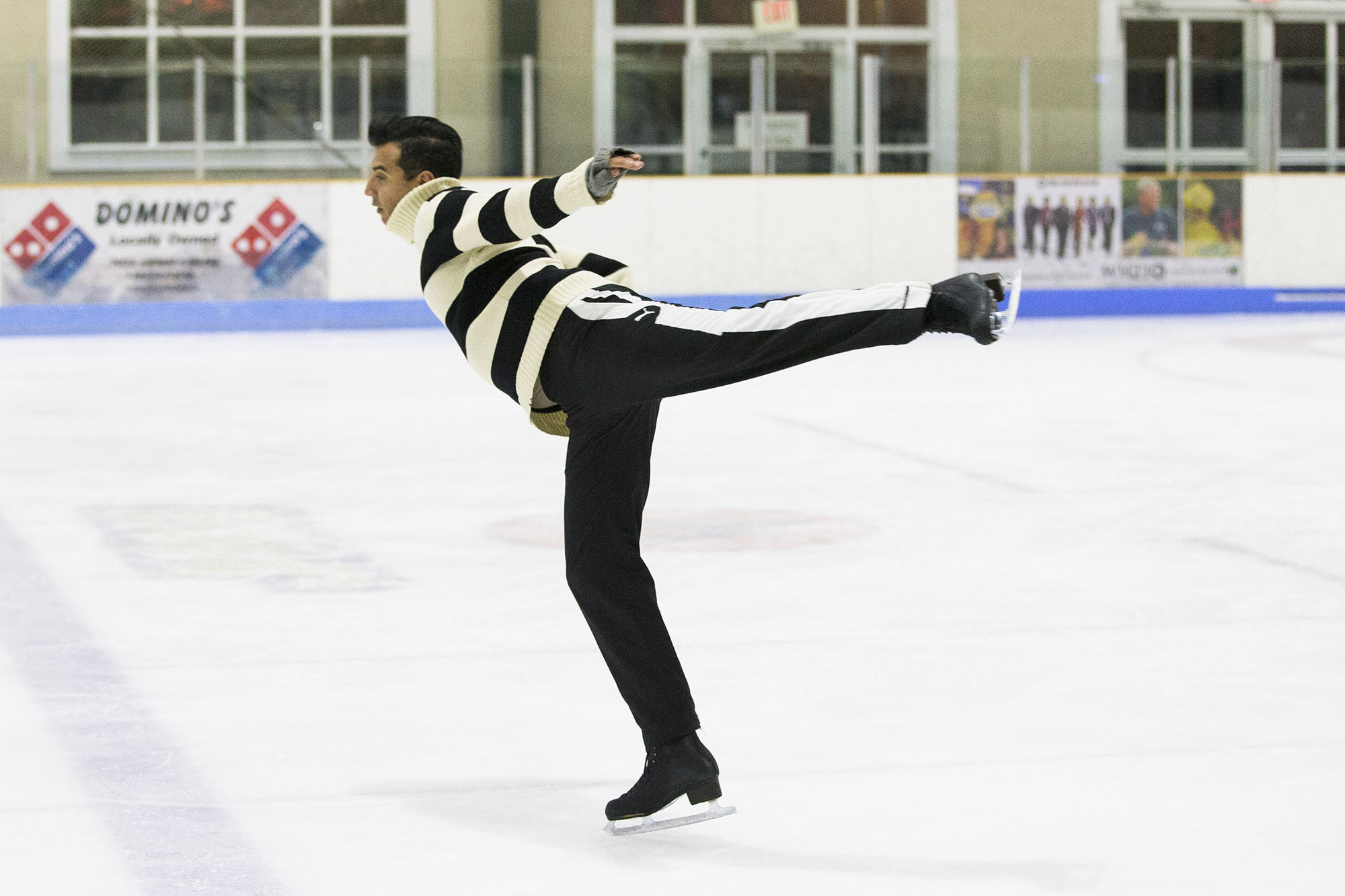 Prior to the closure of the ice rink on Charlottesville's Downtown Mall, Ali coached the UVA figure skating club team. (Photo by Dan Addison, University Communications)
"I cried at pretty much every one of his competitions because I was just so proud, but that one …," said Elaine Ali, her voice cracking. "Even right now, I'm choked up. …
"He was just in such a zone that we hadn't seen him in for a long time. We were very proud."
Ray Ali said it felt as if all of stress his son had been living with had evaporated.
"I think it was the one and only time he skated freely," he said.
Christopher Ali agreed. "It was so freeing and so relaxing," he said. "It was a beautiful ending."
Ali concluded the month by graduating from college. He then did some traveling and coached in a small town in Italy before getting to work on his goal of becoming a professor.
In 2007, he moved to Montreal to pursue a master's degree in media studies at Concordia University. That's when he found his calling – media policy. Strongly influenced by his mother's career, Ali wrote his thesis on the branding history of Winnipeg television stations.
After earning his Ph.D. at the University of Pennsylvania, Ali arrived at UVA in 2013.
"Before we even interviewed Chris here, I had heard glowing accounts of his work ethic and boundless energy from his graduate school mentors," said Robertson Professor of Media Studies Siva Vaidhyanathan, the former chair of the media studies department. "They all promised me that Chris would be the most likable and interesting colleague. It turns out he is also the most productive and relevant scholar I know. We got so lucky to have him here."
Ali, who gained tenure last year, loves that his job is much more than writing books and peer-reviewed journal articles. He said it feels great to actually be making a difference in communities. Ali serves on a number of panels examining how broadband can be brought to some of Charlottesville's surrounding rural counties, like Louisa and Powhatan.
In 2019, he wrote an op-ed for the New York Times on the need for a national rural broadband plan.
"There have been real-world changes where I'm proud to say that I've been part of the conversation, and I think that's something that I never expected to happen in my academic career," Ali said. "Being able to translate my work from academia to the public has been very special."
Two years ago, Ali presented his work on rural broadband to a U.S. House of Representatives Democratic task force. In March, he testified before the Senate Commerce, Science and Transportation Committee on the topic.
"We're beyond proud," Elaine Ali said. "For him to kind of be known as the rural broadband expert and to be called on to help various counties and communities, and at so many conferences and organizational think tanks and to the Senate …"
Jonathan Ali sent the link of his brother speaking at the Senate to all his friends and coworkers.
"Getting the chance to brag about what my brother is doing is pretty special," he said. "I'm extremely proud of him and the work he does."
Ali refers to his parents, brother and fiancé, Ben Reeves, as his "front row."
"He knows he's got a pretty big cheering crowd here," Ray Ali said during a recent phone call from Winnipeg, "and in some ways is representing all of us in the academic world."
Front row members will be in Charlottesville this Thanksgiving for Ali and Reeves' wedding, which had been scheduled for last year until the pandemic hit.
Jonathan said he wouldn't miss it for anything – especially after his brother was the best man at his wedding at the outset of the pandemic. Ali flew to Winnipeg and quarantined in an Airbnb for two weeks just so he could be part of a one-day wedding.
"When he does something, he does it with everything – with passion and with care," Jonathan Ali said. "Whether it's skating or family or profession."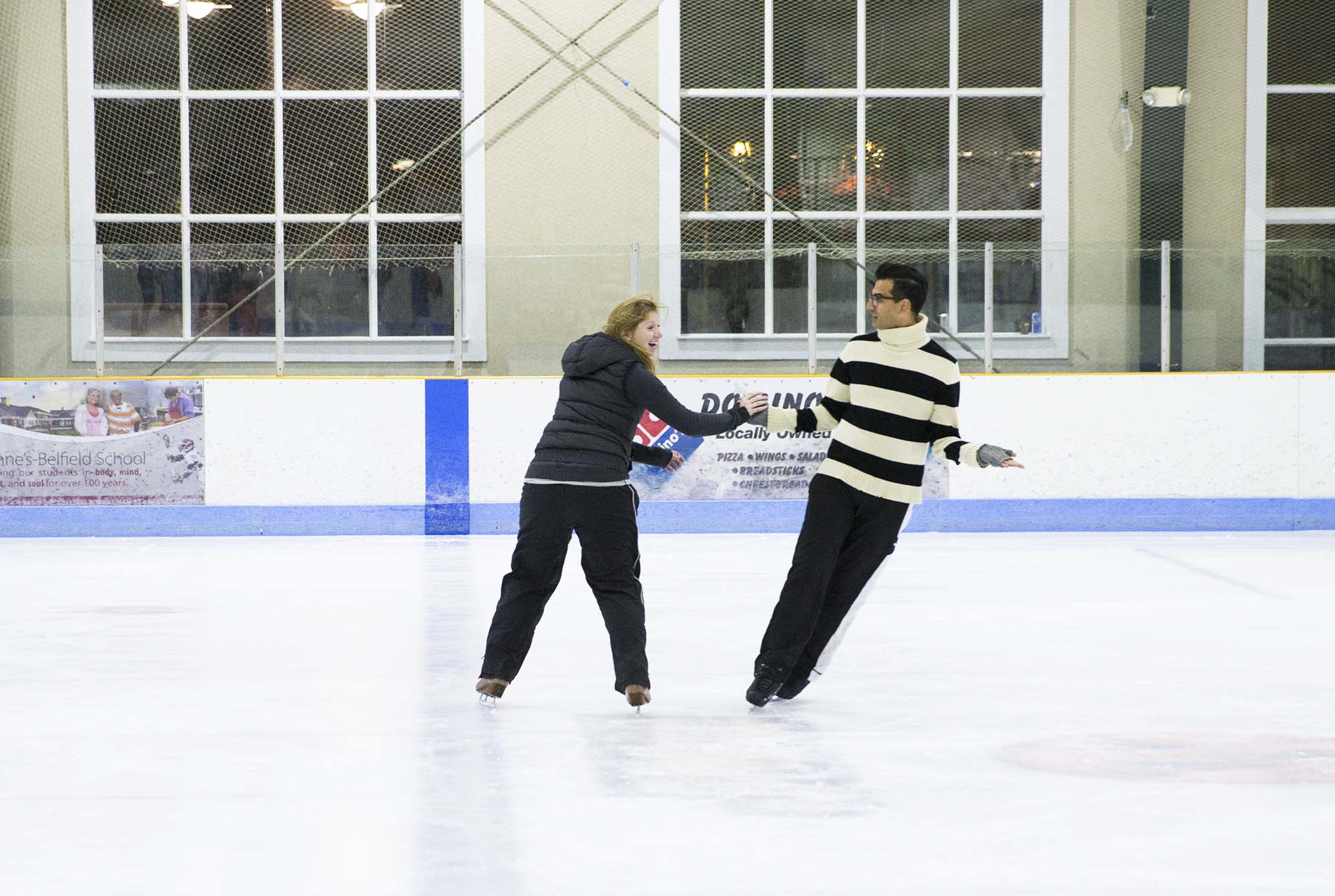 Through all the ups and downs, Ali said he is thankful for his time on the ice. (Photo by Dan Addison, University Communications))
Ali said his one regret from skating was not achieving results reflective of all the work he put in.
"You don't necessarily want to play the 'shoulda, coulda, woulda' game," he said, "but I am fairly confident that the anxiety of me being in the closet contributed to my lack of achieving my goals. I do think there's a direct correlation. I think me being kind of unhappy and working so hard to bracket off that huge part of my life took its toll psychologically and probably took its toll physically."
While his days as a competitive skater are in his rearview mirror, Ali said he is still drawn to the sport.
Prior to the closure of the ice rink on Charlottesville's Downtown Mall, Ali coached the UVA figure skating club team. If the city should get another rink, Ali said he would love to teach children through a learn-to-skate program like the one that started him on his journey all those years ago.
Through all the ups and downs, Ali is thankful for his time on the ice. Skating, he said, will be with him forever. In fact, he said every class that he teaches is a performance that skating has prepared him for.
One good thing about classes currently being online is that Ali hasn't had to fret about breaking any more furniture.
"The tables of the University of Virginia are safe," Ali joked. "At least until the fall, when I guess we'll go back and try them out again."
Article Information
March 31, 2021
/content/faculty-spotlight-hallelujah-professors-inspiring-transition-figure-skating-academia