"Venture into the depths of Alderman Library to aid the ghost of Edgar Allan Poe. No one may leave until all debts are paid." Thus reads the description of the Haunted Alderman Escape Room, opened for the first time this week.
Poe, one of the University of Virginia's more famous – or infamous – former students, remains popular for his spooky stories and poems, including "The Tell-Tale Heart" and "The Raven."
Alderman circulation desk manager P.J. Coleman thought putting on an "escape room" – with a Poe-inspired theme to go along with Halloween – would be a fun bonding experience for students during the library's last year before it closes temporarily next year for extensive renovations.
An escape room is a mystery game room, inspired by video games such as Myst, but featuring real-life quests in a real place. People work cooperatively in teams; in Alderman, each team had 45 minutes to win the game by using strategy, creativity and logic to look for clues, solve puzzles and open locks.
First created in Japan, escape rooms came to the United States around 2012.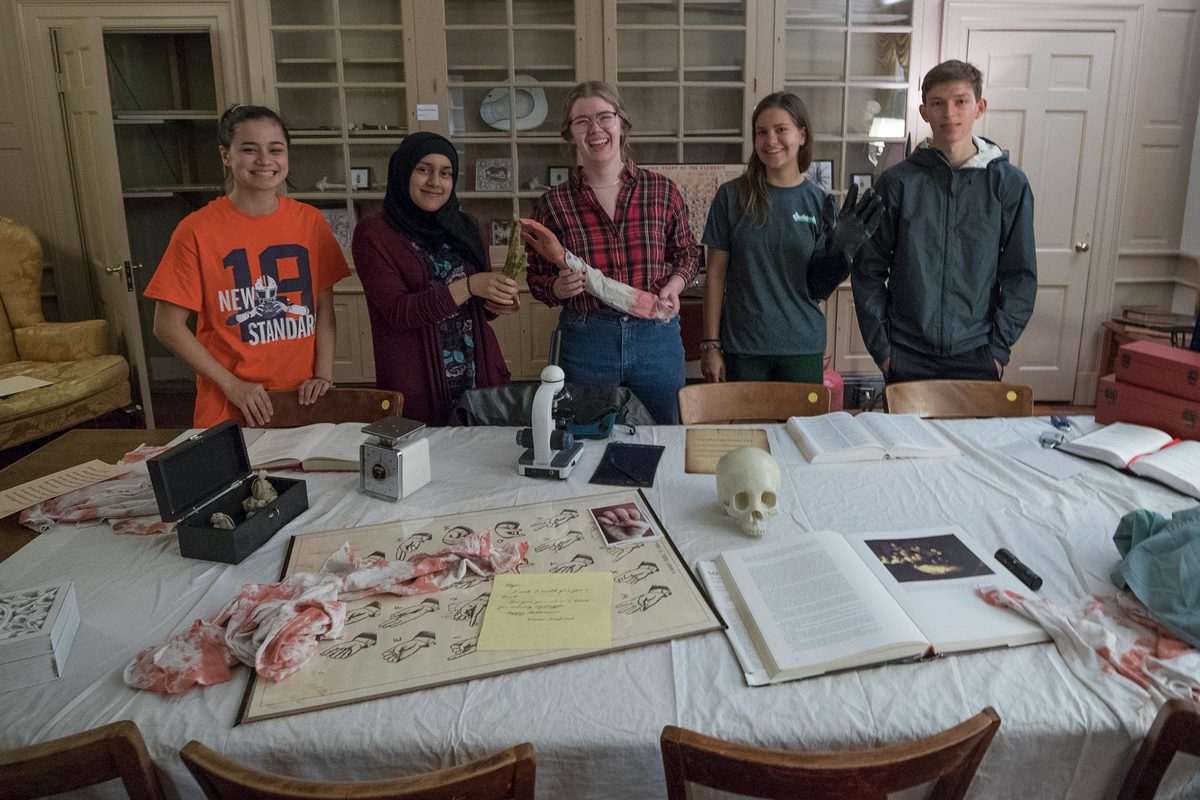 From left, UVA students Emily Campbell, Samreen Azam, Elizabeth Whitworth, Carly Hummer and Spencer Barnes were happy to solve the game in fewer than 45 minutes.
Coleman enlisted the help of students from the UVA Library Council, a group of 10 to 13 students with whom he's been working for two years, to organize the sessions and drum up interest among their fellow students. Instructional librarian Haley Gillilan, who also co-chairs the council with Coleman and helps undergraduates make the most of the library's resources, helped run the Escape Room games.
The local, independently owned Cville Escape Room provided the story lines and mechanics. The business donated time and talent to designing this game.
It all started with a note from a fictional "Dr. LeGrand," who wrote that he would give Poe a hand in paying his gambling debts if the mystery was solved.
The student organizers initially set up four sessions for three dates, Oct. 29 through 31, but received so much interest, they added another night on Monday and a special session during the day on Thursday.
Because the librarians found out other library staff members were curious, they decided to hold an event for them on Friday.
Participants didn't have to crawl, climb, use excessive force, or lift anything heavy. No one was really locked in, and it wasn't that scary. No prior knowledge was required.
"They had to figure out what's going on," Coleman said. "They had to solve a mystery that's historical fiction."
The Haunted Alderman Escape Room game took place in the Mount Vernon Room, located in the bowels of the second floor. It is used for meetings, but not open to patrons – and therefore is unknown to most students.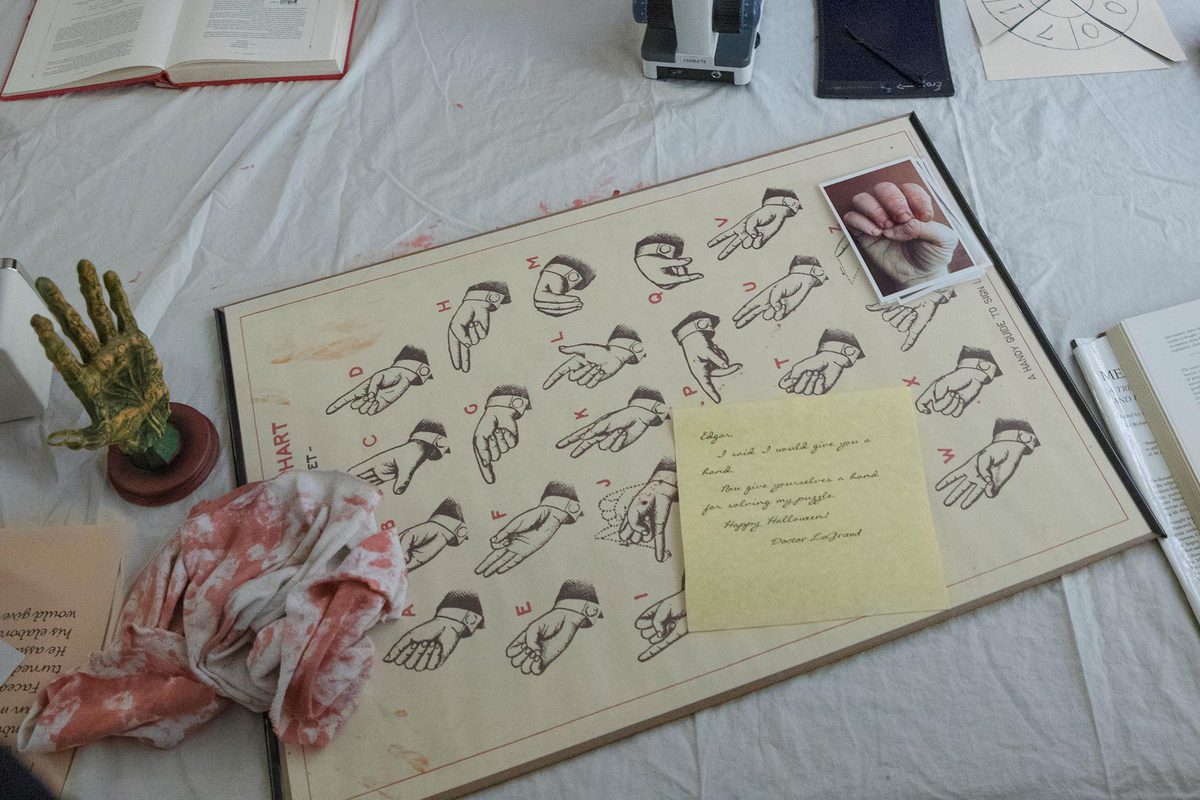 The Escape Room game started with a note from a fictional Dr. LeGrand, who wrote that he would give Poe a hand – at left – in paying his gambling debts if students solved all the clues.
The game's props included fake blood-soaked rags, illustrations of anatomy, skulls and other body parts, a periodic chart of the elements, and 10 locked boxes with key clues and puzzles that were set around the room.
Meeting at the bust of Poe, which presides in Memorial Hall, teams of up to 10 students took turns participating, posting their photos and completion times on Facebook. The fastest team completed the game a few seconds short of 22 minutes. The average time, according to Coleman, was about 30 minutes.
The Thursday afternoon group of six students took a while to find the first clue and get started, but then they got the hang of it. The game got more exciting as they found more clues and put puzzles together.
Samreen Azam, a second-year student majoring in computer science, said she liked solving this game more than one she had done on vacation, because it was more fun working together with others.
Two other first-year students, Emily Campbell and Raneem Tarfa, who enjoyed the complications of this game, had created their own escape room games in their high school psychology class, they said.
Spencer Barnes, a second-year aerospace engineering student, had played the game once in his hometown of Charlotte, North Carolina. The coolest clue in the Alderman Escape Room, he opined, was having to breathe on a mirror to have a clue appear – the word "heart," which ended up being the combination for one of the boxes.
And what did they find in the last box with the last clue? Dr. LeGrand's hand. (Remember what his note said.)
The students all said they'd do a library escape room game again. "Absolutely!" said Elizabeth Whitworth, a third-year student majoring in women, gender and sexuality. Initially, she tried to figure out the code for one of the locked boxes unsuccessfully and was ready to give up, but turned to her peers for help and got more involved.
In addition to Alderman's escape room, the nearby Albert and Shirley Small Special Collections Library is featuring a Halloween-themed exhibition, "What Lies Beneath: The Macabre and Spooktacular of Special Collections," in the first floor gallery, on display until Dec. 21.
See how this exhibit, as they say on the website, "takes a deeper dive into the closed catacombs of UVA's archival nether world. Leaving no page unturned or manuscript box unopened, [reference librarians] have ferreted out the most frightening and ghoulish collections."
Coleman, who has worked at Alderman Library for six years, said he has since found out that the library's teaching and learning department once devised a kind of escape room to help students practice research.
He said he'd like to consider using the University's other libraries and additional themes to offer other escape rooms in the future. "We could showcase the breadth of services of the various libraries," he said.
Article Information
October 31, 2019
/content/first-haunted-alderman-escape-room-asks-students-solve-mystery-poe