When Mary Yonkman was little, some of her favorite experiences revolved around pancakes.
She remembers making them with her father on weekend mornings. She remembers eating them at her summer camp along the David Branch of Gnaw Bone Creek in southern Indiana. Yonkman even overcame her fear of dogs after meeting a pooch named Pancake.
So when an essay question in the application to the University of Virginia was "What is your favorite word and why?" she responded with – you guessed it – "pancake."
"If accepted as a student at the University of Virginia, I would coordinate a pancake event on the Lawn," the then-high school senior wrote. "An invitation would be extended to all, to come by the Rotunda and enjoy delicious pancakes, while experiencing a greater sense of community."
Yonkman, then Mary McNaught, made good on that promise in 2004 and you won't believe where her seemingly simple idea has gone.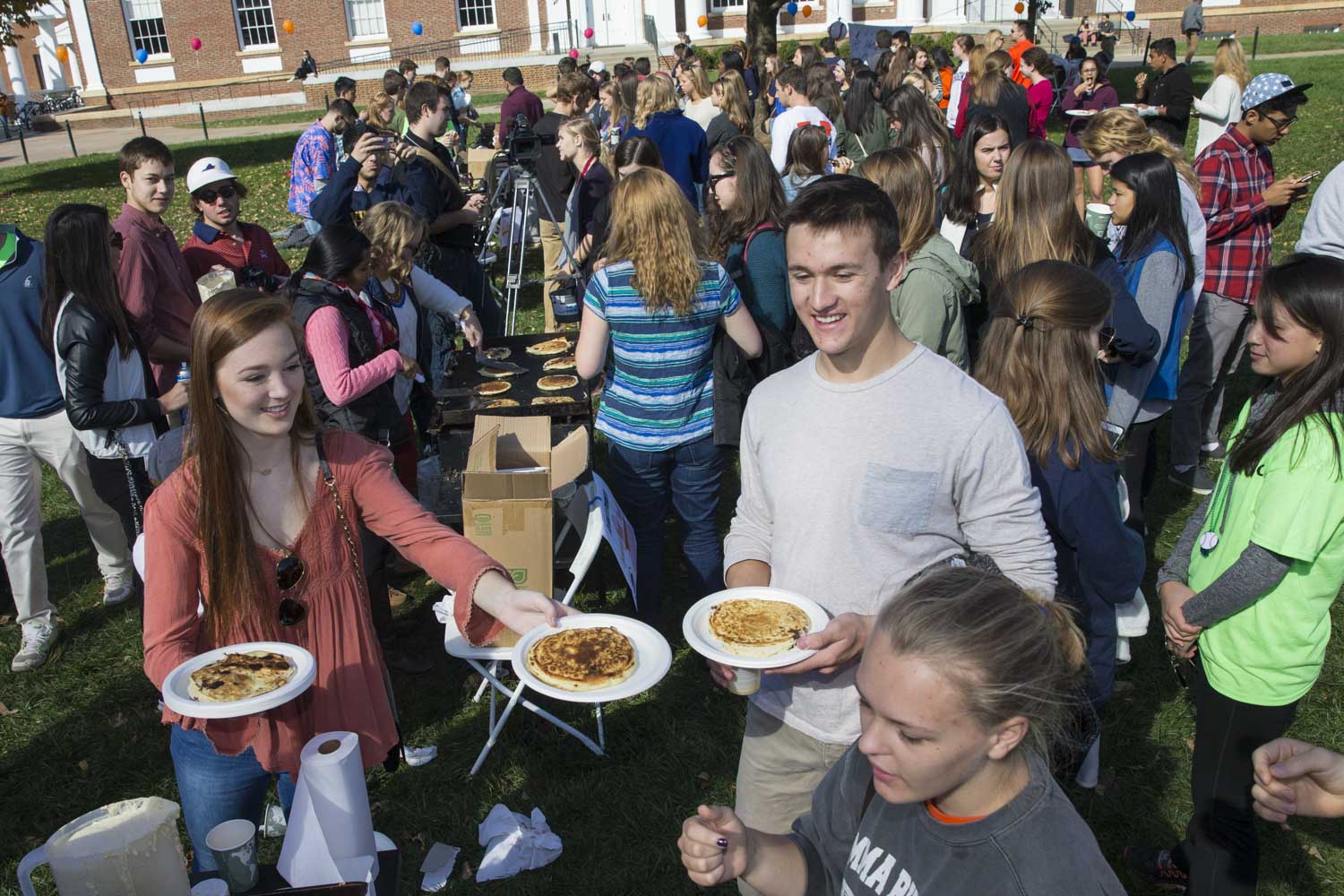 The flapjack juggernaut, now in its 15th year at UVA, has caught on at schools, towns and community centers around the world and has been embraced by the Michael J. Fox Foundation, founded in 2000 by the actor to help find a cure for Parkinson's disease. To date, UVA has raised more $500,000 and aims to raise an additional $70,000 Saturday.
This is the history of "Pancakes for Parkinson's."
Back to the Future
In addition to a love of pancakes, Yonkman is a huge Marty McFly fan. McFly, you may recall, was the main character in the 1985 Hollywood hit, "Back to the Future."
"I loved Michael J. Fox as an actor," she gushed. "I loved 'Family Ties.' I loved 'Spin City.' 'Back to the Future' was the first movie I ever saw in a movie theater."
There was another connection for Yonkman. Her godmother, Holly, had early-onset Parkinson's disease, just like Fox did. She began donating to the foundation and received their mailings.
"College is a time of emerging agency as a person," Yonkman said. "And so I'd get these mailings that were to me. I was helping this cause. So, at some point, the two were married. Pancakes and Parkinson's had good alliteration."
Planning the World's First-Ever Pancakes for Parkinson's Event
Yonkman had the sense that everyone in her orbit at UVA was super-busy. So her strategy was simple; she wouldn't have too many meetings and she would only ask people to do things they were already good at, like reaching out to the local community for syrup or pancake mix donations.
"It really was the most scrappy little organization," she said. In all, not more than 30 students helped that first year (Today, hundreds volunteer to help out.)
The now-defunct Tavern restaurant donated the pancake batter. Walmart gave the syrup and Kroger the orange juice. "It was not nearly the well-oiled machine that it is today, but it worked," Yonkman said. "What I was going for was this event that made people feel good inside because they were eating pancakes, were together on a morning and raising money for a worthy cause."
The night before the first event, Hurricane Gaston was barreling toward Charlottesville and Yonkman did not have a rain site or a rain date. "The Friday night before the event, I gathered my executive committee in my apartment and it was raining so loud they could not hear me," she said.
She remembers her friend, Michael Ehmann, looking at her like she was divorced from reality. "I was like, guys, the sun is going to come out tomorrow! It's going to be great!"
The griddles posed another problem. Yonkman had envisioned griddles plugged into extension cords trailing out of Old Cabell Hall. Chief Student Affairs Officer Patricia Lampkin and the fire marshal were not thrilled with this idea. The father of one of Yonkman's roommates saved the day.
"I still don't know how he did it, especially in the middle of a hurricane, but he got these industrial griddles in Richmond," she said. To this day, she thinks there should be a "Tommy Gordon Award" at Pancakes for Parkinson's, "because there is no way we would have gone past the first year, despite all my enthusiasm, had he not arrived with all of those griddles in the middle of a hurricane."
The following morning, Yonkman arose at 4:30 a.m. to find that it was still raining. But the forecast called for clearing skies. "And I'm not kidding you, 20 minutes before Pancakes for Parkinson's, the sun came out!" The ground was completely saturated, but the show went on.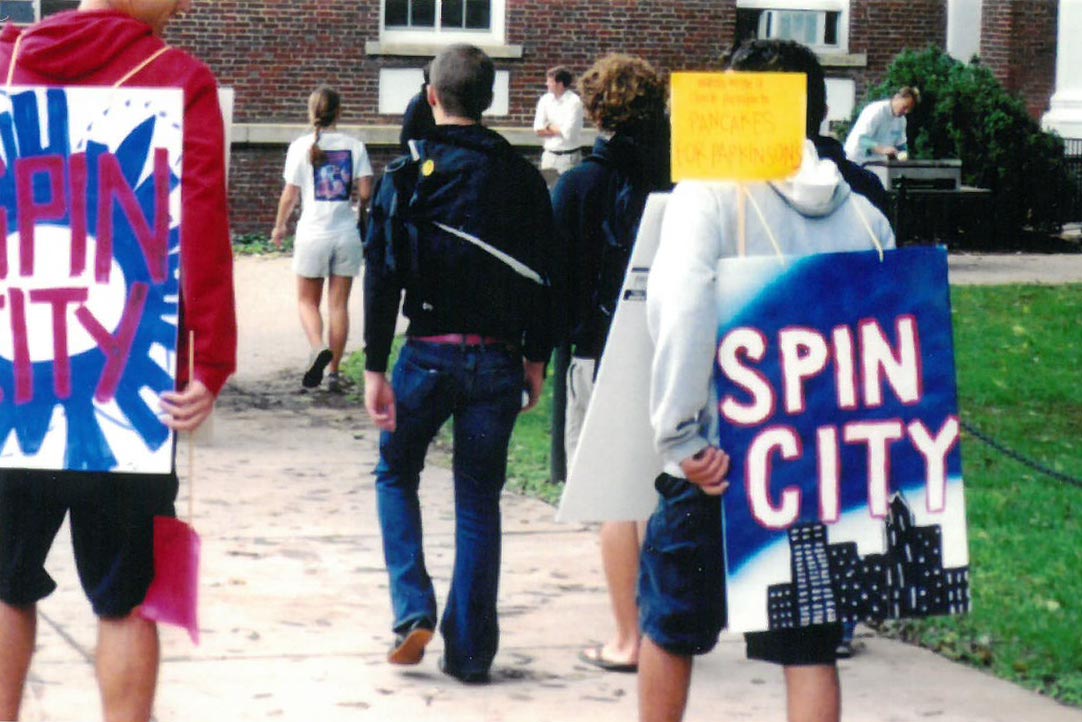 In addition to pancakes, there were a cappella groups and several Michael J. Fox-themed "diners" all around the Lawn. There was a Spin City diner, named for the 1990s sitcom Fox starred in. There was a Marty McFly diner, too, complete with students dressed as McFly and his partner in crime, Doc Brown.
"It was so great. It was just amazing," Yonkman said.
The event raised $6,000, a sum that both impressed and surprised the foundation, which was in its infancy.
Passing the Pancake Baton
Yonkman, who graduated in 2006 with a degree in history, recognized in her third year that she needed a succession plan.
"I quickly realized I had one more year at the University, but I did not stay on as chair because I thought, 'Then it's going to leave with me,'" she said. So Yonkman took on in an advisory role that quickly extended to the Fox Foundation, which had recently launched "Team Fox," its grassroots community fundraising program.
"When they first launched Team Fox, they asked some of the people who had taken an event from soup to nuts to serve as mentors, so I came on board and I did it until I had kids," she said.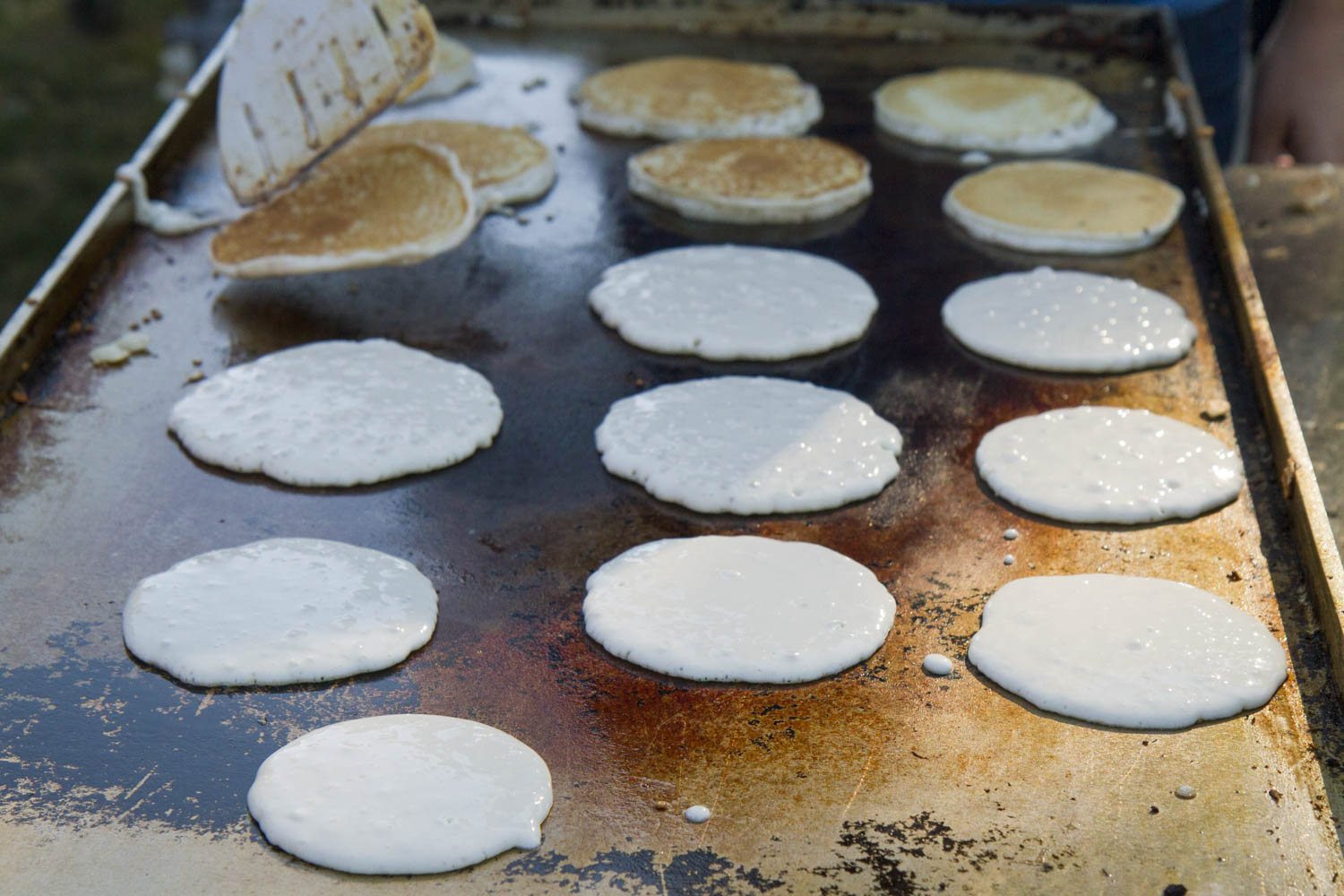 Even after she graduated, the "Pancakes" founder continued to mentor co-chairs at UVA. One of them was Liz Diemer, a 2011 graduate who helped lead the organization in her third and fourth years.
"I love her to death," Diemer said. "She is one of the most amazing humans I've ever met in my entire life."
UVA Embedded at Fox
Diemer, who studied non-profit arts administration, eventually found her way to the Fox Foundation, where she currently serves as the Director of Team Fox and Community Events and annually supports a global community of over 6,000 fundraising members. (The Foundation's CEO, Todd Sherer, also earned his Ph.D in neuroscience from UVA.)
"UVA's Pancakes for Parkinson's is one of our bigger ones," Diemer said. "Team Fox has raised over $80 million since 2006, and that has contributed the foundation's larger fundraising of $800 million since 2000."
UVA's event is one of Team Fox's larger, more successful events, in terms of the funds it raises. "It's also one of the longest-standing events, and they may be one of fewer than five events that have been able to stay around that long," Diemer said.
"It's unbelievably impressive, and I think even more so because the leadership changes every year," she said. "I'm impressed that they have been able to sustain such a high-caliber event from one year to the next."
Diemer said that while the average gift at UVA's Pancakes for Parkinson's is small in comparison to things like Team Fox galas, "When you see how much they're able to raise, it's a beautiful indication of the community that they've built."
Diemer has been in close contact with UVA's 2018 co-chairs, fourth-year students Caroline Keller and Gabby Beard, and will be in Charlottesville on Saturday for this year's event.
This Year's Fundraising Goal
If Keller and Beard get their wish, UVA will raise $70,000 in donations this year.
That's a lot when you stop to consider that students are pitching in a few dollars each. But students are not their only patrons. Pancakes for Parkinson's is deliberately scheduled when there is a home football game, so that parents and alumni will also stop by for breakfast and make donations.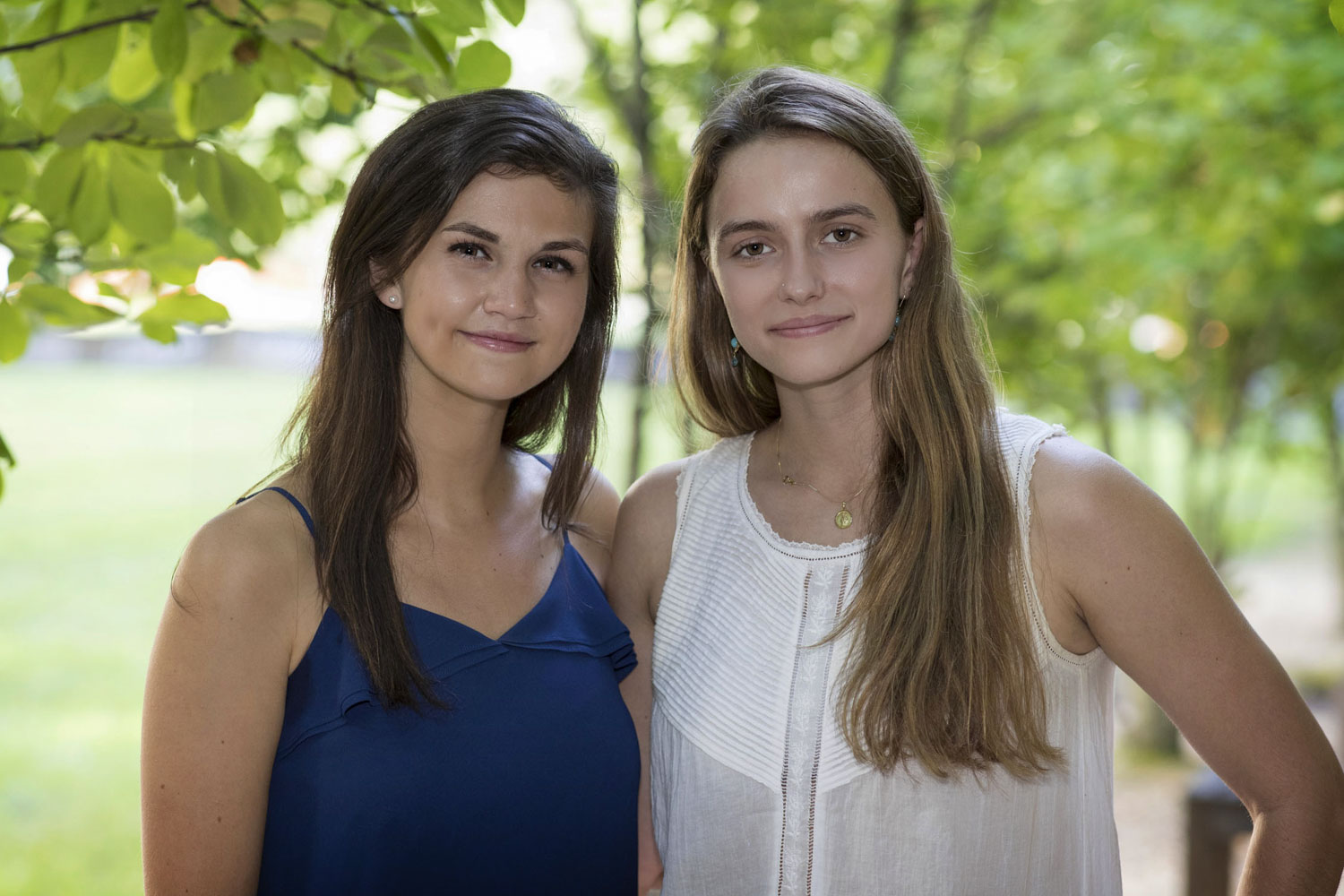 Keller, who is studying biology and bioethics, said it's been a pleasure and a privilege working for Pancakes for Parkinson's. Her grandfather had Parkinson's disease, and that is what initially drew her to the charity.
"We have the most amazing students who are really passionate and go the extra mile," she said. "Our fundraising chair sent over 400 emails to corporate sponsors, family members and other members of the community asking for any sort of donation.
"Our chair also Instagram-messaged Katie Couric [a 1979 UVA graduate] and she decided to give a lunch with her in New York as a silent auction item," Keller said.
Beard, a Spanish major, said she's most excited about this year's theme, "All You Need is Pancakes," inspired by the Beatles' song, "All You Need is Love."
"In response to the year anniversary of Aug. 11th and 12th, we wanted to have our event focused on the love and sense of community that can be found in Charlottesville," she said. "It is an amazing way to foster community and focus on the love around us rather, than the difficulties that surround us at a time where it seems like everything is divided."
UVA's new president, Jim Ryan, will attend his first Pancakes for Parkinson's Saturday and recorded this invitation.
Article Information
October 11, 2018
/content/flippin-awesome-history-uvas-wildly-successful-pancakes-parkinsons