He studies floods. She studies droughts.
Mohamed Morsy and Bakinam Tarik Essawy, husband-and-wife hydrologists, defended their Ph.D. dissertations back to back on the same day recently at the University of Virginia's School of Engineering and Applied Science. He defended his work on modeling potential floods and designing an early warning system for flooding. She defended her dissertation on developing transparent and reproducible hydrological computer programs using very large databases. Their common adviser is Jonathan Goodall, an associate professor in the Department of Civil and Environmental Engineering.
They work in the relatively new field of hydroinformatics, a merging of hydrology and computer science in which vast fields of data are analyzed to create workable models.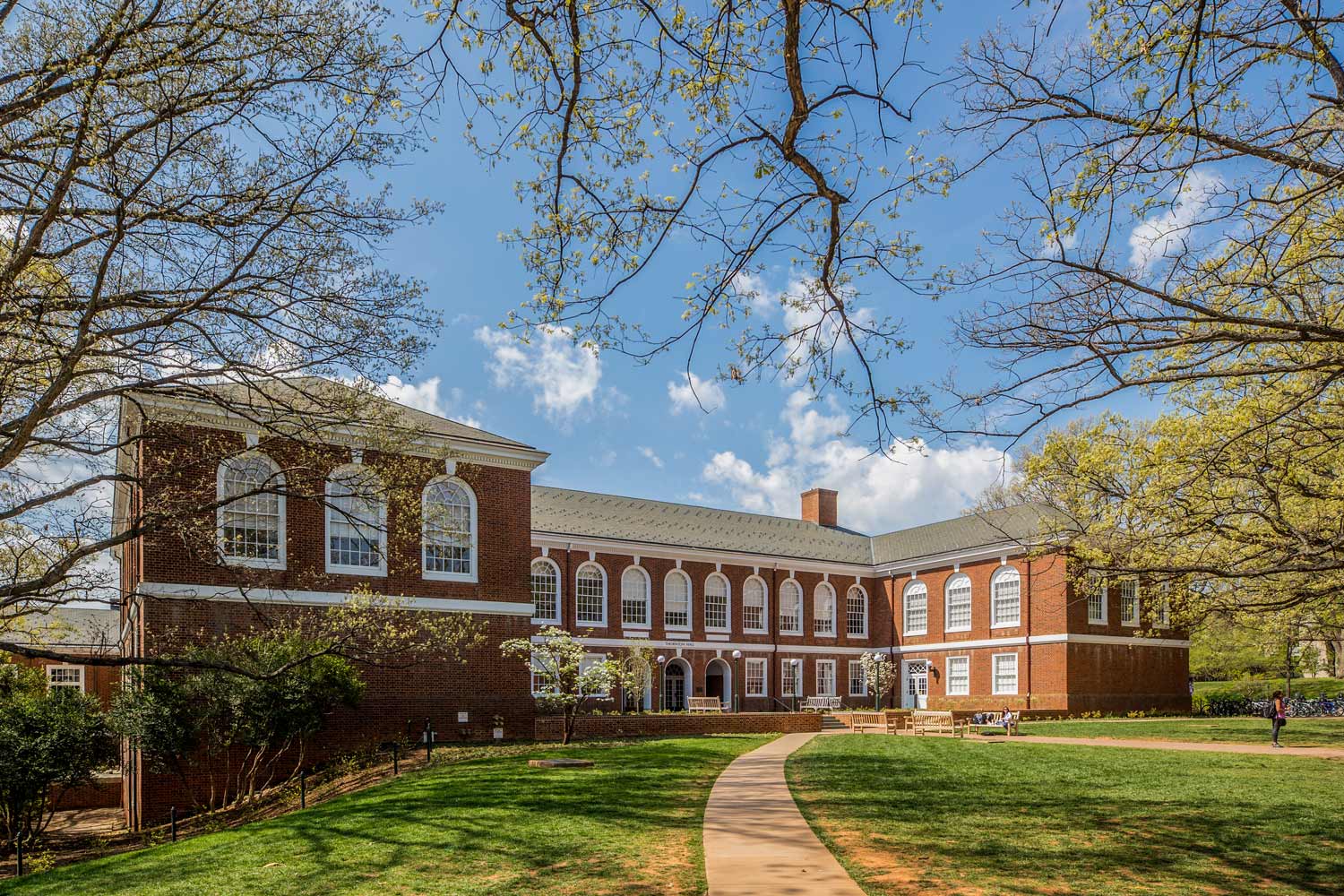 Thornton Hall, home of the School of Engineering and Applied Science. (Photo by Sanjay Suchak, University Communications)
While both of them approach the science of water from different angles, they come at it naturally — they are Egyptians, children of a relatively arid country given to extremes of water.
"Egypt mainly depends on two main sources of water — the Nile river as a source of surface water and the Nile Delta coastal aquifer as groundwater source," Bakinam said. "Egypt now suffers from water scarcity because there are 10 countries that share the Nile river and Egypt is the last on the stream. These countries started building dams, permitting less water to flow through the Nile river to Egypt. And the Nile Delta coastal aquifer is facing the effect of climate change on sea water intrusion due to sea level rise. This causes the high salinity of the groundwater. From here I started thinking of doing a master's thesis to address this problem."
Bakinam, whose parents are from Cairo, came to the U.S. when she was 6 and was raised in Woodridge, New Jersey, where her father, Dr. Tarik Ahmed Essawy, now a professor, was earning his Ph.D.in the New York University College of Dentistry. Once she finished high school, her parents encouraged her to attend Cairo University, where they had first met.
Mohamed was raised in Cairo, where his father, Morsy Anwar Morsy, is a professor at Faculty of Engineering at Cairo University.
Mohamed and Bakinam also met at Cairo University, where they were studying civil engineering.
"In civil engineering, you study the field broadly, and then in the last year, you select a capstone project for graduation," Bakinam said. "I was very interested in water, because in Egypt water can be scarce. I was interested in groundwater, how to filter it and how to build irrigation systems."
They earned their undergraduate degrees in civil engineering and then stayed on for master's degrees. Like many Egyptian children, they are working hard to impress their parents. When Mohamed told Bakinam's father that he wanted to marry her, her father said he could not do it until he had a master's degree. They were married in 2010.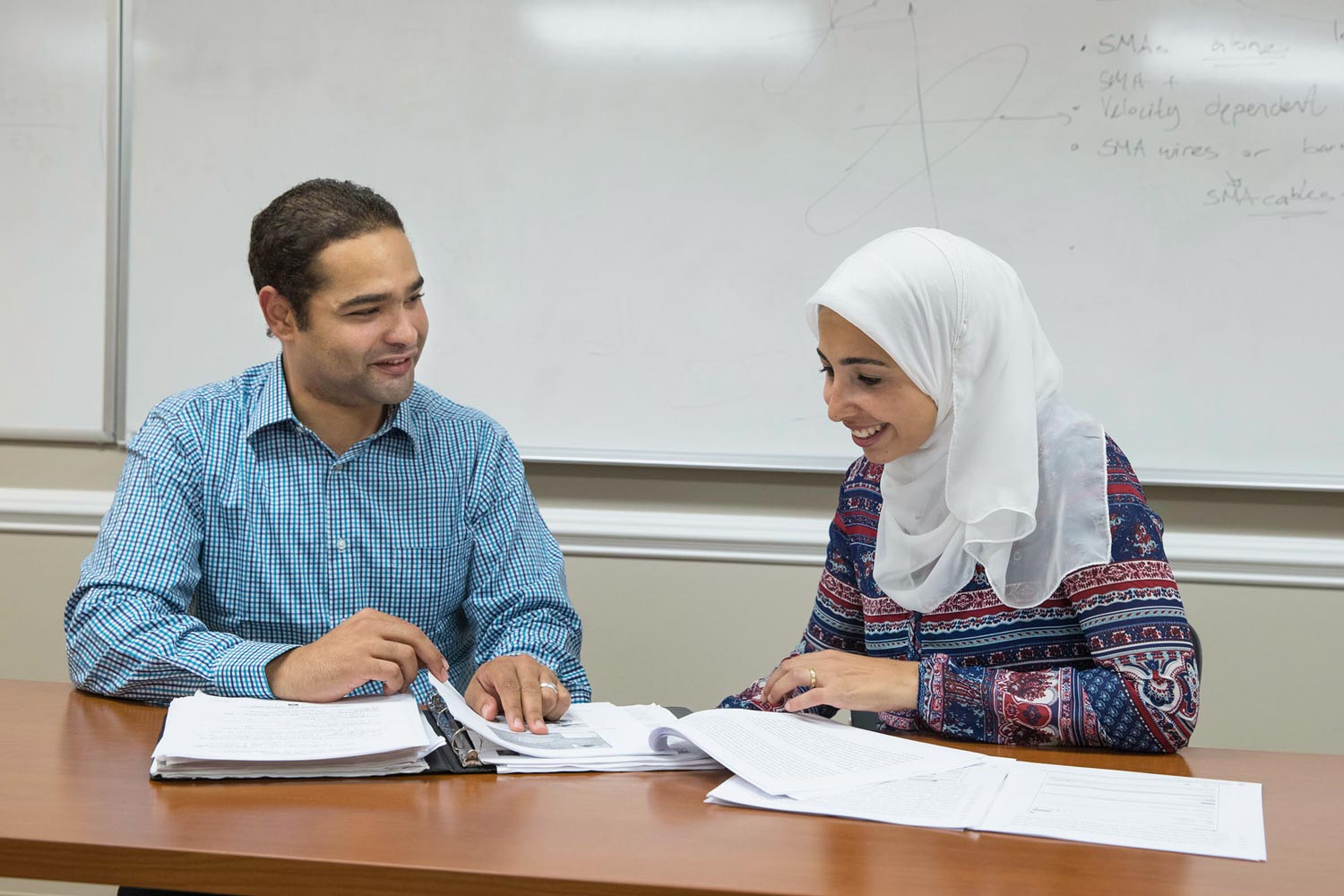 Mohamed Morsy and Bakinam Tarik Essawy compare hydrology reports after defending their dissertations. (Photo by Dan Addison, University Communications)
In 2012, Mohamed sought a Ph.D. and was admitted to the University of South Carolina, where he was recruited by Goodall, who became a friend and mentor. At the same time, Bakinam was finishing her master's degree in groundwater from Cairo while she was living in the U.S., contacting her advisers online in Egypt. She returned to Egypt when it was time to defend her master's.
A newly-minted master's degree holder, Bakinam became fascinated with Mohamed's research of hydroinformatics.
"It was a cutting-edge science combining water resources with computer science," Bakinam said. "I applied to do my Ph.D. in hydroinformatics, and the same time Dr. Goodall was looking for a new graduate student. Mohamed introduced me to him and I applied to the University of South Carolina and I got accepted."
When Goodall came to the University of Virginia in 2013, he gave Mohamed and Bakinam a choice to come to UVA with him or to remain in South Carolina and finish their program with another adviser. Mohamed and Bakinam packed their bags and joined him in Charlottesville, determined to finish their degrees with Goodall.
"Coming here was the right decision for us," Bakinam said. "But we were so scared. We had no family here. We knew no one. We were afraid of the moving process, but since we trusted Dr. Goodall we knew that he will do what is best for us, so we didn't hesitate to join him."
Now that they successfully defended their dissertations, they will remain working at UVA with Goodall as post-doctoral students, contributing to his research at the Environmental Resilience Institute, which uses collaborative research to address urgent social environmental issues, and the Link Lab, which uses collaboration to explore cyber-physical systems, such as body sensors, smart houses and intelligent transportation systems.
They started carving a niche for themselves with hydroinformatics.
"There are already a lot of construction engineers," Bakinam said. "We wanted to serve our communities in a different way."
"They are working on complementary aspects of hydrology," Goodall said. "Mohamed wants to speed up computer models to make them run more quickly for real-time decision support applications, and Bakinam is working on how to make the models more transparent and repeatable so they can be trusted by stakeholders."
Mohamed's goal is to create a program that takes weather data and forecasts flooding. Goodall said his research focuses on the Hampton Roads region of Virginia, where storm water drainage gets more complicated when it meets the rising sea levels from global warming. When Mohamed sees a forecast of heavy rain in the Hampton Roads area, he uses cloud computing to run his flood prediction program. He said he would like to be able to predict floods up to 18 hours in advance of when they occur. He said even a four- or five-hour warning could save lives.
Bakinam, who became more proficient in computer science through her Ph.D. studies, has been researching ways of making large metadata hydrologic models reproducible for other researchers and stakeholders. "I work on how to make models reproducible, trying to define in detail the workflows, metadata and how to automate processing steps," she said.
Mohamed was a teaching assistant at Cairo University, but he wants to remain in the United States and continue his research. He said he is very happy with academia in America, where his research can be published and shared with other researchers, who can use it in their work and possibly build on it.
"When you publish, you publish for everyone," Mohamed said. "It is open source and I know my work is not being thrown in the corner."
"We are serving science," Bakinam said. "Here the technology is more advanced than in Egypt. But from here we are serving both communities. Our work is saving lives and providing water for everyone. We are encouraging others through the transparency of our work."
The couple are raising two daughters, Zeina, 5, and Kenzy, 18 months, who they say have suffered through the dissertation process with their parents. The children have been exposed to engineering concepts their entire lives and and even simple questions are answered in engineering terms.
"With all they have been through with this it is like they are graduating too," Bakinam said. "I want them to march with us when we graduate, maybe in little caps and gowns."
Bakinam and Mohamed have learned a lot about themselves and life in the process, including that it is never too late to do something if you have the will, do your best to achieve your dreams, have faith, ask your parents' blessings, be a good role model for your children and learn from the experiences and cultures of others.
"There is nothing called impossible," Mohamed said. "This is a word we just believe in when we can't achieve what we want."
Article Information
July 14, 2017
/content/floods-and-droughts-inspire-uvas-husband-and-wife-engineers