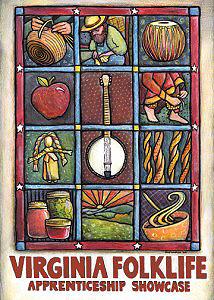 There'll be musicians picking banjos and strumming dulcimers, members of the Chickahominy tribe dancing and cobblers showing off their hand-crafted shoes at the Virginia Folklife Apprenticeship Showcase, to be held Sept. 16 at the Virginia Foundation for the Humanities.
The foundation, which is affiliated with the University of Virginia, will hold the ninth annual festival of its Virginia Folklife Program from 1 to 5 p.m. at the foundation's conference center in the Boar's Head complex. The event, free and open to the public, will feature the music, crafts and traditional skills of Virginia's folk masters and their apprentices.
The Folklife Apprenticeships pair an experienced master artist with an apprentice for a one-on-one, nine-month learning experience to ensure that a particular art form is passed on in ways that are conscious of history and faithful to tradition. This year's showcase will feature masters of a wide range of traditional music styles, including National Heritage Award-winning guitar maker Wayne Henderson, legendary banjo player Sammy Shelor, blues singer Gaye Adegbalola of the Uppity Blues Women, as well as the bluegrass band Loose Strings from Galax.
There will be storytelling, shape-note singing and an oyster-shucking competition. Other featured crafts include authentic Brunswick stew, fried apple pies and artisanal cheese. The work of several different makers of instruments, masks and costumes will also be on display.
"I'm really excited about this year's apprenticeship teams," Jon Lohman, director of the Virginia Folklife Program, said. "We're working with incredibly accomplished musicians and craftsmen and -women who all wish to pass along these vitally important art forms to their apprentices."
Participants in this year's showcase attest to the remarkable range and diversity of folk traditions in Virginia, he said.
The 2011–12 master folk artists and their apprentices include:
Banjo player Sammy Shelor of Patrick County with Ashley Nale of Galax
Cobbler David Young with Yvonne Young of Waynesboro
Oyster aquaculture specialist Dudley Biddlecomb of Northumberland County with Peter Hedlund
Cheesemaker Gail Hobbs-Page of Albemarle County with Kyle Kilduff
Shape note singers John del Re and Kelly Macklin of Clarke County with John Alexander and Diane Ober of Charlottesville
Autoharp maker and player John Hollandsworth with Sam Gleaves of Montgomery County
Mongolian mask-maker Gankhuyag Natsag with Zanabazar Gankhuyag of Arlington County
Caribbean Carnival costume-maker Earl Blake with Scottie Blake of Hampton
The 2012–13 master folk artists and their apprentices include:
Guitar maker Wayne Henderson of Grayson County with Jane Henderson
Blues singer Gaye Adegbalola of Fredericksburg with Lorie Strother of Charlottesville
Chickahominy dancer Jessica Stewart with Vanessa Adkins
Dulcimer maker Walter Messick of Grayson County with Chris Testerman
Jobshop letterpress printer Garrett Queen of Charlottesville with Lana Lambert
Instrument-contest emcee Harold Mitchell of Galax with Dale Morris of Grayson County
Stonemason David Conroy of Montgomery County with an apprentice to be named
Clawhammer banjo player and moonshine storyteller Jimmy Boyd of Franklin County with Jared Boyd
Gunsmith Wallace Gusler of Williamsburg with Bruce Larson
The Folklife Apprenticeship Program is funded by a grant from the National Endowment for the Arts and is an initiative of the Virginia Folklife Program, which documents, presents and supports Virginia's living cultures, traditions and folkways.
The Virginia Foundation for the Humanities, an independent, non-profit organization, was founded at U.Va. in 1974 as the state humanities council.
Media Contact
University News Associate Office of University Communications
anneb@virginia.edu (434) 924-6861