The play is etched in every Cavalier fan's memory.
In a game against Florida State University in 1995, University of Virginia safety Anthony Poindexter helped stop star running back Warrick Dunn at the goal line to preserve a 33-28 win at Scott Stadium, handing the Seminoles their first-ever Atlantic Coast Conference defeat.
But Poindexter's UVA career was about more than one play. Way more.
After helping the Cavaliers to a share of the conference title that season, Poindexter went on to become just the second player in school history to be named a two-time first-team All-American.
On Wednesday, the player whom Cavalier fans affectionately call "Dex" was named to the 2020 Class of the College Football Hall of Fame.
Poindexter said he wishes his former UVA head coach George Welsh, who died last year, could be there to see it.
"The first year I got on the ballot, in very typical fashion, he was like, 'You're not going to get in yet – but you're going to [eventually] get in,'" Poindexter said with a laugh. "He was true to his words. He was a wise man. He told me it was going to happen, and it did. It happened.
"It's a tremendous honor. A lot of people helped me get to this point – all the coaches at the University of Virginia and members of my family."
Poindexter, a Lynchburg native who served as a UVA assistant coach for 11 years and is now the co-defensive coordinator at Purdue University, is the fifth UVA football player to be inducted into the College Football Hall of Fame, joining Bill Dudley (1956), Tom Scott (1979), Joe Palumbo (1999) and Jim Dombrowski (2008) – and Welsh. He will be part of a star-studded induction class that includes Steve McNair (Alcorn State University), Eric Dickerson (Southern Methodist University) and Lomas Brown (University of Florida).
"It's kind of shocking to have my name in that kind of rare air," Poindexter said.
Poindexter will be inducted Dec. 8 during an awards dinner in New York.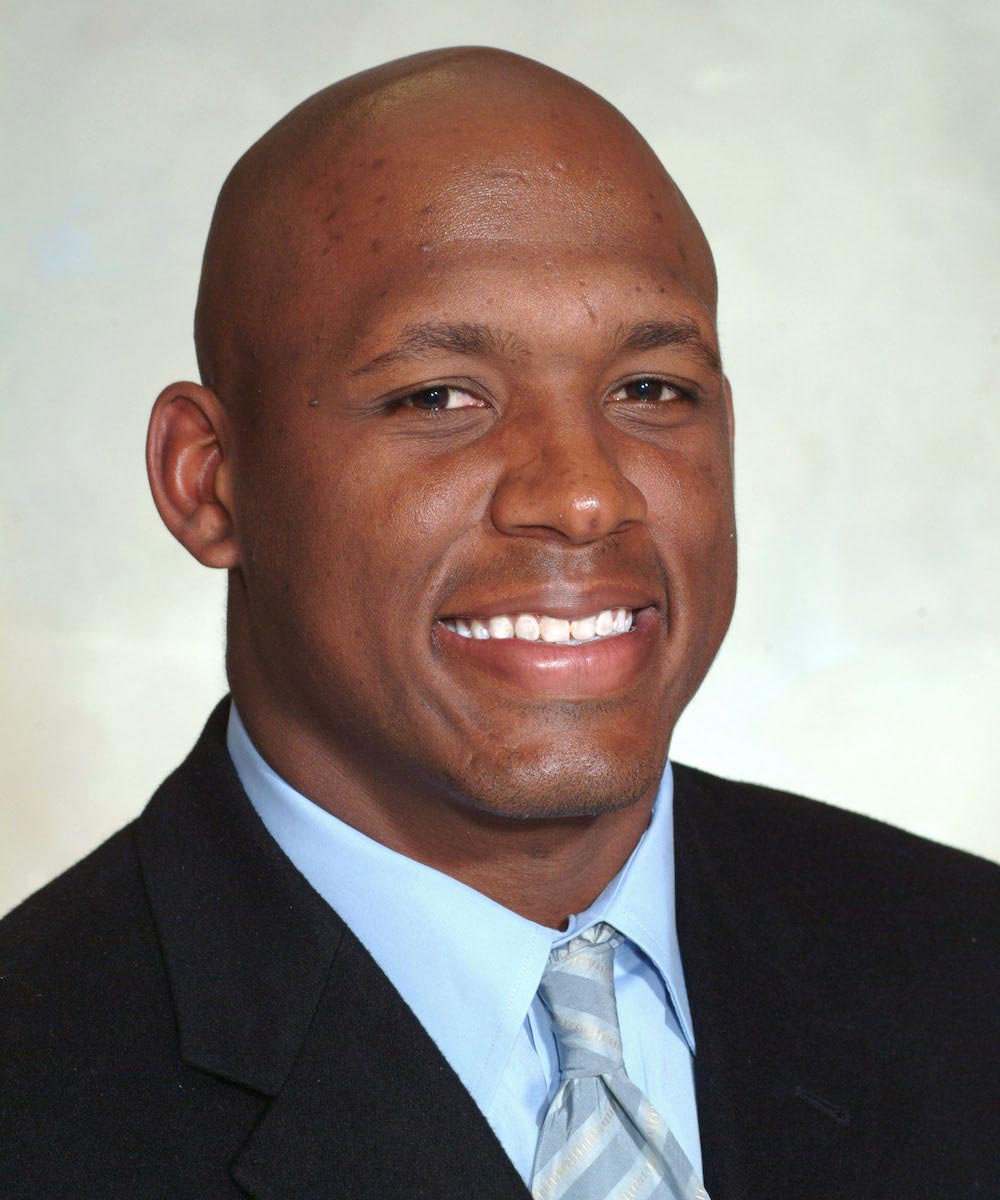 Poindexter is joining his former UVA head coach, the legendary George Welsh, in the College Football Hall of Fame.
Poindexter, who lives in Indiana with his wife, Kimberly, and three children, said that when he looks back on his time at UVA, he doesn't think of specific wins or plays.
"It's about the people and all the friendships that I made," he said. "The biggest honor I had didn't come from a play or an All-America team. It was being named captain by my teammates two years in a row. Still, to this day, the guys call me 'Cap.' That was a high honor for me."
Poindexter's college career was cut short when he suffered a major knee injury his senior year, but he still went on to play three years in the NFL, earning a Super Bowl ring with the Baltimore Ravens in 2000.
Poindexter said he's never had any regrets about his decision to stay at UVA all four years – despite being tabbed by many experts as a potential first-round draft pick after his junior season – a decision that likely cost him millions of dollars.
"If I had come out early, who knows what would have happened?" said Poindexter, a three-time first-team All-ACC selection. "I think God has a plan for everyone, and that was my plan. I tell people all the time that I probably touched and reached more people by coming back and going through what I had to go through with the injury than I would have ever had by just going off and having a great pro career. I think I'm an example of perseverance, faith, family and picking up the pieces when things get down."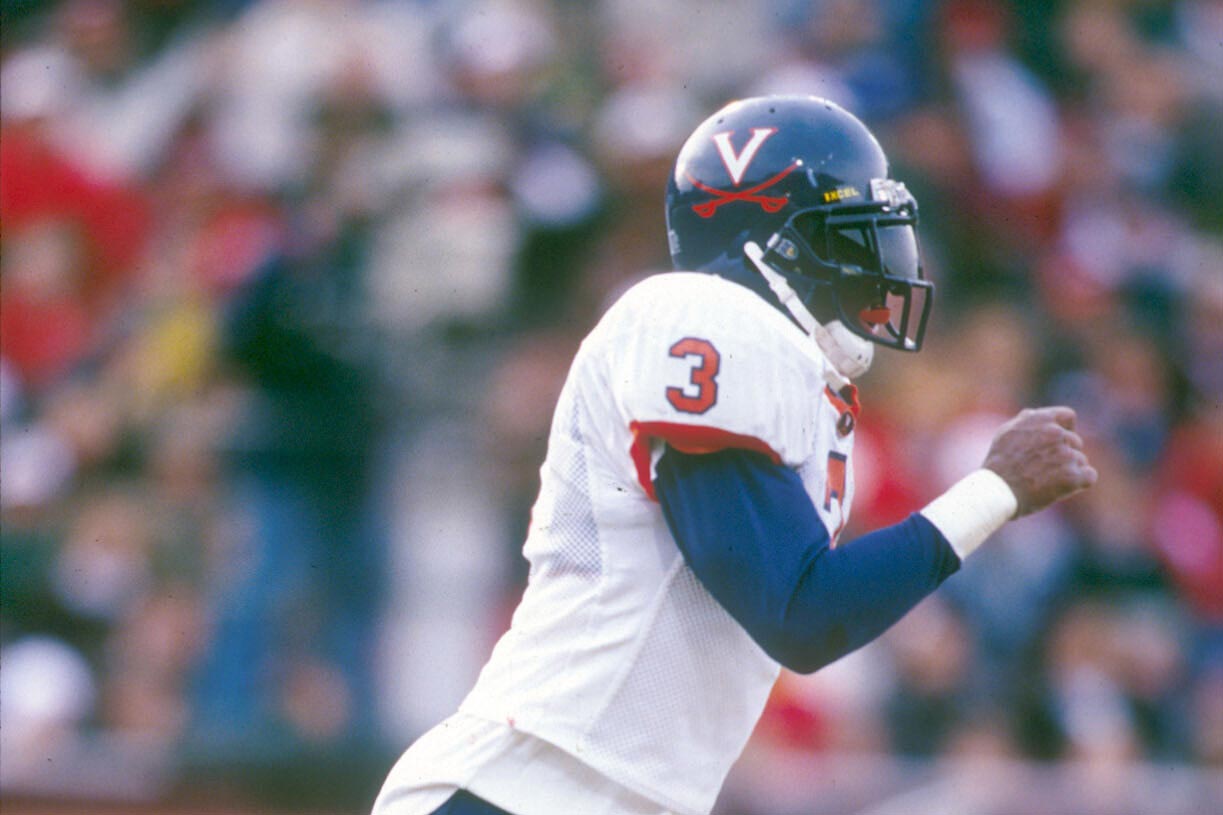 Poindexter was a two-time first-team All-American at UVA.
While at Virginia, Poindexter was a member of the ACC All-Academic Team, earning a bachelor's degree in anthropology.
Poindexter, like so many UVA students, maintained relationships with professors well after he graduated. One such professor was Richard Handler, now the director of UVA's Global Studies Program.
"He understood us and had a great perspective," Poindexter said. "He just got us. We became very close to him. And when we graduated, he was right there handing us our degrees. He was like part of the family. There were a lot of people who were like that. Just the atmosphere was great. I credit a lot of people.
"Kathryn Jarvis, our academic coordinator, I don't know where I'd be without her. I know we gave her a lot of gray hairs some days – but she stuck with us and trusted us and believed in us."
Poindexter, whose No. 3 UVA jersey was retired in 2009, said being a student-athlete at UVA was something special.
"The athletics and the academics always went hand-in-hand," he said. "You always knew there was the academic piece. It definitely wasn't something I did on my own. I had a great support system at UVA and my parents and other family back home.
"The network of people I had at the University of Virginia beyond the coaching staff was just tremendous. I was blessed. UVA is a big piece of who I've become and what I stand for and what I believe. It's been instrumental to where I am today."
Poindexter led Virginia to three bowl games, including a win in the 1995 Peach Bowl. He owns or shares school single-game records for interceptions, fumble recoveries and assisted tackles. 
No assisted tackle was bigger than the one he made with teammate Adrian Burnim in that '95 victory over Florida State.
In typical fashion, Poindexter refuses to bask in the glory.
"Adrian knocked [Dunn] back and I was able to get a piece of his body," Poindexter said. "I know a lot of people credit me, but there were 11 guys out there and they all did their job. We were just fortunate enough to get over there and make the play.
"You never know which play is going to last in folklore, but obviously that one has."
Article Information
March 11, 2020
/content/former-hoos-football-star-anthony-poindexter-headed-college-football-hall-fame