Donnie Edgemon was in the Scott Stadium parking lot before a University of Virginia football game, tailgating with best friends from his undergraduate days, when a car crept up next to him. The driver rolled down the car's windows and cranked the volume on its stereo way up.
Blaring from the speakers was the song, "I Lost on Jeopardy," by parody specialist Weird Al Yankovic.
In 2015, Edgemon had come in third (of three contestants) on an episode of the popular television game show, and now a former college roommate, Steve Nerheim, and his 9-year-old son were having a little fun with him.
"We had all been very excited and proud that he got on 'Jeopardy!,' but there's only one winner," recalled Nerheim, with a chuckle.
But five years later, Edgemon has turned the loss into an advantage.
In June, Edgemon, Nerheim and fellow UVA classmates Brad Lucas, Brian King, and Jack and Laura Miller launched "Triviappolis Treasures," a one-of-a-kind trivia app geared toward people who like to travel.
The app, a free download in the Apple App and Google Play stores, lets users select a city, then asks multiple-choice questions on a host of subjects pertaining to that city.
The kicker: Edgemon says 90% of the 13,000-plus questions currently in use were written by "Jeopardy!" alumni he had gotten to know and subsequently hired.
Edgemon believes the trivia maestros give Triviappolis Treasures a major leg up on other apps.
"One of the frustrations I've had with trivia games in the past is that you get bored with them because a lot of the questions are just too easy," Edgemon said. "And so we've made a point of having a variety of difficulties. The idea was that we wanted it to be accessible to anybody, including people who aren't necessarily trivia people, but maybe are just interested in learning about a place."
Since graduating in 1997, Edgemon and his classmates have stayed in close touch, attending home football games every year with their spouses and children, and also going on other trips together. It was on one such trip to see a Cincinnati Reds baseball game last year when the group began talking about movies that had been filmed in the city and quickly discovered that the films "Rain Man" and "Traffic" highlighted a lengthy list.
After the trip, the friends continued the discussion as it pertained to other cities, which, in turn, led to the idea for the app.
"When you are going to places or thinking about going to places, you want to know things about them, and we thought a fun way to learn about places that you're curious about would be a trivia game," Edgemon said. "There are obviously a ton of trivia apps, but there weren't any that we could find that had trivia organized by city or by area."
Edgemon took the lead, writing the first batch of questions about a city he knew well: Washington, D.C. His very first question: Who was the first president to occupy the White House? The choices were George Washington, John Adams, Thomas Jefferson and James Madison. (For trivia buffs out there, the answer is Adams.)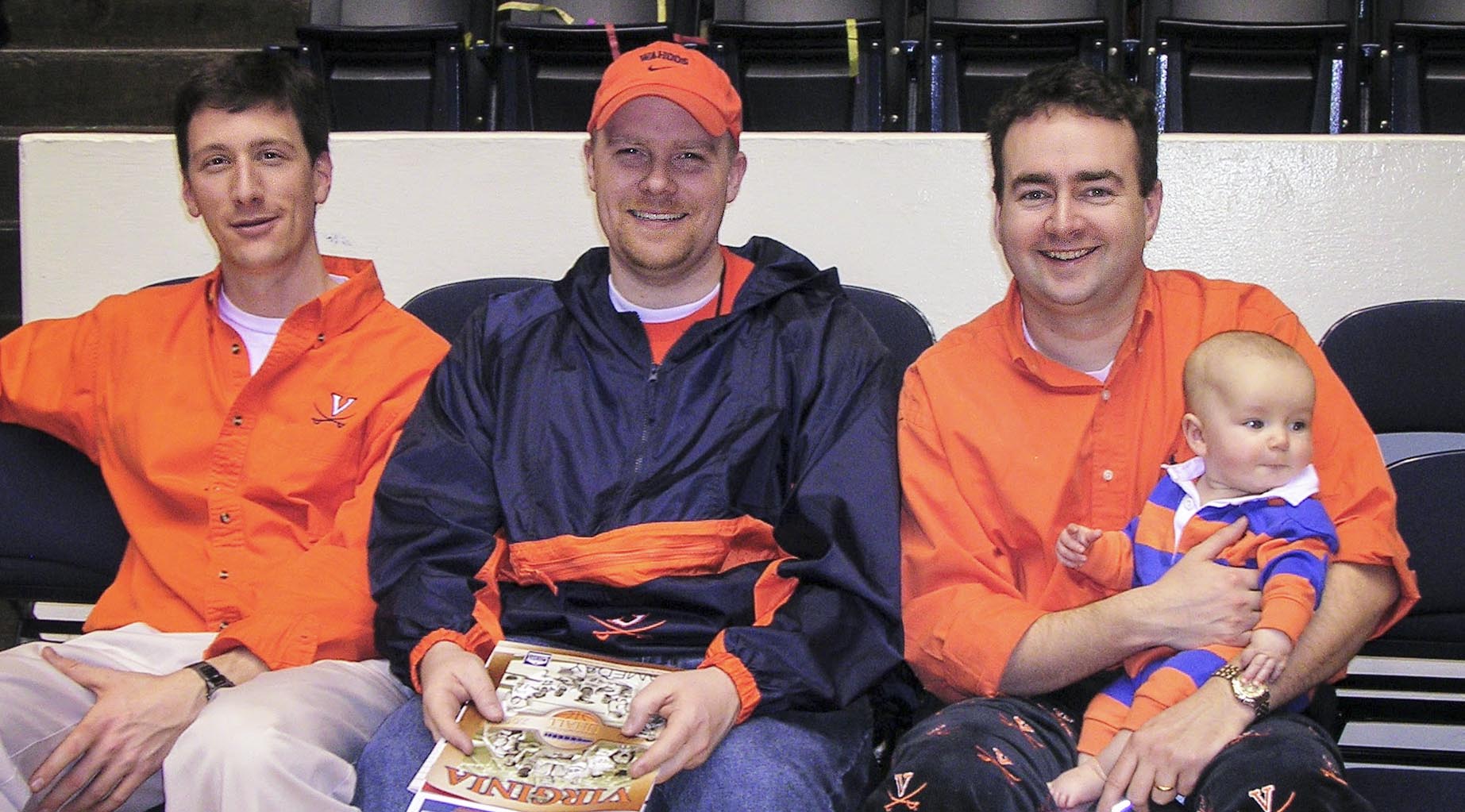 Edgemon, left, Lucas and Nerheim have stayed connected with each other and other classmates by attending UVA sporting events. (Contributed photo)
From there, a software developer and more trivia writers were hired.
In addition to competing on Jeopardy, Edgemon, a Sterling native, was also a contestant on "Who Wants to Be A Millionaire?" in 2019.
In an episode that was hosted by Chris Harrison (of "The Bachelor" and "The Bachelorette" fame), Edgemon made it to the $250,000 question before getting stumped on a query involving the former pop duo Milli Vanilli. "I can blame it on the rain," joked Edgemon, referring to the duo's hit song, "Blame It on the Rain."
Edgemon, who still wound up winning $50,000, said his love for trivia dates back to his time at UVA, when he and his roommates liked to play Trivial Pursuit and participate in student competitions.
"UVA students all have a broad appetite for learning and curiosity," Edgemon said. "I had it before I came to UVA, but UVA fed that even more and gave me tools for how to think and learn about generalist topics that weren't necessarily things I studied specifically, but I can learn about them now because I know how to think about topics that are maybe outside my expertise."
A government and economics major, Edgemon worked in IT and consulting prior to devoting himself to the app. All of his Triviappolis Treasures partners have other full-time jobs. Nerheim is a software sales executive; Lucas and Jack Miller are lawyers; Laura Miller is a chemical engineer-turned-stay-at-home mom; and King is a product manager.
"It's been really interesting to coordinate in a way that we hadn't before," Nerheim said. "When you get five people together with co-mingling interests, co-mingling financing … In some ways, it's brought us even closer, because you're engaging differently with somebody who you've been friends with 25 years."
Right now, the team is making a big push for downloads – which will be a huge factor in the app's success – and is encouraging Hoos around the world to give it a try.
Triviappolis Treasures' primary source of revenue is advertising and in-app purchases.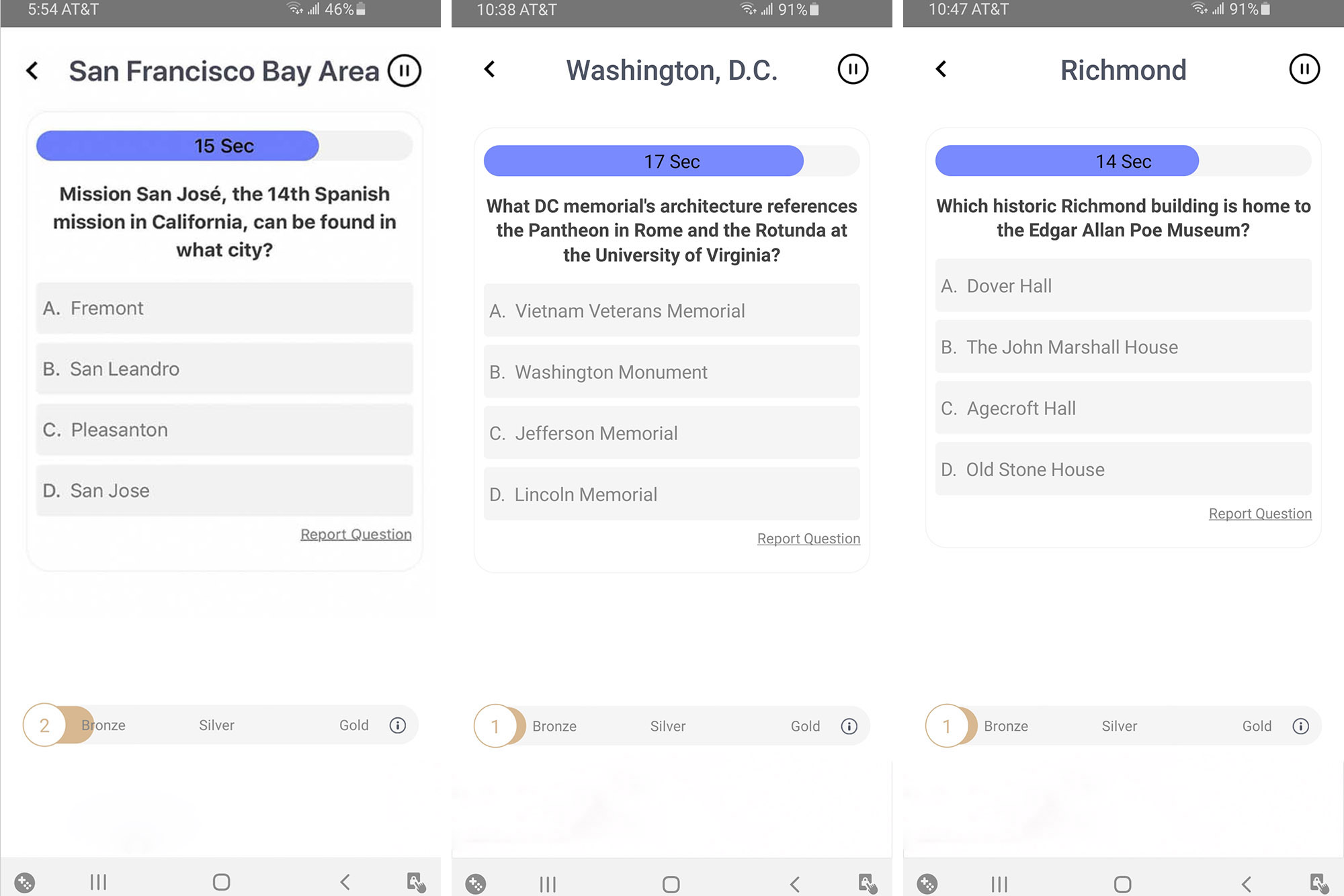 In the game, players attempt to achieve streaks of correct answers and earn "treasures," which are coupons and discounts to online merchants. (Contributed photos)
The fact that people have been traveling much less during the pandemic hasn't done the app any favors, but, on the other hand, Edgemon said those same people are likely looking for other things to do at home.
"People right now may want to have a bit of a virtual trip – and this app is a way to do that," he said. "You didn't get to take that trip to Nashville, but maybe you can fire up Triviappolis Treasures and learn something about hot chicken, Tootsies [Orchid Lounge] and the Johnny Cash Museum."
In the game, players attempt to achieve streaks of correct answers and earn "treasures," which are coupons and discounts to online merchants.
Edgemon loves that Triviappolis Treasures – which regularly posts questions on its Twitter account (@Triviappolis) – is simultaneously fun and educational.
"You are going to learn things – I guarantee it," he said.
Currently, the app features questions for 51 cities in the U.S. and Canada. Long-term, Edgemon hopes to expand globally.
Fittingly, five years after cranking up that Weird Al song at the football tailgate, Nerheim's son, Trey, has, gotten into the mix. The now-14-year-old has been in charge of helping gather questions for the city of Richmond.
"The opportunity for him to work on this kind of stretched his brain, forced him to research and learn new things about the city he lives in," said Nerheim, who also has a younger daughter, Charlotte. "That was a really neat aspect of this."
Edgemon and Nerheim say the best part of the whole endeavor has been getting to create something special with such close friends.
"If you had told me in that first year that these strangers that you're meeting on move-in weekend are going to be lifelong friends and business partners – I don't know if I would have believed it," Nerheim said. "But I certainly believe it now.
"It's been a really fun experience."
Article Information
August 26, 2020
/content/former-jeopardy-contestant-and-fellow-hoos-launch-travel-based-trivia-app