Two groups of excited and forward-looking ninth-graders spent part of their summer at the University of Virginia to hone skills that will better prepare them to make the transition from high school to higher education.
The students, primarily from low-income backgrounds, were participating in a program called the GEAR UP Virginia Power of Youth Camp, facilitated by the youth engagement company CoolSpeak. GEAR UP, short for "Gaining Early Awareness and Readiness for Undergraduate Programs," is a year-round federal discretionary program funded by a federal grant awarded to the State Council of Higher Education for Virginia, which partners with public universities in hosting the summer camps.
At UVA, students participated in a range of skill-building and teamwork exercises over the course of two four-day sessions, while staying in the new Gibbons House residence hall.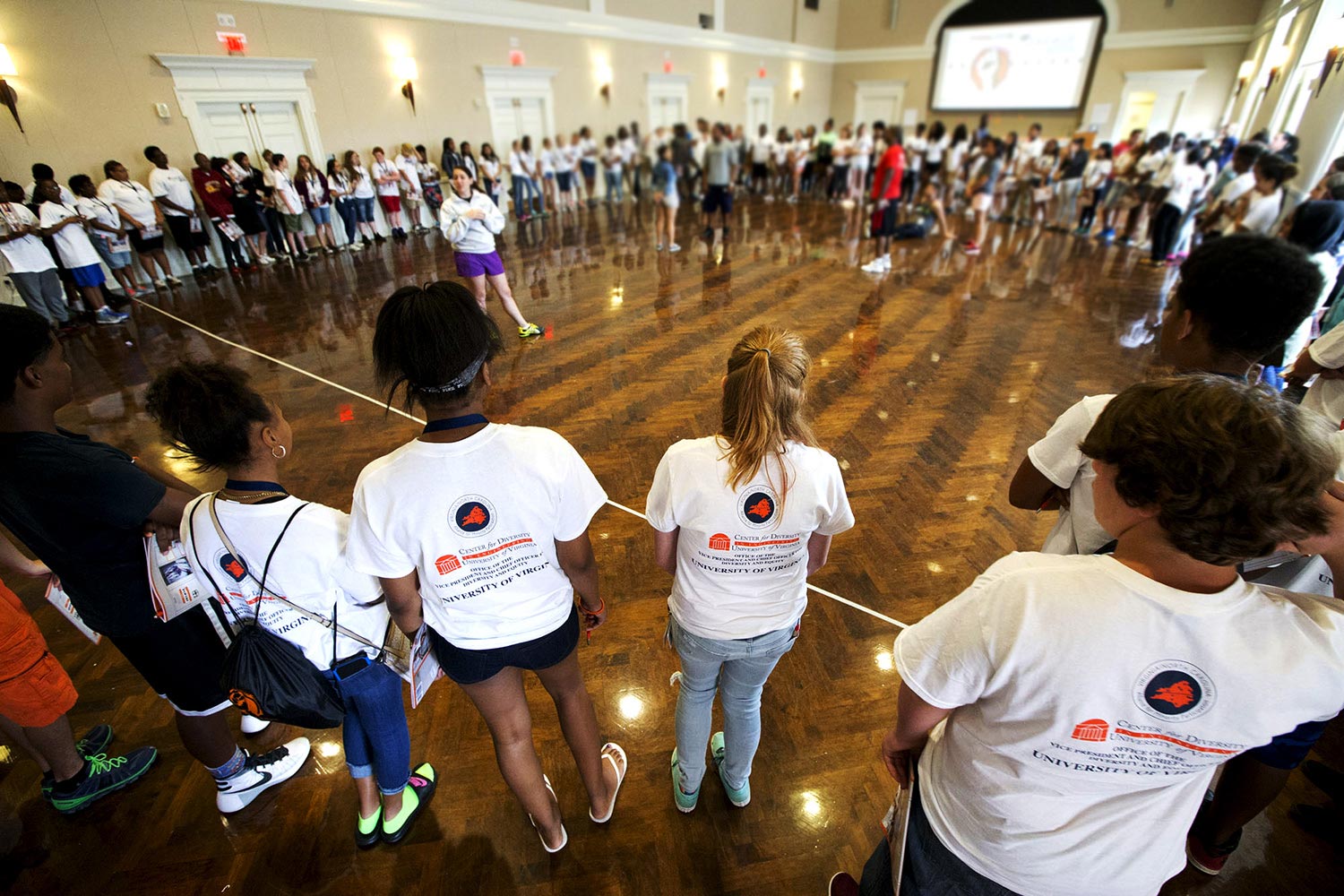 Richard Spardin and Xa'ain Haynes are returning campers, having attended a GEAR UP program last summer at another Virginia college campus. Both enthusiastically shared what they learned.
"Never doubt yourself," Spardin said of one key lesson. "If you do, you'll never go anywhere in life."
"You have to guide yourself the way you want to be led," Haynes added. The rising ninth-grader said the camp "provides you with tons of info."
The camp provided hands-on exercises and collaborative projects, introspective sessions and featured speakers. Each activity, whether group or individual, engaged the campers in different lessons, such as learning about the power of knowledge, the importance of serving others and how to build effective networks.
In one activity, the "5 Count Down Shake Down," students paired with another student whom they did not know and introduced themselves with a formal handshake. Using skills they learned from previous activities such as "The Elevator Pitch" and "I'm the Bomb," students were coached on how to appropriately and concisely present and promote themselves when they meet new people.
Marcus L. Martin, UVA's vice president and chief officer for diversity and equity, said nearly 300 rising ninth-graders from around the state were on Grounds during the two GEAR UP sessions.
"Through GEAR UP activities, including tutoring, mentoring, financial education, academic preparation, introduction to college admissions processes and visits to campuses, students become better prepared to enter college and succeed," Martin said. "Ultimately, we would like to see a significant number of these GEAR UP students enroll in UVA in 2020."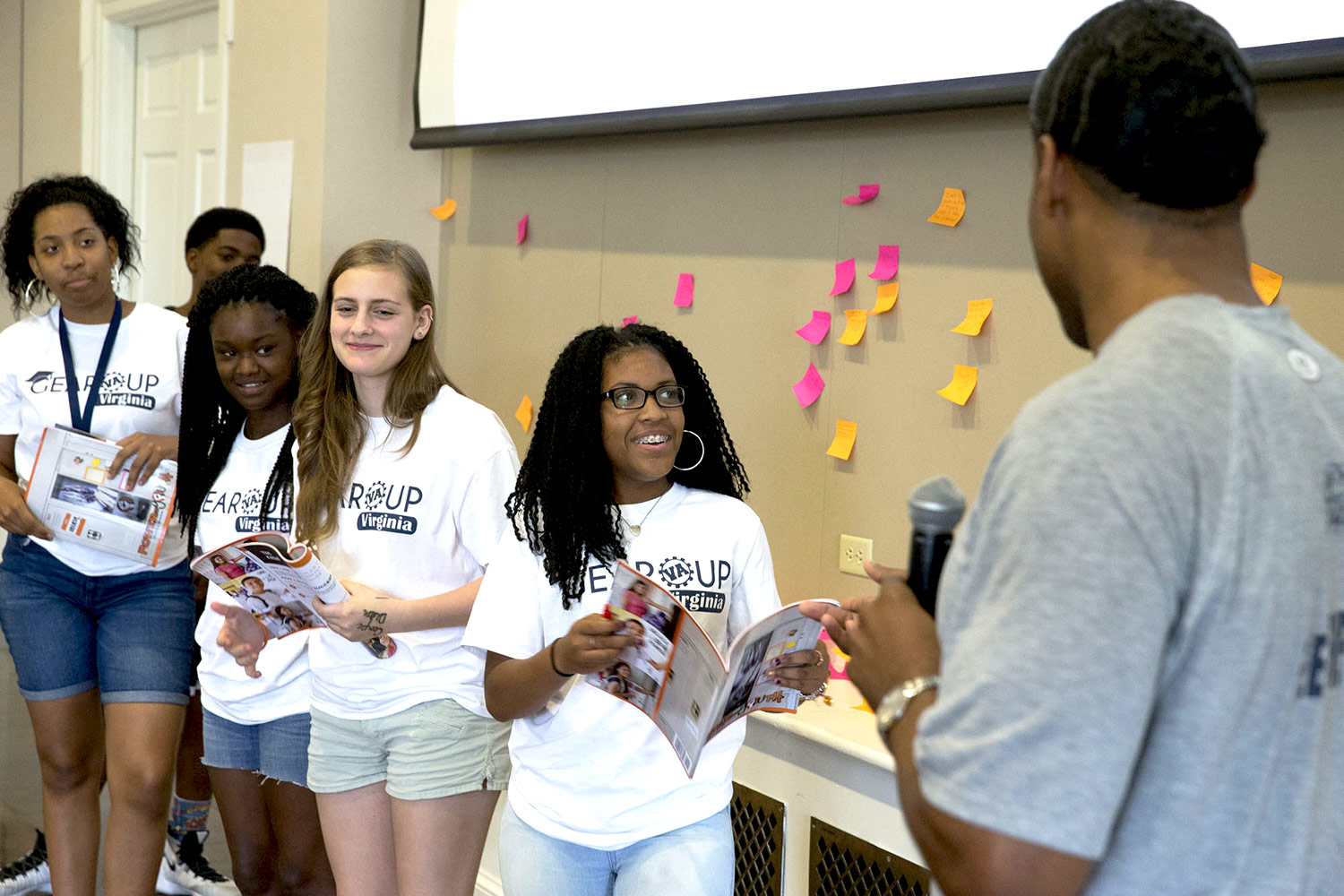 CoolSpeak, which planned the curriculum for the week, made sure each activity was engaging as well as influential, according to Joey Negron, a CoolSpeak partner and the program's team leader. "The camp is about getting kids to understand that youth plus power equals change," Negron said. "The activities that [are] going on right now are all about getting them to understand the importance of understanding your resources." 
The camp is not only rewarding to the students, but to those who help run it, including Erin McGrath, GEAR UP's program director. The former Chicago teacher loves being a part of the camp because it's a chance to watch how the students are growing, she said.
Her favorite activity was the "vision board" each student created. In this project, students decorated poster boards to visually represent their goals for the future.
"To have a student walk you through a vision board is very special and personal," McGrath said.
Article Information
June 29, 2016
/content/gear-camp-prepares-students-jump-high-school-higher-ed