Just over a year into his presidency, University of Virginia President Jim Ryan continues to build momentum and community support for the "great and good" vision outlined in the University's new strategic plan.
That effort got a major boost this summer with the addition of UVA Provost Elizabeth "Liz" Magill, formerly dean of Stanford University's Law School and previously a colleague of Ryan's on the UVA School of Law faculty, where she taught for 15 years. Magill was announced as provost last year and arrived on Grounds in August after relocating from California.
"There is no one I trust or admire more as an academic leader than Liz," Ryan said. "She combines a razor-sharp intellect with excellent judgment, deep empathy and unfailing integrity. She knows and loves this university, and she believes fiercely in the academic mission – and the importance – of public research universities, this one in particular. 
"I could not ask for a better partner or someone more determined to help create the conditions under which both faculty and students can thrive." 
Magill holds degrees from Yale University and the UVA School of Law, and clerked for U.S. Supreme Court Justice Ruth Bader Ginsburg before joining the UVA law faculty. She remained on the faculty for 15 years, also serving as vice dean, before assuming the deanship at Stanford in 2012.
At Stanford, she established an innovative Law and Policy Lab, launched the law school's Global Initiative, raised the largest gift from an alumnus in the school's history to support the initiative, and presided over the school's largest faculty revitalization in decades, hiring nearly 30% of the present faculty.
"We're remarkably fortunate that Liz Magill has returned to UVA," Ian Baucom, Buckner W. Clay Dean of the College and Graduate School of Arts & Sciences and chair of the provost search committee, said. "Her sterling leadership of Stanford's Law School, sparkling academic record, clear strategic vision, highly collaborative approach and deep knowledge of the University and commitment to its public mission made clear that she would be an absolutely ideal provost. I can't imagine anyone better able to ensure that we meet President Ryan's call to be both a great and good university."
Magill said the UVA provost role offered an extraordinary opportunity to work with people she admires and respects, at a place that she believes deeply in. She has now been a part of UVA as a student, faculty member, administrator, and parent – her daughter is an undergraduate.
"I love this University, which I am deeply connected to," she said. "I believe strongly in UVA as a leading public research university, and I feel privileged to join this team of people who are remarkably talented, ambitious in all the right ways for UVA, and fundamentally decent."
Chief Academic Officer
As the chief academic officer of the University, the provost is second in command of the institution and works alongside the president and his leadership team to carry out the University's academic missions of teaching, research and service.
"As provost, my job is to assist the president and his team in any way needed, and to champion and advance the academic mission of this great university," Magill said. "I cannot imagine a greater privilege than to do this work, at this university, for Jim and with the group of leaders he has assembled."
"The provost's portfolio is both enormous and enormously important," Ryan said. "We are a large and complex academic institution, and Liz is the chief academic officer. It doesn't get more important than that."
As provost, Magill works closely with those who report directly to her, including the deans of each of UVA's 12 schools; the undergraduate admission office; heads of UVA's libraries and museums; directors of a wide variety of academic centers, programs and institutes; and a team of vice provosts. Magill's office also oversees many academic outreach programs – such as the Virginia College Advising Corps – and global programs working to provide every student with an international experience.
Magill's first 60 days were marked by a flood of new information, as she familiarizes herself with the vast array of academic activities across UVA's schools, research institutes and other entities.
"For someone who is inspired every day by the University's noble missions of teaching, research and service, this position is akin to being a kid in a candy store," Magill said. "I get up every day motivated by the mission, and I also have the opportunity to learn something new every day, which is energizing."
In addition, she works closely with others, especially the vice president of research, to advance the University's research mission, and the vice president of student affairs, to deepen the student experience. She works particularly closely with her peer, Executive Vice President and Chief Operating Officer Jennifer "J.J." Wagner Davis, to align key University processes – budgeting, capital planning, state and local relations –with the University's overall academic mission. Both are the first women to hold their positions at UVA; both have the opportunity to make transformative changes.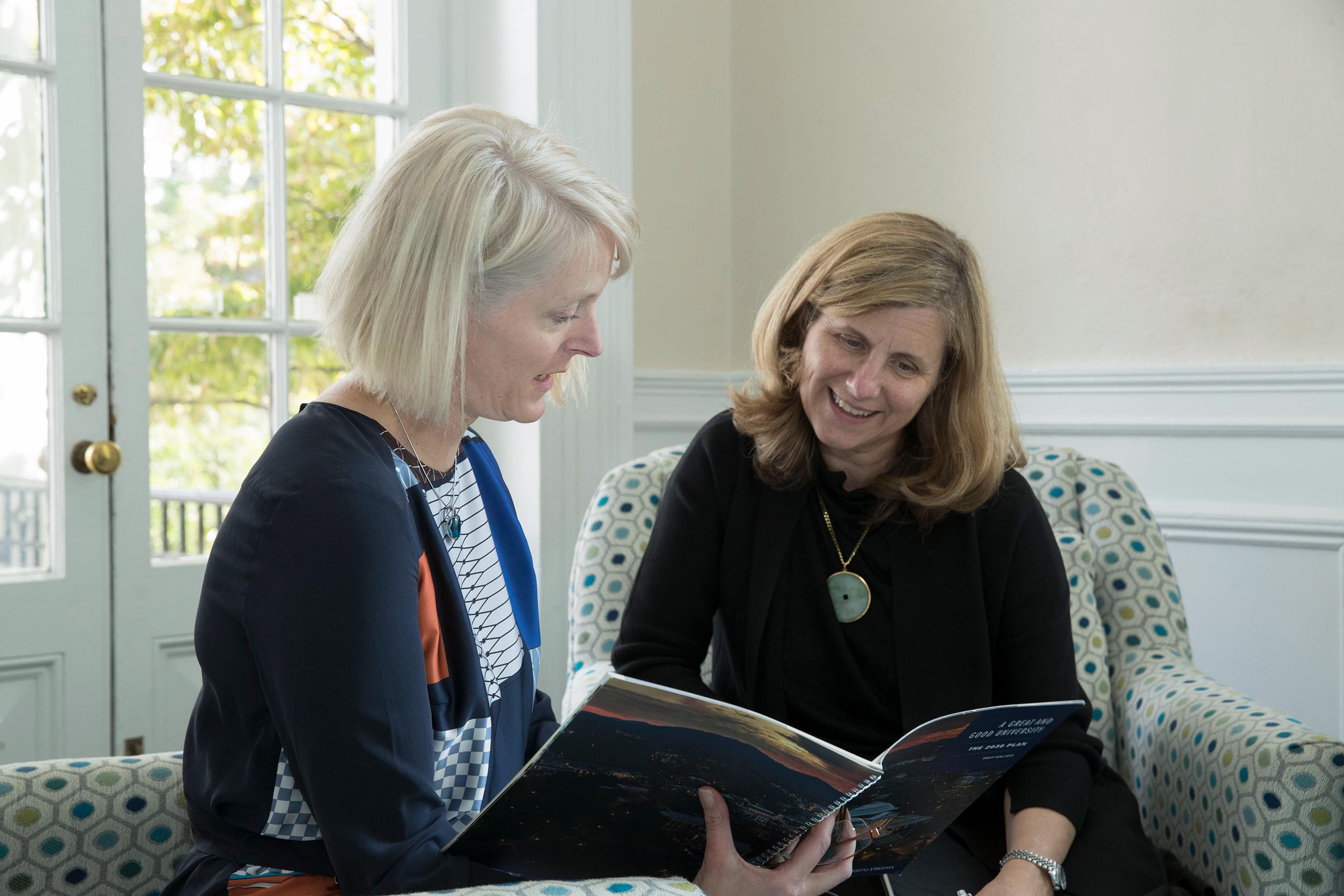 "Being part of the University's leadership team with Jim and Liz is terrific in so many ways," said Davis, who was appointed by Ryan and began her tenure in November 2018. "We laid the groundwork for close collaboration early on, and we continue to grow the partnership between our areas now that Liz is here on Grounds. The strategic plan gives us clear direction, and through collaboration among the entire University leadership team, we will develop the roadmap to get there." 
"To best serve the University, university leadership should be a team sport," Magill added, "and I cannot imagine a better or more talented teammate than J.J. Davis."
'A Complete University'
Each leader is hard at work implementing UVA's 2030 strategic plan, which was approved by the Board of Visitors over the summer. The 10-year plan includes four overarching goals – strengthening UVA's foundation, cultivating the most vibrant community in higher education, enabling discoveries that enrich and improve lives and making UVA synonymous with service – as well as 10 major initiatives promoting those goals.
For the provost's office, priorities include continuing to strengthen UVA's student experience and ties with the community, building up key research areas and hiring outstanding faculty. The University's faculty ranks are in the midst of generational turnover as many older faculty members near retirement, and the strategic plan calls for faculty hiring across a number of important teaching and research areas.
"We are hiring the next generation of faculty as life-changing teachers, mentors and advisers to our students," Magill said. "Talented faculty are a great historical strength of this University and one I want to bolster and advance."
Faculty hiring has a huge impact on the UVA student experience, another key part of Magill's charge. As such, she works closely with Vice President and Chief Student Affairs Officer Patricia M. Lampkin, whose office oversees student support services.
"I think of students' educational experience as something that happens inside and outside the classroom," Magill said. "Everything they experience at UVA is part of their educational experience, reflected in our strong tradition of student self-governance and our aspiration to graduate citizen-leaders."
Other efforts include expanding UVA's support of nontraditional students through the School of Continuing and Professional Studies, led by new Dean Alex Hernandez. In a recent interview, Hernandez noted that 1.1 million Virginians have some college credit, but no degree. UVA is working to expand offerings for that population, as well as growing professional certificate programs for career advancement.
"That is a key part of our mission to serve the community, the commonwealth and the country," Magill said.
It is also part of what makes UVA "a complete university," as Magill calls it.
"We have the entire range of educational offerings, from exceptional undergraduate programs, to Ph.D. programs, to a full complement of professional schools; we have a rich and vibrant arts community; we have extraordinary athletics; and we are devoted to the mission to serve the greater good in all we do," she said. "That breadth appeals to me because there are so many dimensions of how we have an impact, and so much potential to make a difference."
Work That Can Change Lives
Magill also noted the breadth of the University's research portfolio, seen in the research focus areas in the strategic plan, including democracy; environmental resilience and sustainability; precision medicine; the brain and neuroscience; and digital technology and society. Already efforts like the Environmental Resilience Institute and the Democracy Initiative are pioneering research in these fields.
Vice President for Research Melur K. "Ram" Ramasubramanian said Magill has already helped move that work forward, noting that he has worked with her on the strategic plan, strategic research focus areas and projects supported by UVA's Strategic Investment Fund, among other key initiatives.
"Liz Magill is an outstanding colleague to work with," Ramasubramanian said. "I have come to admire her clear and direct communication style, decisiveness, collegiality, sense of humor, her upbeat energy and compassion for others. With her unmistakable sense of direction and our strong partnership, I have no doubt that we will move our research toward preeminence."
Such research, Magill notes, can have broad impact, thanks to UVA's status as a public institution that can offer transformative opportunities to students of all backgrounds.
"The scale of the contributions of public universities – the number of students they educate, the amount of research they conduct – is critical to understand," she said.
"Public research institutions are an essential part of higher education ecosystem in this country, offering educational opportunities for an extraordinary number of students and knowledge creation on a large scale," she said. "They operate in a challenging environment at the moment, and I am honored to be at one of the country's great public universities. I believe that for this country to be successful, public universities must be successful. With others here, I hope to do all I can to build on the excellence of this great University."
Media Contact
Article Information
October 7, 2019
/content/get-know-liz-magill-uvas-new-provost