The term "ghost forests" might sound like something from a Halloween movie, but these ghosts actually exist along low-lying shores, where rising seas infiltrate coastal forests. Trees in areas along the U.S. Eastern Seaboard and the Gulf of Mexico, are dying due to the increasing salinity of the groundwater, and the landscape is slowly transitioning to salt-tolerant marshland.
University of Virginia environmental scientists, who study this interaction between sea and land and how it affects broader ecosystems, are taking on a new project: they are collaborating with artists on the Eastern Shore to reveal the phenomenon of ghost forests, to showcase their eerie beauty and to raise awareness of our changing coastal environments.
A virtual gallery opens Sunday at coastaleducation.virginia.edu.
The "Ghosts of the Coasts" project is led by environmental sciences professor Cora Johnston Baird, site director at UVA's Anheuser-Busch Coastal Research Center, and environmental sciences research associate Elliott White Jr.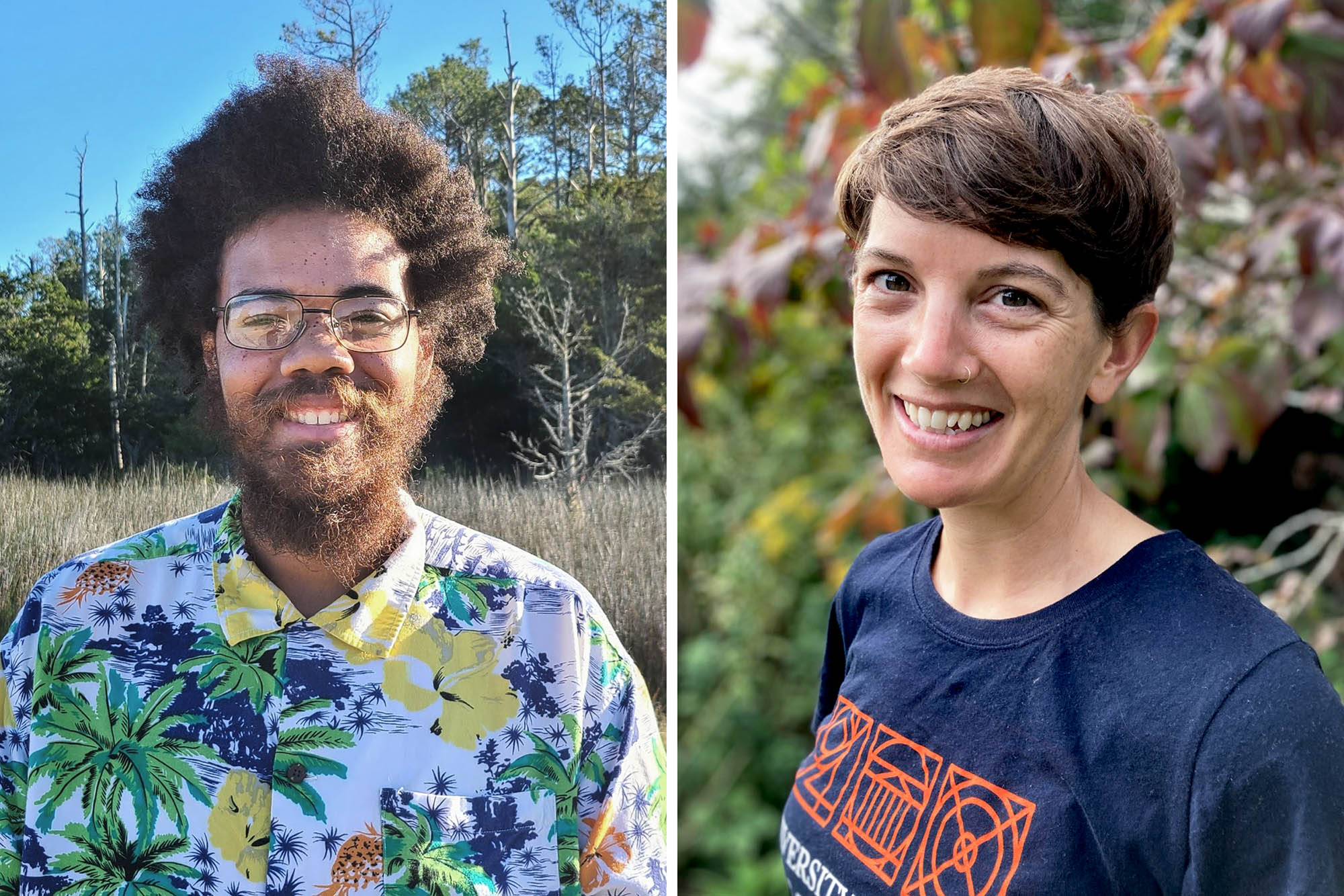 Elliott White Jr., a research associate in environmental sciences, and Cora Johnston Baird, site director at UVA's Anheuser-Busch Coastal Research Center, organized the art and science collaboration. (Contributed photos)
Here they discuss ghost forests – that special place where land and sea merge – and their project, which merges the arts and sciences.
Q. What are ghost forests?
White: Ghost forests are sentinels of coastal climate change that are characterized by the presence of dead, yet still standing, tree trunks and low-growing, salt-tolerant grassy and shrubby plants. This is an ephemeral stage in the degradation pathway from coastal forest to marsh that is driven by climate change-induced sea level rise and saltwater intrusion.
Coastal forests are primarily occupied by large tree species, such as bald cypress, pine, eastern red cedar, and tupelo-gum, which can tolerate wet soils and low-level salinity. However, increased flooding and salinization is leading to the death of the trees and their replacement by species that are better adapted to the new conditions. Ghost forests, present along both the Atlantic and Gulf Coasts, are becoming increasingly prevalent as the effects of climate change on coastal ecosystems grow.
Johnston Baird: The standing dead trees of a ghost forest are signals of the quiet migration of salt marsh species that emerge in the understory as the tree canopy dies and opens overhead. The ghost forests that we see indicate conditions that are no longer suitable for forests – too wet and salty – but they can also highlight the places where salt marshes are moving upland and inland as they retreat from rising sea levels.
Q. Why are they a good subject for telling an environmental story through art?
Johnston Baird: It can be challenging to even explain how the seeping in of salt water and a very gradual rise in sea level changes the landscape. Even though this process has a vast influence on the coasts of low topographic relief areas like eastern Virginia, many folks may not be able to name a way that they see its effect on the landscape. Ghost forests send up a big visual cue of an otherwise gradual and easily overlooked process happening below ground.
These standing dead forests also tend to be one of those aspects of the landscape that are easy to overlook, but once they are pointed out to you, you'll start noticing them everywhere.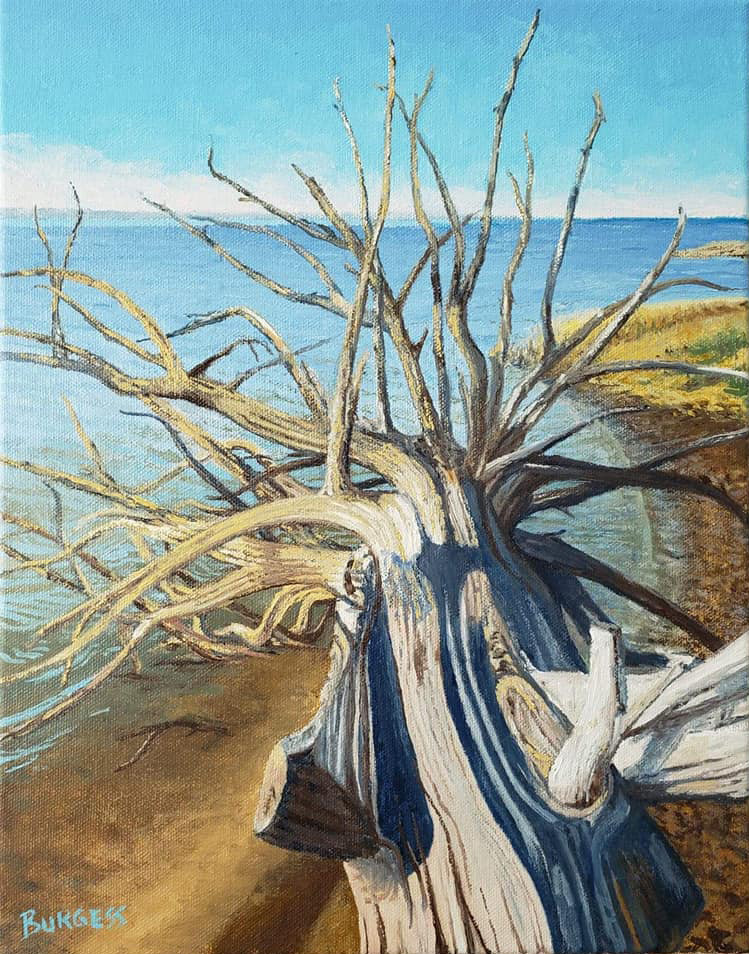 Painting by Marty Burgess
Some of the keenest observers and recorders of our coastal ecosystems on the Eastern Shore are in the thriving arts community here. From decoy carvers to landscape painters, the Eastern Shore has a long and vibrant history of arts centered on the coast. Bringing ghost forests into focus for the local arts community provided a chance to bring this feature of the landscape to life for the artists who bring visions of the coast to the broader community.
One of the most exciting discussions to emerge in this process was based around the realization that the participating artists primarily noticed the dead trees and brought with that a gloomy interpretation of death and decay. The scientists, on the other hand, were focused not only on the dying of the trees, but also on the emergence of new marsh beneath the trees – a sign of resilience via safe retreat from rising sea waters. Our discussions and explorations brought even the dying of the trees to life as part of a dynamic and detailed process that is the hallmark of resilience along changing coasts.
White: This collaboration will explicitly make the connection between the "invisible flood" of saltwater intrusion and its aftermath, which leaves behind ghost forests. The sharp contrast between the gray, twisted snags of trees killed by saltwater and the lush green grass that grows beneath creates a stark contrast. For scientist, we see the slow, multi-decadal process that will eventually lead to the replacement of coastal forests with salt-tolerant marsh. Artists, however, may be struck by the close proximity of life and death, dreary and vibrancy. While a mountain will always be a mountain, ghost forests are not permanent fixtures of a landscape. Their transient nature allows artists to capture a moment in time that may not be the same in a few days or months.
The "story" of ghost forests is often neglected when discussing the effects of climate change to our natural landscapes. From a paper I recently submitted for publication, we found that the United States has lost about six times as much coastal forest compared to the global loss of mangroves [a tropical/subtropical coastal tree and shrub] over a similar period of time. Despite this large discrepancy, public consciousness and media coverage are still tilted toward mangroves. Art and artists can play a pivotal role in highlighting the magnitude of change and urgency needed to address the challenges that coastal forests face from climate change. 
Q. How did the collaboration get started?
Johnston Baird: We've always noticed the vibrant arts scene on the Eastern Shore and have been keen to find a compelling avenue for art-science collaboration. When an article on ghost forests (by scientists Keryn Gedan of George Washington University and Matt Kirwan of the Virginia Institute of Marine Science, who both conduct research at UVA's Coastal Research Center) received national attention in 2019 (TIME, New York Times), we realized that these hallmarks of coastal change could be just the subject to bring local artists and regional scientists together in a conversation in which each could bring forth their knowledge of place and process.
Elliott White Jr. soon joined the project, along with several graduate students, to share his previous research experience with ghost forests along the Gulf Coast.
Q. How many artists are participating, and how can the public view their work?
Johnston Baird: There was an outpouring of interest in this project from the arts community. We selected 10 artists from the Eastern Shore to participate. Among them are some of the most recognized names in the Eastern Shore arts community. The artists of this project work in paints, fiber arts, silver point, steel sculpture and photography, among others. Some have lived on this peninsula their whole lives and have generations of heritage tied to this coast. Others bring experiences of other places as a foil to the landscape and their experiences of Virginia's coast.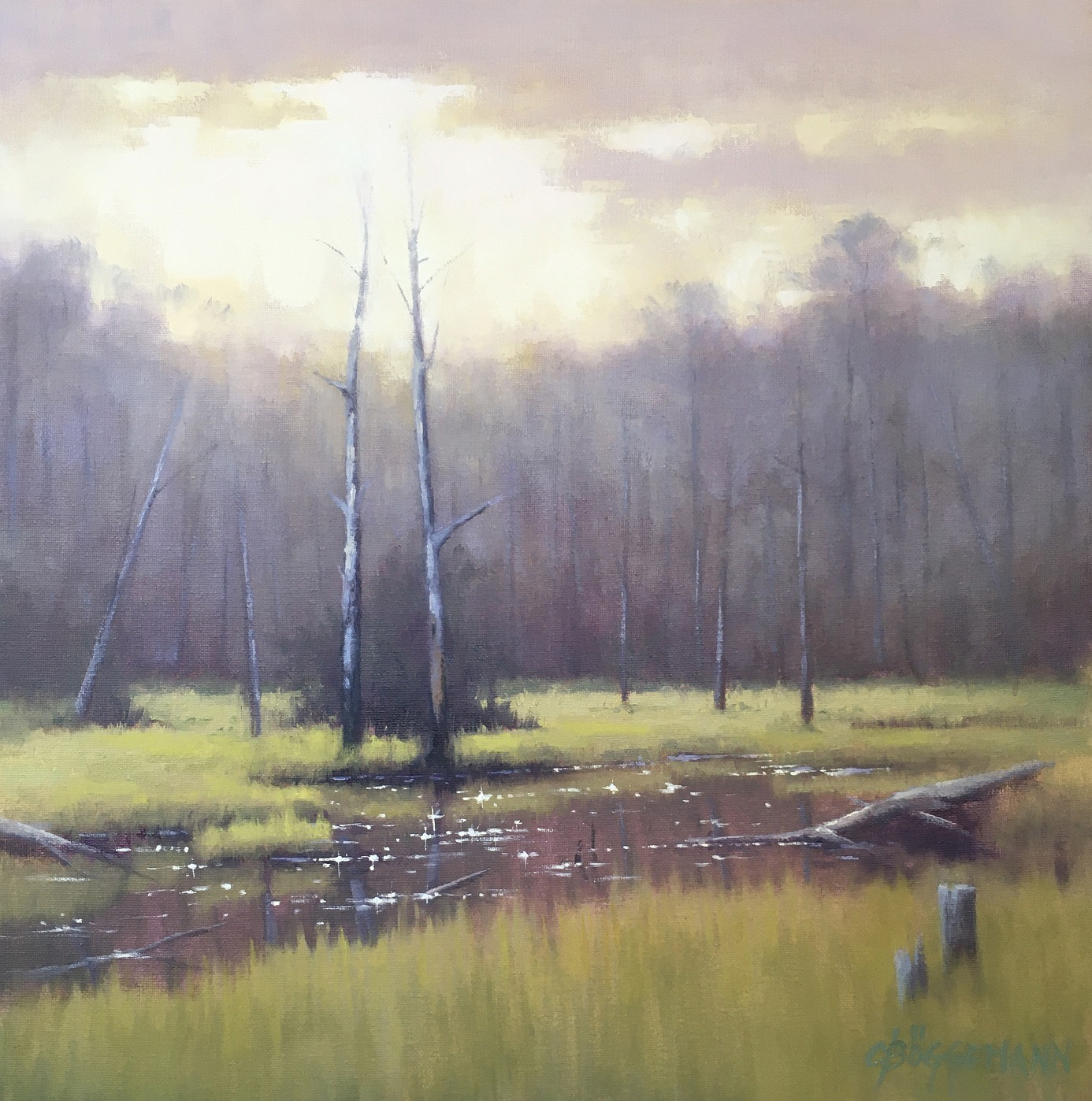 Painting by Carole Boggemann Peirson
Each participating artist has been highlighted on our Ghosts of the Coast Facebook page, where anyone can follow the exploration and creation process behind this collaboration. Many of the participating artists can also be found through the Artisans Guild of the Eastern Shore. The complete set of resulting works of art from this collaboration will be available as a virtual gallery tour opening Nov. 1 on coastaleducation.virginia.edu.
Q. What do each of you like most about the art that's resulting from this collaboration?
Johnston Baird: Many of the participating artists joined this project with a sense that ghost forests have a certain majesty, but are otherwise a gloomy scene – indeed, there was some initial hesitation regarding whether ghost forests could be the subject of compelling and marketable works of art. I have been encouraged to see a combination of hopefulness – aliveness – and memorials in the art created during this project.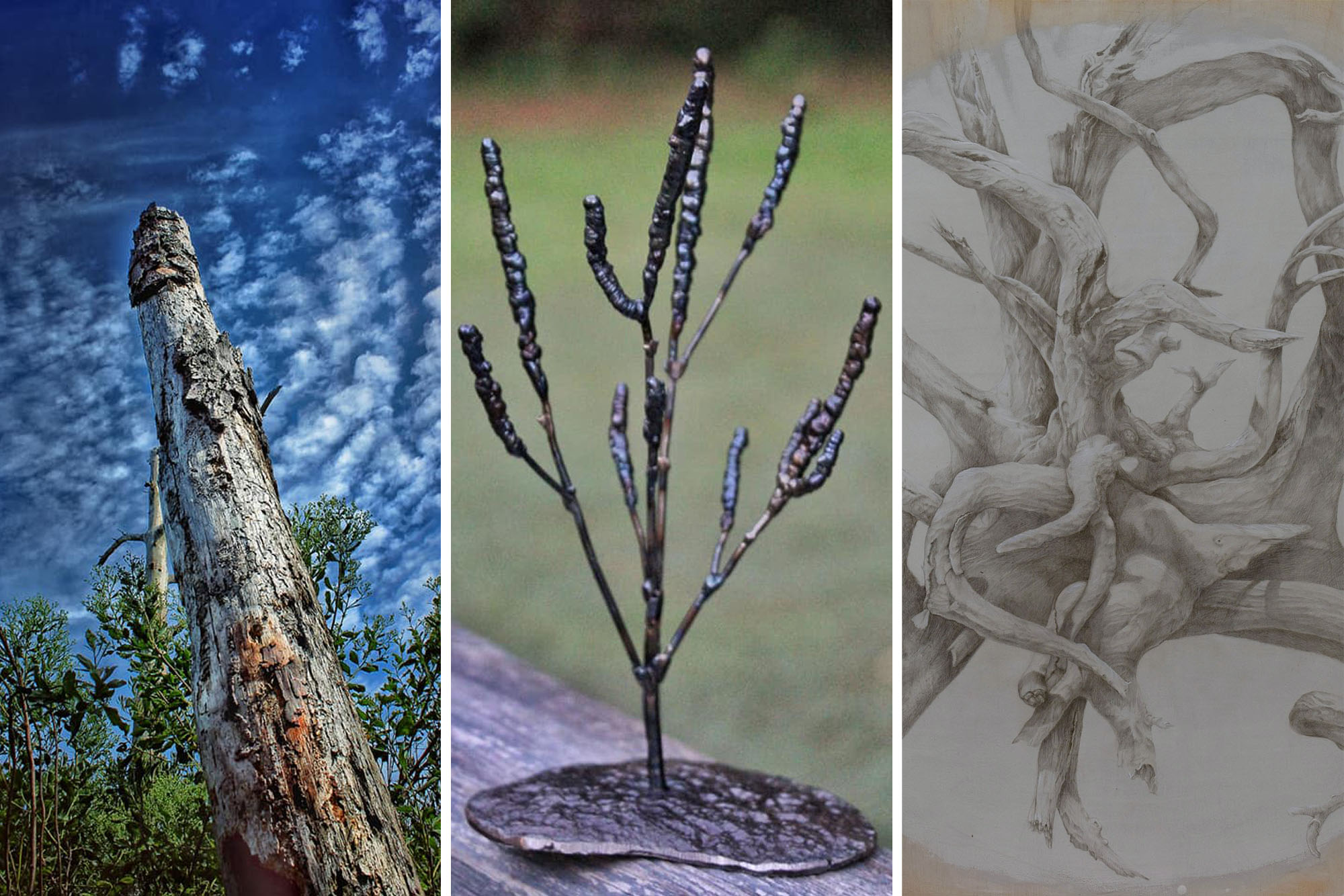 Left, photograph by Helene Doughty; center, sculpture by Buck Doughty; right, drawing by Barbara Hennig Loomis.
From intricate roots to expansive scenes, the art produced during this project has captured so beautifully the complex relationships that create a marsh, create a forest, and emerge during the transition from one to the other.
White: Two of the artists that I spoke to recently, Laura McGowan and Donna Stufft, mentioned that ghost forests have always been a part of their art, which often focuses on the landscape and seascapes of the Eastern Shore. However, the ghost forests were never the focal point or given special artistic consideration. They were just part of the overall scenery. The artists' time in this collaboration hasn't changed their art, but it has shifted the positioning of the gloomy snags from the background character to center stage.   
The artists, through various mediums, are able to capture the reality of ghost forest, distill it down to its essence, and convey it to a casual audience. As scientists, it's really easy to get caught in the minutiae and details of the natural world, but the art completed for this collaboration brings the most important messages to life: our coastal ecosystems are changing before our eyes. All environmentally centered movements in the U.S. have started with raising public awareness, which can then be leveraged for legislative action at the local, state and federal levels. The art created will be an important part of gaining public support.
Article Information
October 29, 2020
/content/ghostly-forests-eastern-shore-have-story-tell