Editor's note: Today we share an essay by Sydney Williams, a member of the University of Virginia's Class of 2020 who returned to Grounds on May 16 for an in-person ceremony, delayed for a year by the coronavirus pandemic.
I
've been thinking a lot about traditions, the importance of them – how commemorating our time somehow makes all the memories we had leading up to that point a bit sweeter. We pull them to the forefront to reflect on, to congratulate. Recognizing the journey we completed. A sense of closure. A final goodbye.
I started this journey at age 17 and now I'm 22. I didn't expect walking down the Lawn to strike me as much as it did. I didn't imagine that I'd hold back tears and smile into the camera. This "re-commencement" helps mark a transition. The ceremonial march down the Lawn, passing my old room, saying goodbye to my home. I said goodbye to the college version of me. I slip her joy, pain, fun nights, fond memories, cries, worries into my back pocket so, as I embark on this next phase, I'll have her with me. Slipping my arms into my gown, letting my hair down, draping myself in stoles and cords, wrapping balloons around my wrist, felt like adorning myself with the souvenirs from the person I used to be. When I got home, I placed them in a bag, in the dining room chest, and tucked them away with the rest of the memorabilia I've accumulated since I was a baby. Relics from an era before it all happened.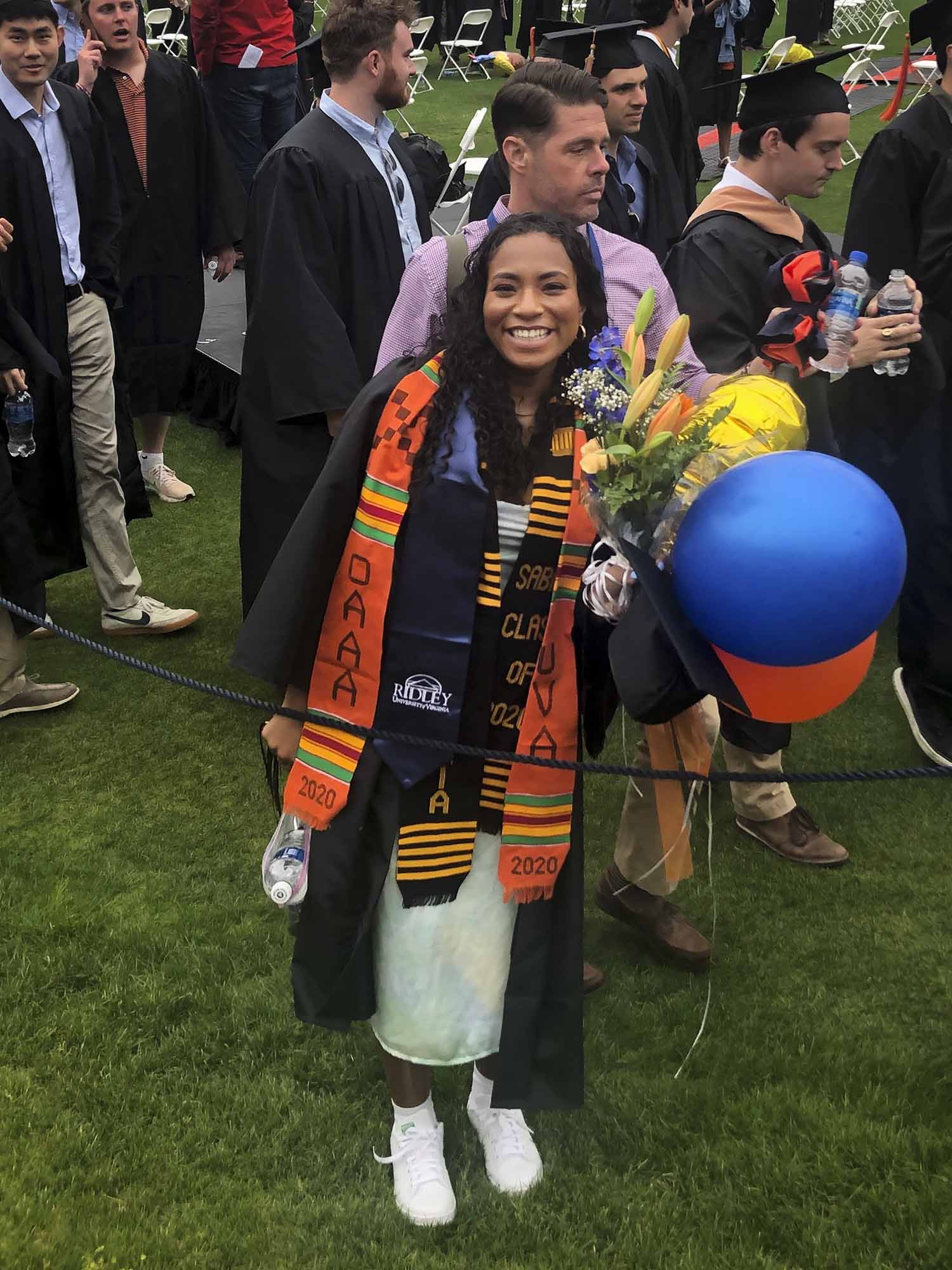 Sydney Williams graduated with a B.S. in biology and minor in philosophy and is currently applying to medical schools. (Contributed photo)
I wrote my last final, submitted my last paper at a desk right before midnight in my mother's home, closed my laptop, and slipped under the covers into my childhood bed. Done with a phase but feeling like I regressed back into an old one. What does it mean to enter adulthood like this? Did I really change over those four years? How am I right back where I started? Is this me? Are the habits we have, the people we surround ourselves with, the hobbies we enjoy, the conversations we have, the job we work, the people we call, and the actions we take who we are? If so, then have I changed?
Over the last year, some friendships became firmer than ever, bolstered by our digital connections. Others started to unravel. I expected to tighten the knots of those friendships, pull the strings a little tighter so that when time and space separated us, the ties of our friendships would be less likely to unravel. But I didn't have the chance to tighten those strings before I left. So I entered the next phase of my life with anxiety. Whom would I lose? Who would want to lose me?
As I drove into Charlottesville I thought, "Wait, are my friends even still my friends? Is the person I am now discordant with the one I used to be?" I suppose we don't wear thoughts on our foreheads, so any of my changes are very well unintelligible.
But, in some ways, returning to UVA really did feel like going home. This weekend was a reminder that I am grounded in so many loving relationships. There is a lot of love and kindness blossoming out of this place. And when we're ready, we can return to it. To relish those relationships. There were so many moments I'll treasure from this weekend. Running down the Corner to greet a friend. The bliss of embracing a friend I hadn't seen in nearly a year and a half. Margaritas and cauliflower wings at Asados. Sipping mimosas out of red solo cups on the Lawn. Posing for pictures: "Remember me! I was here. I'll show this to my kids!" Walking around Grounds with my parents: "Hey, there's where I used to eat and this is where I went to class. My favorite professor lives right here! This where we flooded the Corner after we won the national championship."
As we were walking in a sea of helium balloons, marching on the lush grass, and waving into the cameras (hoping my parents would see me) the balloon my friend Lindsey held struck me. It's a globe with a grad cap and diploma with the words "The Worlds Awaits" on it. I thought "the world awaits" usually means there is a world we haven't entered, ready for us, anticipating our arrival like a crowd at a football stadium. Cheering and screaming and welcoming us in as we run through the tunnels and out into the open air, under the bright lights. But for the Class of 2020, the world is not waiting for us to enter. It's waiting for us to return to it. We have jobs, emails and meetings waiting for our Monday morning arrival. Email alerts: "Hey, don't respond now but on Monday check this out!" "Hey, we know you're graduating, but Zoom check-ins are on Tuesday; please RSVP!"
So this weekend I felt more like we were commemorating the people we used to be. The ones we were when we were here. Before this all happened. To be them for the day, then saying goodbye and scuttling back to our real selves, the ones who toughed it out through the pandemic, figured things out, and started new lives.
In her graduation poem – read at Sunday's ceremony – Hannah [Semmes] said maybe she would have taken that last walk around Grounds, gone to that dinner, asked out that boy, gone to that party if she knew we were leaving so soon. When my Nana passed away, I thought about the extra summer I should have spent in North Carolina (who cares about swim team anyway?), the Thanksgiving I should have been at, the family reunion I never would have missed.
And so I had this moment where I realized the pain of loss for the Class of 2020 is real. We did lose. We are grieving. There are so many infinitesimally small moments that contribute to the totality of a life. And we did lose some of those moments. Many of those moments we'll never get back; they are lost – that time has gone. If our relationships with others and the time we spend with them is what makes life meaningful, then we have lost some of the fragments of meaning from our lives. I never say everything happens for a reason. Because it doesn't. Bad things, devastating things happened this year. Millions of lives were lost this year. People are sick. There is immense suffering. Many have dealt with depression, crisis and trauma over the last year. Many in our graduating class did. We entered our next phase isolated. Some of us suffered loss; friends and family members became sick, and some died.
And the best we can do is grapple with it, recognize it, embrace it, remember it. If you've ever experienced any kind of abrupt loss, then you know it wasn't fair or just. None of those lives were lost for a greater purpose. It happened and it was messed up. A part of me will always hold the pain of loss and I'll move through the world with it. But I've noticed through my experiences grieving, that over time I started to carry more of the happy memories I made with the person I lost in addition to the pain of losing them. So then I carried both. And then, over time and unnoticed, I started to carry more of the happiness and eventually stopped always carrying the pain.
I write all of this to say that graduation this weekend gave me some happiness to carry with me. The pain for that lost time, lost friendships, the loss of goodbyes, the loss of that party/dinner/brunch/and the boy I never asked out will never totally go away and I wouldn't want it to. But now I have a bit of happiness to carry in addition to that pain. Graduation gave me some closure, some bright final moments to reflect on. And over time, I expect I'll carry those more frequently.
Article Information
May 24, 2021
/content/gift-closure-reflecting-class-2020s-long-awaited-final-exercises