"Hoospitality" at the University of Virginia does not stop when classes end in early May. The Grounds remain a mini-city, with the University hosting about 11,000 visitors in the span of 12 weeks during the summer.
Supported by UVA's formidable Conferences@UVA office, UVA hosts about 70 different programs and more than 120 camp and conference sessions throughout the summer.
"The day after all of the first-year students move out of their dorms at the end of the spring semester, Conferences@UVA quickly works to get the dorms ready to host close to 700 family members who come for Finals Weekend one week later," said Stephanie Clayton, who directs the massive program. "Then at the end of May and early June, we host several hundred alumni over two Reunions Weekends. Reunions guests stay all over Grounds – the Alumni Association operates a lottery for available Lawn and Range rooms, and we also house guests in Brown College, Lambeth and Alderman Road dorms.
"Once June hits and throughout the rest of the summer, Conferences@UVA services hosts thousands of youth and adults from around the region and around the world. These guests come to UVA to participate in sports camps, international conferences, research and academic enrichment programs and internships," she said. "These visitors to the University are housed throughout Grounds – within first-year residence halls, the language houses and upper-class undergraduate apartments. The month of July is always the busiest of the season."  
This summer, the Alderman Road dorms are hosting nearly 4,000 incoming first-year and transfer students for several orientation sessions. "Throughout 10 different overnight sessions, incoming first-years get their first taste of dorm life, spending one night in either Lile-Maupin, Tuttle-Dunnington, Watson-Webb or Gibbons," Clayton said. "Throughout the summer, these dorms also play host to several of the larger sports camps, such as women's lacrosse, volleyball, tennis, field hockey, cross country and swim camps."
Other dorms along Alderman Road and McCormick Road house matriculating UVA first-year and returning upper-class students and student-athletes who are on Grounds for summer session classes. They also house high school students participating in summer enrichment programs like UVA Advance, which offers college-level classes to talented high schoolers.
We wanted to give our readers a taste of what life is like during these dog days, so here is a sampling of the never-ending churn of life at UVA.
UVA's Rare Book School
Collene Barret, a librarian from the University of Kentucky, was at UVA in July for one of the Rare Book School's summer sessions. She took a course called "The History of the Book in Antebellum America," focusing on the period from 1790 to 1840.
"Every day, we start with a lecture, and there were several suggested readings we did beforehand," she said. "For the past six months or so, I've been reading up about this time period."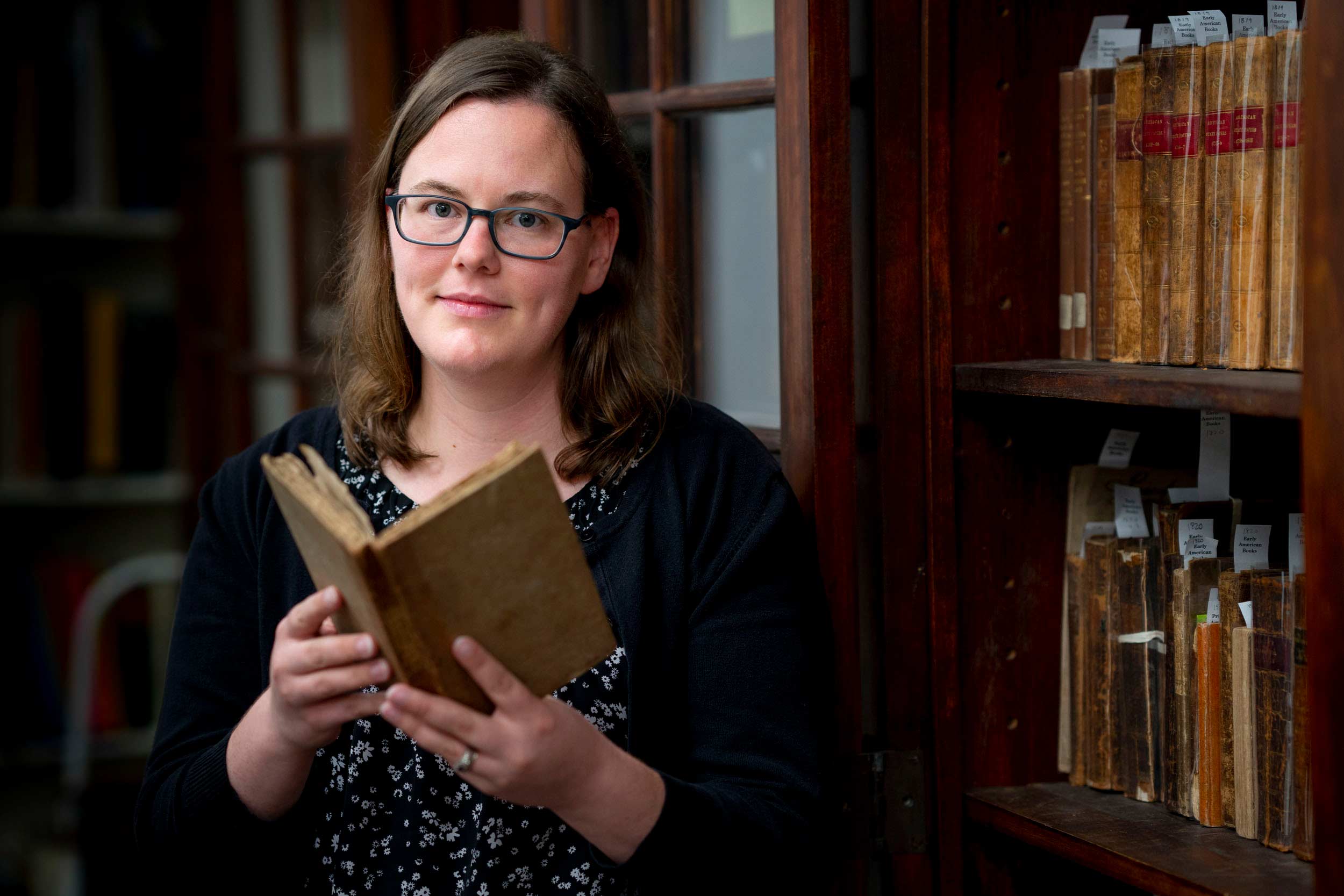 After the lecture, her class examined rare books related to the lecture topic.
While she was at UVA for the five-day course, Barret lived in one of the rooms on UVA's historic Lawn. Barret previously worked at Transylvania University in Lexington, Kentucky. She said that Thomas Jefferson visited the school when he was designing UVA. "Staying in dorms that he designed and knowing the connections between my past and that has made it really enjoyable," she said.
Summer Orientation
This is a time when incoming first-year students get their first taste of dorm life, learn about what UVA has to offer and register for their fall courses. Housing and Residence Life hosts 10 sessions in July and August.
We caught up with Joshua Taylor of Orlando, Florida, on July 22 at Lyle-Maupin House, as he was signing in for UVA's sixth orientation session.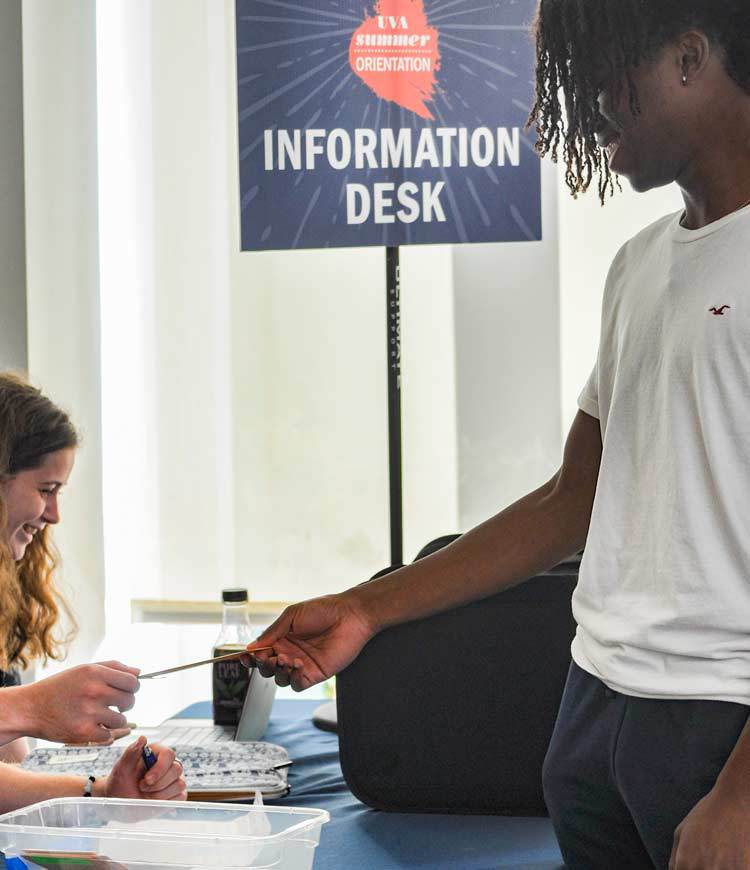 Taylor said he is thinking about studying business. "But a lot of people say that can change. But that's where my mind is right now," he said in the lobby on a typically muggy Virginia morning.
He said he is excited to be coming to UVA. The icing? A childhood friend of his also got into UVA and they will be rooming together in Weedon House.
The Class of 2023 is super-lucky; they are the first incoming class that will enjoy air conditioning in all of UVA's dorms.
Summer Tech Camp
In the summer, UVA also leases out some of its residence halls for various camps for younger people.
James Clayton, a rising eighth-grader from Northern Virginia, bunked at Shea House, which provides a language immersion environment during the school year. In July, it was tricked out with countless computers and monitors for "Game Design 101," which is put on by a third-party vendor.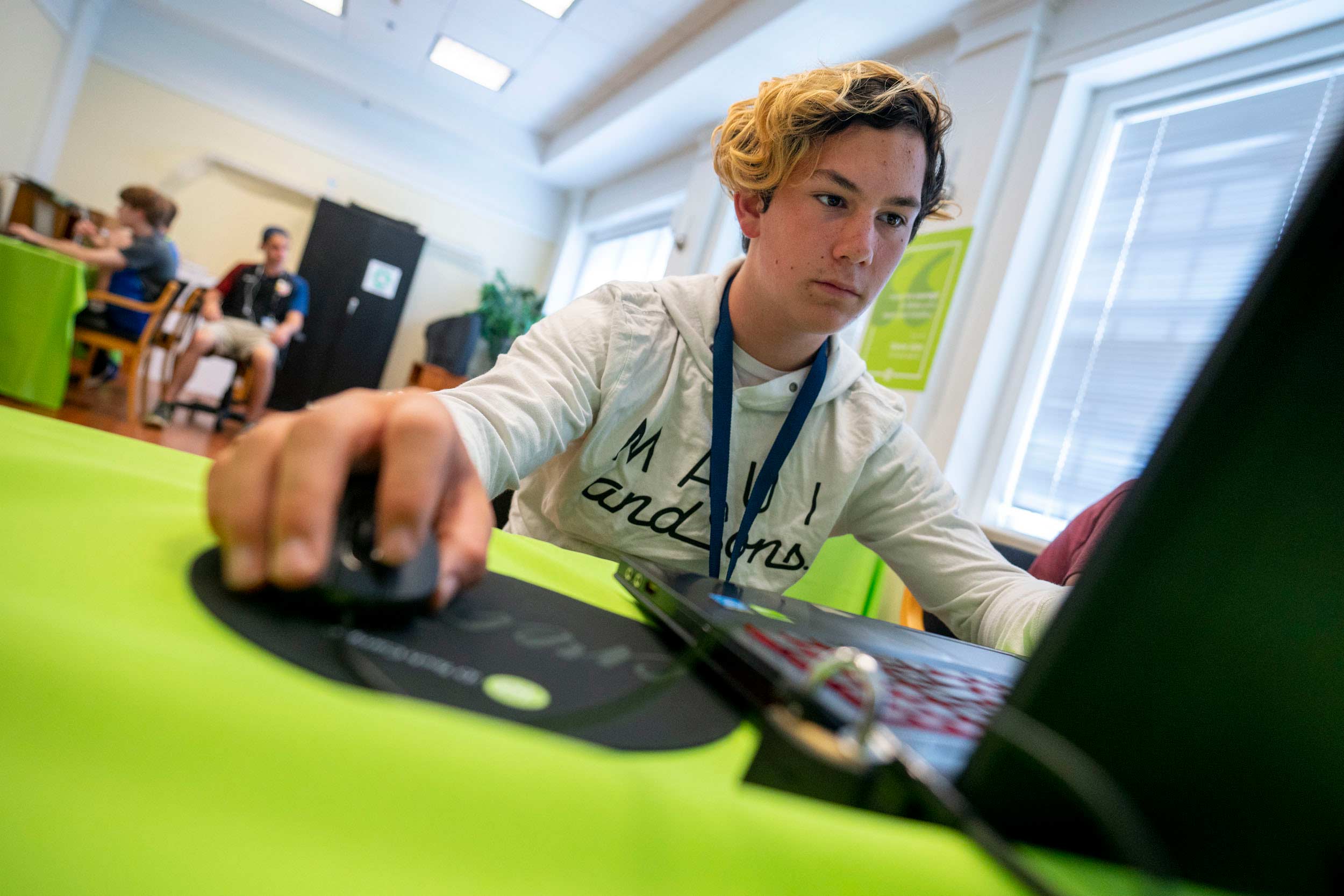 Clayton said he loved the experience and the newfound freedom of living on Grounds. "It's the first time I've been away from my parents and I get to set my own schedule," he said, which included skipping doing his laundry.
Mandela Washington Fellowship for Young African Leaders
The Mandela Washington Fellowship for Young African Leaders, created during the Obama administration, brings the brightest young minds from Africa to the United States for a summer-long fellowship. Fellows engage in academics, leadership training and networking at sites around the United States, including at UVA.
Emmanuel Godbless Otubure is one of 25 Africans who lived in Lambeth Field Apartments this summer while participating in the fellowship, which is sponsored by the Presidential Precinct, a consortium that includes the College of William & Mary, Thomas Jefferson's Monticello, James Madison's Montpelier, James Monroe's Ash Lawn-Highland and UVA's Morven. Otubure lives in Lagos, Nigeria, and is the state coordinator for #NotTooYoungToRun, a group that works to get youth better represented in his country's government.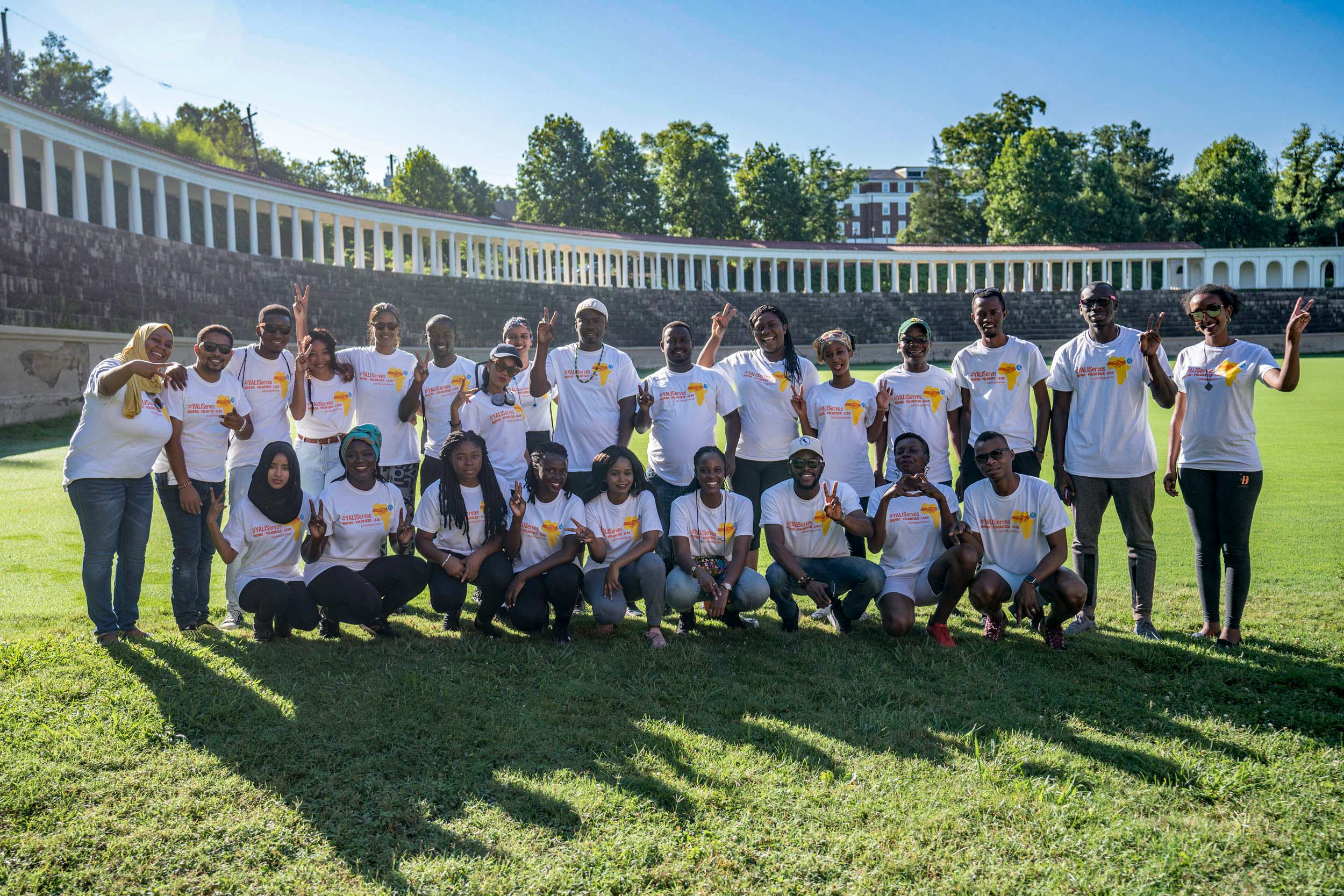 We asked how he liked living at UVA. "I think it's been great," he said. "It's well set up."
His group, which hails from 20 different countries, toured the Rotunda, visited Monticello and took leadership classes at Morven Farm, a UVA-owned estate that is just down the road from Monticello. "It is very beautiful," he said.
Clayton, the Conferences@UVA director, said her office couldn't pull off the crazy summer schedule without her team of student workers.
"The Conferences@UVA operation keeps moving through a crazy pace with the support of our summer staff of 30 talented and hard-working UVA students, who live in our residence areas and provide customer service with a smile and 'hoospitality' to all our visiting programs, including check-ins and 24-hour on-call support," she said.
One of those student workers is Matthew Cockrell, who has worked with Clayton for three years.
"The pace of work can range from very quiet to downright hectic, especially on June and July weekends when we can have upwards of 10 different programs checking in on a single day," the rising fourth-year student said. "One of the most fulfilling aspects of the job to me is working in such a fast-paced environment to troubleshoot issues and ensure that our guests have an enjoyable, memorable experience that makes them want to return to the University again in the future." 
Cockrell said a major part of the job as a student employee is to act as UVA's ambassador to its guests, many of whom are visiting the University for the first time.
"Over the past few summers, I've gotten to meet Rare Book scholars, visiting Iraqi students, historic landscaping academics, medical interns and pretty much everyone else in between," he said. "Getting to represent the University for such a diverse group of people is an experience that, while stressful at times, is ultimately extremely rewarding."
Article Information
August 2, 2019
/content/grounds-action-doesnt-stop-when-students-leave