Research has emerged as a cornerstone of the undergraduate student experience at the University of Virginia, with increasing numbers of students pursuing extracurricular explorations in science and the humanities.
As further encouragement, the University offers Harrison Undergraduate Research Awards, giving students opportunities to pursue faculty-mentored projects over the summer with up to $3,000 to cover their expenses. The University has announced 46 grants for 50 students in this year's round.
The students' research manifests itself in many ways and in many different fields, as they explore the world around them. Here's a look at three of the projects that flowed from the last round of Harrison grants.
Scratching the Surface
Hayes Fountain's Harrison research project took the Charlottesville native, a biology and Spanish major, to Argentina to study biological soil crusts, the thin layer of living soil near and on the soil surface that plays a major role in facilitating all life that comes from the soil.
"Biological soil crusts are communities of living organisms on the soil surface in many very arid areas of the world," Fountain said. "They provide stabilization for the soil because of the filaments that they grow into the soil when establishing their communities. They also cycle many important nutrients, such as nitrogen, through fixation, and carbon, through respiration and photosynthesis. Very few groups of organisms can fix nitrogen, which is necessary for plant growth, which is necessary to feed cows and other animals, which are in turn necessary for human consumption."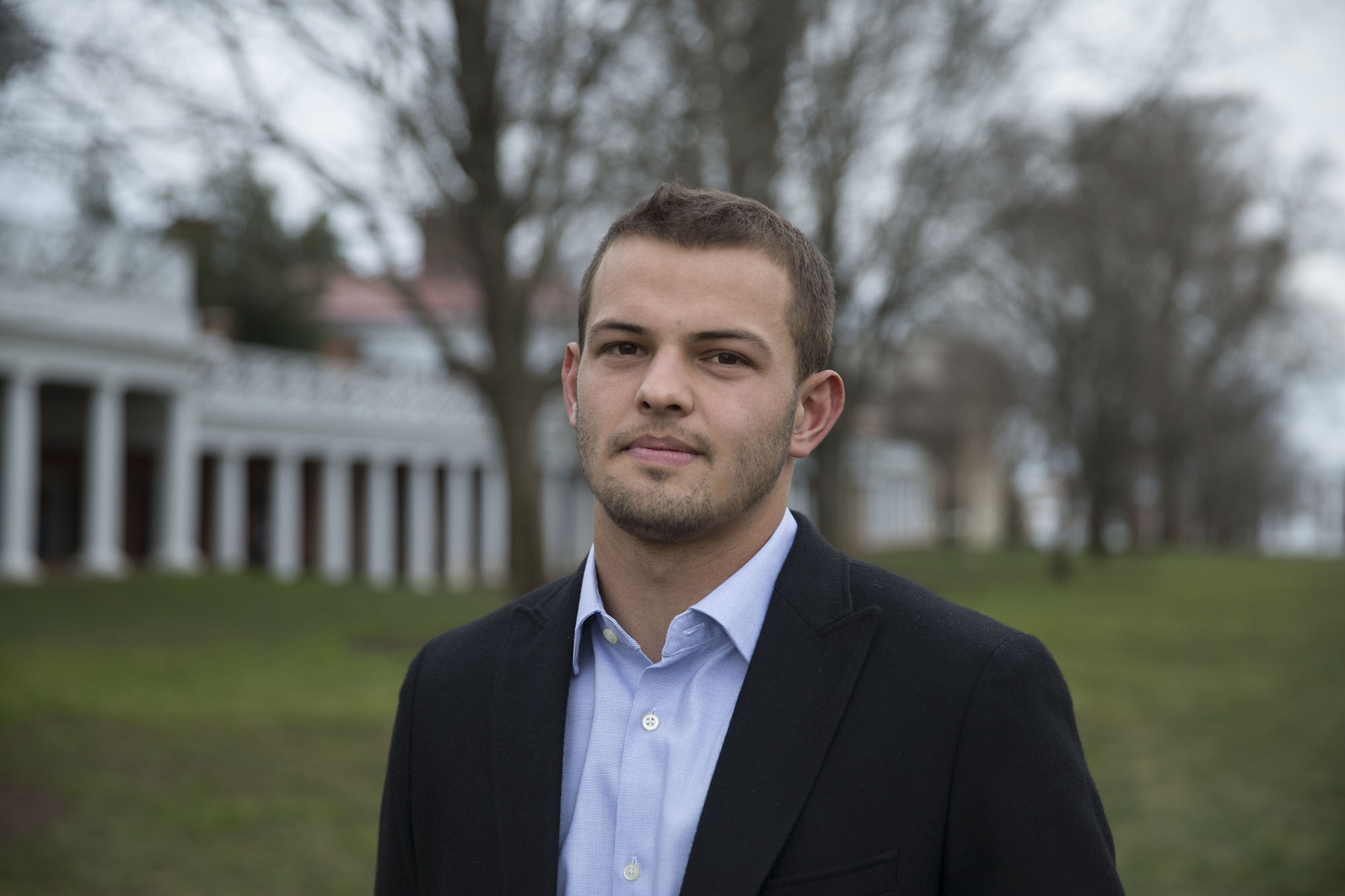 Hayes Fountain's study of soil crusts in Argentina has implications for measuring the effects of global climate change. (Photo by Dan Addison)
He said this soil has very little to do with growing crops and more to do with increasing the fixed nitrogen levels, which move through the whole ecosystem, allowing growth and expansion. 
Fountain broke his research into three parts: fieldwork involving collection of samples; laboratory work to analyze their chemical and physical characteristics; and data computation to generate charts and graphs.
"What attracted me to the research was the ability to help plan and carry out a large-scale research project, from step one all the way to the end publication paper," Fountain said.
Fountain said there has been extensive research into soil crusts in the United States. Going to Argentina gave him a different perspective and an opportunity to use his Spanish.
"I learned about the ecological role of biological soil crusts, their community dynamics, their importance to the local environment and their potential as a proxy for a representing the magnitude of climate change," Fountain said. "The research went as I thought with regard to results, but I learned much more than I thought about planning field campaigns, analyzing data and international communication." 
Fountain's research has international implications.
"The biological soil crusts in Argentina are important to the United States because if their cover and abundance can be calculated, they can potentially be used as a proxy or a measurement for global climate change," he said. "Because the soil crusts need very constant temperatures and also very specific precipitation patterns, the change in global temperature and the decreased rainfall in arid areas, both caused by global warming, will affect the soil crusts' distribution and abundance.
"In this way, the study of biological soil crust distribution and abundance can be used as a way to show the changes that global warming is causing, in a numerical and quantifiable way."
Fountain found that some sites where he anticipated soil crusts were empty. However, areas that appeared inhospitable to any life were covered by thriving communities of soil crusts.  
"The consideration of many different variables and their incorporation into the study surprised me, and has made me acutely aware of the limits and reaches of scientific studies," he said.
He also found that he has an ability to assimilate into any environment. "Whether I was in a countryside school located in rural Argentina, where no English was spoken, or halfway up an Argentinian mountain, or eating dinner with friends at a vineyard, I would always enjoy myself and live to the fullest no matter what I was doing," he said.
Filtering Out the Salt
With worries about a worldwide water crisis looming, the process of turning salty water into drinking water – long regarded as prohibitively expensive – is looking up. A UVA engineering professor is exploring ways to improve polymer membranes to make desalination simpler and less expensive, with the help of an undergraduate researcher.
Geoffrey M. Geise, an assistant professor of chemical engineering, is working with Harrison Undergraduate Research grant winner Andrew Biedermann, a third-year chemical engineering major from Baldwinsville, New York, to approach this problem from a different perspective, using computational modeling.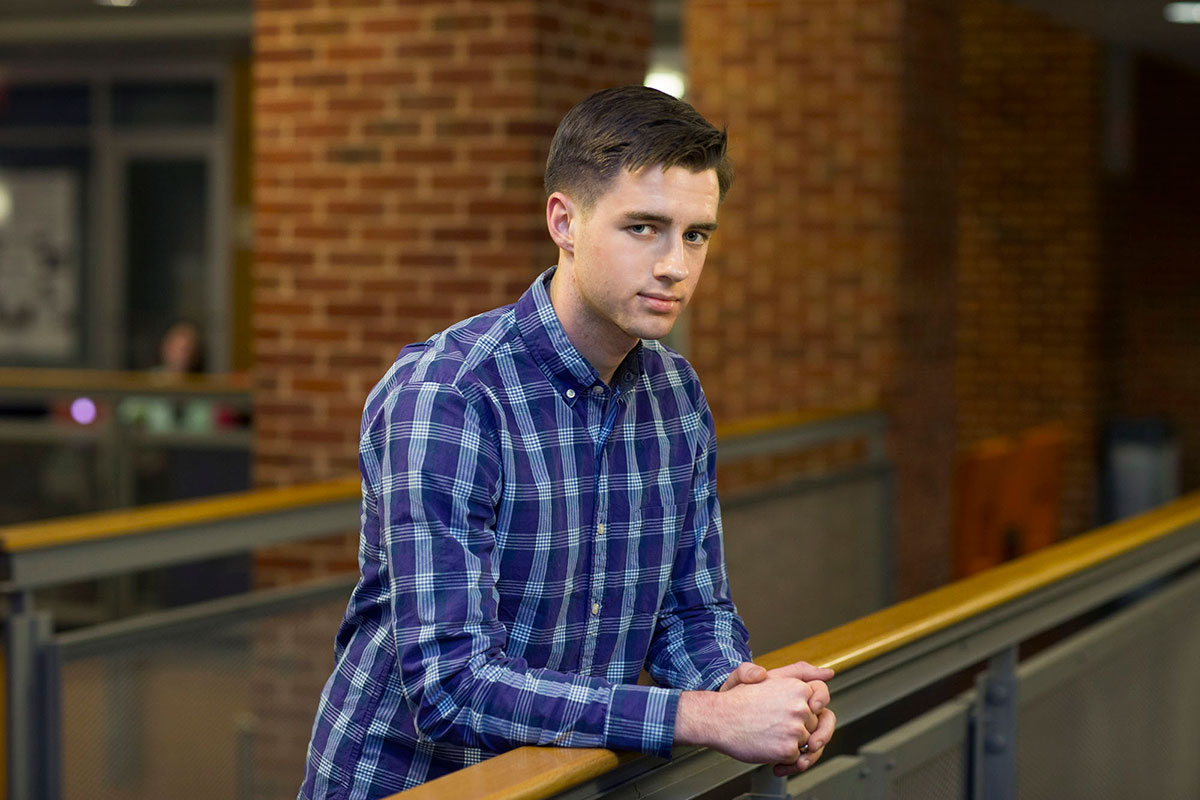 Andrew Biedermann is building computational models of the effects of a polymer membrane on the desalination process.
 "Membranes purify water by blocking, to a large extent, salt and/or contaminants from passing through," Geise said. "The desalination membranes that we study work by allowing water molecules to move more rapidly through the polymer compared to salt, resulting in less salt on the product side of the membrane."
In general, salt dissociates into ions that pick up and hold onto water molecules in a way that makes the resulting hydrated ion larger than a water molecule. Thus, water molecules are able to move faster through the membrane than the salt or ions.
Additionally, ions are less energetically favored in the membrane phase compared to the water phase, and this energy difference results in a situation where ions prefer to stay out of the polymer, which also results in effectively slower salt transport compared to water.
By changing the polymer chemistry, Geise's team is trying to maximize the separation efficiency based on these mechanisms.
Biedermann uses computational tools to build reasonable approximations of the physical system at the atomic scale and then runs simulations to gain insight into how diffusion occurs in real charged desalination membranes.
"After building the system, I conducted several experiments to validate the model and developed procedures that reduced random noise in our data," Biedermann said.
After completing these initial steps, Biedermann ran 30 different variations of the model simulations and is currently analyzing the results.
"We haven't quite gotten far enough in detailed analysis for me to discuss any key insights from this project," he said. "Initial results show interesting structural details, like ion pairing and charged group clusters, which are not well understood by current theories. However, we still need to crunch the numbers to understand the details of how these features affect membrane performance."
Biedermann is drawn to the project, in part, because of the range of subjects that are necessary to understand transport in charged polymer membranes. The composition of the membrane is dependent on thermodynamics; diffusion rates are described by transport models; and polymer structure and model stability rely on insights from materials science.
"By modeling this system, I learned more about how these disciplines tie together to influence membrane performance," Biedermann said. "One thing that I did not anticipate was how important high-performance computing would become to this research. We conducted 30 simulations, with each outputting about 13 gigabytes of data, forcing us to adjust our analysis to handle so much data.
"Still, I am excited to see what we'll find as we work through this bottleneck."
Education in China
How well do boys and girls learn science in China?
This is what drew Sarah Koch of Kansas City, Missouri, a third-year Middle Eastern languages and literatures major, and Orion Williams of Puyallup, Washington, a third-year student double-majoring in computer science and Middle Eastern languages and literatures, to the Middle Kingdom to investigate. Both are cadets in the University's Army ROTC Corps.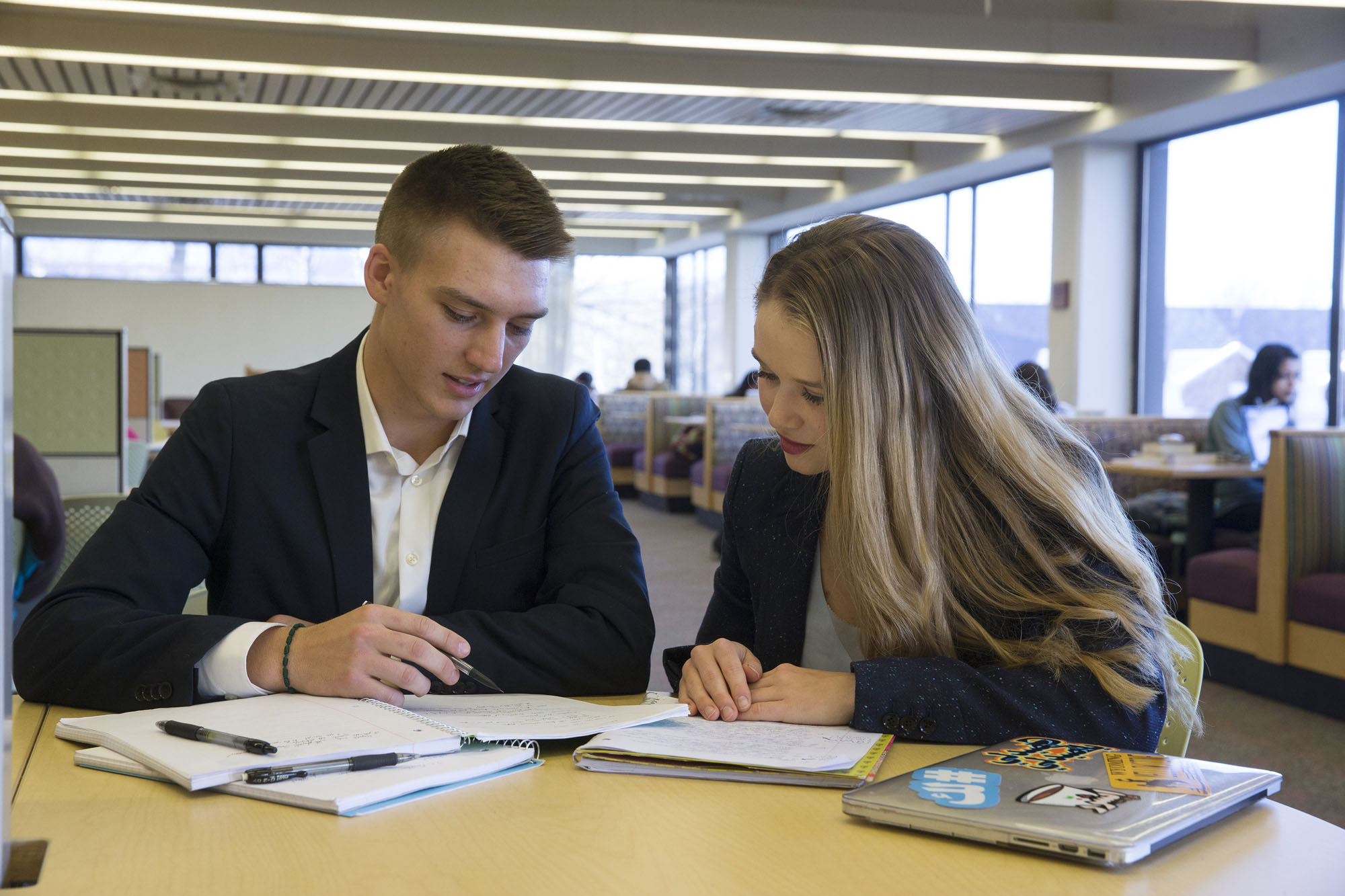 Orion Williams, left, and Sarah Koch traveled to China to investigate gender differences in science education.
Their research question came from a newspaper article that claimed 15-year-old girls in the United States underperformed in science classes while being outpaced by their peers internationally. They went to China to compare.
The pair traveled to Hong Kong, Shanghai and Beijing, visiting public and private high schools, shadowing physics and chemistry classes and interviewing teachers and students.
"We observed that girls were more attentive" in class, Koch said. "According to the teachers, girls were more disciplined and more attentive to details, and the boys just wanted to have fun and not worry about the work. However, one female student mentioned that the boys were actually much smarter than the girls; if they would stop messing around and start listening to the teacher, they would learn very easily."
Koch and Williams were told repeatedly by the Chinese teachers that boys and girls received equivalent grades in biology, chemistry and physics, with the smartest and the hardest-working students rewarded regardless of gender.
Cultural anthropologist Catarina Krizancic, coordinator of student research and service learning activities abroad for UVA's International Studies Office and the pair's mentor, said Koch and Williams' research developed new questions, such as how parental expectations and the role of money influence educational outcomes.
Several teachers mentioned that, given the value placed on male children, parents allow boys to be absent-minded and to play while they expect girls to work harder to be most advanced, Koch said. While some of the best students in high school are girls, many Chinese high-school teachers would argue that boys rise to the top at universities.
"We were unsure whether the Chinese and American definitions of a 'good student' were equivalent," Koch said. "The Chinese students defined success by the result, no matter the path. Interviewees told us that smart students attend fancy universities in the United States. However, we found that money is more important than intelligence for a student aiming to study overseas."
Koch had been eyeing a scientific career in the military, but her research experience changed her focus and helped her to clarify her future career path.
"I was slowly realizing that I care a lot more about language, culture and human interaction than I care about counterbioterrorism, which is what I had originally thought I'd do in the military," Koch said. "Research that involved building relationships – such as our project this summer – ended up being far more rewarding to me than working by myself in a laboratory. 
"I think cross-cultural communication skills will be incredibly useful to any of our work abroad," she added. "Ethnographic research could help develop an understanding of an area's people, culture, societal norms and motivations, which could help us accomplish whatever mission we are assigned with the Army overseas, especially when we consider counterinsurgency and stability operations."
Article Information
February 23, 2016
/content/harrison-scholars-explore-world-understand-it