For years, Zuhayr Shaikh volunteered with free clinics, helping provide quality health care to uninsured and under-insured patients.
When the COVID-19 pandemic hit almost a year ago, Shaikh, now in his first year of medical school at the University of Virginia, got an email announcing that a clinic he had volunteered with had sent its volunteers home, worried about their safety, and was in urgent need of telehealth volunteers. Shaikh began thinking about all of the needs he had seen at the clinic that could be met virtually and, with more time on his hands as his courses shifted online and in-person work paused, he set about making it happen.
Now, Shaikh's idea has turned into a full-fledged project – the Virginia Free and Charitable Clinic Telehealth Service Network – funded by a grant from the Clinton Global Initiative's COVID-19 Student Action Fund. Launched in April with a virtual event hosted by President Bill Clinton and his daughter Chelsea, the fund identifies and supports students around the world who are committed to projects addressing the COVID-19 pandemic.
In Shaikh's case, the grant provided funding for several priorities, starting with the development of free volunteer recruitment software and strategies for free clinics across Virginia. Many of the volunteers tapped as part of his effort are interpreters, able to translate Spanish, Chinese, Arabic and several other languages, while others have specific health care expertise or experience. Their assistance helps clinics, including the Charlottesville Free Clinic, conduct safe and effective telehealth visits for patients to provide advice or arrange follow-up care as needed.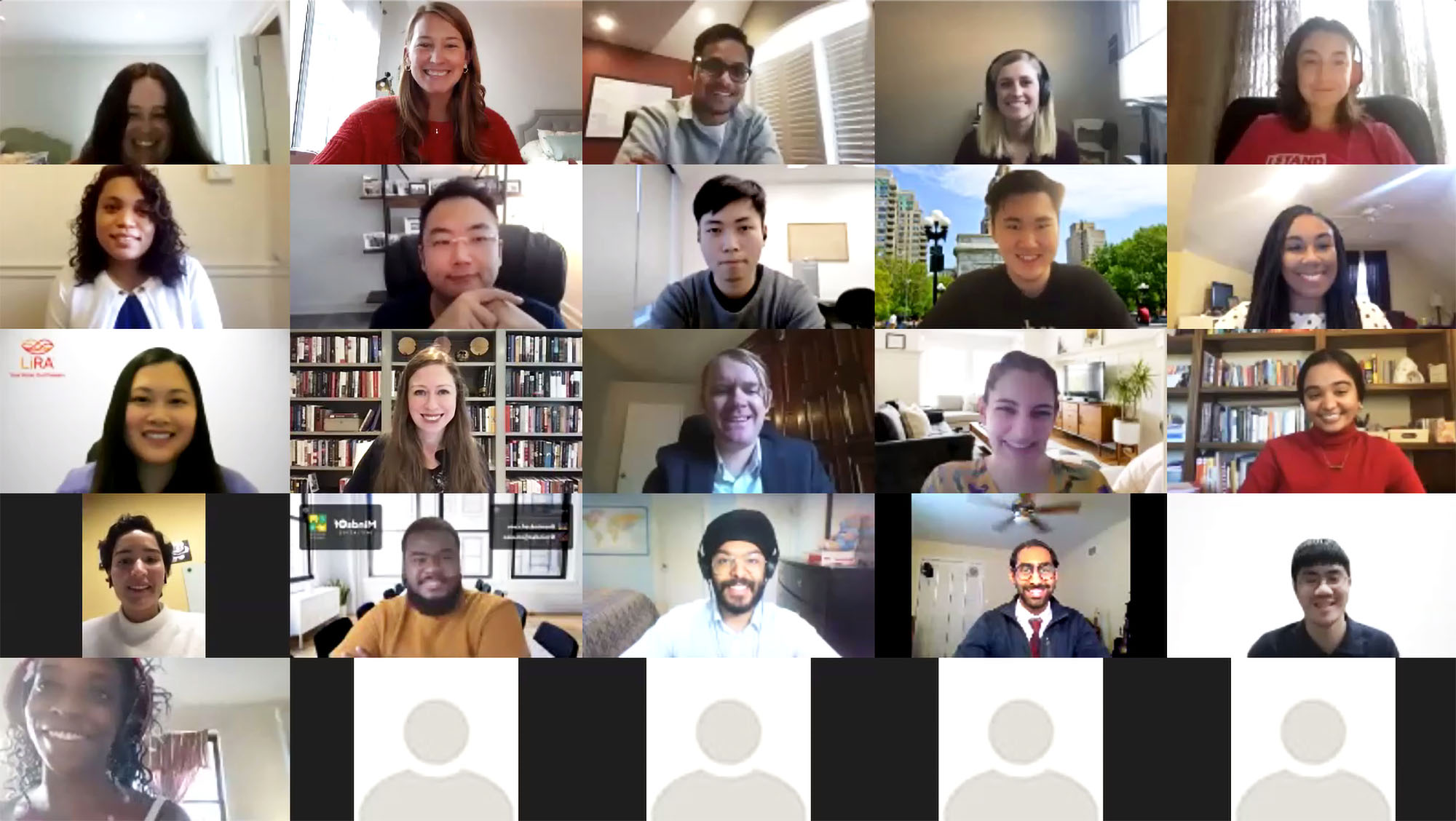 Shaikh, second from right on the fourth row, joined fellow grant recipients in a Zoom meeting with Chelsea Clinton, second from left on the third row. (Contributed photo)
Free clinic volunteers are now valued more than ever, Shaikh said, as the majority of free clinics across the country have reported increased demand for services since the pandemic hit. Over time, he hopes to expand the volunteer operation his is leading to serve clinics nationwide.
"We are working to create a volunteer recruitment tool that clinics across Virginia, and hopefully the country, can use to meet needs virtually," Shaikh said.
When the pandemic began, he explained, there was no centralized way to recruit telehealth volunteers and distribute them among different clinics that need help.
"Someone might be looking for a way to help in Northern Virginia, but not realize that there are more opportunities elsewhere," he said.
Shaikh partnered with the Virginia Association of Free and Charitable Clinics, which represents more than 60 clinics across the state, to create a system for recruiting volunteers and matching them with opportunities. They have since released pipelines for licensed health care and non-medical volunteering.  (Those wishing to volunteer can learn more here.)
In addition to building the volunteer recruitment platform, Shaikh is working with School of Medicine classmates Michael Salomon and Tien Comlekoglu to organize a national summit, supported by the Clinton grant. Set to be held virtually May 25, the conference is designed to identify ways technology can improve medical care for underserved communities.
Discussion sessions will focus on how technology can promote telehealth accessibility, volunteerism and fundraising at free and charitable clinics, the various challenges these clinics have faced during the pandemic, and different solutions that have emerged. A simultaneous student symposium will allow undergraduate and graduate students to present relevant projects, including capstone projects related to technology and health care access. 
"We hope to gather students, faculty, industry professionals and enthusiasts wanting to use their skill sets to make a difference, especially during the disruptive circumstances brought about by the current pandemic," Shaikh said.
The objective, he said, is to come up with free and open-source technology solutions that can be shared with clinics around the country.
"Ultimately, we hope that this conference will help inspire and encourage collaborative innovations from a new angle that will improve health for a greater number of underserved patients, now and into the future."
Those interested in learning more about the conference, registering or submitting work can do so here. Students are encouraged to submit abstracts for tech-related projects related to telehealth accessibility, volunteer recruitment and retention, fundraising, or other topics that could be valuable for helping free clinics serve vulnerable patients.
Media Contact
Article Information
February 25, 2021
/content/have-computer-will-volunteer-med-students-telehealth-initiative-uses-clinton-grant