Mark Dion does not believe in untouchable art. His work welcomes curious observers, from small pieces hidden behind ornate doors to scrapbooks ready for perusal to huge spaces full of cabinets, drawers and even live birds.
The 2016 Ruffin Distinguished Artist-in-Residence's new exhibition at the University of Virginia's Ruffin Gallery blurs boundaries between art, archaeology and history for a decidedly playful take on a natural history museum. His approach is inspired by the "cabinet of curiosities" – a tradition of displaying artifacts gathered worldwide, popularized during the Renaissance.
"Our understanding and relationship with the natural world shifts dramatically, and you can chart that shift by examining how we have materialized exhibitions," Dion said. "Like a historian, I am looking back and using images, displays and sculptures to understand how we've changed our notion of the natural world."
This semester, Dion is teaching a course, "The University as a Cabinet of Curiosities," comparing higher education to the cabinet of curiosities. Students visit UVA collections, exploring well-known collections at The Fralin Museum of Art or the Albert and Shirley Small Special Collections Library and lesser-known treasures from archaeology digs, the Wilhelm Moll Rare Book and Medical History Room or Brooks Hall, which formerly housed its own natural history museum.
"The cabinet of curiosities was a gathering of all the things in the world, and the university is a gathering of all the ideas in the world," Dion said. "They have an inherent relationship."
UVA Today joined Dion to learn more about his work and exhibition, which opened Feb. 26.
Some of Dion's large-scale installations, such as "The Octagon Room" installation at the Tanya Bonakdar Gallery in New York City shown here, invite viewers to explore a wide variety of objects, in the tradition of the cabinet of curiosities. In "The Octagon Room," Dion recreated an abandoned office, patterned after an octagonal architecture trend that flared briefly in the 19th century. Dion selected or created each object in the room.
Mark Dion
The Octagon Room
2008 mixed media installation
100 x 330 x 330 inches; 254 x 838.2 x 838.2 cm
Courtesy of the artist and Tanya Bonakdar Gallery, New York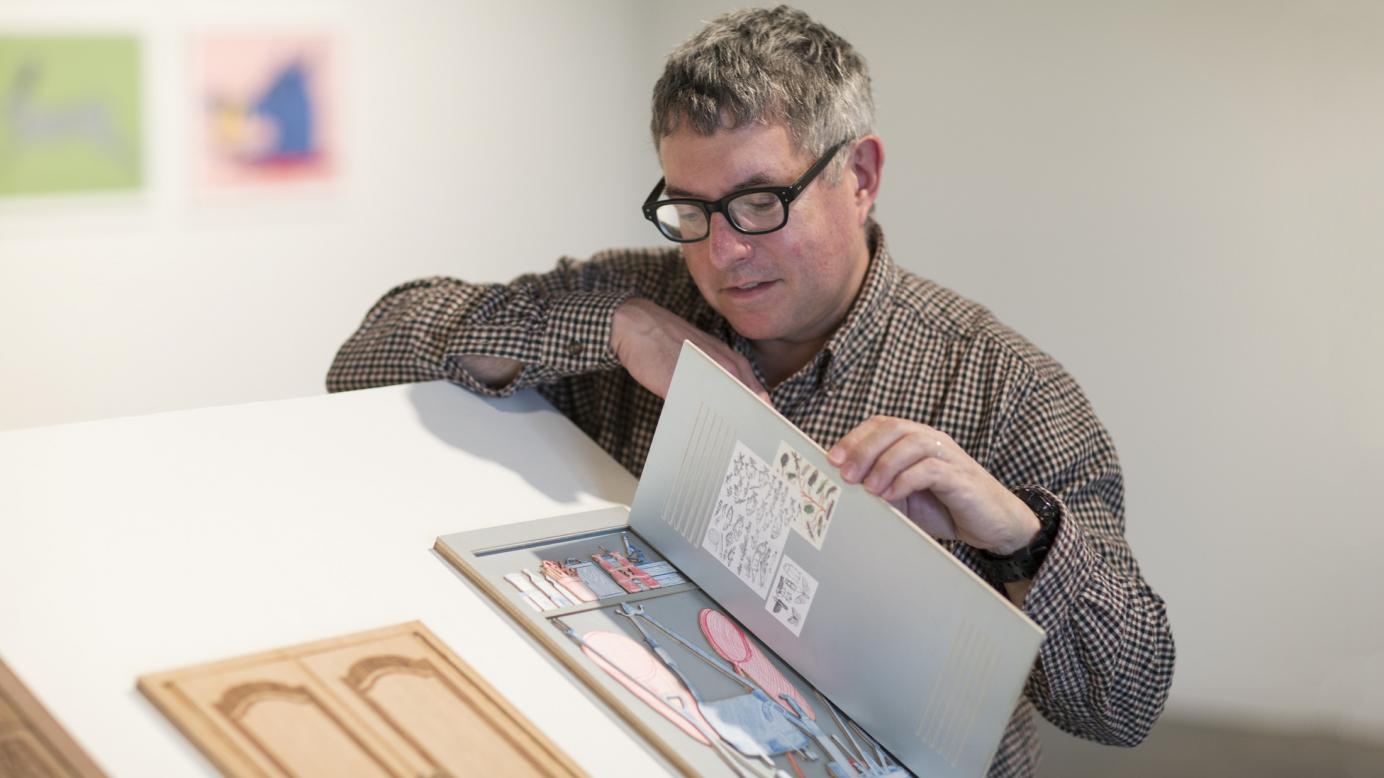 Dion's exhibition at UVA's Ruffin Gallery includes a series of ornate wooden cabinets, titled "Cupboards, Closets and Lockers." Each piece uses laser-cutting techniques – relatively new in the world of printmaking – to recreate designs for metalwork and woodwork, ranging from baroque cabinetry to the modern-day locker, all simulating some version of a cabinet of curiosities.  
(Photo by Dan Addison)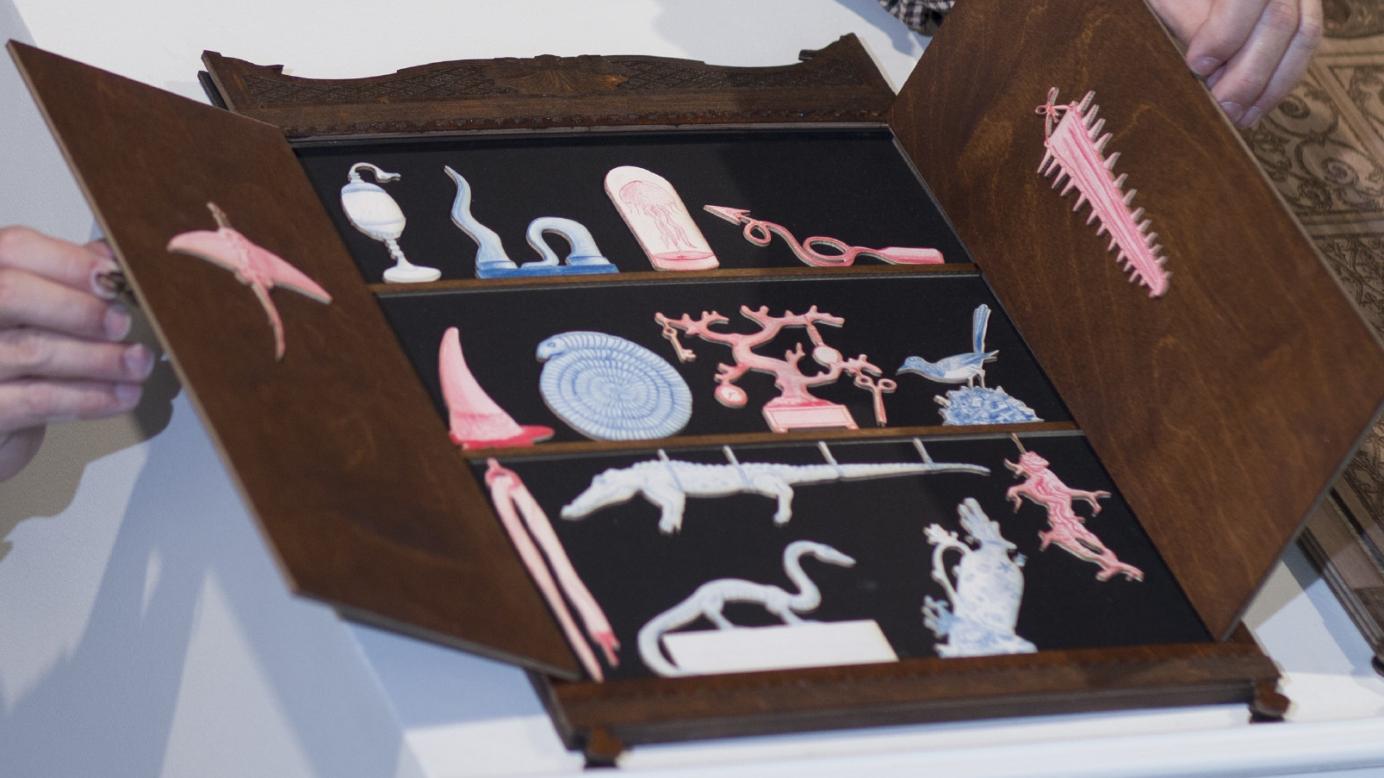 Each cabinet – itself a work of art – opens to reveal additional laser-cut prints.
"Each cabinet has a different theme, and this first one reveals representations of works that I have actually made – prints or sculptures that I did using the language of the cabinet of curiosities," Dion said.
The cabinets repeat a theme that Dion has explored throughout his career – reproducing and exploring how we organize spaces. Sometimes, this work takes on a much larger scale.
(Photo by Dan Addison)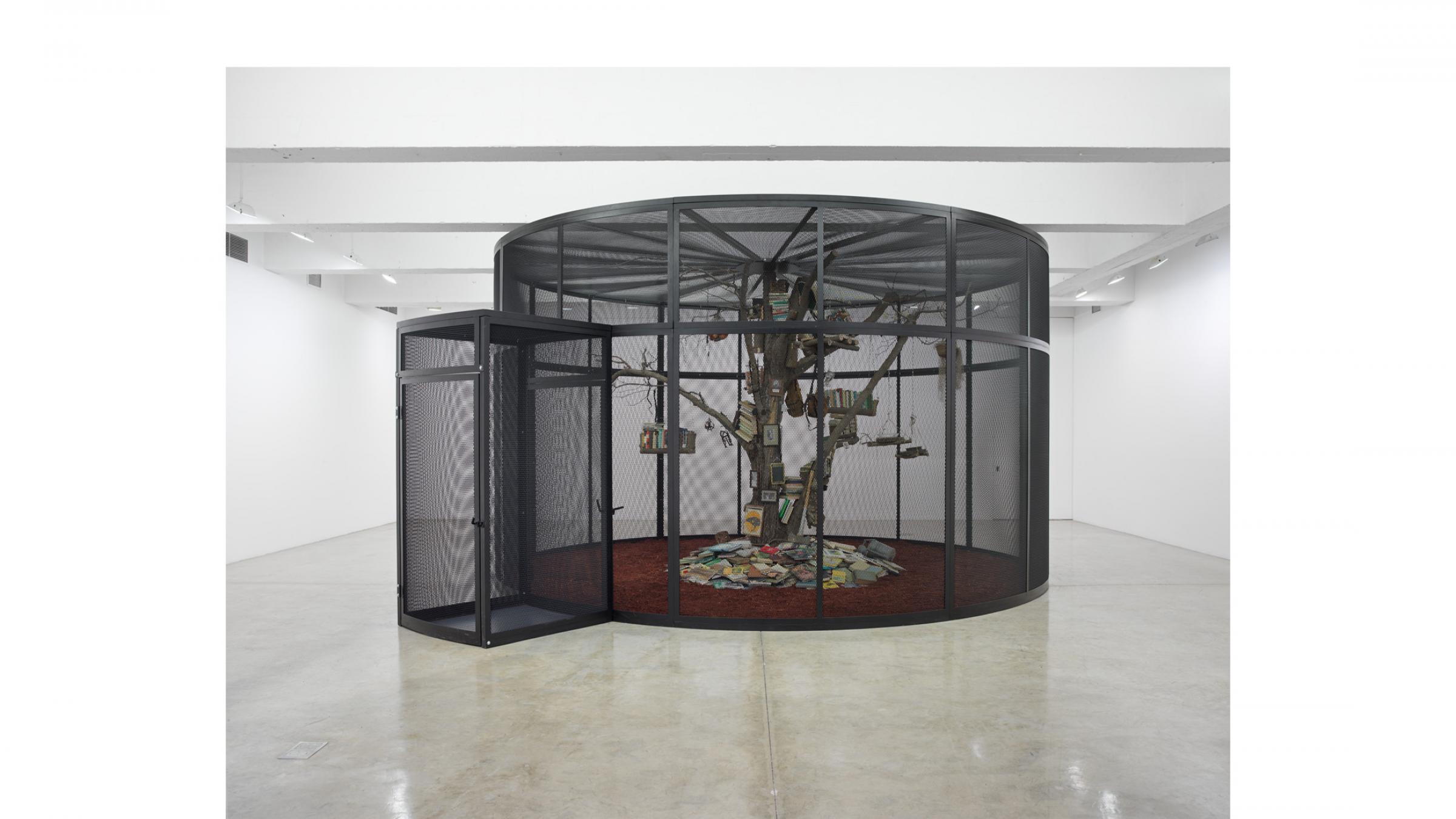 Another large installation, "The Library for the Birds of New York," included 22 live birds, along with books, images and objects related to the study of birds, all selected or created by Dion. Some of the imagery is symbolic of hunting, while others represent human attempts to define and categorize avian life.
Mark Dion
The Library for the Birds of New York
2016
steel, wood, books and birds
138 x 240 inches; 350.5 x 609.6 cm
Courtesy of the artist and Tanya Bonakdar Gallery, New York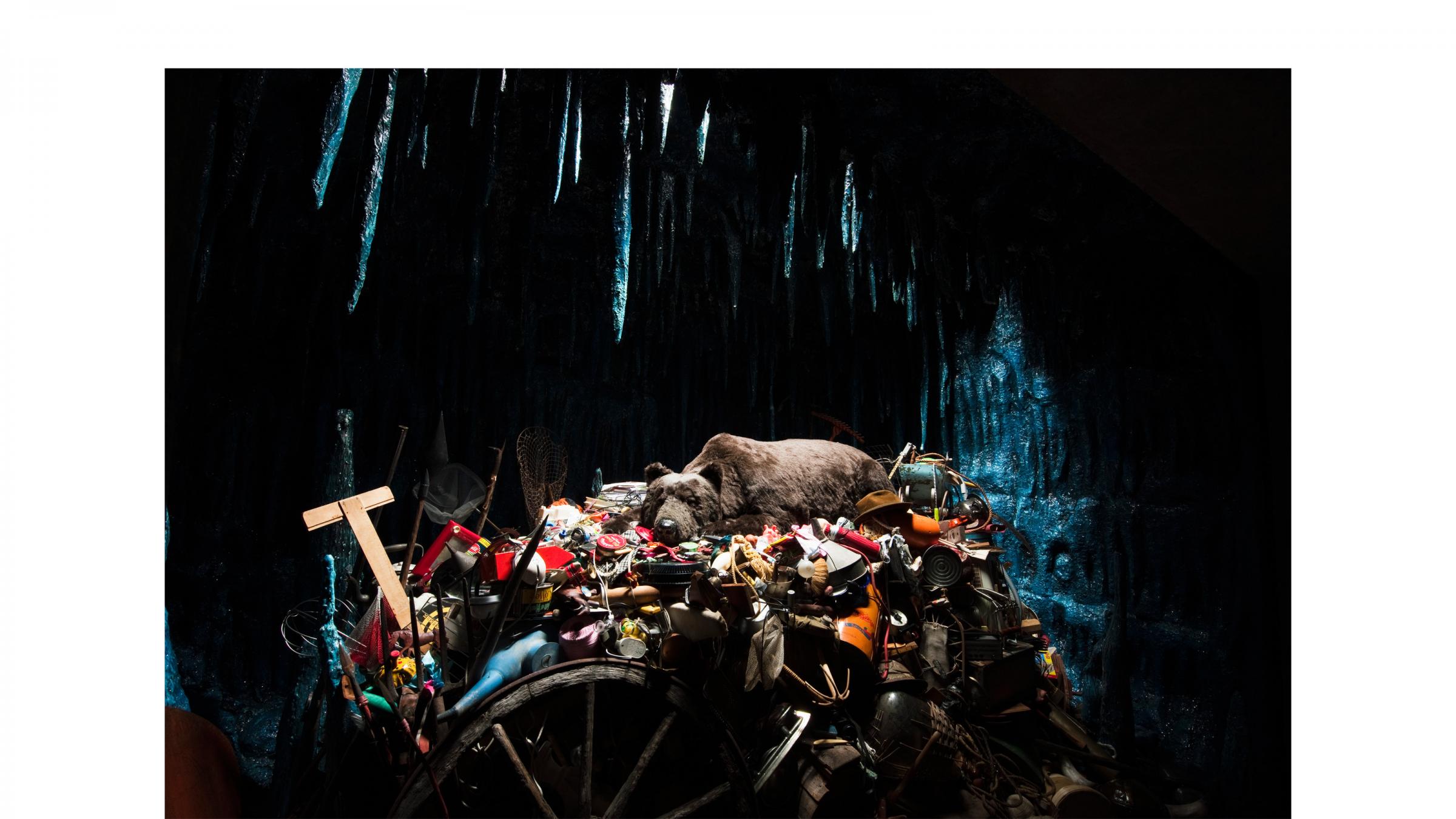 This permanent installation, called "Den," is embedded in a mountainside along the Vedahaugane National Tourist Route in Norway.
Like much of Dion's work, the piece offers commentary on human treatment of the natural environment, tempered with a dose of humor and playfulness.
"When you are dealing with environmental issues, there is little good news on the horizon," Dion said. "It is important to think about how to continue to have that conversation without being too grim. Humor is really that tool that we have, to help us bear some of the more difficult things we are talking about."
Mark Dion
DEN
2012
Permanent installation for the National Tourist Routes Project, Norway
Courtesy of the artist and Tanya Bonakdar Gallery, New York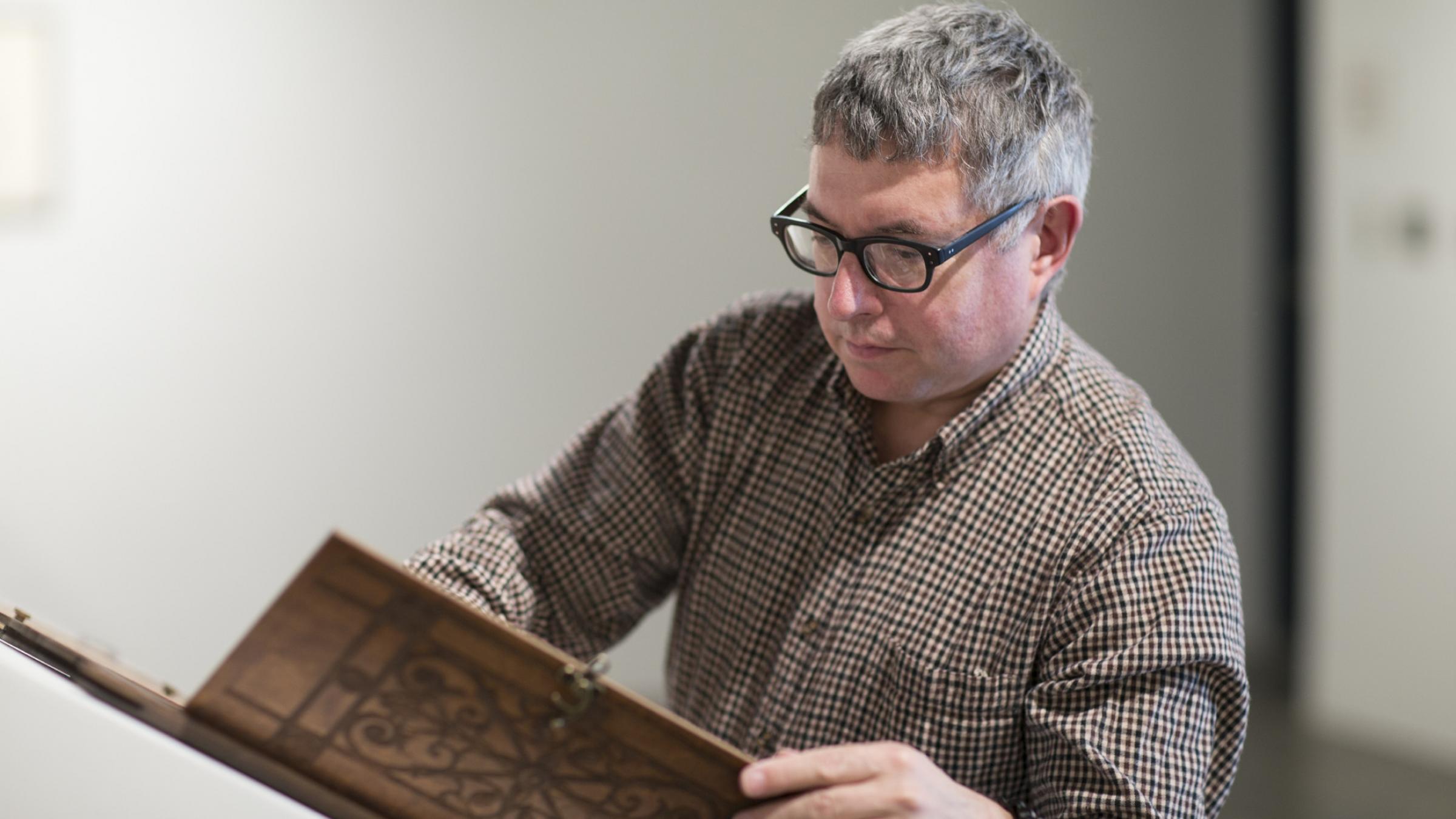 In his exhibition at UVA, Dion, pictured in the Ruffin Gallery, continued to share the environmental interest and humor inherent in some of his larger works while working within a style that many UVA art students use regularly: printmaking. It is his first exhibition focused solely on printmaking and includes several series that have not been shown before.
"I have always wanted to do an exhibition that was only prints," Dion said. "I wanted to make something that was accessible to students, showing a range of works on paper and different uses of technology. UVA has a great printmaking program, so everything here is really available to the students." 
(Photo by Dan Addison)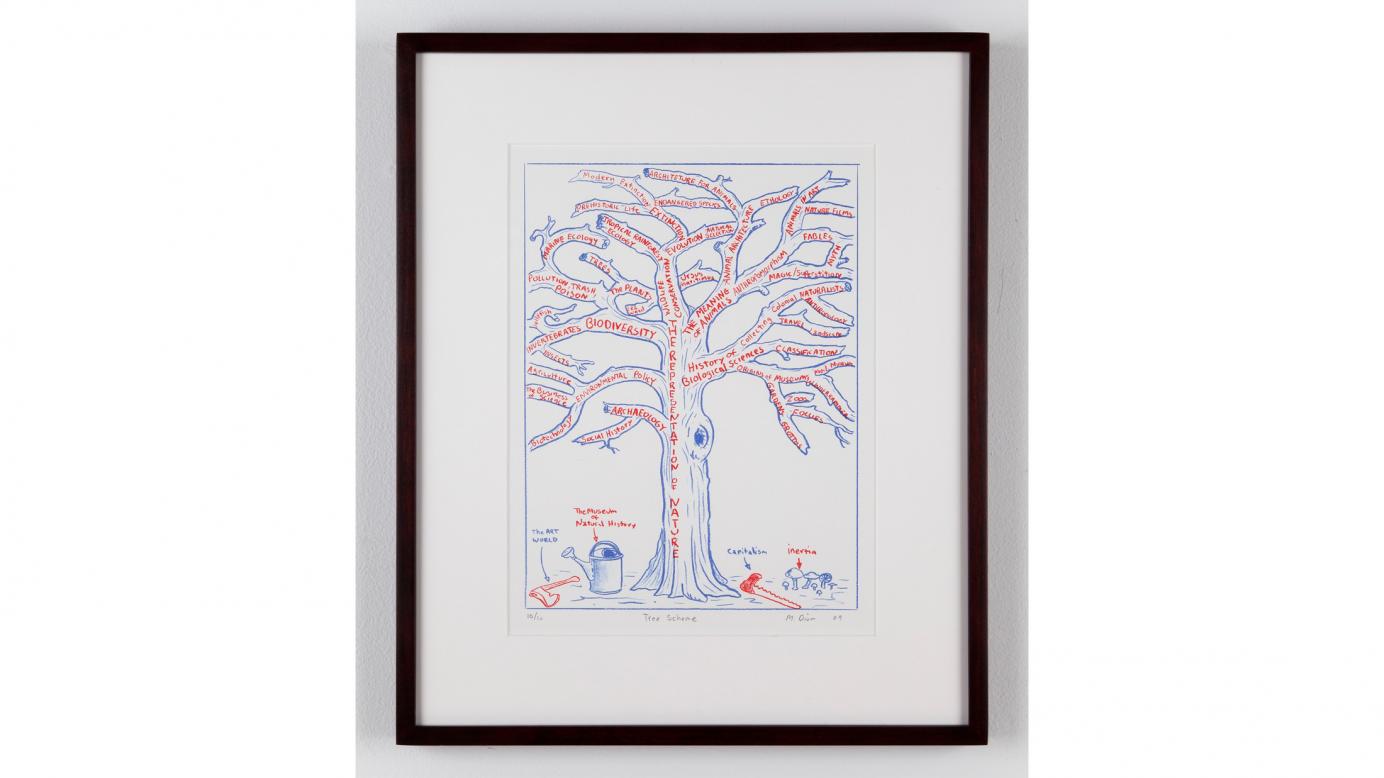 This print, "Tree Scheme," is one of 27 in Dion's "World in a Box" series at UVA. The series depicts various cosmologies, exploring how humans organize their universe.
"The series hijacks conventional formats of information, taking them to less rational places," Dion said. "It's very playful, and the viewer is kind of destabilized."
Mark Dion
Tree Scheme
2009
plate lithograph
16 5/8 x 13 3/8 inches (unframed)
17 3/4 x 14 3/4 inches (framed)
Courtesy of the artist and Tanya Bonakdar Gallery, New York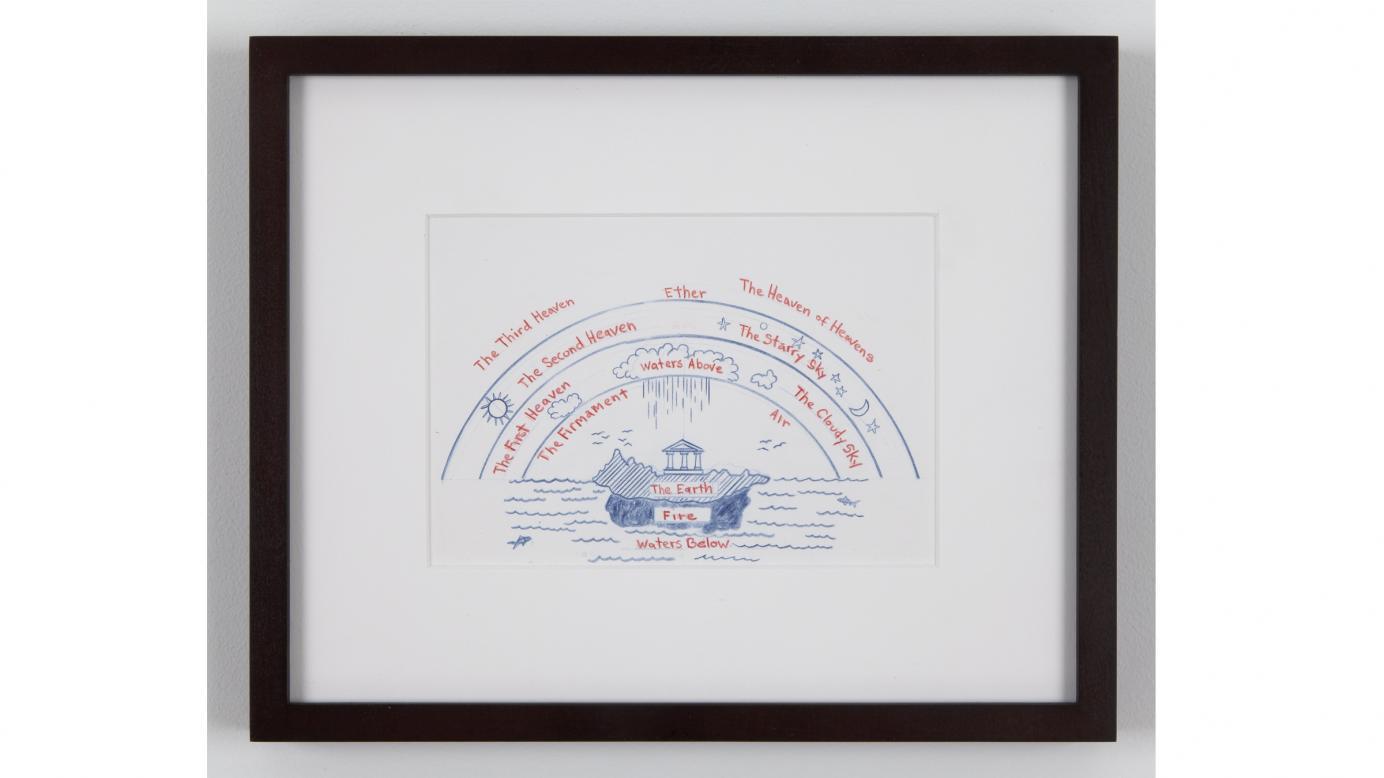 Another print from the series, "Cosmology," depicts heaven, earth and hell.
"Some of the prints are very straightforward, others represent personal cosmology, others present cosmology from another time or place," Dion said.
Mark Dion
Cosmology
2015
lithograph 
16 1/8 x 18 1/4 inches; 41 x 46.4 cm (framed)
14 3/4 x 16 3/4 inches; 37.5 x 42.5 cm (unframed)
Courtesy of the artist and Tanya Bonakdar Gallery, New York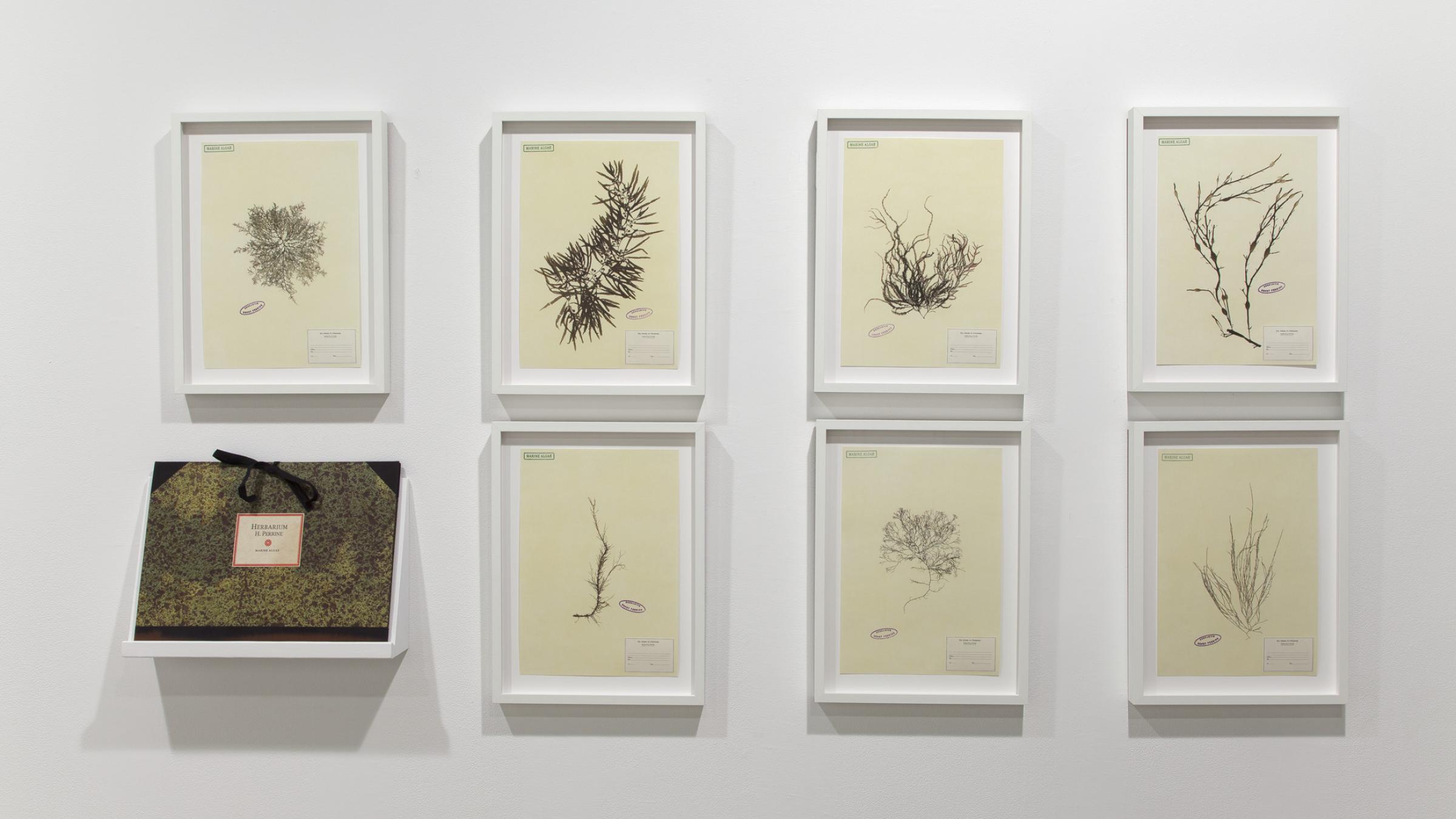 "Herbarium," on display at UVA, focuses on Henry Perrine, a 19th-century American "plant hunter" who brought many new plants to America, such as the poinsettia.
Perrine was killed during the Seminole Wars and his house – including his research – was burned. Dion's exhibition offers a fantastical presentation of those lost artifacts, speculating on what might have been.
Mark Dion
Herbarium
2007-2011
Hand painted acrylic wash, spitbite aquatint, à la poupée photogravure, with hand applied letterpress labels and stamps in seven parts plus colophon in bleach stained folio.
16 1/2 x 11 1/2 inches; 41.9 x 29.2 cm (unframed prints and colophon)
18 x 13 1/8 inches; 45.7 x 33.3 cm (portfolio)
Courtesy of the artist and Tanya Bonakdar Gallery, New York
Media Contact
University News Associate Office of University Communications
cfn8m@virginia.edu 434-924-6856