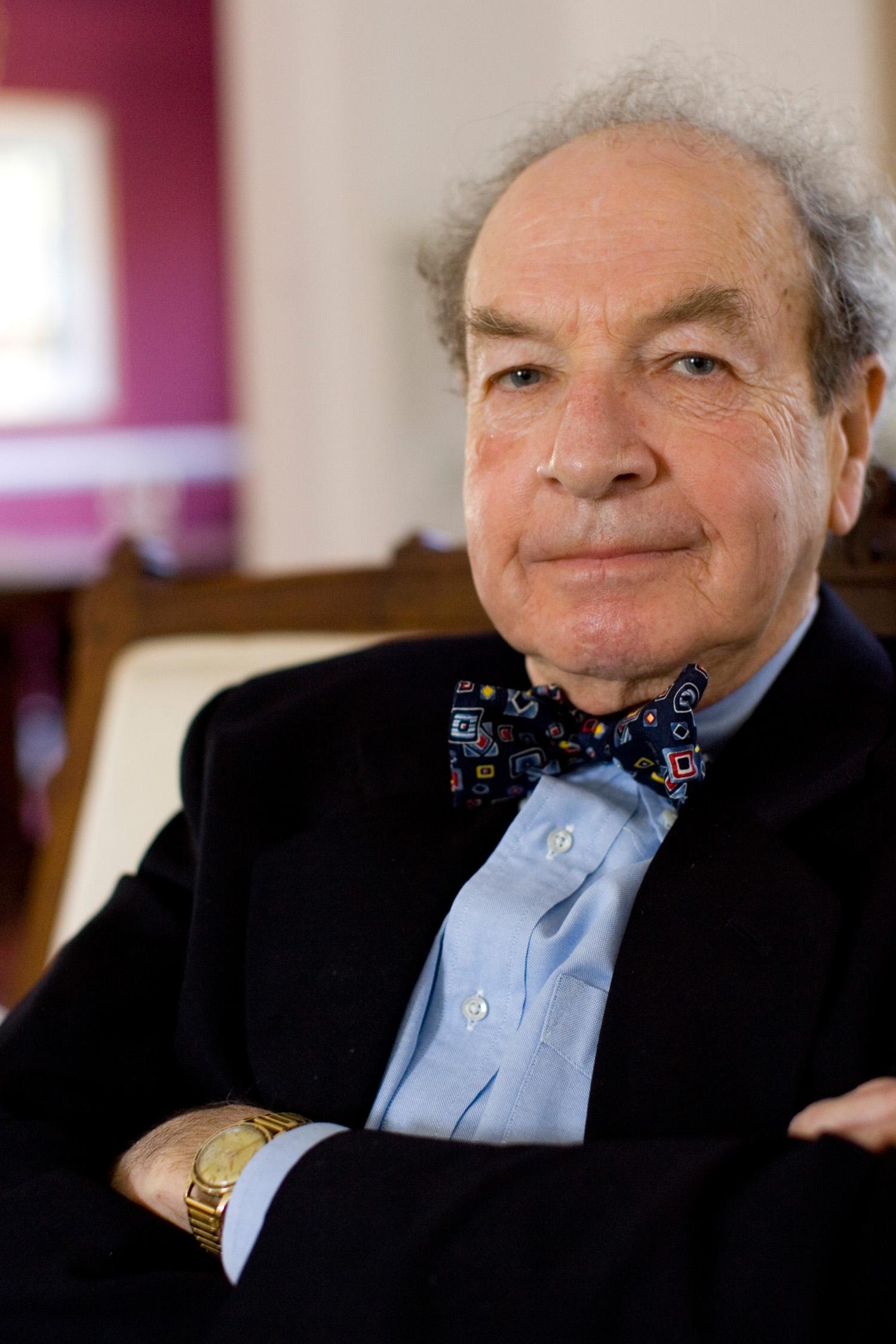 April 29, 2008 — "There's a tendency of people of my type to stay within the environment in which they were first successful. I was always successful at school, so I stayed in the environment."
For Joseph F. Kett, James Madison Professor of History at the University of Virginia, that statement partially explains the arc of his 40-plus-year career. After earning a Ph.D. in history at Harvard University and serving there as a self-proclaimed "junior flunky," Kett came to teach at U.Va. in 1966. Forty-two years later, he has been here longer than many of the trees growing near Randall Hall, home to the Corcoran Department of History.

Growing up in Brooklyn
Despite his many years in Charlottesville, Kett stills retains the accent and intonation of a youth spent in the Bay Ridge section of Brooklyn. Talking about his upbringing, he is neither sentimental nor disparaging. Studying history all these years may have conditioned him to view things — even his own history — objectively.
Kett's parents expected him to excel, and he did. As a teen, he took the train every morning to Brooklyn Prep, a Jesuit high school. "The school inspired a deep affection in me, in large measure because it was tough," he said. "I learned from Brooklyn Prep that if you set expectations high, most students most of the time will reach them."
Kett recalled that although all of the students were college-bound, none of their parents had advanced their education past high school. His parents hoped he would become a doctor or lawyer, following the same path taken by many of his classmates. Becoming a college professor was his "act of rebellion by '50s standards."
Kett left Brooklyn Prep to attend Holy Cross, a Jesuit college. "You were just funneled there," he said. He continued to do well academically, even though, he added, "I can genuinely say I hated the experience."
Kett concedes that one Holy Cross instructor, a Tudor-Stuart history professor, taught him the value of scholarship. With this newly instilled conviction, he went to Harvard, earning a master's degree in 1960 and a Ph.D. in 1964.
He admits that the 1960s were a good time for academics: he received multiple unsolicited tenure-track offers while still at Harvard. "You didn't want to be out of school. Otherwise, you'd be in the Army," he recalled. It was the Vietnam era. Though he was not a pacifist — Kett had joined the Air Force ROTC at Holy Cross — he wasn't eager to be drafted.
After taking the qualifying test, Kett knew that he'd never be a pilot. "They'd show you a target from 30,000 feet and the same target from 500 feet, and you had to pick out the same building. I couldn't do it. I would've been bombing convents and orphanages. It's a good thing they got rid of me," he mused.
Life as an academic
After dropping the notion of a military career, Kett pursued the academic path with fervor. The first book he authored was "The Formation of the American Medical Profession, 1780–1860," which he followed a few years later with a book on adolescence in America and another on the subject of self-improvement and adult education. If there is a common thread, it is that these books all examine change over time. Whether Kett's focus is the transformation of an individual or group, he has a penchant for studying offbeat topics over long periods of time.
Kett is esteemed by colleagues for his wit and originality. "Joe has great range, both chronologically and in terms of fields of interest. [Colleagues are] struck by the variety and originality of Joe's scholarship," said Michael Holt, Williams Professor of History at U.Va.
Likewise, students have long admired Kett. "It was Joe's two-semester lecture course on American cultural and intellectual history that caused [U.Va. alumna] Katie Couric to say that he was her favorite professor," Holt noted. "During my three-year stint as department chair, I read every student evaluation. The vast majority of Joe's students were simply enthralled by him. He is one of our best."
Nancy Ramsey (Arts & Sciences '78), one of Kett's students from that era, is now a freelance journalist who has written for the New Yorker, the New York Times and Sports Illustrated. Kett is the first person she turns to when she's working on a project with any American history element to it. "You can ask him one question, and he goes for 45 minutes with barely a breath. It's all interesting. His answers are just really smart."
Ramsey learned from Kett, who taught American intellectual and cultural history, and other professors that "history could be about ideas, not just dates."
Why does she keep coming back to Kett as a resource? "He's this Brooklyn kid talking to you about something you think is sacrosanct. When he refers to Jamestown settlers as 'scum' or 'fops' or 'whackos,' it's funny, but he's generally spot-on accurate."
More changes on the horizon
Kett directed his keen interest in change over time to the University itself, identifying what he termed "a fairly dramatic change over a short period of time" that began here in the 1970s.
According to him, the admission of women fueled a rapid improvement in academics at U.Va. "You basically doubled the [academic talent] pool without doubling the size," he said.
The state's generous financial support at the time also strengthened the University's overall academic quality. Kett says that U.Va. President Edgar Shannon and the administration managed the transition well. The state legislature was, he said, "much more sympathetic to the idea of having an outstanding state university."
The late 1980s brought about a new research opportunity for Kett. When asked to either join a project with English professor E.D. Hirsch and physics professor James Trefil or teach a mundane summer course, Kett chose wisely. The three professors received a small grant to explore the topic of cultural literacy and met weekly for lunch on the Corner to discuss their work. Kett said their research, for the summer at least, consisted of "compiling a list of basically what we knew and what we might assume students would know, but they might not."
The result of this collaboration was the "Dictionary of Cultural Literacy," now in its fourth edition. Kett was surprised by the project's success — and a bit blindsided by some of the criticism. Yet he admits that even he and Hirsch joked that the book could have been subtitled the "dictionary of superficial knowledge," as it was intended to provide a basis of knowledge, a starting point for discussion at the college level — not the summation of all Western thinking.
Today, Kett continues to teach American history survey courses and advise graduate students. He said he's not interested in setting a longevity record at the University, but he isn't rushing into retirement either.
"I notice when you retire, people just disappear," he said. "It's like Chile under Pinochet. The next thing you see is the obituary."
Kett plans to stay active with research even when he does eventually retire from the University. What is he working on now? A book on the history of merit. "Merit — that's a formless topic for you," he quipped.
— By Wes Myhre