On Sunday night in Charlottesville, tens of thousands clapped, danced and held lit iPhones aloft as an impressive roster of superstars lent their voices to uplift the community after a challenging month.
The crowd that filled Scott Stadium for A Concert for Charlottesville, produced by Live Nation, Starr Hill Presents and the University of Virginia and hosted by hometown favorite Dave Matthews Band, already knew they would be seeing superstars like Pharrell Williams, Justin Timberlake, Ariana Grande, Chris Stapleton, Brittany Howard of Alabama Shakes, The Roots and Cage the Elephant. They got an additional surprise when Coldplay bandmates Chris Martin and Jonny Buckland showed up, and when megastar Stevie Wonder closed out the night.
"This is truly the example that love can win," Wonder said as he joined Matthews on stage to huge cheers and smiled out over the stadium. He urged the crowd, "Use your gift, your song, your musicianship, your voice to spread the never-ending cry for love."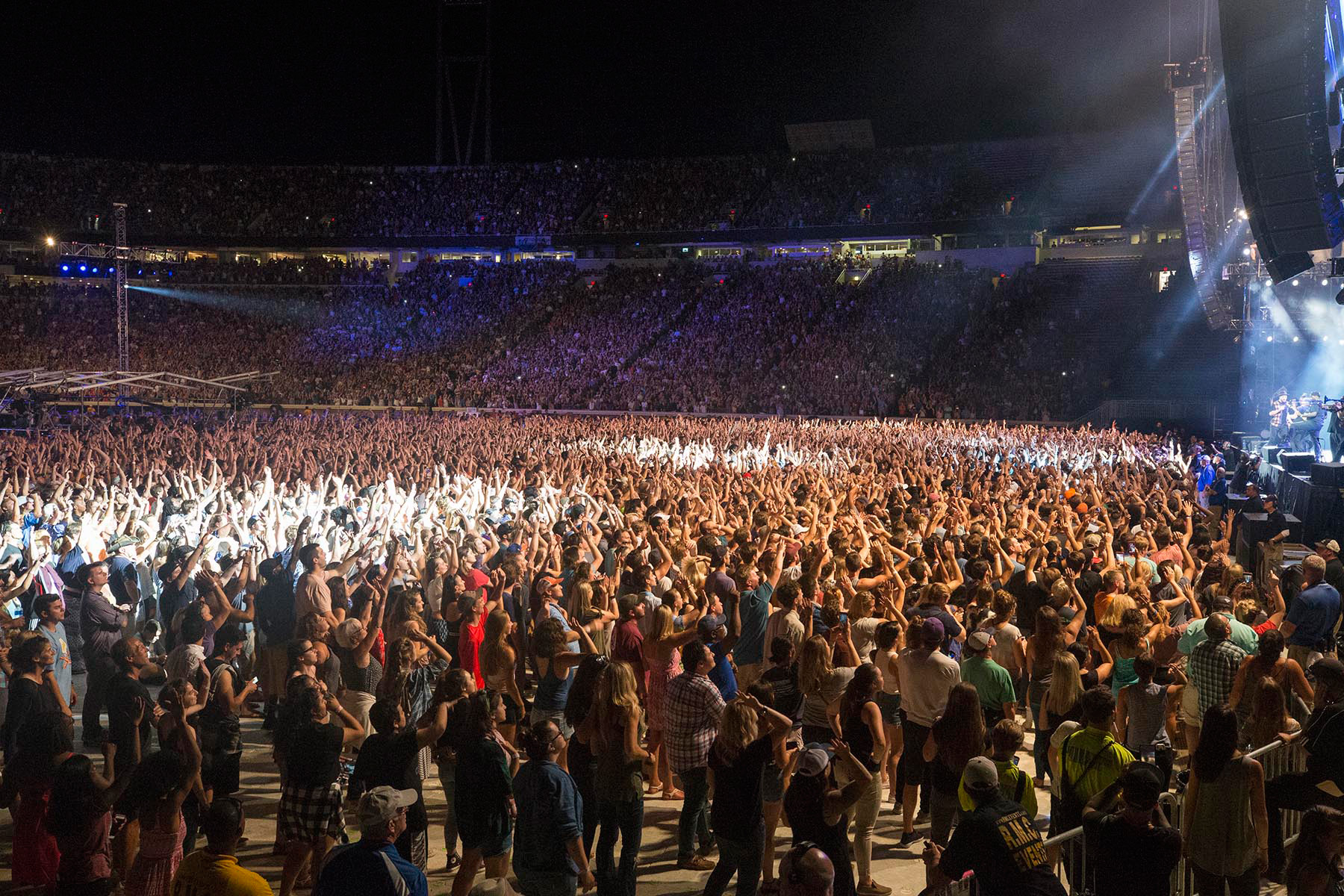 Tens of thousands of fans enjoyed a megawatt lineup of performers at the Scott Stadium concert Sunday night. (Photos by Dan Addison, University Communications)
That's exactly what the impressive slate of artists that Matthews assembled did. All donated their time and traveled from across the country and the world to support the Charlottesville and University communities in the wake of violent white supremacist demonstrations on Aug. 11 and 12. They played before thousands in Scott Stadium, and many more watching the live stream online.
Though tickets were free, attendees were encouraged to make a donation to the "Concert for Charlottesville Fund" at the Charlottesville Area Community Foundation. That fund will benefit victims of the violence and their families, first responders and organizations dedicated to promoting equality and tolerance.
Concert attendees said that the event provided a great way for the community to come together after the violence of that weekend.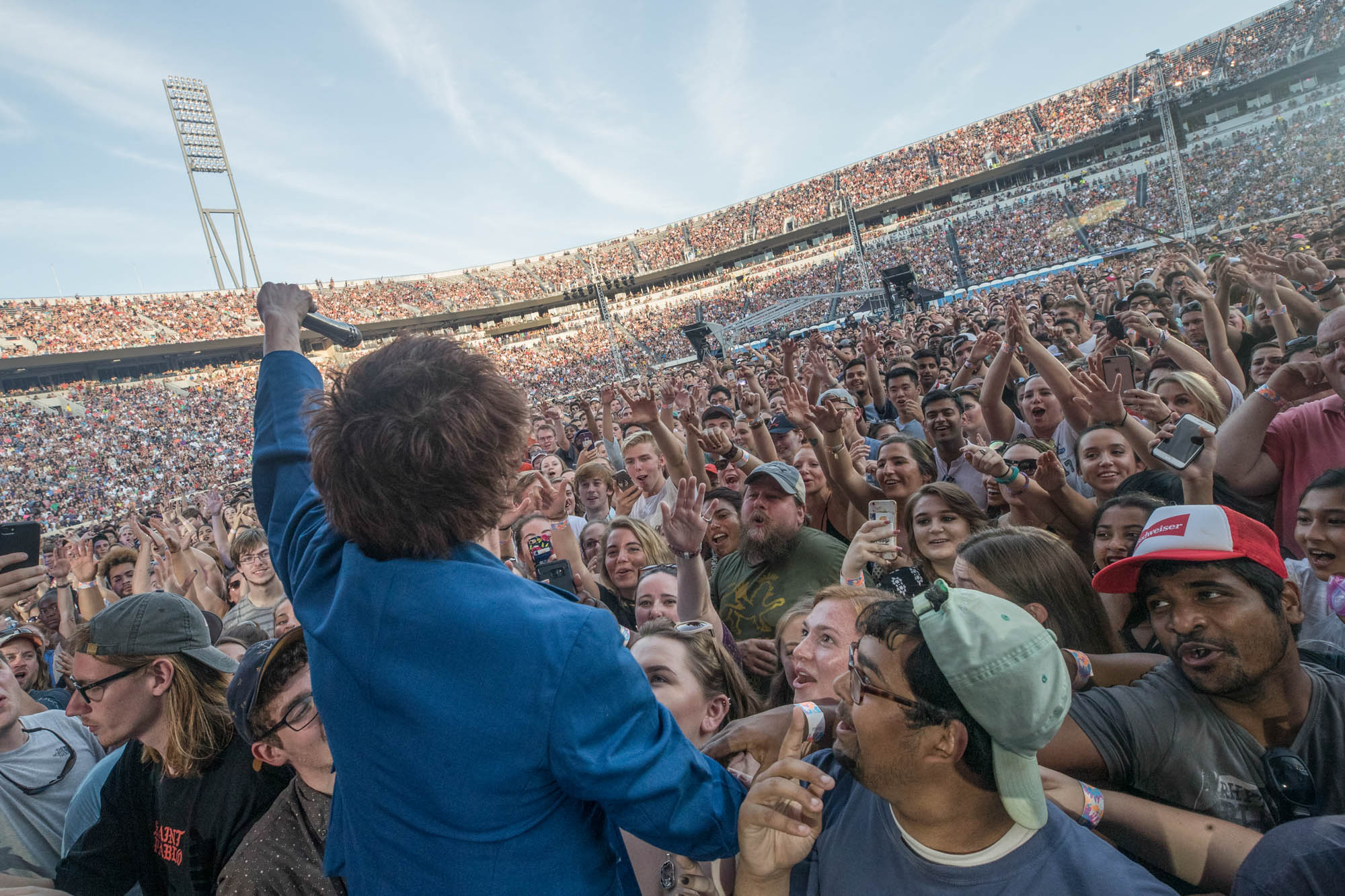 Cage the Elephant frontman Matt Shultz took his performance into the crowd on Sunday.
"I think it is important, after what happened in August, for everyone to unite together under music, which is something we can all relate to and love," second-year UVA student Brian Zuluaga said while waiting outside the stadium with three friends.
Local high school student Mythryl Thomas agreed.
"Music is just a great way to bring the community together," she said.
"I feel like we need this kind of joy in Charlottesville right now," Thomas' classmate, Gabby Safley, added.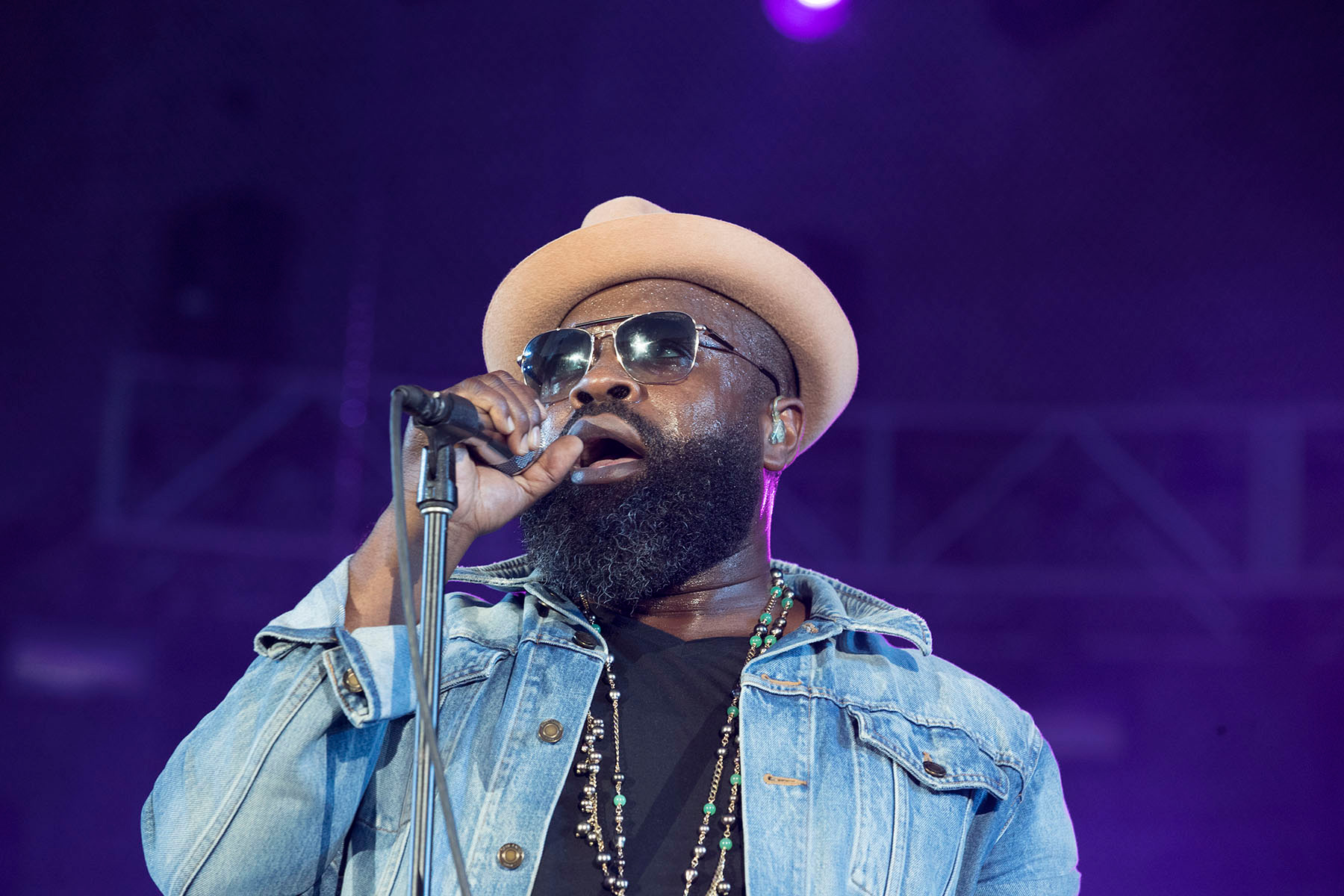 Tariq "Black Thought" Trotter of The Roots electrified the crowd with a high-energy hip hop ensemble that came complete with a tuba player.
"It gives us something positive to do, something where everyone is in good spirits, coming together for a positive thing," local resident Karla Fulcher said.
Matthews opened the concert, addressing the crowd as he took the stage for their first song. The concert was a poignant homecoming for Matthews and his band, who got their start playing clubs and bars just a few miles from Scott Stadium.
The concert was also a reunion of sorts. UVA music faculty members John D'Earth, who mentored Matthews while he lived in Charlottesville, and Butch Taylor, a keyboardist and vocalist with the band from 1997 to 2008, joined the band for parts of the show.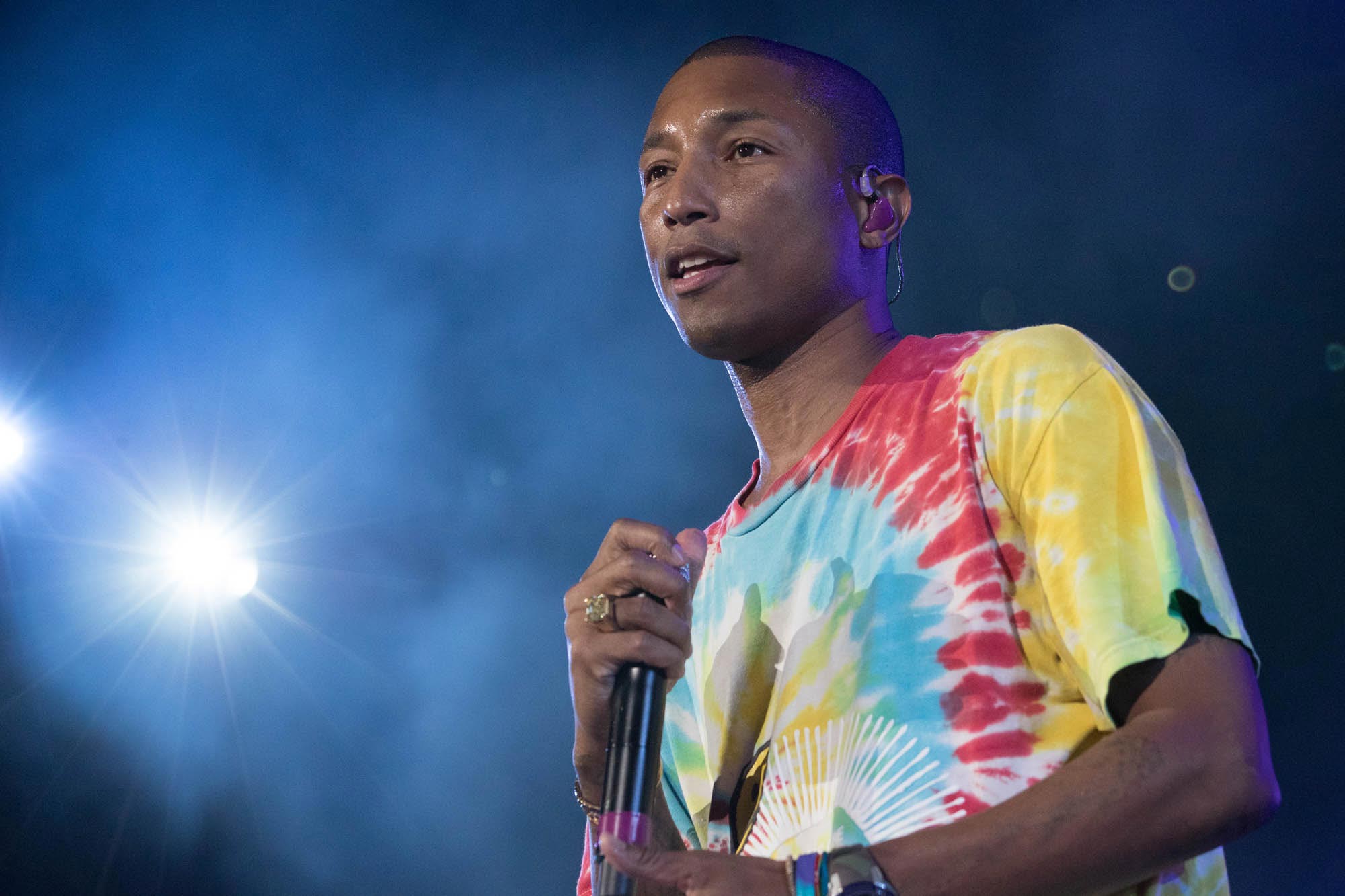 Pharrell Williams, a Virginia Beach native, repeatedly sang the praises of his home state and its residents, as well as the University of Virginia.
"Charlottesville is the place that took me in. It's the place where I met my band. Charlottesville is a place full of hope. It has a difficult history, but so does so much of the world. This place is such a good place, it is so full of love, and it is so full of hope. We want to help each other up, and help each other out," Matthews told the crowd. "Thank you so much for coming here so that we can make a loud noise in the name of love."
Dave Matthews Band has a long history of giving back to the Charlottesville Community. Their Bama Works Fund, administered in partnership with the Charlottesville Area Community Foundation, has provided more than $40 million in contributions to local charities since it was established in 1991. A benefit concert held at John Paul Jones Arena in honor of the band's 25th anniversary raised more than $1 million in just one night.
After playing one song, Matthews ceded the stage to Susan Bro, mother of a 32-year-old woman, Heather Heyer, who was killed Aug. 12 when an alleged white supremacist from Ohio drove his car into a crowd downtown after the rally was dispersed. Heyer and two Virginia State Police officers, H. Jay Cullen and Berke Bates, lost their lives that day. The officers died in a helicopter crash.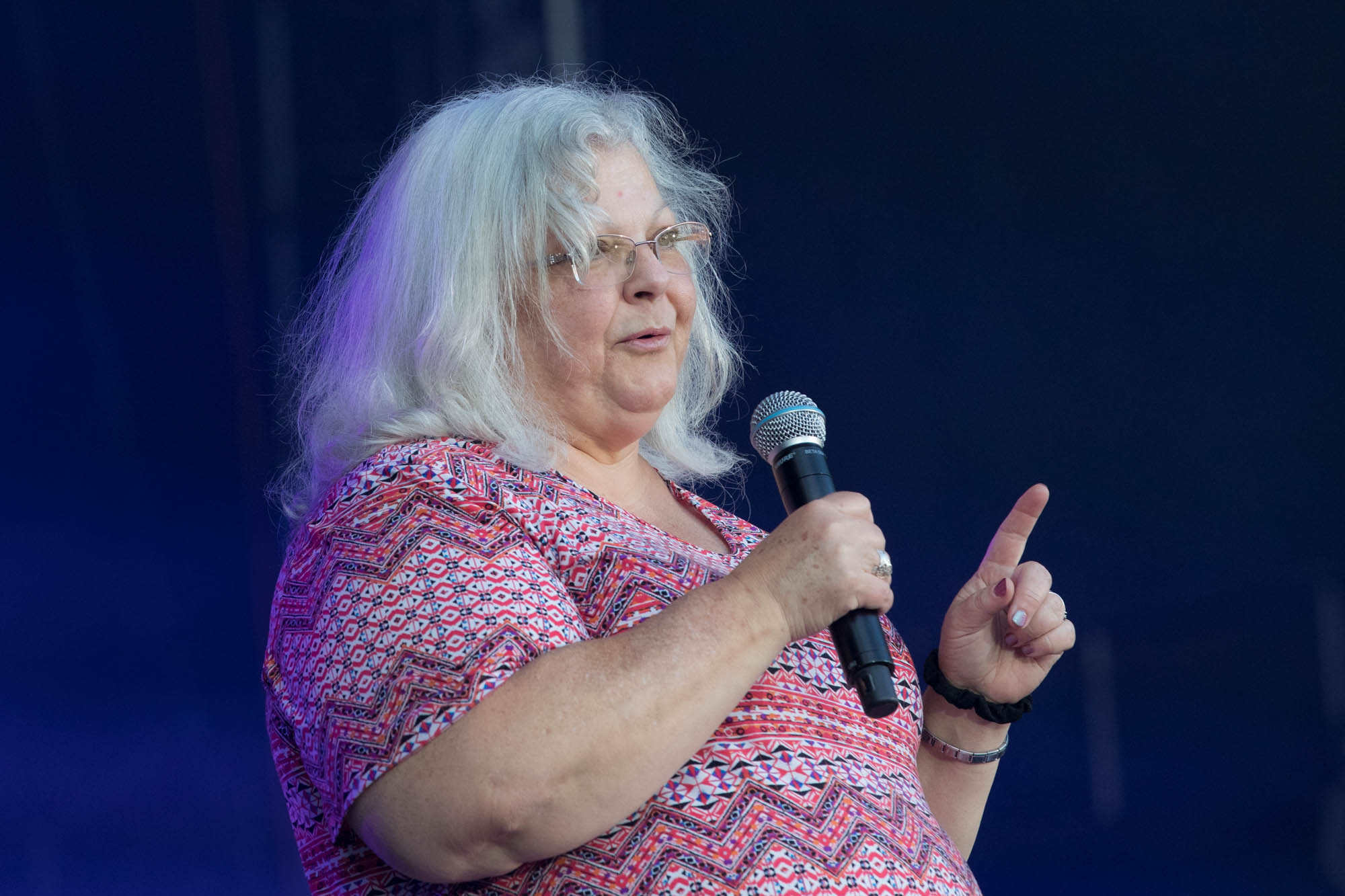 Susan Bro, the mother of 32-year-old Heather Heyer, who was killed Aug. 12, told the crowd to "sing your hearts out, feel the music and fill the void left by those we have lost."
"In raising our voices against hate and for unity, you help carry on Heather's legacy. You make Heather's death count and her too-brief life matter even more," Bro said. "So tonight, sing your hearts out, feel the music and fill the void left by those we have lost."
Rock band Cage The Elephant took the stage after Bro's remarks, kicking off a megawatt lineup that delighted audience members of all ages.
Highlights included a surprise performance by Chris Martin and Jonny Buckland, respectively the lead vocalist and lead guitarist of Coldplay. They flew in after their tour date in Seattle and performed four songs.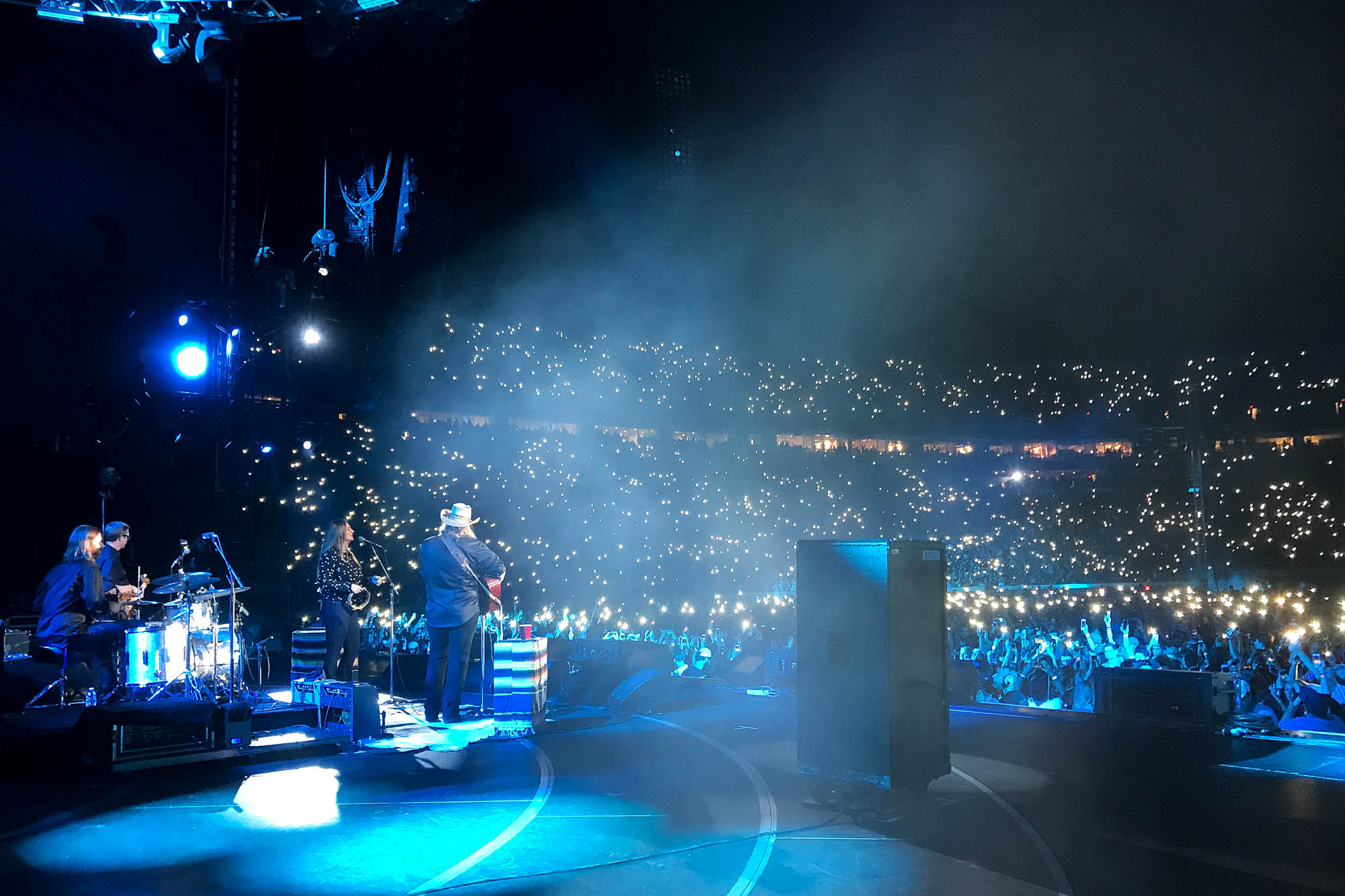 Country crooner Chris Stapleton won over the Scott Stadium crowd with his soulful singing and guitar solos. (Photo by Sanjay Suchak, University Communications)
Hip-hop group The Roots, the popular house band on "The Tonight Show Starring Jimmy Fallon," performed with Brittany Howard of Alabama Shakes and also collaborated with Pharrell Williams.
"When I think about the potential of this country, the potential of this state, the potential of these people, the potential of this amazing, amazing University there is only one word that comes to mind," Williams, a native of Virginia Beach, said before immediately launching into his 2013 hit "Happy," an upbeat tune that had the entire stadium clapping along.
As the sun went down over Scott Stadium, the hits just kept coming. Country crooner Chris Stapleton performed five of his most popular songs, closing with his soulful ballad, "Tennessee Whiskey."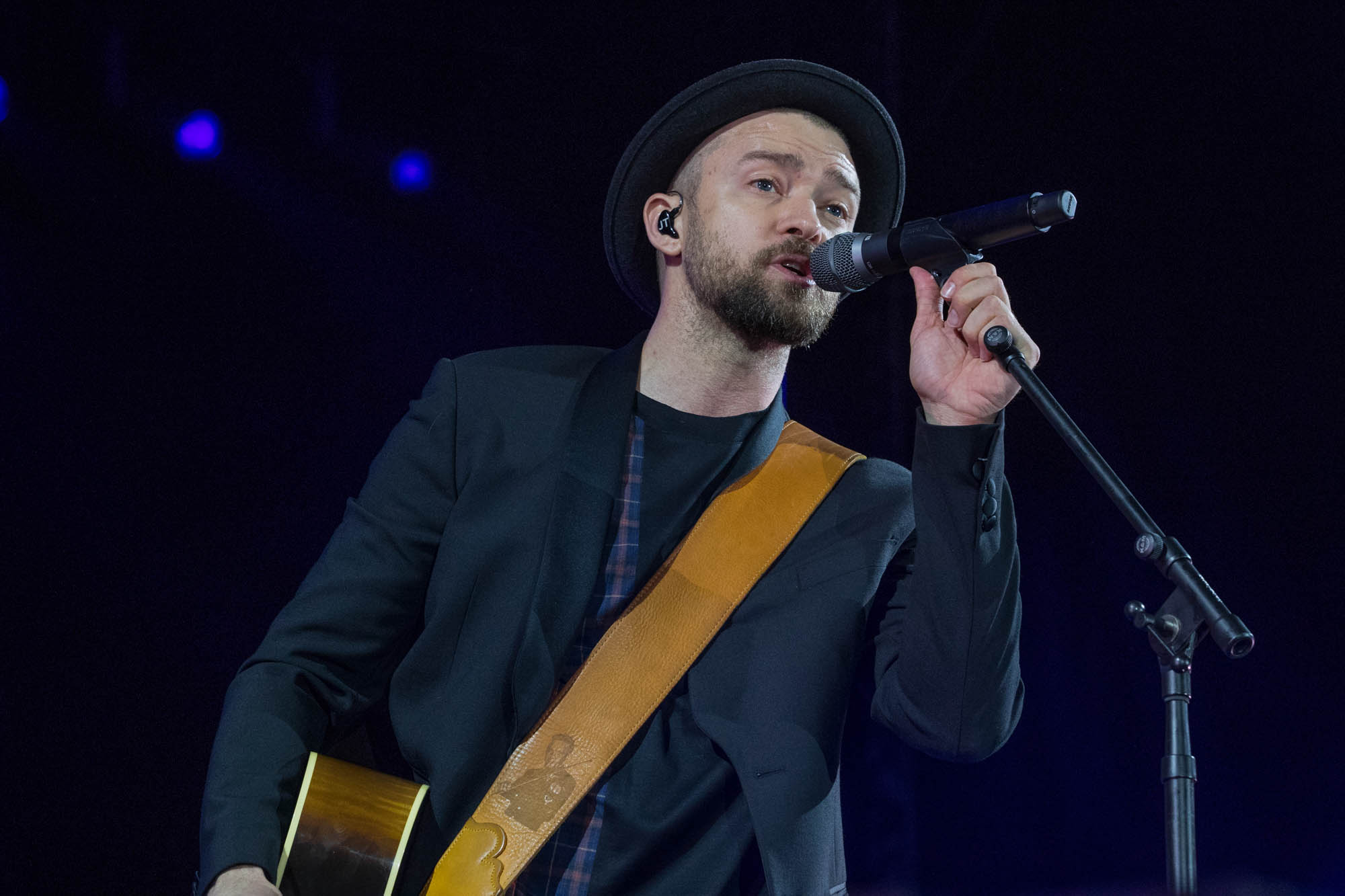 Justin Timberlake brought his full band for the performance, which included his cover of Sam Cooke's "A Change is Gonna Come."
Pop star Ariana Grande picked up the tempo with songs from her latest album, "Dangerous Woman." As Matthews noted when he introduced the singer, this was not Grande's first major benefit concert of the year. On May 22, 2017, a terrorist set off a bomb after Grande's concert in Manchester, U.K. Twenty-two people were killed and many more were injured. Grande returned to Manchester just a few weeks after the attack to host a massive benefit concert that raised more than $13 million for the victims and their families.
"Thank you so much for coming together. I wanted to say how proud I am to be a part of a generation that is this passionate about creating change," Grande said as she took the stage, fresh off her tour's final performance, in Hong Kong, a few days ago. "Keep using your voices and making this a safer place for each other, celebrating each other and our differences."
After Grande, Timberlake took the stage, electrifying the crowd with some of his most popular hits, including the chart-topping single "Can't Stop the Feeling."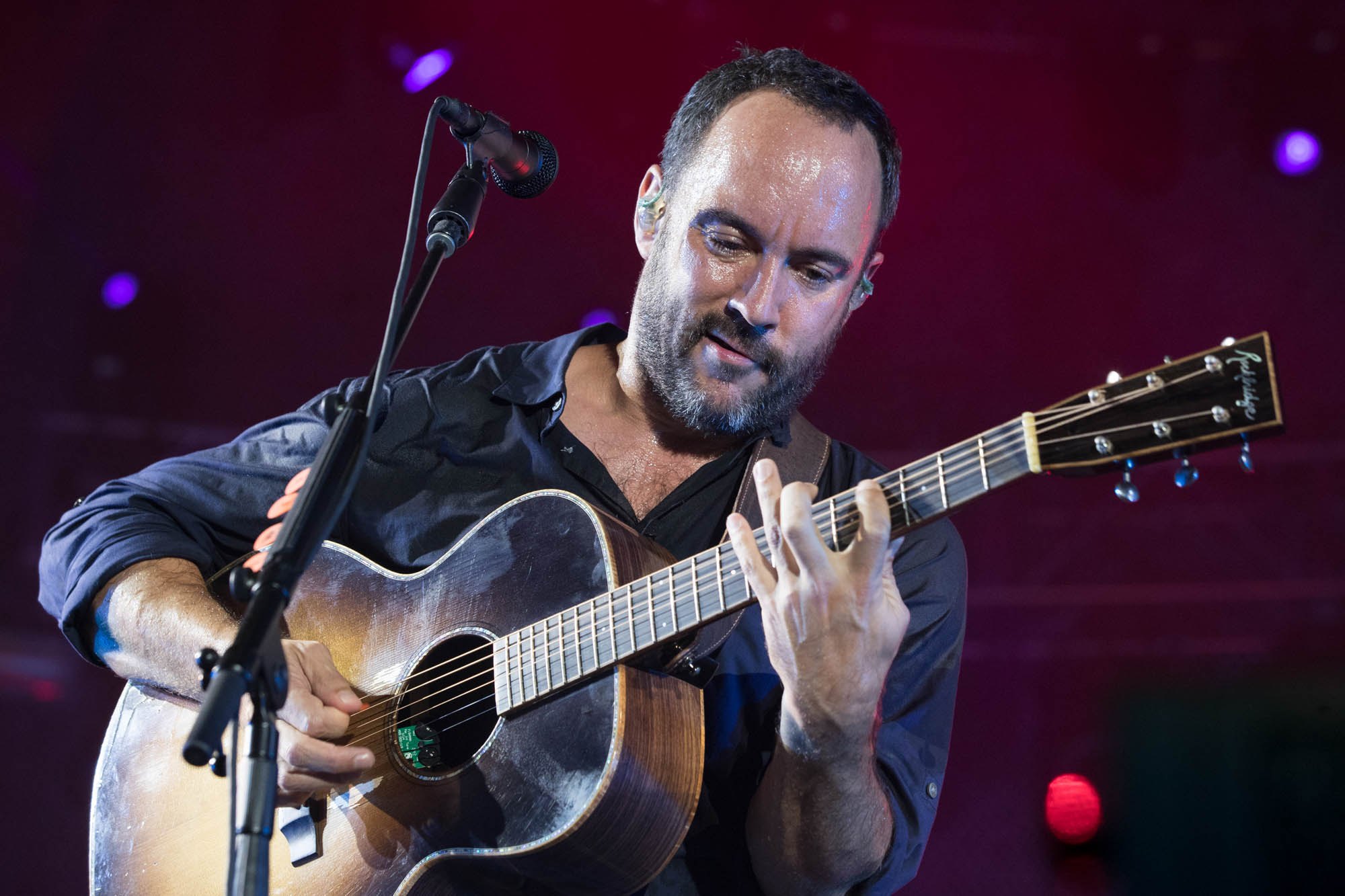 Dave Matthews Band performed its only live act of 2017 Sunday night and finished with a spectacular surprise guest: Stevie Wonder.
Timberlake told the crowd he hoped his young son, Silas, would one day be proud that his dad was a part of this performance.
"I know that 15, 20, 30 years from now, he is going to see this somewhere and he is going to remember, and you are going to remember," he said. "Give yourselves a round of applause for making history."
After Timberlake, the full Dave Matthews Band returned to close the show and give audience members perhaps the biggest surprise of the night. For the concert's final songs, Matthews welcomed none other than Stevie Wonder.
Wonder – whose 25 Grammy Awards put him among the most-awarded solo artists of all time – performed three songs with Dave Matthews Band, including two of his own hits, "Superstition" and "Love's in Need of Love Today." A third song, a powerful rendition of John Lennon's plea for peace, "Imagine," encapsulated the night beautifully.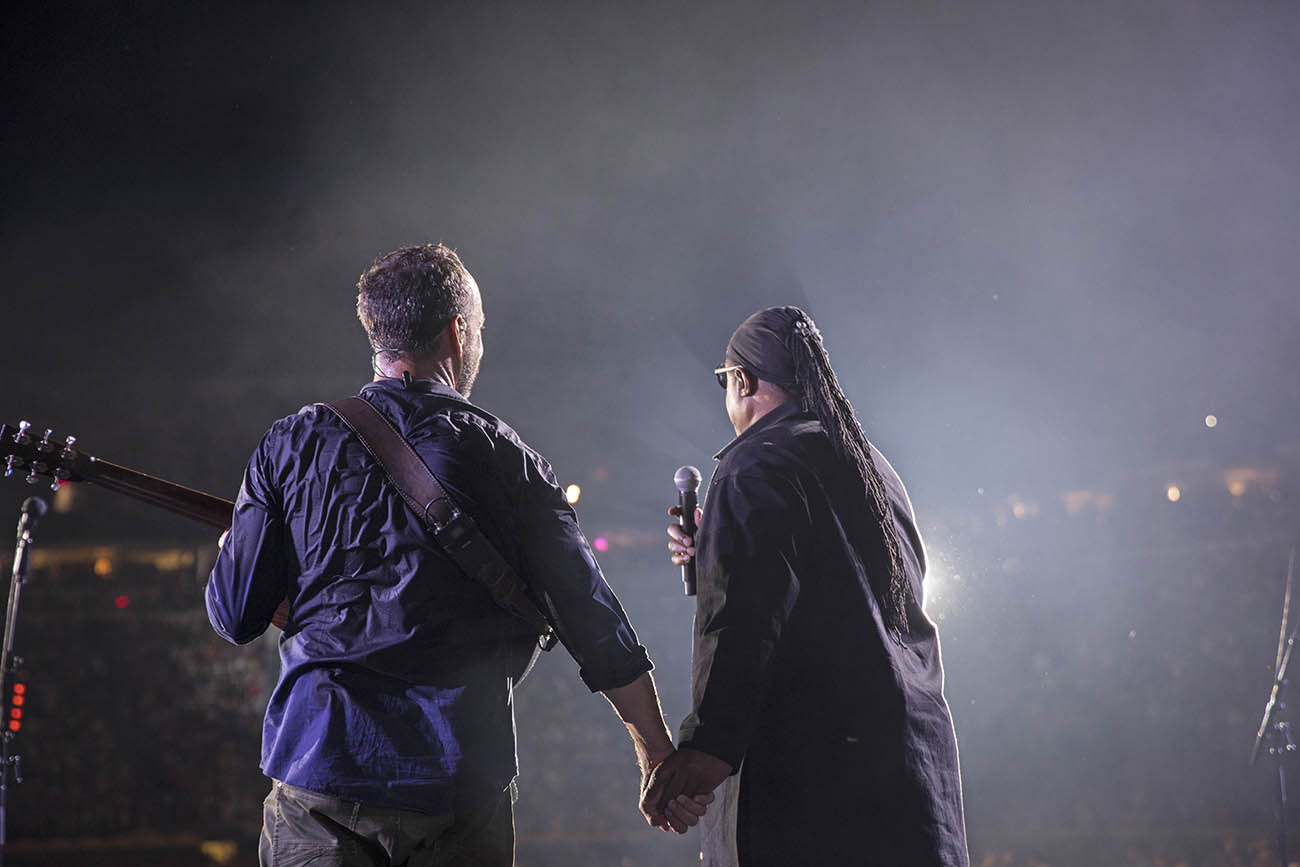 Special guest Stevie Wonder, seen here with Dave Matthews, delivered one of the emotional high points of the night when he took the stage. (Photo by Sanjay Suchak, University Communications)
Wonder left the audience with a parting injunction.
"To make a difference, we must be the difference," he said. "One of my favorite sayings is, 'Don't talk about it; be about it.' What are you about? What are we about tonight?"
If Matthews and the rest of the impressive lineup he assembled get their wish, that question – and the moments of joy and peace that the night afforded – will live on long after the lights go down. 
Media Contact
Article Information
September 25, 2017
/content/hit-songs-and-surprise-guests-thrill-crowd-powerful-concert-charlottesville