Before "The Shot" that shook up March Madness – the one by University of Virginia basketball player Mamadi Diakite that Hoos fans will never forget – there was "The Scowl."
Or was it "The Stare"?
Maybe "The Glare"?
Perhaps "The Point and Look"?
What should we call it, exactly?
"I don't know," former UVA star Sean Singletary said recently, breaking into a wide smile at John Paul Jones Arena, just a few feet from where he looked into the souls of Hoos fans around the world through an ESPN camera. "It was a spur of the moment thing."
Whatever it was, it is – more than 12 years later – still ensconced in the minds of Cavalier fans.
For those whose memories may be a little hazy: In February of 2007, an eighth-ranked Duke University came to JPJ for the first time, holding a nine-game winning streak over the Hoos.
With the game tied, Singletary dribbled the clock down, then hit an incredible, acrobatic, falling-away floater from the baseline with 1 second left.
As JPJ went bonkers, Singletary – as if he had just reclaimed stolen lunch money – stared stone-facedly into an ESPN camera.
Hoos fans everywhere ate it up.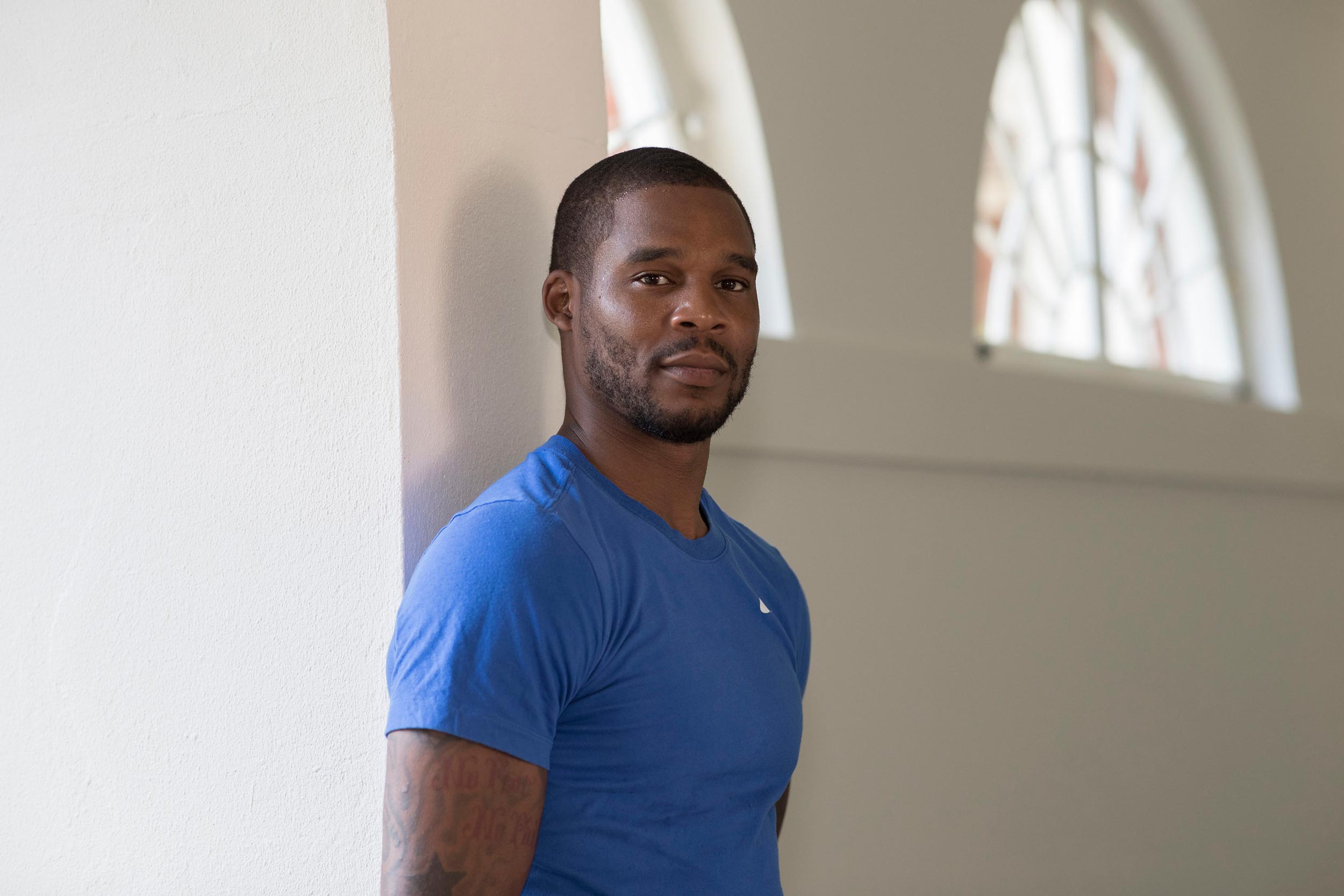 Sean Singletary worked as a graduate assistant coach at La Salle University last season. (Photo by Dan Addison, University Communications)
Singletary is still the only player in Atlantic Coast Conference history to record more than 2,000 points, 500 assists, 400 rebounds and 200 steals in a career. He, Bryant Stith and Ralph Sampson are the only Cavaliers to be named All-ACC three times in their careers.
Singletary, whose No. 44 jersey was retired in 2009, played one season in the NBA and several seasons overseas and in the NBA's G-League before hanging up his sneakers in 2014.
Since then, Singletary – who played under former Cavalier Coach Dave Leitao – has stayed involved in the sport through coaching, mentoring and training, with the goal of eventually making it a full-time career.
Last season, while pursuing his master's degree in strategic communications at La Salle University, the Philadelphia native served as a graduate assistant coach for the school.
UVA Today caught up with the 33-year-old Singletary, who has been in Charlottesville running youth basketball clinics and conducting training sessions.
Q. After you hit that shot against Duke, were you purposely looking for the camera or did it just turn out that way?
A. I used to come to JPJ four hours before the game and shoot and just work on my game. As we started winning, we got more ESPN games and I would see one of the cameramen from time to time. He said, "Why don't you do something for the camera if you ever hit a big three or something?"
During that game, I felt like I hadn't done enough offensively for us. So as soon as I made that shot, I thought of that guy in the back of my mind. Since I couldn't put up one of those '3' gestures, I just pointed at him.
Q. Sitting here, just a few feet from where you starred, does any game or moment stick out?
A. Everyone always brings up the shot against Duke. That was a big one.
Scoring my 2,000th point and being able to give my mom the ball was a big one.
The first game at JPJ against Arizona, when we were down and came back to win, was a big one.
Senior Day was a big one. At the end of my career, I really didn't understand the effect I had on the team and the program, but that day kind of showed me. Everyone was wearing my jersey and chanting my name. That was pretty awesome.
And then getting my jersey retired here while I was playing with the [Charlotte] Bobcats was a big one.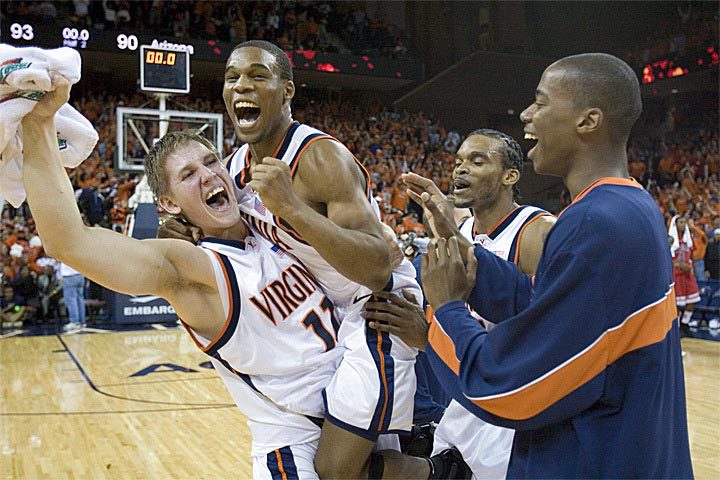 Singletary celebrates UVA's first-ever victory at John Paul Jones Arena with teammates. (Photo by Jason O. Watson)
Q. There's that iconic photo of you jumping into the arms of Lars Mikalauskas and celebrating with other teammates after beating Arizona.
A. Lars is my man. He was the reason why we won a lot of games my sophomore and junior year. You don't have to score just to be effective. He did a lot of other stuff. He was always talking, always getting tough rebounds, diving on the floor. You always need somebody like that. And he was always in it (mentally). He was never scared. He was never nervous. He was always optimistic.
He helped me a lot with my confidence in terms of going on the road and playing tough teams because he would never back down and would always do the little stuff that would win games. He was big for me personally and our team.
Q. Coaching at La Salle with those guys and playing a lot of pick-up, did the idea of a comeback ever cross your mind?
A. Being a competitor, I always want to be the best. I always think I'm going to be better than the person I'm competing against. That's just the way I'm wired.
But after a few days go by and you start getting sore, you think better of it [smiling].
There's a lot of these new leagues, like the BIG3, and tournaments around now, but I think I'm pretty much done with playing basketball. I like being on the other side – the management, coaching and teaching side.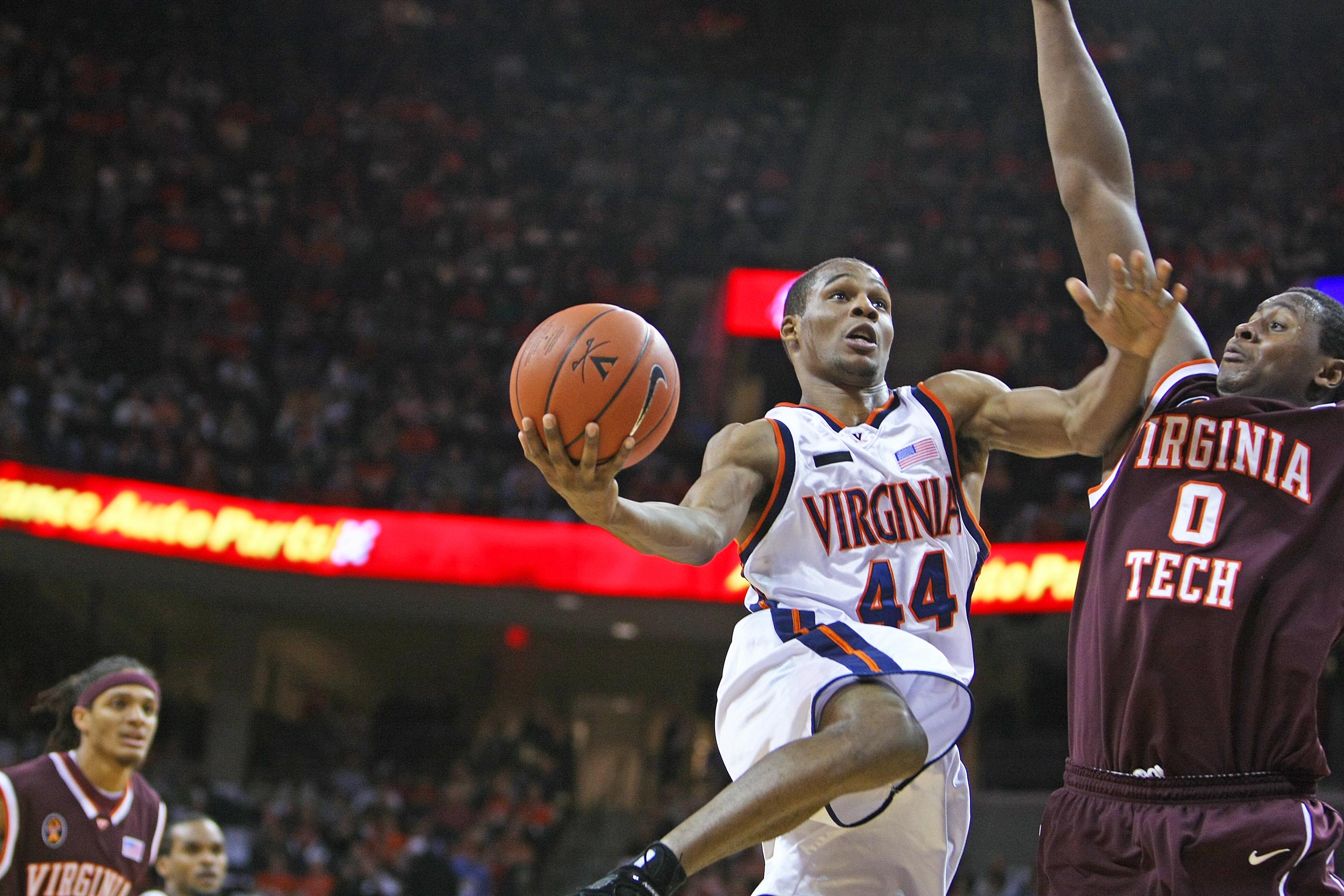 Singletary drives hard to the hoop in a game against Virginia Tech. (Photo by Matt Riley, UVA Athletics)
Q. This is your third year of doing a free clinic for kids in Charlottesville with fellow former Cavalier Harold Deane (who played from 1994 to 1997). How did that come together?
A. We thought it would be great idea. We're both into the same kind of things, in terms of training and mentoring. We just wanted to share some knowledge with kids who may not have access to things that other kids may not have. That's been big for both of us. It just feels good to do it. We're going to continue to do every summer moving forward.
Q. You've posted some video on social media of your 4-year-old, Jaxson, dribbling. It looks like he could already play for the Harlem Globetrotters. Any tips for parents trying to teach their kids how to dribble?
A. Since all my kids were born, I've always been either playing basketball or training people for basketball. I think subconsciously they just picked it up. I don't force them to do anything except eat their fruits and vegetables. If they decide that they want to play basketball, that's fine. I just want to give them the opportunity to go out there and have fun.
Jaxson says he just always wants to dribble the ball, so I let him. I think the biggest mistake parents make is forcing their kids to do things. I think they should offer it up and then let them make the decision. When something's not forced, it's better. We'll see what he does.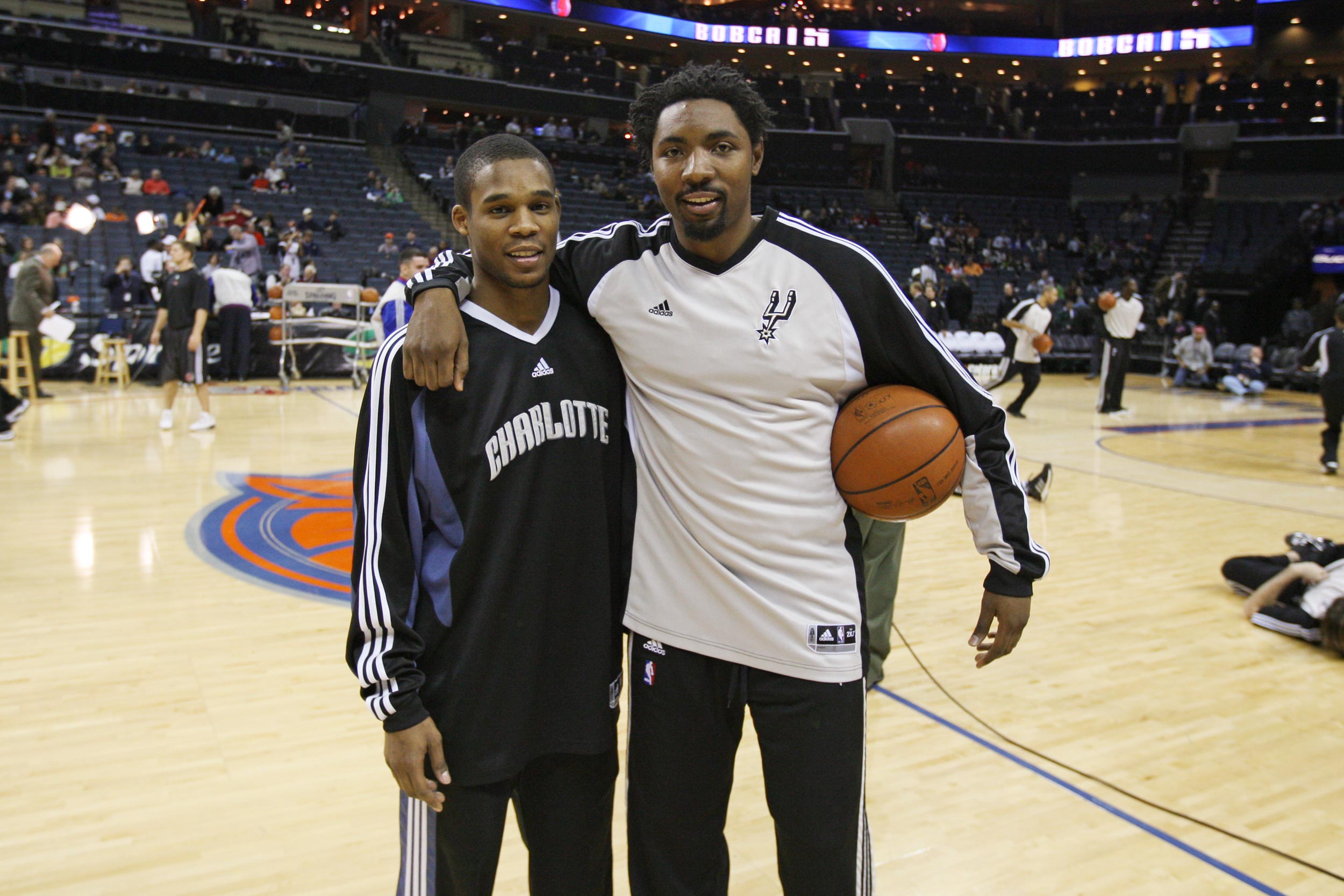 Singletary and fellow Hoo Roger Mason Jr., right, before an NBA game. (Photo by Matt Riley, UVA Athletics)
Q. Biggest NBA highlight?
A. Being drafted. The look on my mother's face was something I'll never forget. She sacrificed so much for me to reach my goals.
Q. For a long time, you were one of the only NBA players UVA produced. Now the program is putting out a bunch of NBA guys. As someone who's been there, done that, what would be your advice for all these Hoos in the pros?
A. Just to stay in the gym, which they're obviously going to do. They're already high-character guys, so they're going to take care of business.
But my biggest advice to them would be to be optimistic along the journey and be resilient, because there will be ups and downs and you don't know how the management is going to be in each different organization.
I didn't really understand how contracts worked in terms of the NBA being a business and understanding that whatever they were investing in, they had to put out there on the floor. Me being a league-minimum (salary) player, I didn't understand why I wasn't playing if I would be, like, dominating practice. When teams have invested long-term contracts in players, they have to play them and show that part of their product.
I would tell the players to have goals in mind and continue to work toward them because, inevitably, you'll reach them because you have the talent and character to do it. Just keep your immediate family and your UVA family close, because there will be a lot of people interested in you for their own reasons.
But UVA players have a head start over a lot of other players in the league because they have a leader like Tony who's been teaching them those things already. I think they'll all do well, whether they continue to play basketball or not.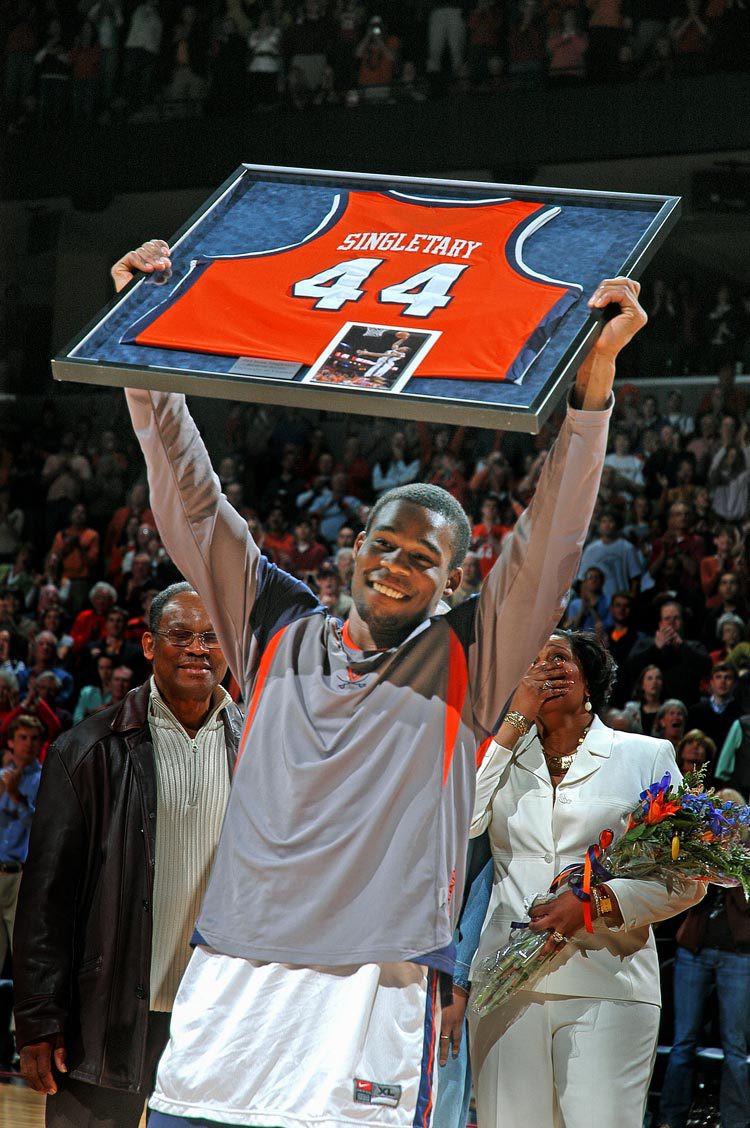 Singletary considers Senior Night one of his biggest highlights. (Photo by Matt Riley, UVA Athletics)
Q. How did it feel watching the team win it all this past season?
 A. It felt great to see UVA reach the pinnacle of college hoops. It's been a long time coming. Tony and his staff have done an amazing job creating a winning culture and of leading this program. Kudos to Craig Littlepage and Jon Oliver for the hire. [Strength coach] Mike Curtis is phenomenal at keeping these guys performing at the highest level of college basketball. [Athletic trainer] Ethan Saliba is amazing with maintenance. They all just do things the right way. Everyone in the program holds each other accountable and they are all transparent and dedicated to improving every day.
This national championship is not only a testament to what Tony and his staff have done, but to those who helped the program get to a point where we would have a legitimate shot – the (Ralph) Sampsons, the (Barry) Parkhills, the (Buzzy) Wilkinsons, the (Wally) Walkers, the (Jeff) Lamps, the (John) Crottys, the (Rick) Carlisles, the (Curtis) Staples, the (Bryant) Stiths, the (Harold) Deanes, the (Travis) Watsons, the (Todd) Billets, the (Mike) Scotts, the (Joe) Harrises, the (Malcolm) Brogdons.
Q. The team will look a lot different this year with the departures of Ty Jerome, De'Andre Hunter, Kyle Guy and Jack Salt.
A. I think it's just like any of the other years. When Mike [Scott] left, Joe [left] and Malcolm [Brogdon], it was like, "What are we going to do now? Who's going to step up?" I think the team will continue to work as a unit so that on any given night a player can step up and do big things.
Since Tony has been here, it's always been a well-balanced attack. It's never been just one person who will dictate them winning or losing. Their defense will obviously be the staple, and then as the season goes, different players will step up at different times. But I think they'll do it by committee. That's the way they've always done it.
Article Information
August 26, 2019
/content/hoo-rizons-catching-former-basketball-star-sean-singletary