Should University of Virginia head football coach Bronco Mendenhall work his team harder in practice? Should he "go for it" more often on fourth downs, instead of punting? Where should Mendenhall and his staff focus their recruiting efforts?
Some of the answers are coming from a place you wouldn't expect: Academia. Specifically, UVA's School of Engineering and Applied Science.
For the past two years, UVA engineering students have been giving the coaching staff input derived from unique data analytics models they have created as part of yearlong capstone projects.
Every week during the academic year, two teams of fourth-year students – working under the direction of systems and information engineering professor Bill Scherer – head to the football program's offices at the McCue Center to share their findings with a grateful UVA coaching staff.
"I believe that knowledge is the purest form of competitive advantage," Mendenhall said. "Incorporating an approach that embraces analytics can provide competitive and predictive advantages and can also be used to make our staff more efficient."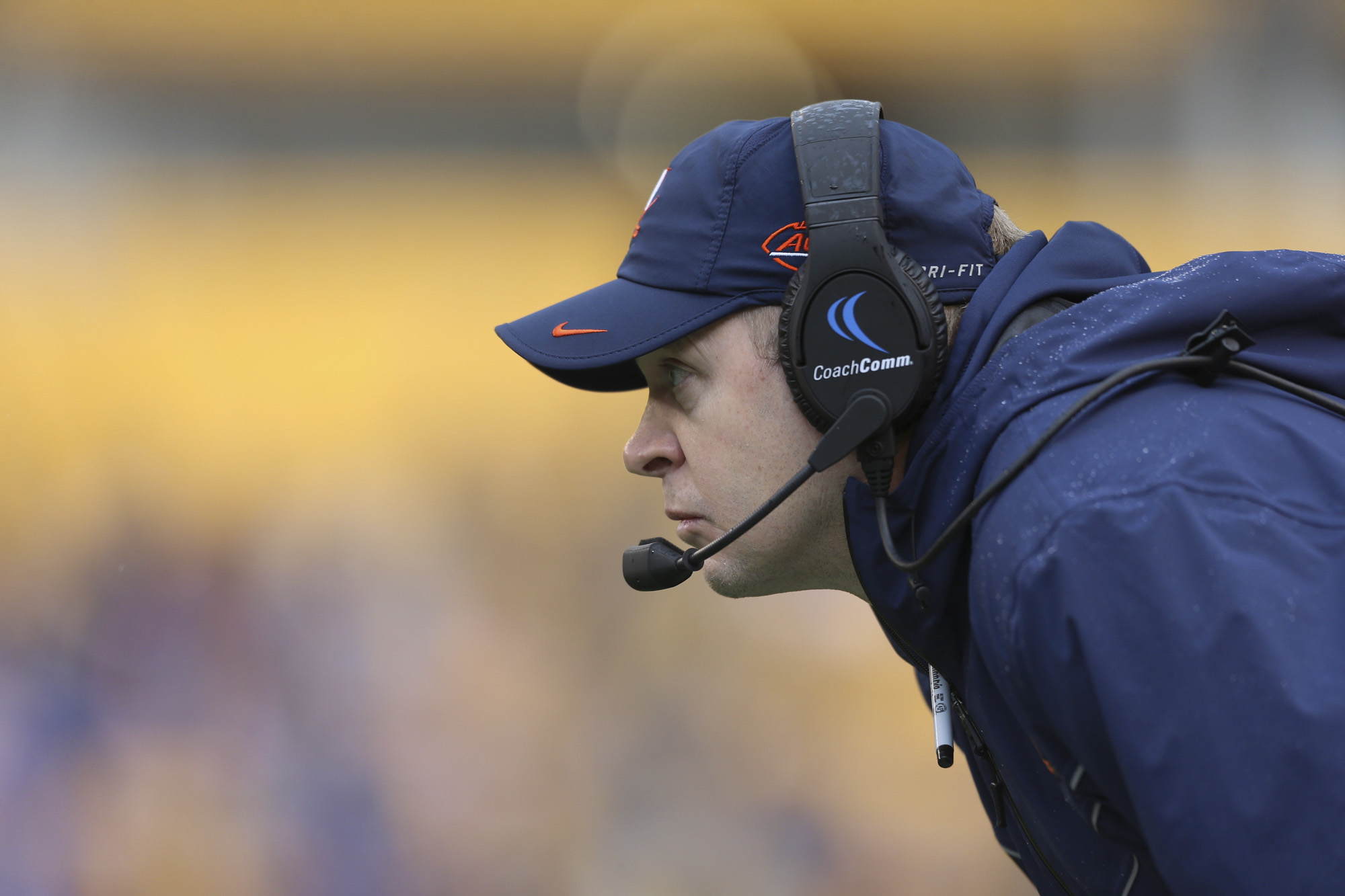 UVA head football coach Bronco Mendenhall is shooting to be at the sports analytics forefront. (Photo by Matt Riley, UVA Athletics)
While the use of analytics has become commonplace in baseball – where they affect everything from defensive positioning to determining optimum batting orders – and is becoming prevalent in other sports, Scherer said applying numbers from "big data" sets is still in its infancy in football. Part of the reason, Scherer said, is because there are more variables. Finding successful models isn't as straightforward as, say, calculating a baseball player's combined on-base and slugging percentage (commonly known as OPS) like the Oakland Athletics did famously in the "Moneyball" era of the early 2000s.
That said, trying to level the playing field – similar to the A's use of "sabermetrics" against wealthier teams like the New York Yankees – is at the heart of everything Scherer and his students are trying to do for the UVA football program as it competes against the likes of recent NCAA champion Clemson University and others.
"We're trying to be the Oakland A's," Scherer said.
Call it 'Hooball
This year, 15 of Scherer's students worked with the football program. Eight of them were on the recruiting team and met with director of player personnel Justin Anderson. Seven were on the performance team and met with football analyst Matt Edwards.
At the start of their projects, Mendenhall had the students take personality tests so they could understand their individual strengths and weaknesses, allowing the engineering teams to achieve optimal performance.
The recruiting team spent two semesters adding features to an analytics model, which the students the year before created, that predicts the likelihood of recruits choosing UVA. The idea is to give Cavalier coaches an idea of which players they have a legitimate chance of signing so that they don't waste time and resources elsewhere.
"We use the term 'and' here. There's more to them. They're not just a football player. They're football and academics and character and grit."

- Bill Scherer
Professor of Systems and Information Engineering
Pulling data from recruiting websites and the U.S. Census Bureau, the model draws from roughly 30 criteria, including how far UVA is from a recruit's hometown, the weather of a recruit's hometown compared to Charlottesville, whether the player has made an official visit and the success of the programs he is considering.
The model then spits out percentages for all the players being recruited that are incorporated into UVA's recruiting database, "War Room." The higher the percentage, the more likely a recruit is to select UVA.
"It gives you a quick visualization of where these guys are looking and who you're competing against because that's what it is – it's competition," Scherer said. "Is he looking at Stanford, Notre Dame, UVA? Or is he looking at purely football schools?
"From that information, the coaches make a decision of whether they want to go after him or not, given that landscape. You can look and say, 'This kid is looking at highly academic schools close to home,' and so we know who our competition is. Or maybe he's not looking at high academic schools at all. He's looking at low-academics, high-performance ones."
The model updates daily. If a recruit visits UVA in the morning, his percentage will show an increase by that evening. Conversely, if a recruit visits another school, the percentage will drop.
When the percentage shows UVA has a good chance of landing a recruit, the coaches will invest more time and resources in recruiting him.
"The idea behind the model is not that it's going to be 100 percent accurate," Anderson said. "The idea behind the model is where do you waste your time? Where do you put your resources based on what the model is telling you?
"It's proving to be extremely helpful."
Current Cavalier cornerback Bryce Hall, who wasn't highly recruited coming out of high school, is the type of player UVA is hoping to find through its "Diamond in the Rough" model. (Photo by Matt Riley, UVA Athletics)
This year, Scherer and the students upped the ante with the development of two additional models that they believe can be game-changers.
The first is called "Diamond in the Rough," which aims to identify two- and three-star recruits (on a five-star scale) who have the potential to make it to the NFL.
"How do you discover the next Tom Brady?" Scherer said. "Can we find these guys when they're in high school? Because a lot of NFL players weren't five-star guys who a lot of people were clamoring to get. Is it possible to discover somebody like that? If UVA finds one or two guys a year like that, that's big. Not necessarily one or two Tom Bradys, but one or two hidden gems."
Student Annie Crockett, who was on the recruiting team this past year, said current Virginia cornerback Bryce Hall is a good example of the type of player they hope to find. A two-star recruit coming out of his Pennsylvania high school in 2016, Hall chose UVA over Coastal Carolina University, the University of Albany, the University of New Hampshire and other low-profile football programs.
As a first-year student, Hall made Athlon's All-ACC Freshmen First Team. Last season, he started every game for the 'Hoos.
Crockett, who graduated Sunday, said Diamond in the Rough is designed to provide an unbiased view of the recruiting landscape.
"As soon as a recruit gets an offer from Clemson, Alabama, somebody like that, our likelihood model shows that we don't have a great chance of getting them to commit here," Crockett said. "So we're really looking for these two-star and three-star players who are excited to come to UVA and have this grittiness that Bronco's looking for."
To that end, the second of the new models tries to measure recruits' "grit."
"Grit, to us," Anderson explained, "is a measurement of how long someone will try before they quit.
"You can't really see grit on tape. Grit is not a tape thing. Grit is something they are."
"Analytics will not drive all of our decisions, but under pressure, it is beneficial to have data that provides parameters in which decisions can be made."

- Bronco Mendenhall
Head Football Coach
Amazingly, Scherer and his students say they are able to estimate grit and other personality traits by feeding recruits' Twitter feeds into IBM Watson – a supercomputer that uses artificial intelligence and analytical software to create personality profiles that are based on specific words used in tweets.
The profiles can give coaches an indication of what kind of a worker a recruit is. For example, is the recruit task-focused or detail-focused?
The profiles are then plugged into a proprietary formula that, on a one-to-10 scale, computes a grit score.
"We're trying to find guys who fit what Bronco's doing," Scherer explained. "Bronco is about guys who have high character, mental fortitude or grit and are team players and high-academic kids.
"We use the term 'and' here. There's more to them. They're not just a football player. They're football and academics and character and grit. That's why we have all these different models – to help find those kids."
Taking It to the Field
While the recruiting team is focusing on the future, the performance team – led by Edwards, the football analyst – is dealing more with the present.
Among the team's creations is an algorithm that, on game days, helps Mendenhall decide whether Virginia should go for it on fourth down.
The formula takes a number of variables into consideration – such as the score, field position and time remaining in the game – and calculates probabilities in the form of a chart that presents "optimal choices," which are based on data documenting every play in Division I college football over the last 10 years.
"Analytics will not drive all of our decisions," Mendenhall said, "but under pressure, it is beneficial to have data that provides parameters in which decisions can be made."
Another area that the performance team focuses on involves physical exertion. The students analyze data from sensors that players wear beneath their pads.
"We tried to see if we could find the optimal workload for practice that could produce the best game grades," said student Jack Corscadden, who also graduated Sunday.
In recent years, there has been a push throughout college football to gain an analytics edge, but UVA believes it is one of the few programs doing everything in-house, as opposed to other programs that outsource the work.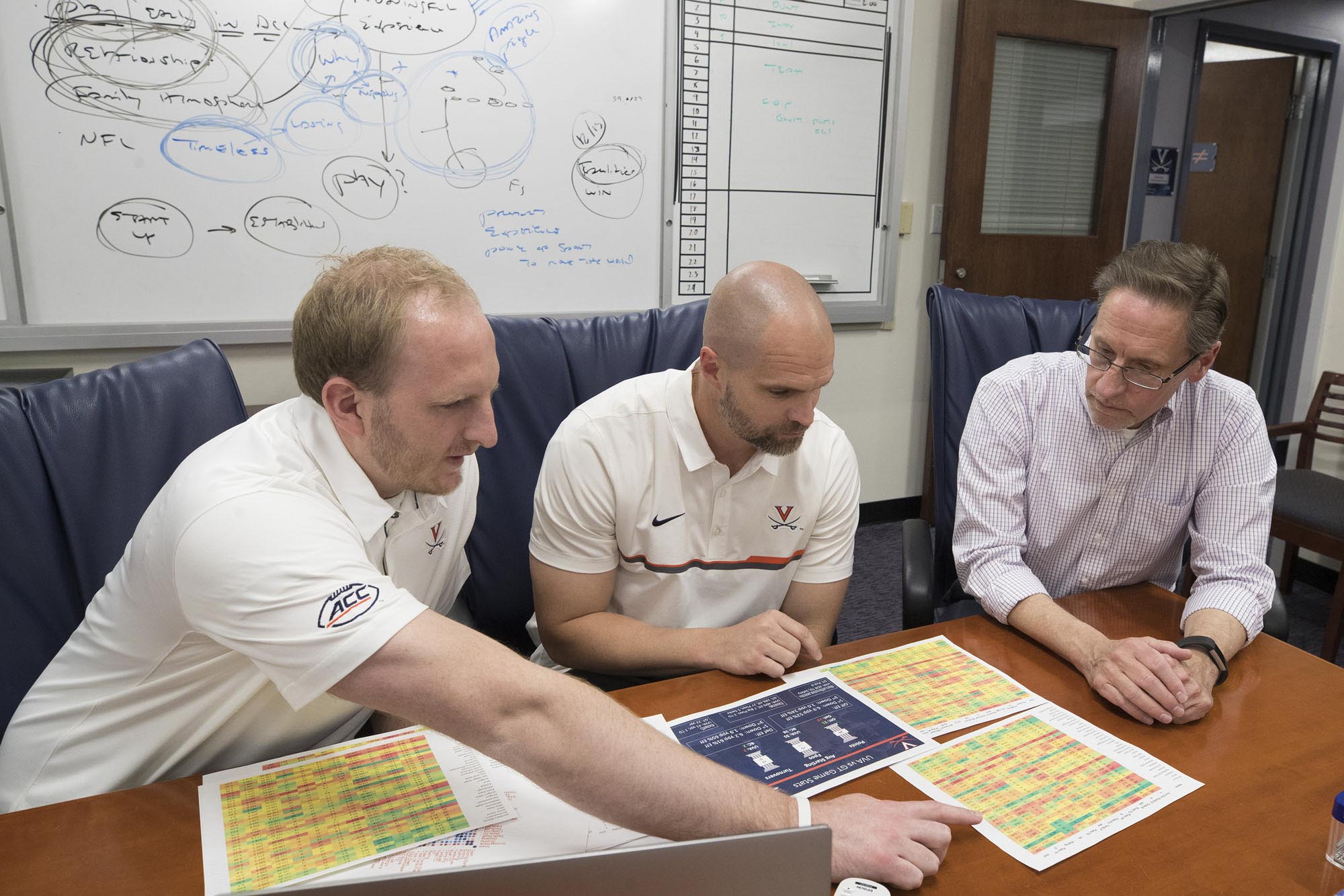 UVA football staffers Matt Edwards, left, and Justin Anderson, center, are collaborating with engineering professor Bill Scherer and his students. (Photo by Dan Addison, University Communications)
Last February, Edwards couldn't help but smile when he attended the annual MIT Sloan Sports Analytics Conference in Boston, where some of the best and brightest minds presented projects they were working on.
"It was almost the exact work that we were doing on our own," he said.
Fourth-year systems engineering students at UVA are required to produce capstone projects, which count for six credits over two semesters.
Of the 44 projects that have taken place the last two years (each project has four to eight team members), Scherer said the football ones have been in the highest demand.
"We had to rank our selections at the beginning of the year, and this one just jumped off the page," Corscadden said. "I just thought it was incredibly interesting and a great opportunity to work with the football team."
Scherer, who played high school football in New Jersey and has become a big fan of UVA's team, started the football capstone projects after students clamored for more sports analytics-themed work.
Scherer's goal is for UVA to someday create a sports analytics center in which students can receive degrees in the field.
"It would not only give UVA sports a competitive performance advantage," Scherer said, "but it would also provide UVA a recruiting advantage by offering a unique academic program to compliment world-class sports programs.
"Many athletes who don't go on to play professionally want to stay in the sports world."
Presently, students can cobble together the skill set that is required for sports analytics careers by taking analytics concentrations within systems engineering, the McIntire School of Commerce or the Data Science Institute, but there is no program specifically for sports analytics.
"If we offered a degree in sports analytics, I think we could strike an iron," said Scherer, who has a number of former students now working for professional teams. "It doesn't mean that every student is going to go into sports analytics, but I think it's just great, accessible training.
"The skills you learn put you in an incredibly good position for doing analytics because a lot of it is about asking the right question. You could go to a Facebook or work for the government. It can be whatever, because what it really teaches is a set of problem-solving skills."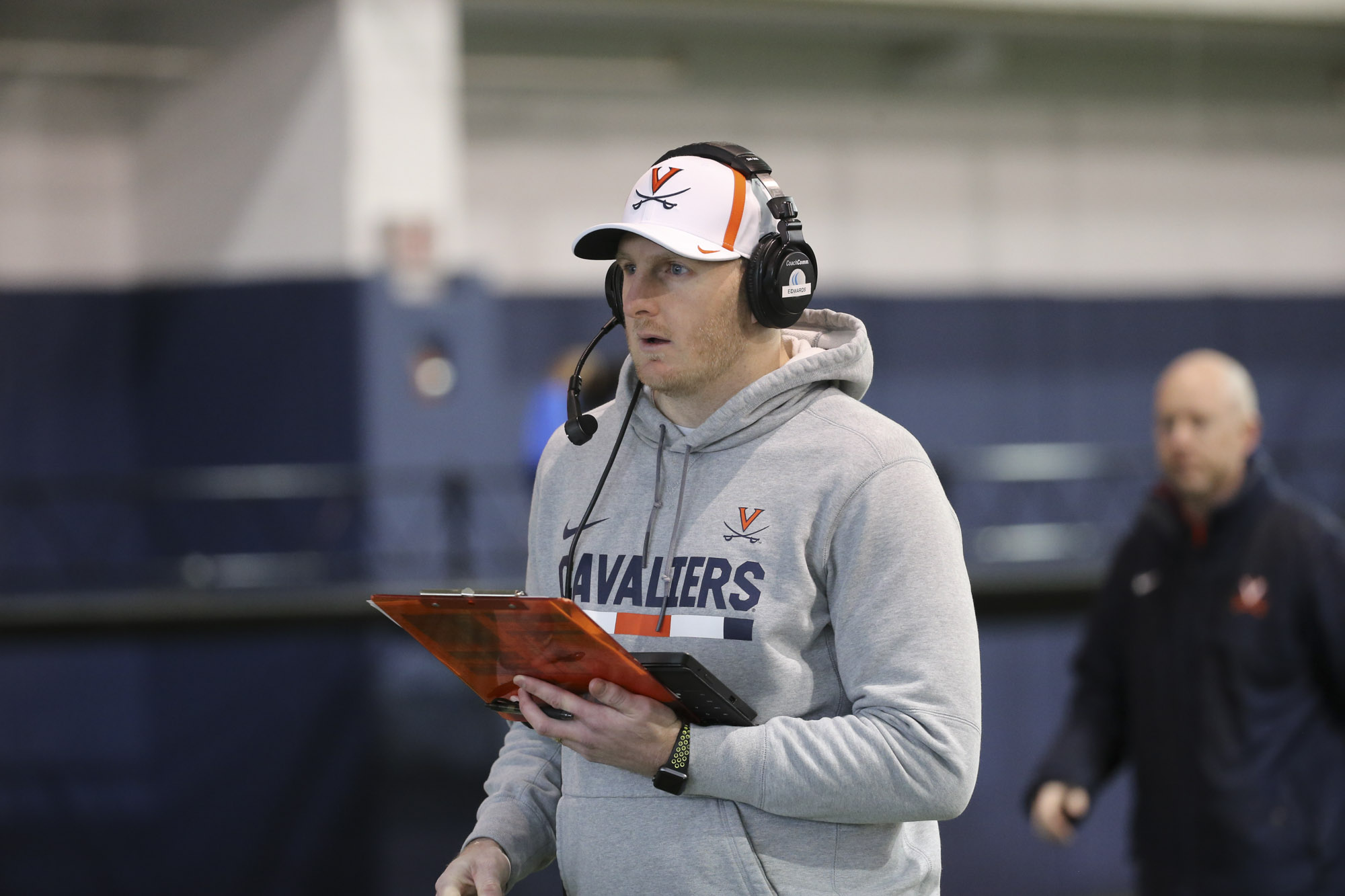 Football analyst Matt Edwards uses a unique scoring system to grade the team's performance during practice and games. (Photo by Jim Daves, UVA Athletics)
Edwards, the grandson of former Brigham Young University football coach LaVell Edwards, played tight end and majored in math at BYU. It was while working as a graduate assistant coach at his alma mater and pursuing his master's in public administration that he took a class in sports analytics and became mesmerized.
When Mendenhall offered him the position of football analyst on his UVA staff a year ago, he jumped.
"The role meshes a lot of my loves and desires – football, which I love, and math and statistics, which I also love," Edwards said. "It's a unique mixture of the two."
"It's so cool that we can leave a lasting impact."

- Annie Crockett
School of Engineering, Class of 2018
Scouting opponents is another area where Edwards and the performance team can have a big effect. Edwards looks for things that can be of benefit on game day. Since the NCAA doesn't allow computers on the sideline, the team works up mock scenarios in advance.
"It's taking a look at what numbers are available and trying to manipulate them so that you can tell a story," said Edwards, who, on game days communicates with Mendenhall and the other coaches via headsets from the coaching box. "That's something that I love. I get to look at numbers all day long – I'm one of those weirdos who just loves numbers. And when they come alive is when you can actually tell a story."
In what amounts to a game within a game, Edwards and the Cavaliers have developed a scoring system for practice and games that is based on the most critical factors that go into scoring points on offense (such as a play gaining more than 15 yards) and keeping teams from scoring on defense (such as a play in which the quarterback is tackled behind the line of scrimmage). These are then given point values, ranging from one to three, for each side of the ball.
Edwards radios down to the sideline to tell student managers which numbers to put on the scorecards – so that the players can, in real time, see how they are performing.
As the lone UVA football analytics staffer, Edwards said having a boss who is a strong proponent on the field makes his job exciting – and rewarding. "[Mendenhall's] a really big-picture thinker," Edwards said. "He's someone who's definitely looking to try and be on the forefront of what's happening in football analytics."
At the end of the spring semester, Scherer's students – the majority of whom had already accepted jobs in data consulting or related fields – presented their models to Mendenhall.
"He was very real with us," Corscadden said. "He said, 'This is something that is absolutely very useful and we'll be using.'"
"We felt very involved in the program the whole time," Crockett added. "It's so cool that we can leave a lasting impact."
Edwards said the relationship is a win-win.
"We wouldn't have nearly the scope or effectiveness that we've had with analytics if it weren't for these students," he said. "They are very smart and on top of everything."
Added Mendenhall: "We are fortunate to have professor Scherer and his group working with us and sharing their passion for the subject."
Article Information
May 24, 2018
/content/hooball-students-help-uva-football-gain-data-analytics-edge