The University of Virginia Cavaliers arrived in Omaha, Nebraska, with the goal of winning the College World Series for the second time in program history, and they'll leave town without a championship trophy.
That doesn't diminish what they accomplished this season, and head coach Brian O'Connor told his players as much early Friday at TD Ameritrade Park. At 1:59 a.m. EST, the No. 2 national seed University of Texas recorded the final out in a 6-2 victory over UVA, ending an elimination game that had been delayed for nearly four hours by bad weather. A few minutes later, O'Connor met in the outfield with his team and delivered an impassioned message.
"It was just to keep our heads up," sophomore center-fielder Chris Newell said. "We just talked about the position we were in in April and where we were at, and I completely agree with him. There's no reason that we should come out of here with our heads down, because we really did do something special as a group … and it really says a lot about this club this year."
Incredible display of will, fight, heart and skill. These Hoos believed in themselves and we believed in them. Battled to the very end. #GoHoos @UVABaseball @VirginiaSports https://t.co/dBYUBFX1yR

— Carla G. Williams (@ADWilliamsUVA) June 25, 2021
This is O'Connor's 18th season at UVA, and the story of his latest team has become the stuff of legend. After losing to Georgia Tech in Atlanta on April 1, the Wahoos were 11-14 overall and 4-12 in ACC play, and their postseason prospects looked dim. But they rallied to win that series and continued gathering momentum throughout the second half of the season.
The Cavaliers followed their strong finish to the regular season by advancing to the semifinals of the ACC tournament. That assured them of extending their season, and they entered the NCAA tournament seeded No. 3 in the four-team regional in Columbia, South Carolina.
Then the real drama kicked in. After losing their opener in Columbia, the Hoos won four straight elimination games – two of them over top-seeded Old Dominion University – to advance to the NCAA tournament's round of 16. There, they encountered more adversity.
In its best-of-three super regional, also in Columbia, Virginia again found itself with no margin for error after dropping the series opener to Dallas Baptist University. Once again, though, the Hoos refused to panic, and with back-to-back wins they clinched one of the eight spots in Omaha.
UVA opened the College World Series with a 6-0 win over No. 3 national seed University of Tennessee on Sunday afternoon. Two nights later, UVA lost 6-5 to No. 7 Mississippi State University, and that set up an elimination game with Texas on Thursday.
The first-ever meeting between these programs was tied 2-2 after seven innings. But the Longhorns went ahead 3-2 in the eighth and then scored three runs in the top of the ninth to blow the game open.
Virginia ended the season with a 36-27 record. That's the fewest wins of any of the 15 teams O'Connor has guided to the NCAA tournament during his tenure in Charlottesville, but he'll treasure his memories of this group.
"This is as special a team as we've had in this uniform at this university," O'Connor said. "What they persevered through, the resiliency that they have shown the last two months, but specifically over the last two weeks, is just remarkable. I told them that all the teams that we have at Virginia are all special in their own way, but this one is at the top.
"Certainly, when you win a national championship, that's pretty special. But this team, what they were able to accomplish, based on the position that they were in two months ago and then the position they were in over the last two weeks with their backs against the wall six times … We just ran into a great club [in Texas]."
Hard way to end the season, but we should all tip our caps to Brian O'Connor and the @uvabaseball team. Great run and an amazing team. pic.twitter.com/iHAFHTq0YQ

— Jim Ryan (@presjimryan) June 25, 2021
Injuries depleted the Cavaliers' bullpen during their postseason run, but their starting pitching was almost always superb, and so it was again Thursday night. On the biggest stage of his college career, junior right-hander Mike Vasil struck out eight, walked one and scattered four hits in his seven innings.
Other standouts for UVA on Thursday night included junior shortstop Nic Kent, who turned in one defensive gem after another, and freshman right-fielder Kyle Teel, who went 3-for-3. In his 11 games in the NCAA tournament, Teel hit .422 (19-for-45).
Texas scored its first run in the second inning. In the fifth, the Longhorns capitalized on two UVA errors and a Vasil wild pitch to make it 2-0.
The Cavaliers battled back. In the bottom half of the fifth, Newell crushed a two-run home run to tie the game, and in the sixth Teel led off with a double. But the Hoos couldn't push another run across, and Texas came through with clutch hits late in the game.
The first was Ivan Melendez's RBI single off UVA sophomore Matt Wyatt in the eighth. The biggest was Zach Zubia's three-run double off UVA junior Zach Messinger with two outs in the top of the ninth.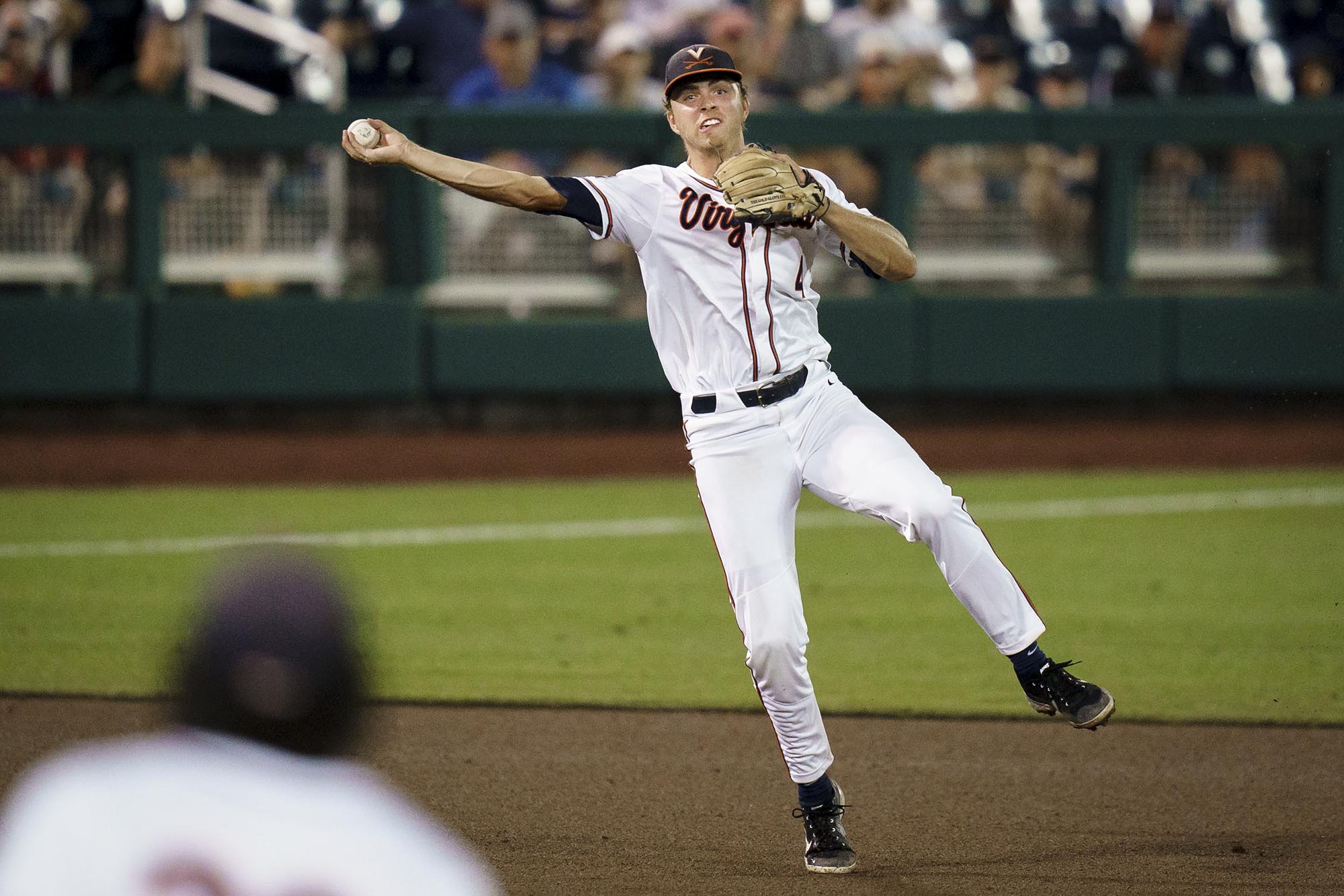 When he came to the plate, Zubia was 0 for 10 in this College World Series, and he had two strikes on him when he hammered Messinger's pitch into the gap in left-center to push the Longhorns' lead to 6-2.
"You can see why they're the No. 2 overall seed. They're very talented in many different ways," O'Connor said. "When you get here in Omaha, you have to play clean. You have to play clean games, and we weren't clean tonight. And Texas took advantage of that."
This is the Longhorns' 37th appearance in the College World Series. The Cavaliers made their first trip to Omaha in 2009, when they went 1-2. They returned in 2011 and went 2-2 at TD Ameritrade Park.
Three years later, UVA advanced to the CWS championship series before losing 3-2 to Vanderbilt in the third and final game. In 2015, the Cavaliers avenged that loss, defeating the Commodores to capture the NCAA title.
In neither 2016 nor '17 did the Hoos make it to a super regional, and they missed the NCAA tournament altogether in 2018 and '19. They were 14-4 and on track to return to the field of 64 last year when the COVID-19 pandemic shut down the season in March 2020.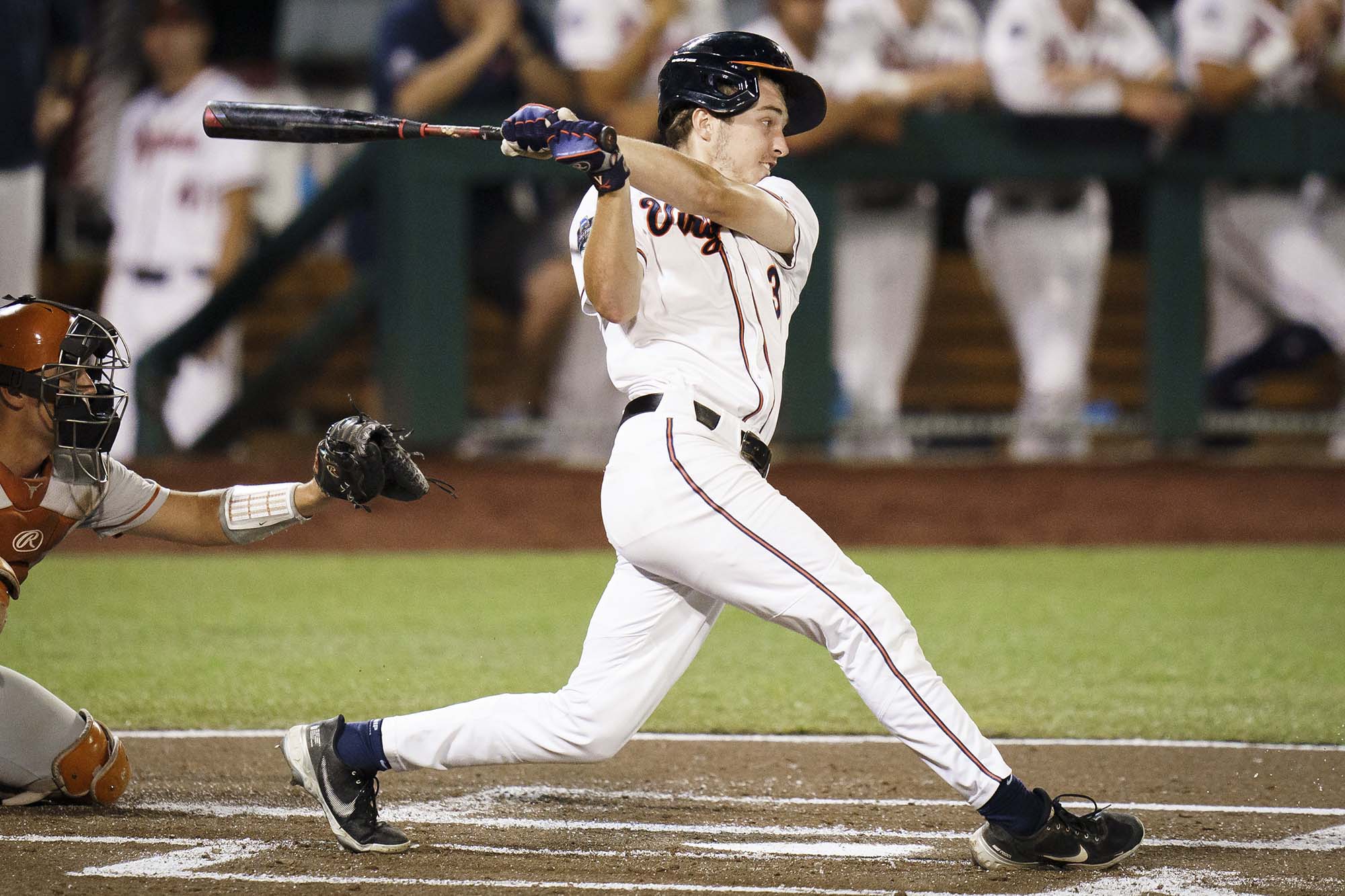 Newell said that "to have that taken away from us just left a little bit of a sour taste in our mouth. So we went home over quarantine and over the summer and everybody went their own ways. We all knew that we were all going to be back, and it definitely was our goal to get here and win a national championship. We did one of those things, and unfortunately missed out on the other.
"But just from what happened last year and to this year, it's just unbelievable how close all of us have gotten together. And just sad to see it end the way that it did."
O'Connor said he's "just incredibly proud of the way that our young men represented our university and this baseball program. Complete class. [They were] guys that just continued to fight and stand up when their teammates needed them the most.
"I told the team after the game that this is going to hurt. It's going to hurt for a while. It should hurt. When you put the time into it and care so much like these young men do about their team and the success they want to have, it's going to hurt. But I told them that after they get over the pain of the season being over and losing, they'll realize what they did and the lessons that they learn from what they endured through this season. It will help them next year for the ones that are back, and then it's going to help them for the rest of their lives. And that's what this experience is about, and I'm proud as heck of them."
The Hoos came into the season with a loaded roster that looked capable of reaching Omaha, which made their early struggles that much more perplexing.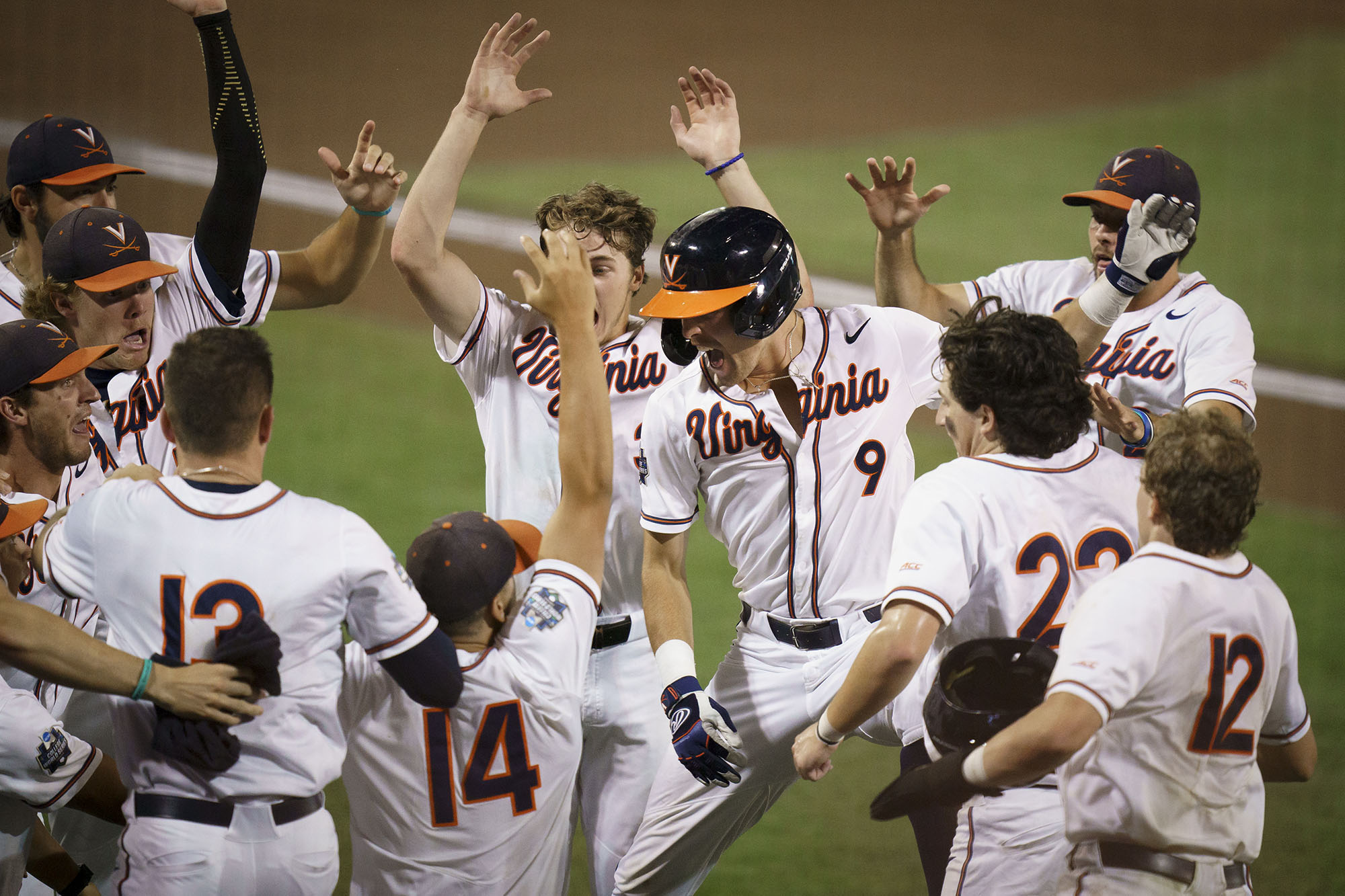 "There was a lot of expectation," O'Connor said, "and out of the gate we didn't play up to our capability. [The players] knew it. We all knew it. We were trying to work through it. We were all trying to figure it out.
"And just what I'll remember about them is they just stood up and competed and were not going to be denied of this opportunity to play in June. Many teams at times fold when that happens, and they just wouldn't let it happen. They kept grinding."
A trip to the College World Series validates a program, O'Connor acknowledged, and the Cavaliers' return to Omaha figures to pay dividends for them in recruiting and other areas.
"But for me, it was about this group," O'Connor said. "It was this team's experience. It was guys that will never wear this uniform again. It was their last opportunity to achieve something that is really, really great, and I'm just happy for them – happy for them that they did what they did, had the experience of playing in Omaha to compete for a national championship. And they're winners."
Article Information
June 25, 2021
/content/hoos-omaha-run-comes-end-capping-season-incredible-comebacks