Charlottesville is a much-lauded destination for history buffs, foodies and University of Virginia fans. Thanks to the continued efforts of UVA's Kluge-Ruhe Aboriginal Art Collection, it is also a premiere destination for Australian Aboriginal art.
Kluge-Ruhe – home to the most comprehensive collection of Aboriginal art outside of Australia – is the nexus point in a global network connecting Aboriginal and Torres Strait Islander artists with museums all over the world. The Kluge-Ruhe's collection was established in 1997 when the late businessman and art collector John W. Kluge donated his extensive collection to UVA. The museum now welcomes a constant flow of guest artists, scholars and museum professionals to its stately brick building on Pantops Mountain.
On Friday, curators from museums like New York's Metropolitan Museum of Art and the British Museum will gather in Charlottesville to meet with Indigenous artists from Australia, Tonga and Bougainville in Papua New Guinea and UVA scholars for an "Oceans of Exchange" symposium on Friday, discussing how museums worldwide present Indigenous art.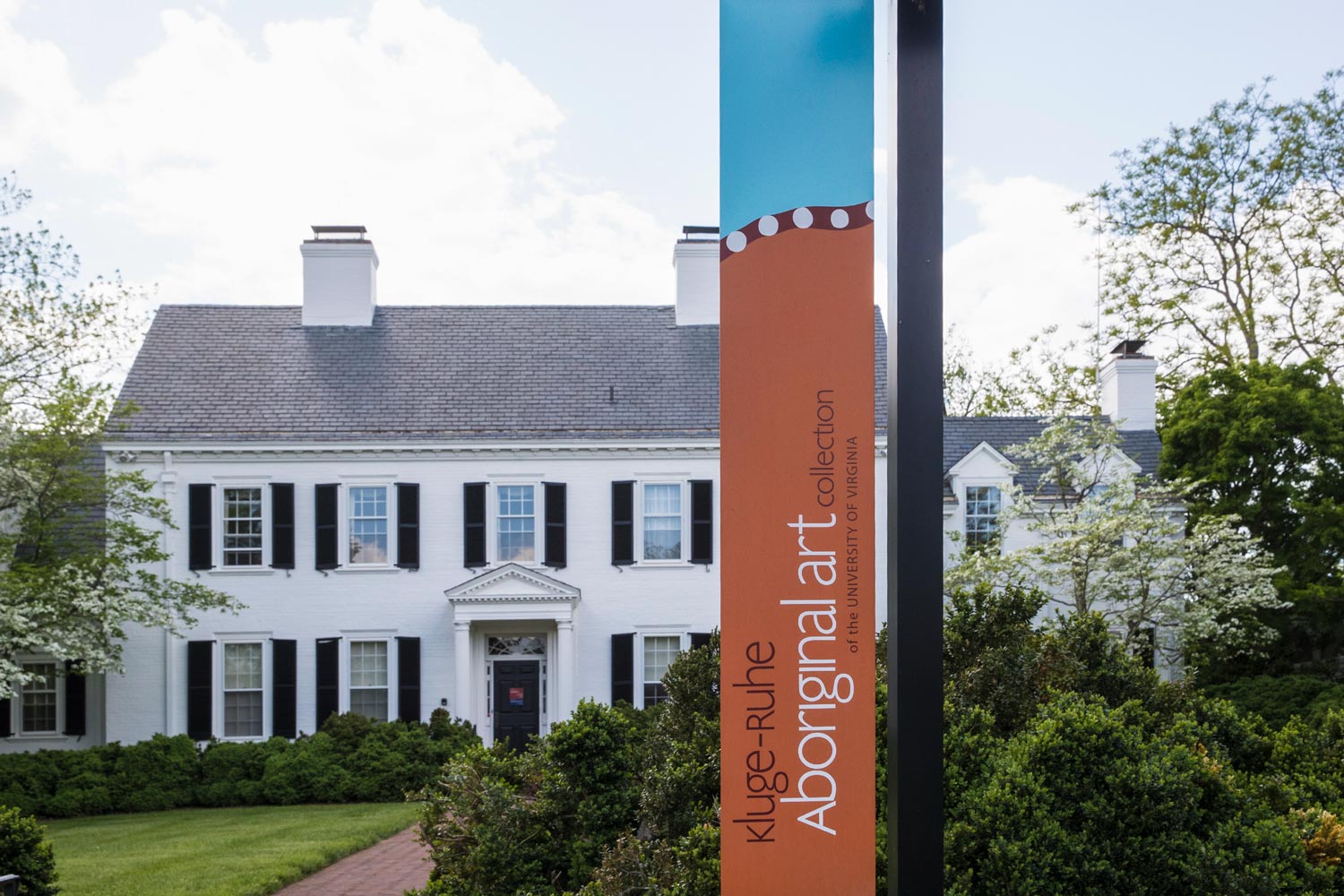 The Kluge-Ruhe has become a premiere destination for indigenous art and a gathering point for artists and museums professionals from around the world. (Photo by Dan Addison, University Communications)
The symposium is presented by Kluge-Ruhe in partnership with the UVA Mellon Indigenous Arts Initiative, the Institute of the Humanities and Global Culture, The Fralin Museum of Art at UVA, the McIntire Department of Art and the Department of Anthropology. It is just one of many such events the museum hosts throughout the year for students, faculty and visitors.
"UVA has this really unique resource," said Kluge-Ruhe Curator Henry Skerritt, who grew up in Perth in Western Australia. He cited both the Kluge-Ruhe's collection of Australian Aboriginal art and works from North America, Oceania (between continental Asia and the Americas) and Africa housed at The Fralin.
"We have an opportunity to expose students to this incredible world of Indigenous art that they might not see otherwise," said Skerritt, who teaches both undergraduate and graduate art history classes at UVA.
Having an acclaimed collection of Aboriginal art also puts the Kluge-Ruhe at the forefront of a wider movement in the art world to broaden the range of artists and cultures represented in major museums.
Maia Nuku, the curator of Oceanic art at the Metropolitan Museum who is attending the symposium this week, said she is focused on expanding visitors' knowledge of contemporary art and consistently featuring more global artists in the New York City museum's Michael C. Rockefeller Wing, which houses art from sub-Saharan Africa, the Pacific Islands and North, Central and South America.
"The museum has been continually moving toward thinking about a more global history of art, making connections and broadening the story of modernism to include regions of the world which have, to date, had their histories eclipsed," Nuku said. "These cultures are coming to the fore now, and it's creating a much more nuanced reading of history."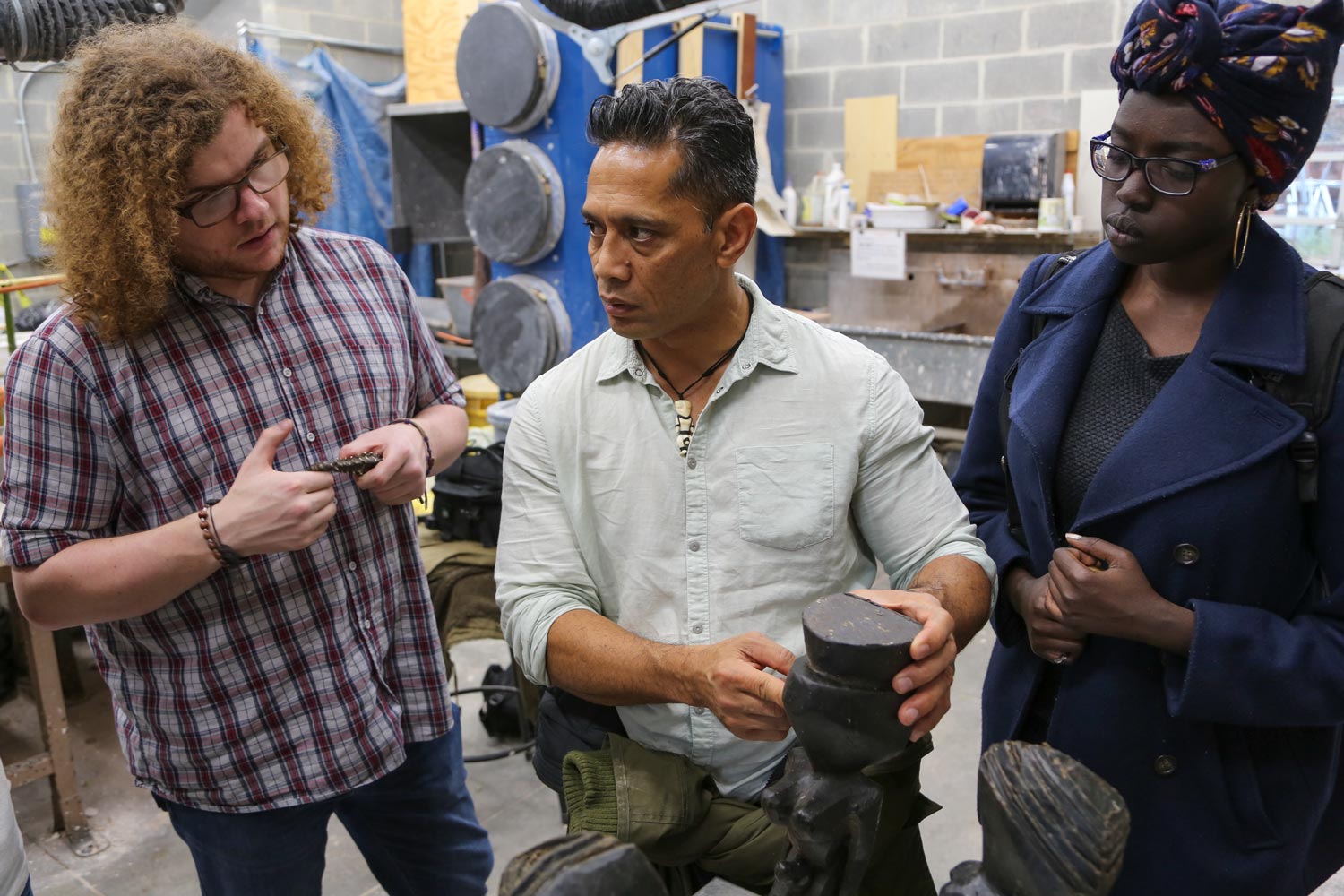 Artist Visesio Siasau discusses his art with students in Ruffin Hall. (Photo courtesy of Kluge-Ruhe)
Among those featured are contemporary artists like Visesio Siasau, a carver, painter and fiber artist from the Pacific island kingdom of Tonga who has created pieces for several royal families in the Pacific and presented his work at international museums like The Met. Now, Siasau is a Mellon Indigenous Arts Visiting Fellow at UVA, where he is reviewing collections at the Kluge-Ruhe and the Fralin and meeting directly with students and faculty. He said such visits offer not just a chance to share his work, but to expose students to the Tongan philosophy and culture that influences each piece.
"It is great for students to see our work firsthand, and to discuss with them and explain what it is about, how it is not just something I am painting, but an expression of a philosophy," Siasau said, speaking from a Ruffin Hall studio where he was preparing several paintings to show to students. Siasau's work, though contemporary in form, builds on ancient Tongan traditions both in the materials he uses – including traditionally made dyes and papers – and the themes he focuses on.
"I think that is another really important part of what we do here," Skerritt said of exposing students to indigenous traditions and philosophies. "Hopefully, UVA students and faculty leave these conversations thinking about a whole new world of philosophy and thought they can engage with."
Additionally, he said, meeting with artists directly can help avoid issues of cultural imperialism that have plagued museums in the past, particularly in countries that formerly ruled parts of Asia, Africa, Australia and South America.
"Colonial artists took so much from what they termed 'primitive art,' and they took it without engaging with the artists," Skerritt said. "Now, young artists are very aware that they cannot do that, and they are very cautious about it. Having the artists come here, I think, has helped students see that there is a lot they can learn from indigenous cultures without appropriating."
Student involvement this semester includes an upcoming exhibition curated by one of Skerritt's classes. Ph.D. students Eleanore Neumann, Meaghan Walsh and seven of their classmates are hard at work planning the exhibition, which will highlight the 30th anniversary of a pivotal New York City exhibition, called "Dreamings: The Art of Aboriginal Australia," that first introduced American collectors, including Kluge, to Australian Aboriginal art.
"That exhibition marked one of the first times Aboriginal art came onto the world stage, and interest in Australian Aboriginal art has really exploded since then," said Walsh, who also earned her undergraduate degree in English and art history from UVA. "It's a great opportunity for us as burgeoning art historians and museum professionals" to get firsthand experience in mounting an exhibition.
Neumann said that having a resource like the Kluge-Ruhe at UVA offers unique value for her and her classmates.
"There is no replacement to seeing and engaging with art and artists firsthand, so to have a world-class resource like this virtually on Grounds is an incredible experience," she said. "It has really helped me expand how I think about art and art history, which is why we are here as graduate students."
According to Skerritt, momentum is building as Neumann, Walsh and other students like them undertake more and more projects with Kluge-Ruhe.
"We are seeing a yearning among students and faculty for more and more programs that offer insight into indigenous cultures," he said.
More than 9,000 miles away in Australia, Siasau reports a similar momentum as artists like him share their work with the world.
"When I do something like this, I am always hoping that it will open the door for my colleagues and my people as well," he said. "I have many great artists and great philosophers who are waiting for chances like this one to come onto the global stage."
That growing connection – an unbroken pipeline of thought and talent from indigenous communities to universities and museums like UVA – is perhaps the greatest of the many resources the Kluge-Ruhe offers.
"Doing one-off events can be great, but we really need continuing relationships," Skerritt said. "We are building a global network that will help UVA become a center for excellence in indigenous studies. Everything we do is about making UVA a part of this global conversation."
Media Contact
Article Information
February 1, 2018
/content/how-uva-has-become-global-center-indigenous-art