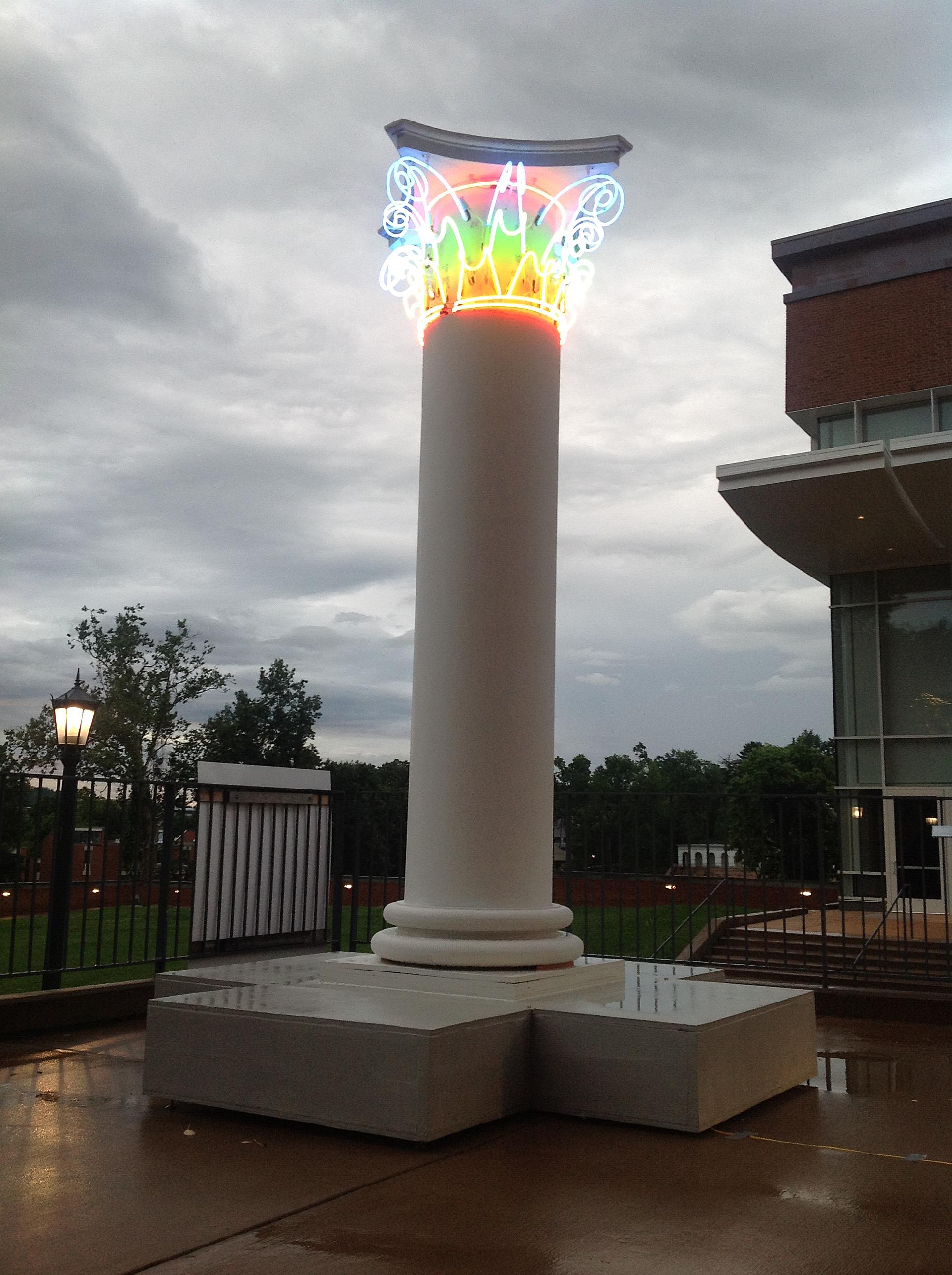 The crumbling Corinthian capitals atop the columns at the University of Virginia's Rotunda are sheathed in black netting while awaiting repair. Just a short distance away, a new sculpture installation of a Corinthian capital and column in front of Ruffin Hall, home of the Studio Art Program in the College of Arts & Sciences, burns brightly with neon light.
The work, "An Icon Transformed," will be dedicated to the memory of neon artist Ferae Droege, in a brief ceremony Friday at 7:30 p.m. It is the creation of James Nemer, a U.Va sculpture student.
"An Icon Transformed" is located on the exterior plaza on the northwest corner of Ruffin Hall on Culbreth Road, across from the Hunter Smith Band Building. The sculpture will be included in the fall U.Va. Faculty Art Show, which opens Friday in Ruffin Gallery and runs through Oct. 21. A Final Friday Reception will be held Friday from 5:30 to 7:30 p.m.
The sculpture stands more than 12 feet high and its principal element, a Corinthian capital, is rendered in neon light. Nemer is the force behind the idea, the design and the construction of the column and capital. The neon was fabricated by Ken Droege of Columbia, Va.
Nemer was inspired by his love of Greek architecture and the ubiquitous use of columns by Thomas Jefferson in his design of the Rotunda, the pavilions along U.Va.'s historic Lawn and Monticello. He has also been fascinated with neon as a decorative and art medium.
Nemer started taking classes at the University in 2007 through the U.Va. School of Continuing and Professional Studies' Community Scholar Program. While studying at U.Va., he also created the sculpture "In Our Hands," located in the Echoes of Nature Sculpture Park adjacent to Baker-Butler Elementary School in Albemarle County. "In Our Hands" was dedicated in 2009.
Nemer became a sculptor after retiring from the U.S. Navy in 1985. He originally started taking sculpture classes at The Art League School in Alexandria, while working for the U.S. Navy Memorial Foundation in Washington. He resides at Lake Monticello.
For information, call Nemer at 434-589-1621 or 434-987-4506, or visit his website.