Students at the University of Virginia are four weeks into the fall semester. Big changes are happening, especially for first-year students: New friendships are budding, brains are getting stronger and adulthood is slowly setting in, hour by hour and day by day.
Student residential life was a concept central of Thomas Jefferson's founding vision for the University, and UVA's residence halls are still where much of this new growth happens. To get a fuller appreciation for how this ecosystem supports new students, UVA Today went behind the scenes with a resident adviser – "RA," in the common parlance – for several weeks.
Follow along as our main character, Rebecca Lewis, prepares for and helps 22 of UVA's nearly 3,800 first-year students settle in on the second floor of Lile-Maupin House, a newer dorm that sits atop a rolling green off Alderman Road.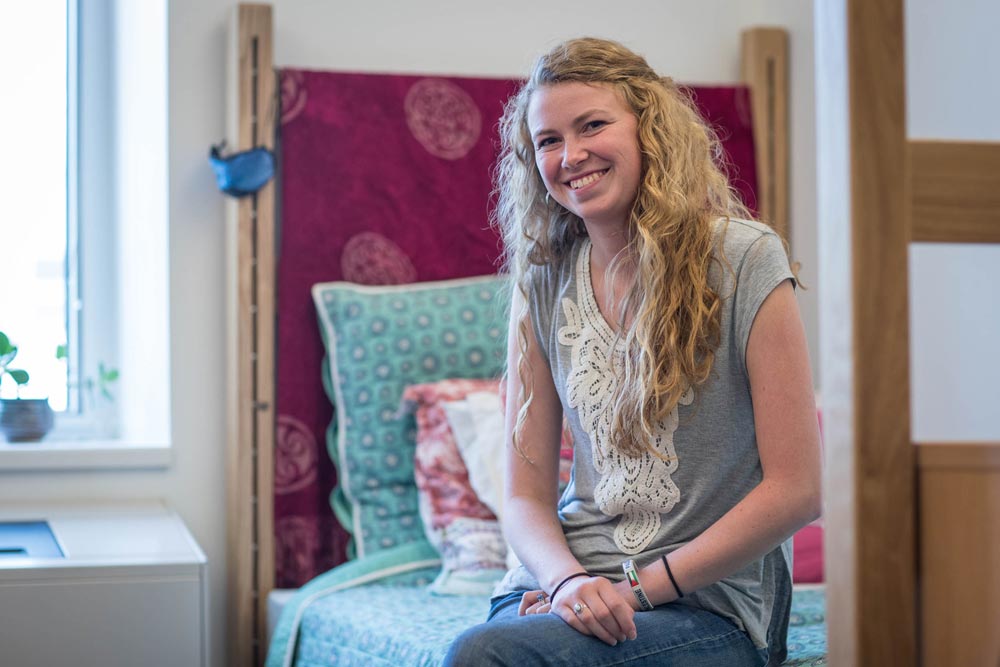 This is Rebecca Lewis' third year as a resident adviser. Though she has two majors and a minor, she said the first six weeks of school she is "20 percent student and 80 percent RA."
It is Aug. 10 and Lewis, a fourth-year student from Winchester, is already set up in her dorm room and taking a well-deserved, albeit brief break from Orientation Week, or "O-Week," when RAs go through hours and hours of intensive training to prepare for the arrival of their new charges – or as Lewis calls them, "my girls."
It's nine days until official move-in and Lewis and all the staff in UVA's Housing and Residence Life office are in high gear. There are daily training sessions on things like mediating disputes and role modeling.
"We have deans come and talk to us," Lewis said. "We have the people in charge of facilities. We have the head people from Counseling and Psychological Services. We have people from the Gordy Center for Substance Abuse, from the Women's Center. We have police officers and fire safety officers come and talk to us, too."
Some days start at 8 a.m. and end 12 hours later. Still, Lewis is upbeat and effervescent on this afternoon, offering tea or water in the quiet, empty hall.
A slight young woman with long, curly golden hair, this is Lewis' third year as an RA, one of more than 200 students who carry on the tradition of student self-governance in UVA's dorms.
Becoming an RA is a highly competitive process. "Each year, we have around 400 applicants for approximately 100 vacancies. The program has around 220 RAs, so we are proud of the high returning RA rate," said Gay Perez, assistant vice president of student affairs and executive director of Housing and Residence Life.
"There is a genuine interest in the UVA student body to serve their peers through the RA position. Many alumni of the Resident Staff program tout their experience in the program as their most significant involvement while at the University and the most impactful in terms of personal development as they embark on careers after Final Exercises."
This is a homecoming for Lewis; she lived in Lile-Maupin when she was a first-year student. In fact, Lewis lived on the very same floor.
It was that experience that drew her to want to lead a hall. "I'm here because my first-year hall was a strong community and it makes your first year so much richer," she said.
The word "community" comes up again and again. "I think community is really, really important and I think first-years – if you don't have a space at home that feels like a community, that feels like a family, that adjustment can be very hard. The girls on my hall first year truly felt like my family."
Community-building can come in many forms, Lewis said. There are the small interactions, like popping into the room next door looking for some late-night mac and cheese or smiling at a hallmate when brushing your teeth in the bathroom.
The bonding begins before anyone even steps foot on their hall. In mid-August, Lewis emailed a detailed Google document to her residents, seeking lots of information. When are their birthdays? What makes them happy? What is their favorite candy?
Chocolate is a common denominator for this hall.
Lewis said the email opens up the conversation to other things, too. "It's nice because it gives them the chance to ask questions like 'Can I bring this? How big are the doors? How much closet space do I have?' They can start shooting me questions and it's really fun," she said.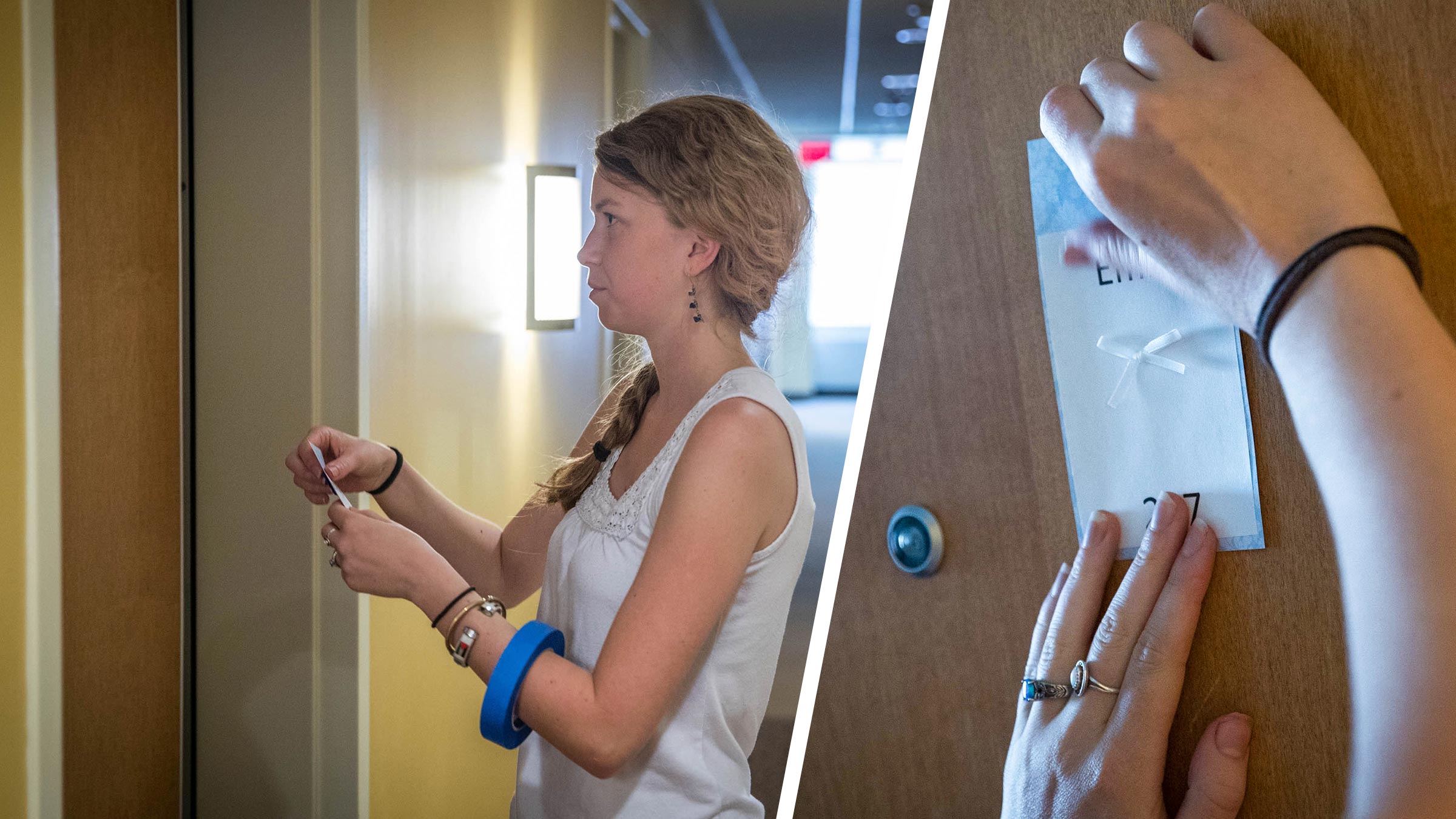 Lewis hangs hall decorations, or "dorm decs," ahead of the beginning of official move-in on Aug. 19.
Once the formal programming of "O-Week" is over, RAs have two days to ready their halls for move-in. The RAs in each dorm choose a theme for their "dorm decs," shorthand for dorm decorations, which adorn each door and bulletin board. This year, Lile-Maupin's theme is "Maupinopoly"; for her hall, Lewis created door name tags that look like the spaces on a traditional Monopoly game board.
The biggest dorm dec at Lile-Maupin is the welcome banner. This year's "Maupinopoly" banner riffs on the traditional game and switches out things like "Chance" with "Class Selection."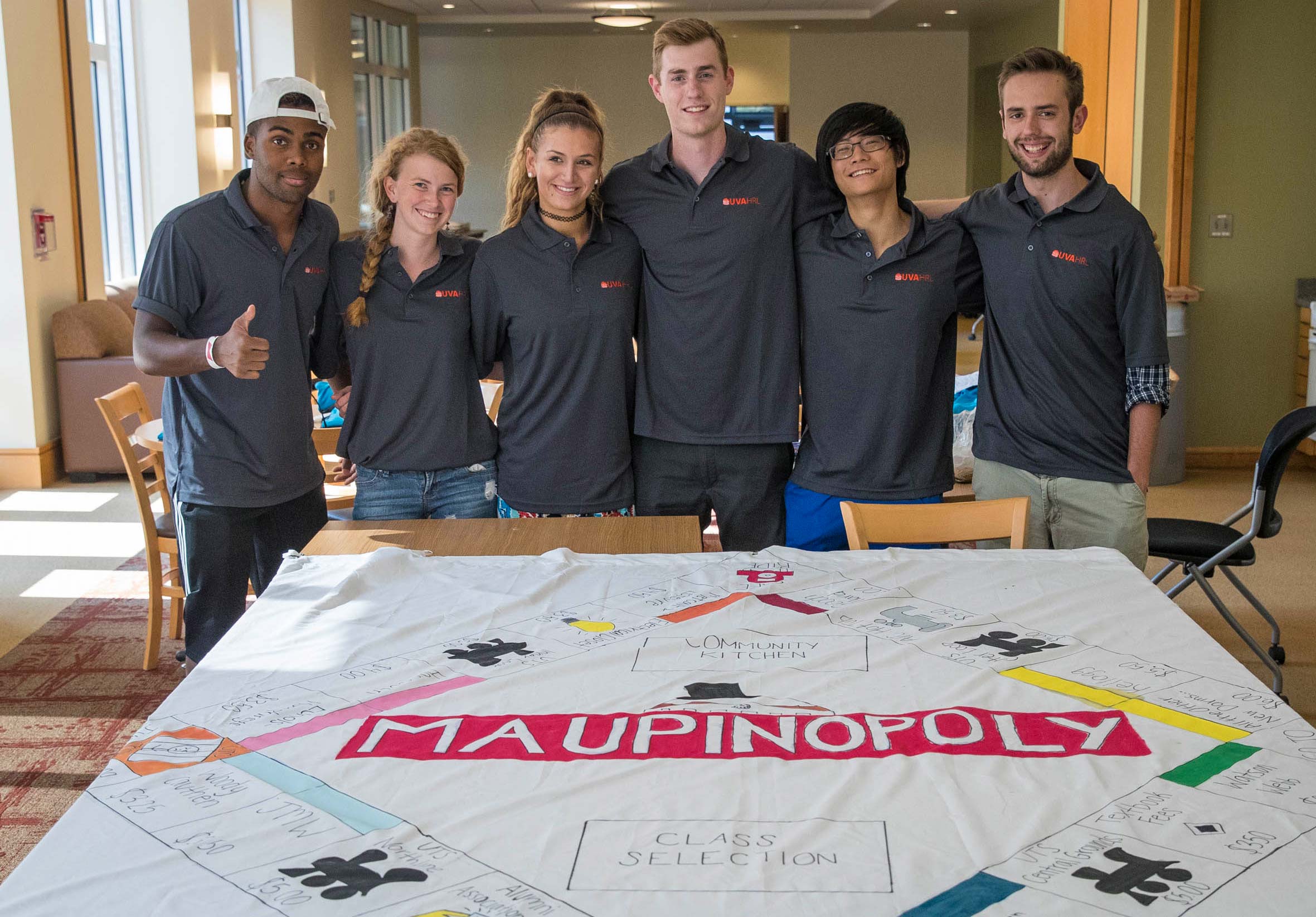 Lile-Maupin staffers Tyler Miller-Jones, Rebecca Lewis, Sophia Martinese, Alex Knutson, Grant Guan and Alex Heyer created this year's welcome banner.
Be Awkward
Move in at Lile-Maupin was Aug. 19, a typically hot, muggy day in Charlottesville. Lewis was on hand throughout to steer parents and new students who, loaded down with luggage, were seeing their new homes-away-from-home for the first time. That evening at 6:30 p.m., Lewis and her hallmates gathered in a large, glass-enclosed lounge room for their first hall meeting, to set ground rules, expectations and build on the nascent community that was spurred by the Google document.
The room was quiet, with residents clearly tired from a long, emotional day. To loosen things up, Lewis opened by asking each person to introduce themselves and share something they enjoy. And then, an ice-breaker: "If you were a kitchen appliance, what would you be and why?" Lewis asked. There was low murmuring and laughter.
Being the RA, she went first. "I would be an apple peeler, because I like to see what is on the inside of people, slowly seeing different sides of people," she said grinning broadly.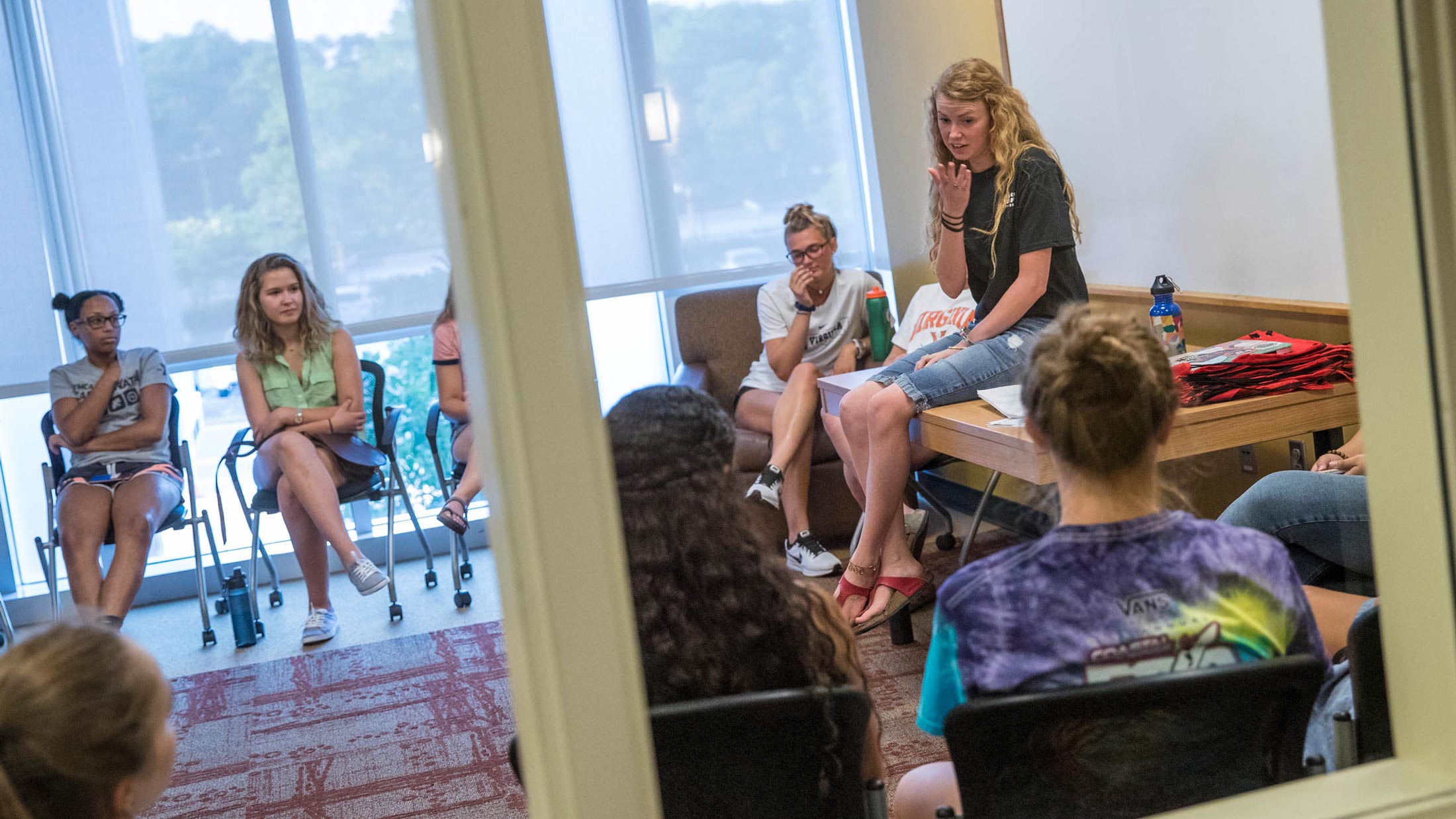 Lewis holds her first hall meeting. Similar gatherings took place across Grounds on move-in weekend, with RAs leading conversations that touched on everything from the role of RAs, residents' responsibilities and nuts-and-bolts items like doing laundry.
Next came Katie Leigh from Arlington. "I have a cat who I really love and I like soccer and I have a giant bar of chocolate if anyone wants some," she said. "If I was a kitchen appliance, I would probably be a blender because I like smoothies."
Leigh's roommate, Vy Nguyen of Richmond, said she liked to play lacrosse, "and if I was a kitchen appliance, I would be a spatula, because I like pancakes."
Perhaps the most popular icebreaker answer came from another Richmonder, who said she would be a crockpot, "because it's low-maintenance, but it works well."
Once everyone had taken their turn, Lewis explained her role on the hall. "I work for the University, which means I have certain obligations. I am not a police officer. I am not your mom. But some policy stuff is my job and I will be taking that quite seriously," she said.
"I wear a lot of different hats. My biggest one is helping to create a community on this hall," she continued. "Creating a community of respect and accountability is another one. For a lot of you guys, this is your first year away from home, and we want to be sure we are conducting ourselves well. One of my biggest roles is to make sure you get through your first year safely."
At that point she paused the meeting to ask that everyone enter her phone number into their phones. "I am your go-to person," she said "Shoot me a text."
Alex Knutson entered the room. A fifth-year student in the Batten School of Leadership and Public Policy, he is also Lile-Maupin's senior resident, or SR. His role is to oversee all of the RAs and make sure things in the dorm are running smoothly.
He was making the rounds of all of the hall meetings in Lile-Maupin that night to introduce himself.
"I have three goals for the year," he said to Lewis' group. "My first is to keep you safe throughout the entire year.
"My second is that in four years, you can walk that Lawn all proud and graduate with as many academic honors as you can accomplish.
"Number three is that I hope we can all have fun."
Knutson said if number three threatens one or two, "We are going to have issues. Your safety and your academic success are paramount to whatever else."
He also encouraged the newly arrived students to step outside of their comfort zones and explore UVA.
"Be awkward. Send that email that says 'Hey, do you want to go get lunch sometime?' Form those dorm activities. Take each other to the Aquatic and Fitness Center. Do something with one another to build those relationships and bonds that are going to last beyond your short time at the University." After all, he added, there is the potential to form lifelong friendships.
Roomies
Like many first-year students, new roommates Leigh and Nguyen didn't have their first face-to-face conversation until move-in day, opting to communicate digitally about their pending year together.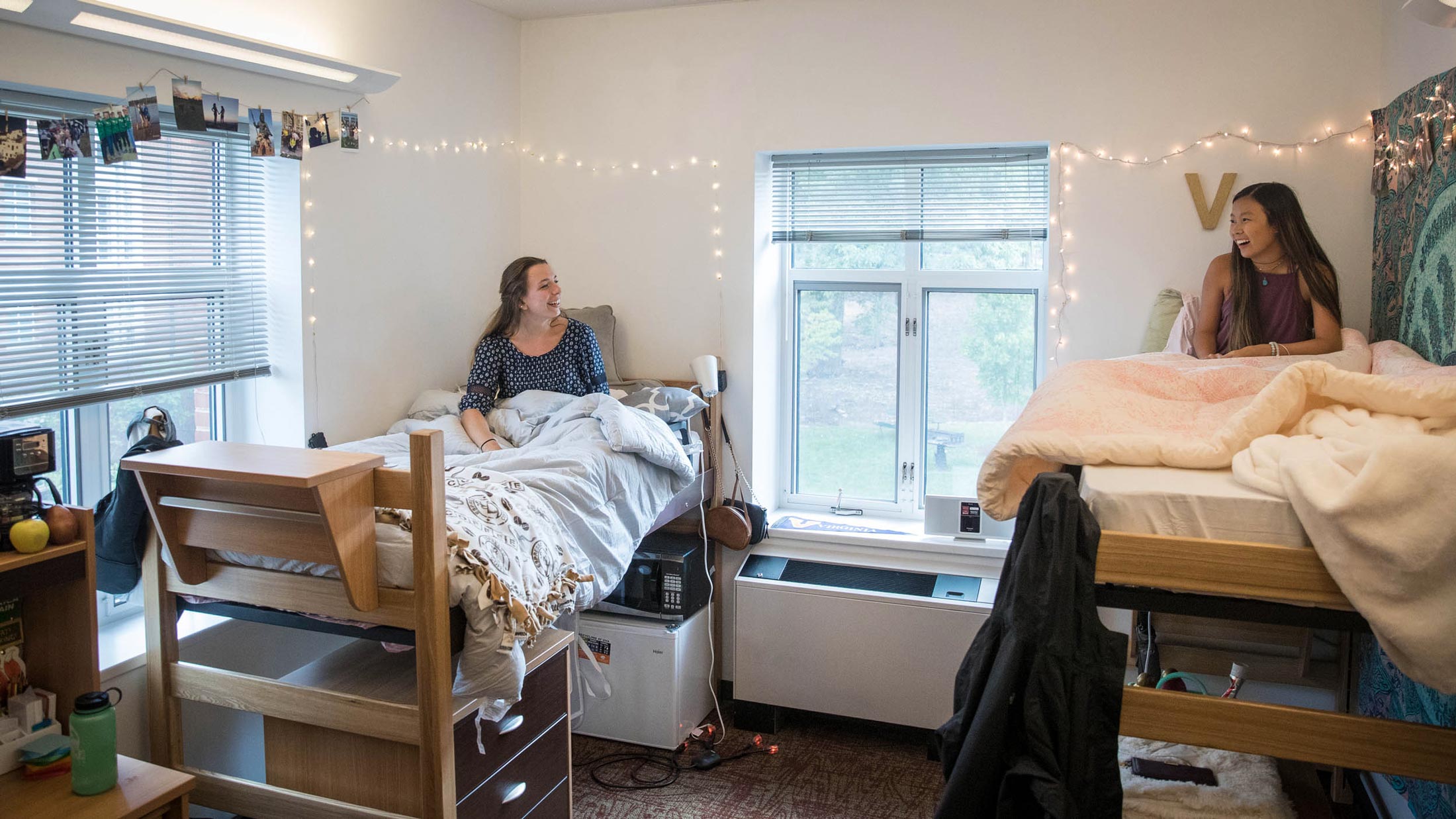 Six days after moving into their room, which is at the end of the hallway, the two reflected on their first days as students at UVA. There was Opening Convocation; there was the near-complete solar eclipse; there was finding all their classes and figuring out how to live together. It was a lot.
"Before I got here, I was really nervous," Nguyen said. "Part of me wanted to go and part of me didn't. But when I got here, I felt like I was home."
Leigh agreed. "Getting here and starting to make it my own space just made me feel better about being here. It's like you are creating a little home away from home," she said. "I noticed two nights ago, when I was talking about coming back to the dorm, I was like, 'Oh, I want to go home.' And I was like, 'Oh my gosh! I'm talking about my dorm room!'"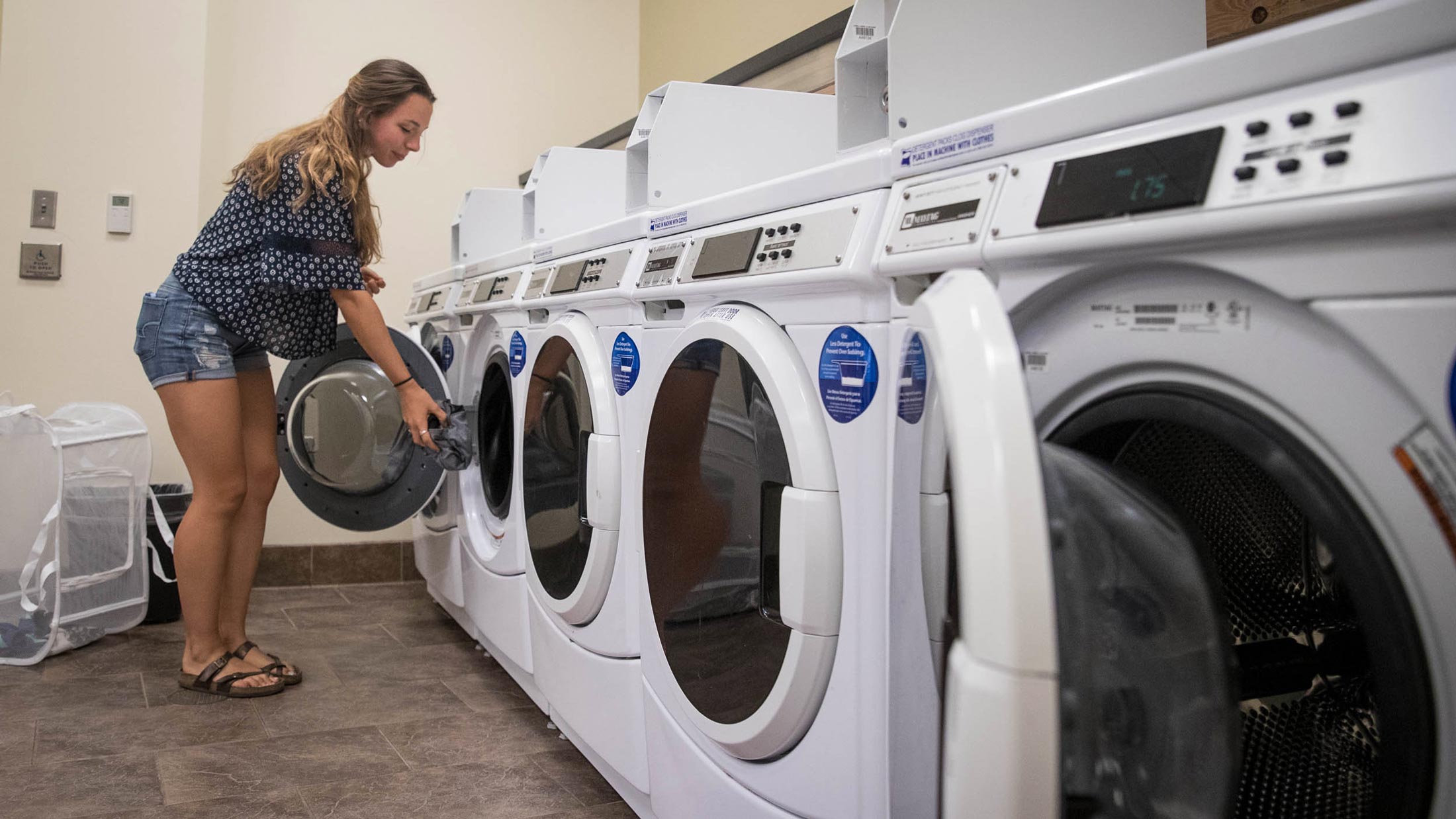 Katie Leigh does her laundry on the first floor of Lile-Maupin.
This bonding is not accidental. Lewis and all the other RAs at UVA work deep in the trenches to keep that "home" feeling going.
"The first few weeks are always a little insane," Lewis said as she ticked off a few of the activities since move-in. "We had a mixer with a boys' hall where we picnicked in a garden, and took hall pictures before Convocation," she said. "We had a tour of Grounds after Convocation where we walked around, found their classes and I showed them my favorite study spots and resources that I've found helpful." That night they had a "Game of Thrones" viewing party in the first-floor lounge. There have also been hall dinners and breakfasts and a "Crib Crawl," with residents touring each other's rooms on the hall.
"Then we had ice cream in my room afterward to just hang out," Lewis said. "I really enjoyed that one and I think they did, too." 
Earlier in September, all of the residents were invited to a first-year dorm tradition: dinner in the historic Rotunda, the Thomas Jefferson-designed centerpiece of UVA's original Academical Village, a UNESCO-designated World Heritage Site. "We got all dressed up and ate a catered meal in the Dome Room of the Rotunda," Lewis said. "The food is incredible."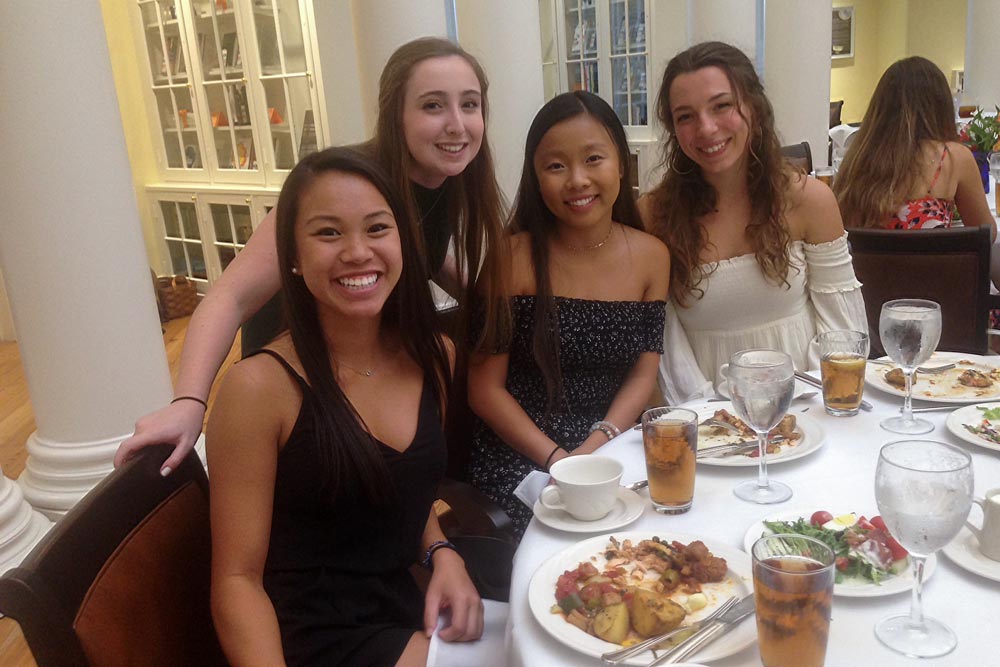 Roommates Emily Nguyen and Bailey Slawin attended the Dome Room dinner with roommates Vy Nguyen and Katie Leigh. (Photo by Rebecca Lewis) 
"The tradition of Dome Room dinners for incoming first-year students is decades old," said Perez, the head of Housing and Residence Life. "What better way to introduce first-year students to the University of Virginia and begin to instill the values and traditions that are integral and vibrant aspects of our community?"
Lewis said she understands parents' nervousness dropping their kids off at college, but they should have faith in their children.
"Something that I've observed my last two years being an RA that I think is really, really cool is that yes, it can be jarring to drop off your new student, and it can be jarring the first few days because there is so much new, but the rate that first-year students can adjust and can learn here is really, really incredible.
"They learn so much the first month. Have faith in your kid. It can be rocky at times but they will get it.
"We've got them," Lewis added. "We go through so much training to make sure that we are here to support them and make them feel safe and welcome. They have support. That is why I'm here."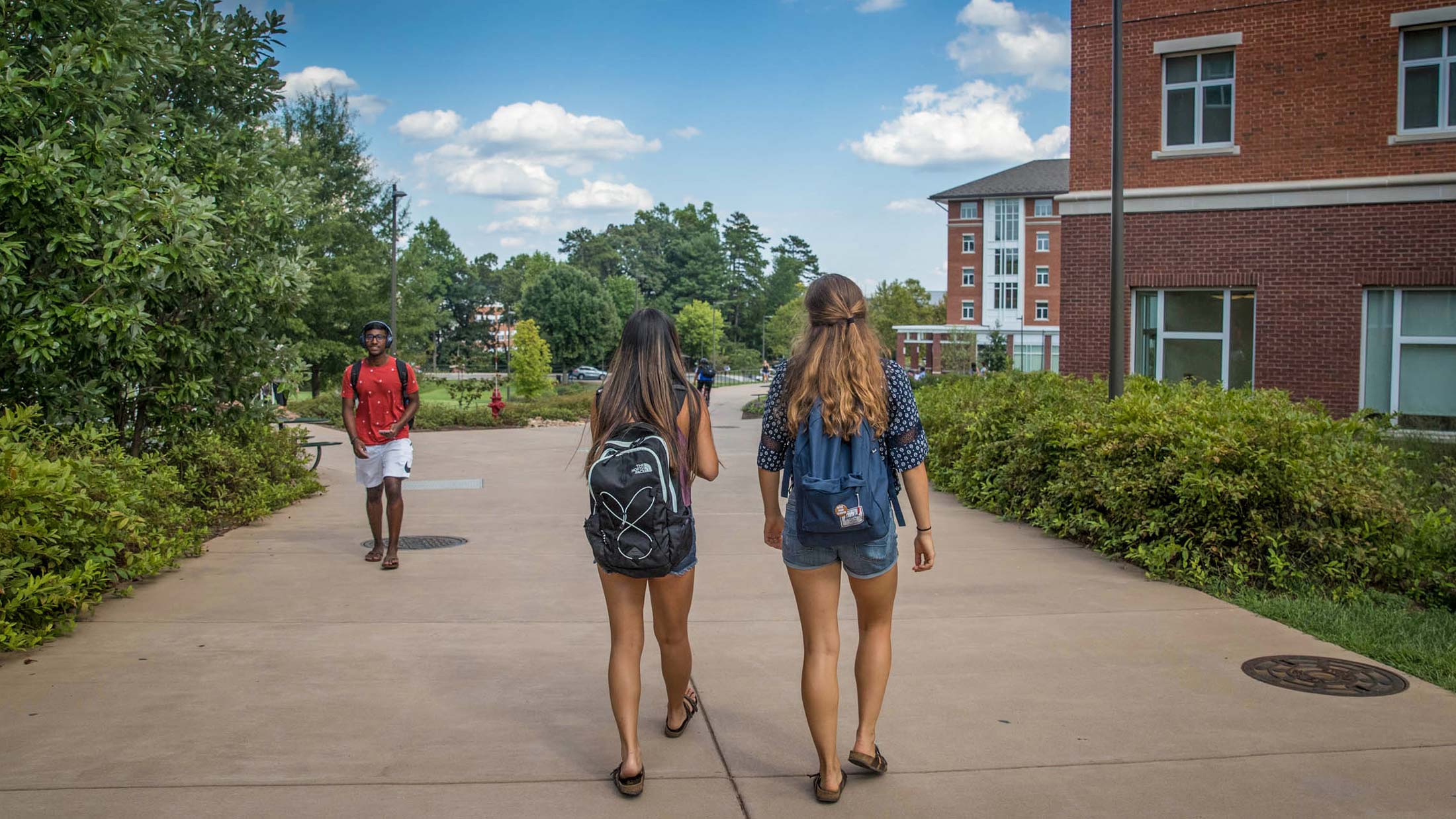 Vy Nguyen and Katie Leigh head out of Lile-Maupin. Aug. 22 was the first day of classes for the fall semester.
Article Information
September 19, 2017
/content/inside-early-uncertain-days-first-years-transition-uva-life