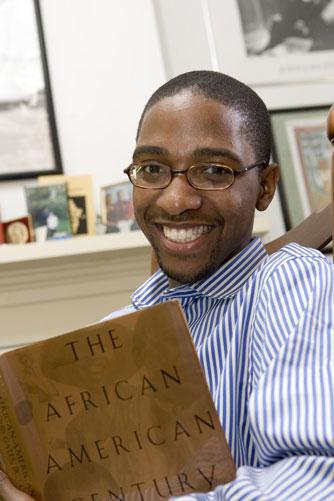 May 14, 2006 —Jade Craig is a soldier in the battle against ignorance, apathy and intolerance. He lives Mahatma Gandhi's words: "You must be the change you want to see in the world."
Craig, 22, a fourth-year student from Hattiesburg, Miss., has been active in a number of initiatives to raise awareness of intolerance and promote understanding on Grounds.
"Many U.Va. students tend to be too comfortable living in the status quo," Craig said. "I think we need more of a passion for change. In my time here, I've tried to raise consciousness about discrimination against blacks and students with disabilities."
In a late night conversation in his second year, Craig and his friend Gwen Archard, who uses a wheelchair to get around, were discussing how disabled students were often ignored or otherwise marginalized. "I suggested that we try to do something about it," he said.
So, they did something about it together. Archard and Craig developed a PowerPoint presentation, "Trailblazers: The History and Life of Students with Disabilities at U.Va.," which includes profiles of the first-known disabled U.Va. students – veterans of the Civil War. The presentation also discusses contemporary disabled alumni who have gone on to be activists for the disabled. And it emphasizes the need for greater efforts at socially integrating disabled students into the University community.
"We thought we could contribute something and help disabled students recover their history," Craig said. "We could tell their stories and talk about what they go through today. "We wanted to do something to confront the issue."
Likewise, Craig has not shied away from addressing issues related to racism that have come up during his time here.
As a member of the University Guide Service since his first year, Craig has led the development of "Slave to Scholar," a tour on the history of African-Americans at U.Va., which was started by a former guide. He has trained other guides in giving the tour and including the information on their regular historical tours. Initially offered only in February, during Black History Month, and by request, the University Guide Service will offer the tour on a weekly basis starting in the fall. Craig also gives "Connecting Communities: The History of African-Americans at U.Va.," a presentation developed by two engineering students on the history of race relations at the University.
And last semester, after some racial harassment incidents on Grounds, Craig helped black students develop a constructive response. "As a fourth-year, I felt called to take the lead in confronting the issues," he said. And as co-chair of the Black Leadership Institute at the Office of African-American Affairs, he met with other concerned black student leaders about how best to reach out to black students and offer them support. The black student leaders held meetings with University administrators and other student leaders. They planned a showing of student solidarity by encouraging students to wear black T-shirts for several days. They addressed the media.
"The end was to make students feel comfortable, to take ownership of this community and confront people when they express those [hateful] views," Craig said.
While he's been active in a number of important causes, his time as a student hasn't been spent entirely in meetings and presentations.
"It's been a powerful academic experience," said Craig, who completed a double major in French and Political and Social Thought. "Each semester I've tried to take classes that reached me personally and I've benefited from that."
He has taken advantage of opportunities for growth outside the classroom as well.
"U.Va. has offered me opportunities to do things that I never thought possible," Craig said. "I got the chance to go to Morocco. I spent three weeks in South Africa. I became fluent in another language. I've been on the front of USA Today as a spokesman for AccessUVA and low-income students. In many ways, U.Va. has prepared me intellectually for life."
And it has prepared him to take on new challenges. Next fall, Craig will teach elementary school in the Mississippi Delta with Teach for America. In 2004, Mississippi ranked last in per capita income among the 50 states and the Delta, in northwestern Mississippi, has a predominantly African-American population with per capita income about half of the state average.
Still, Craig expects to have some time on his hands in which to work on a master's degree in education at the Delta State University College of Education, which offers a tuition waiver to Teach for America alumni enrolled in a graduate program. Down the road, he expects to attend law school and pursue a career that will allow him to combine his interests in law and public policy.
"My experience here has been academically strong and socially aware," Craig said. "I've learned to appreciate the meaning of giving back."