Find the latest information on the University's response to the coronavirus here.
For the past four years, no one at the University of Virginia has embodied the student-athlete ideal more than Jocelyn Willoughby. 
An All-ACC performer in basketball, she needed only three years to earn a bachelor's degree in global studies, after which she entered a master's program in UVA's Frank Batten School of Leadership and Public Policy. 
She lived on the Lawn as a third-year student, and throughout her time at UVA has followed a demanding and exhausting schedule. 
That's about to change, and Willoughby can't wait to see what she can accomplish with a more singular focus.
"I've had a great college career and spent so much of that time just balancing and splitting my attention and energy between school and basketball," said Willoughby, a fellow in this year's cohort of UVA's Meriwether Lewis Institute for Citizen Leadership. "I've been able to have a lot of success with those split responsibilities, and I'm kind of excited for the opportunity to just focus on basketball."
The WNBA held its draft Friday night, and the Phoenix Mercury selected the 6-foot Willoughby with the 10th pick of the first round. About an hour later, Phoenix traded Willoughby to the New York Liberty, the WNBA team closest to her hometown of East Orange, New Jersey. 
"It's still kind of surreal," Willoughby said Saturday night, "just being picked and then being traded and kind of getting that settled."
The ACC's leading scorer this season, Willoughby became the first Cavalier selected in the WNBA draft since 2010, when Monica Wright was the second pick overall. Wright, who returned to John Paul Jones Arena last summer and joined UVA head coach Tina Thompson's staff as an assistant, remembers one of her first conversations with Willoughby. 
"I went and grabbed something to eat with her and asked her what she wanted to do after school," Wright said, "and she really made it clear that she wanted to pursue this [WNBA] dream, and I just pledged myself to her right then. I said, 'Jocelyn, I will do everything I can to help this happen. It will be an honor to help you, with as much as you've given to this UVA program and this university.'"
With the No. 10 pick in the #WNBADraft 2020 presented by @StateFarm, the @PhoenixMercury select Jocelyn Willoughby from @UVAWomensHoops! pic.twitter.com/yAIGMTHxs2

— WNBA (@WNBA) April 18, 2020
Professional sports are on hold during the COVID-19 pandemic, and it's unclear when the WNBA will start its 2020 season. But it "seems like the season's going to go on, even though the timeline for that is very uncertain," said Willoughby, who's home in New Jersey. "And so I'm going to finish out this semester and take care of my business there, but then turn my attention toward playing basketball, and so that means I'll be taking a leave of absence from the University as long as the season unfolds and plays out."
She'll reach the midpoint of her two-year Batten School program at the end of this semester, and she plans complete work on her master's at some point. For now, though, Willoughby is eager to be a full-time basketball player for the first time in her life.
In 2019-20, she led the Wahoos in scoring, rebounding and 3-pointers. She was second on the team in blocked shots, third in assists and steals. After seeing the strides she made in her final college season, "I've been thinking how much more potential I have and can bring out when I can put all of my energy into basketball," Willoughby said.
"It'll definitely be a change. I'll have a lot more free time as I enter this next phase, where I don't have to worry about going from class to practice to lift and whatever else. But I don't think I'll stop learning, per se. It's just that the structured aspect of the learning, where you have class at this time and then this time and then this time, or an assignment due at this point, that's what will change for me. I'll still read my books for pleasure and look at things that are of interest to me, but it won't be as rigid of a schedule."
For Willoughby, this is "a once-in-a-lifetime opportunity," Wright said, "and she knows that she can always fall back on the groundwork that she's laid for herself academically in the Batten School. She just wants to advantage of this, and I'm really proud of her, with her not being a risk-taker by nature."
Willoughby laughed at – and agreed with – Wright's description of her.
"I am a very risk-averse person, but [passing up a pro career] wasn't really a consideration for me," said Willoughby, a former student-athlete member of the NCAA Division I Women's Basketball Oversight Committee. "I knew that even if I wasn't drafted into the WNBA, I wanted to play professionally overseas to have that experience and opportunity to travel. And I felt very confident that I had the talent and the potential to be able to do that. So I didn't feel like there was too much risk in that. The risk or uncertainty is more: Where are you going to be? What is that experience going to be like?"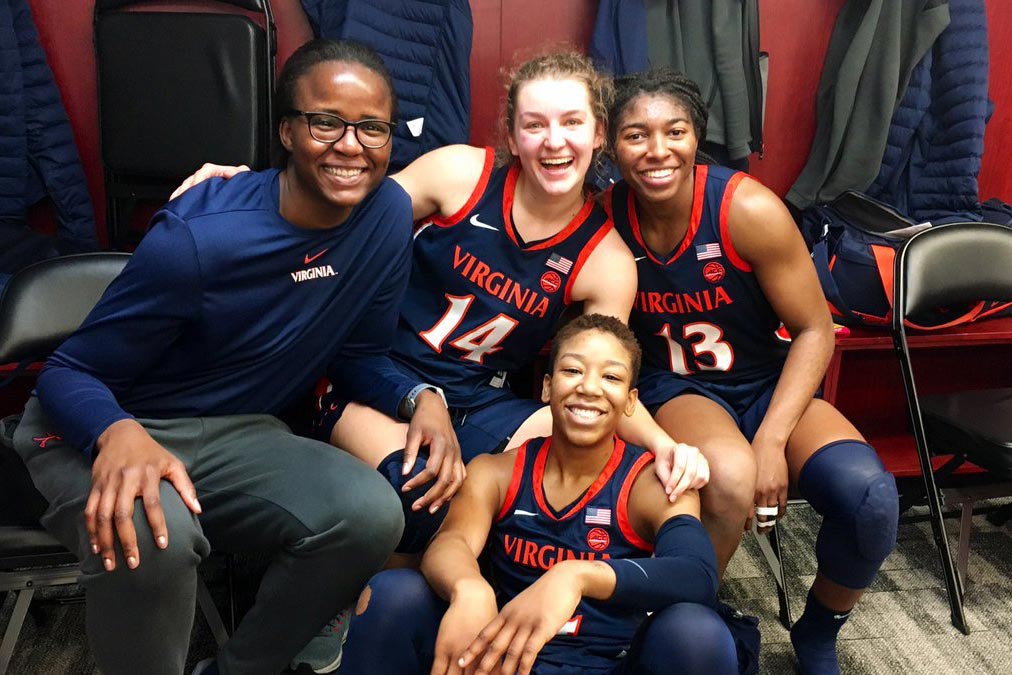 Willoughby, right, with classmates Felicia Aiyeotan, Lisa Jablonowski and Dominique Toussaint. (Photo courtesy UVA Athletics)
For Willoughby's first two years at UVA, her head coach was Joanne Boyle, who retired after the 2017-18 season. The Cavaliers' current staff has strong ties to the WNBA. In addition to Wright, who played for seven seasons in the WNBA, Tina Thompson was a nine-time all-star in the league. Associate head coach Karleen Thompson is a former coach and general manager in the WNBA.
"Any questions Jocelyn had, we were eager to help her, and it's just so exciting," Wright said. "I'm smiling every day. I just can't wait for her to call me after the first day of training camp and tell me all the stories, and I can't wait for her to call me when she gets overseas and she has her first practice and she's like, 'What is this?' It's such a great experience to have after college, and I'm just happy she gets to live it out."
In addition to trading for Willoughby, the Liberty selected three players in the first round Friday night. New York drafted Oregon's Sabrina Ionescu at No. 1, Connecticut's Megan Walker at No. 9, and Louisville's Jazmine Jones at No. 12.
"I'm excited to be able to join a program that's going to be young, but still very talented, with a staff that's looking to build, just people who are committed to doing something special and making something special," said Willoughby, who attended some Liberty games as a girl. "So being able to be a part of that process, for what will be for me a hometown team, it's pretty exciting and just an awesome opportunity."
The Liberty, which played its home games at the Westchester County Center in 2018 and '19, is now based at Barclays Center in Brooklyn. That's also the home of the NBA's Nets, for whom former UVA star Joe Harris plays.
"I've heard great things about him, and I've seen his picture obviously in a few places around JPJ," Willoughby said, "but I haven't met him myself."
Willoughby said she's heard from some of the Liberty's players and coaches since the draft. 
"Everyone's just kind of like, 'Stay ready.' There's no real timeline [for the WNBA season starting] at this point. I think in the interim, all the coaches and players are just going to do what they can [to prepare]."
Willoughby doesn't have access to a gym, but she's staying in shape by running and doing body-weight exercises, she said, and "I've been trying to find local parks that still have rims up. It's definitely harder and more challenging, but I'm just trying to maintain and manage and still try to get some development with the circumstances we have now."
She personally invited 60 people to join her on draft night for a Zoom watch party, a wide-ranging group that included former and current coaches, teammates and UVA staffers.
"I am so thankful for you being a part of my journey," Willoughby wrote in her invitations, "and would love to share this celebratory moment with you and others in my 'village.'" 
After the draft, Willoughby said that being able to share the moment "with so many people who mentored me and groomed me along the way was so special. … It's kind of like a dream come true."
A graduate of Newark Academy, Willoughby enrolled at UVA in 2016. In her four years on Grounds, she's accomplished more than almost anyone could have imagined.
"She left her mark, not only on the court, but off the court, in the community, in the classroom, just everywhere," Wright said, "and everyone loves Jocelyn. I can't think of a better representative of UVA women's basketball than her, and I'm just so proud of her and how she handled herself.
"She has left a beautiful legacy for herself, and she will always have a home here whenever she wants to come back."
Article Information
April 20, 2020
/content/jocelyn-willoughby-ready-next-phase-her-journey