"Houston, we've had a problem here."
Astronaut Jack Swigert uttered that famous statement on April 13, 1970, when problems became apparent during the failed Apollo 13 mission. Members of NASA's Mission Control Center in Houston immediately went to work to figure out what happened and ultimately saved the lives of the crew.
Since the space age began, spacecraft and their crews have been communicating with ground stations via radio.
Now, University of Virginia engineering students are about to join that tradition with their own ground station for tracking a small spacecraft of their own design. The station will allow student engineers to track and collect data from their craft, scheduled to be launched into orbit in late 2018 aboard a NASA-sponsored rocket as part of an International Space Station resupply mission.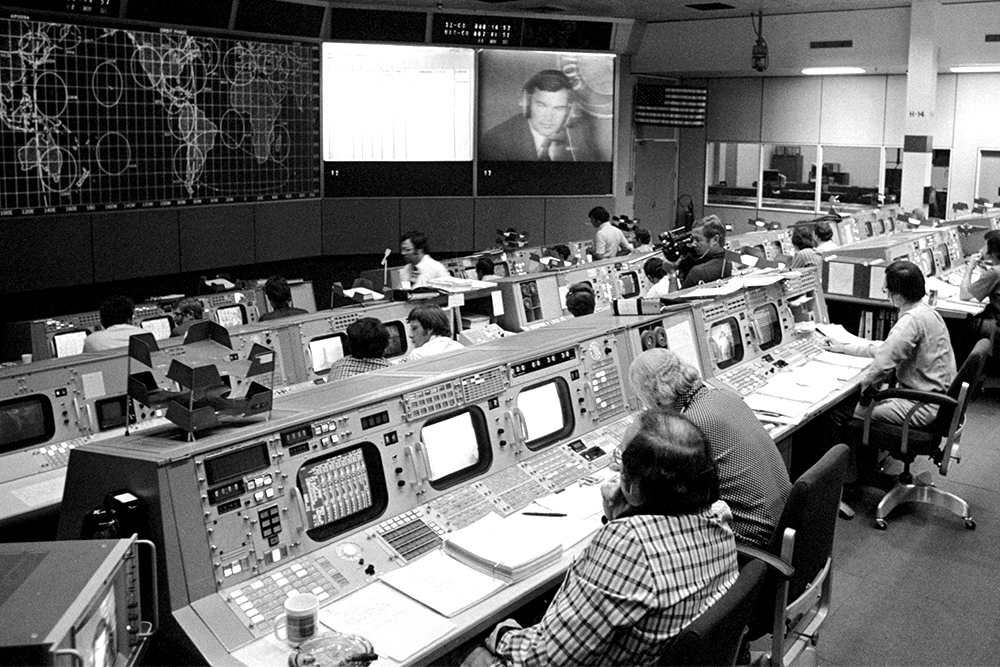 During the Gemini and Apollo space programs, NASA operated this mission control center in Houston. UVA students are building their own version to control a spacecraft of their own design that will be launched late in 2018. (NASA photo)
"We're building our own version of NASA's Mission Control, to communicate with our own spacecraft," said Christopher Goyne, a mechanical and aerospace engineering professor who serves as faculty adviser for the project. "Our students have a lot of work to accomplish prior to launch, and during the six- to 12-month flight mission."
The student-built spacecraft, shaped as a cube about the size of a softball, will be part of a joint mission with other Virginia universities to conduct atmospheric density studies, which will help NASA better understand the rates at which low-orbiting spacecraft slow down and ultimately descend back to Earth when encountering the "drag" of the outer edges of our atmosphere. The craft, called a CubeSat (for cube-sized satellite), will be the first developed and flown by UVA. Assembly and testing will be completed this summer.
It is one of three satellites in a "constellation" that are being designed and built by students at UVA, Virginia Tech and Old Dominion University through the Virginia Space Grant Consortium. Hampton University also is collaborating. Each university will operate its own ground station, and students will communicate with each other throughout the mission. They also are collaborating on many other aspects of the project.
"One of the most worthwhile aspects of this project has been working with the student teams at Virginia Tech, ODU and Hampton," said fourth-year student Colin Mitchell, scheduled to graduate this spring with degrees in mechanical engineering and physics. "It has been interesting to see the differing problem-solving techniques that students from each university and major take when approaching design problems."
Mitchell is a member of the data and communications team, which is writing software for the UVA CubeSat and will operate its radios. He and fellow student Tyler Gabriele studied for and obtained amateur radio technician licenses so they can begin testing radio setups. Other students also will earn licenses as the project develops.
Goyne's group recently began work to construct the ground station, with assistance from the UVA Amateur Radio Club. The mini-satellite is being designed to accommodate a small UHF radio that transmits in the amateur radio band. The station will transmit instructions to the craft as it passes over from horizon to horizon, and also receive scientific data from the craft. The ground station will communicate with other satellites in space, and possibly with crew members aboard the International Space Station.
"Our students will have direct control of our spacecraft, gaining valuable firsthand experience in spacecraft operations," Goyne said. "They also will have control over the data received from the spacecraft and will handle its distribution and dissemination. It's a great learning experience that will prepare them for careers in the aerospace industry and with government."
The station will include a steerable antenna mounted to the roof of one of the engineering buildings. This will be linked with radios and computers in a small room dedicated to "mission control."
The Amateur Radio Club will provide technical expertise and assist in the operation of the ground station.
"We've got to configure this station properly and shake out any bugs before the mission starts," said Mike McPherson, a W4UVA (radio club) trustee and assistant emergency coordinator for the Albemarle County Amateur Radio Emergency Service. (He's also a retired associate vice president of UVA). "We're going to spend about six months tracking other satellites as practice."
UVA's CubeSat is a multi-year project, passed down to each succeeding group of fourth-year engineering students as part of their final projects. It began in 2013 when students launched a test craft via high-altitude weather balloon. Everything learned then, and since, contributes to the overall growth and development of the program.
"Our students are walking in the footsteps, in essence, of famous NASA programs like the Apollo missions," Goyne said. "It's a special experience for them to design, build, test and ultimately fly a craft that goes into space."
Goyne's spacecraft design class will hold an exhibit Saturday, from 9 a.m. to 3 p.m. on the second floor of the Mechanical Engineering Building during the annual Open House of the School of Engineering and Applied Science.
Article Information
March 16, 2017
/content/just-houston-engineering-students-begin-work-satellite-ground-station