U.S. Army Capt. Humayun Khan, the only University of Virginia alumnus to be killed in the Iraq War, will be remembered through the Bicentennial Scholars Fund, the University announced Friday in a ceremony on the north steps of the Rotunda.
Khan, a 2000 graduate of UVA's College of Arts & Sciences who studied psychology, and two Iraqi civilians died June 8, 2004 in Baqubah, Iraq, when Khan stopped a taxi loaded with explosives at a checkpoint and the driver detonated his cargo. His action prevented the bomber from entering a compound, where a number of U.S. soldiers were eating breakfast.
"Humayun's actions saved other lives," U.S. Army Lt. Col. Hampton E. Hite said in 2004 at a memorial ceremony for Khan on Grounds. Hite was commandant of the UVA Army ROTC cadre at the time.
The Capt. Humayun Khan Memorial Bicentennial Scholarship Fund is financed by the Khan family, with a lead gift from Richard G. Clemens, a 1962 graduate of UVA's College of Arts & Sciences and a 1965 graduate of the UVA School of Law, as well as additional contributions from alumni, parents, friends and classmates. With matching funds from the University's Strategic Investment Fund, the scholarship's initial endowment will total more than $200,000.
A $10,000 annual award will be given to a deserving student in need, with a first preference for students in the ROTC program and a second preference for a student majoring in a field in which the U.S. Constitution and its history are a common area of focus, such as history or political science.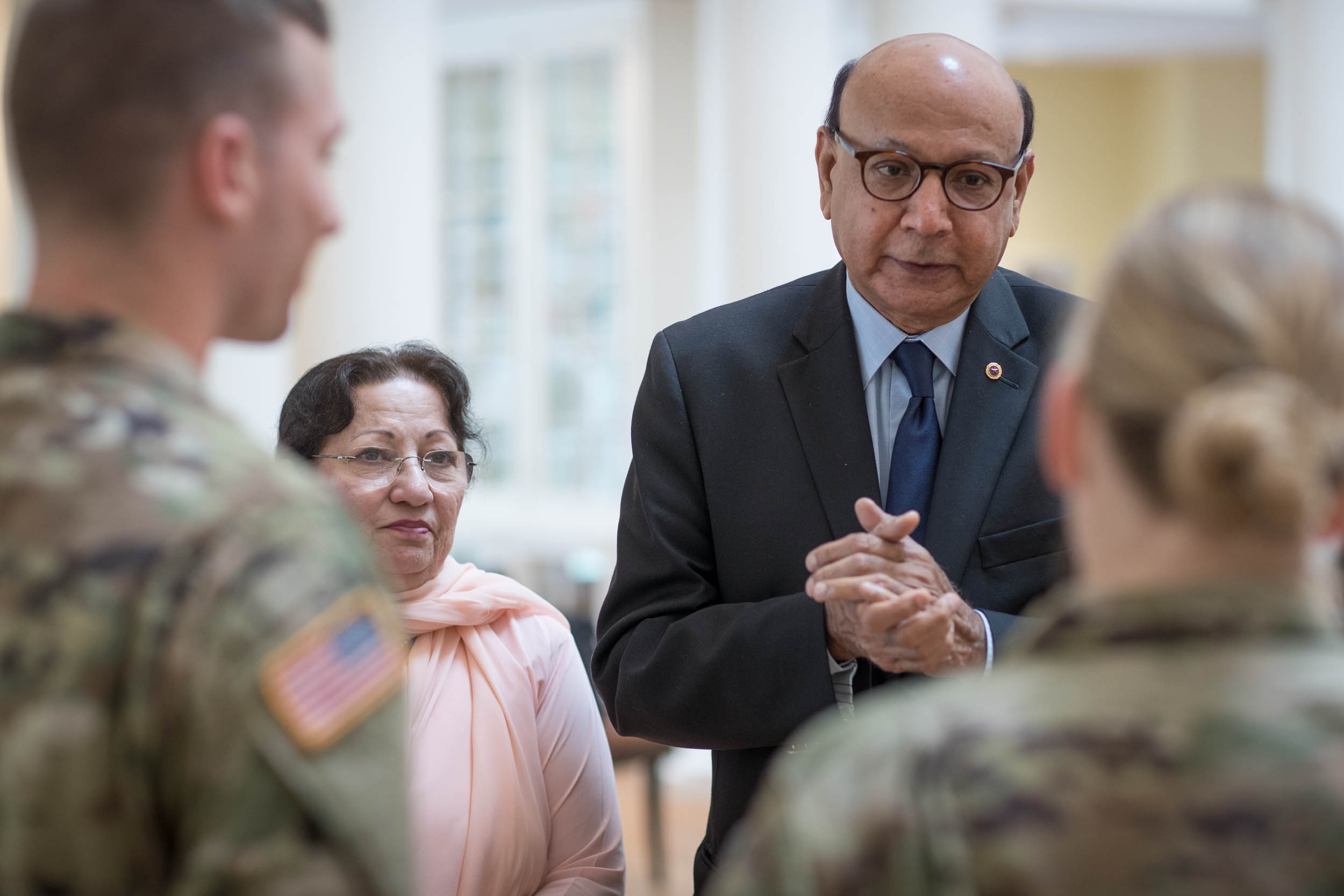 Khizr and Ghazala Khan met with U.S. Army 2nd Lt. Christopher Bayer, left, and U.S. Army Capt. Jane A. Petrick on Friday.
"This scholarship created in honor of Capt. Khan is a powerful tribute to him and to the supreme sacrifice that he made while serving our nation," University President Teresa A. Sullivan said in a prepared statement. "We are grateful to the Khan family for this generous gift. It will provide essential support for UVA students while honoring the life, legacy and memory of Capt. Khan."
Under an overcast sky on the north side of the Rotunda, steps away from the new plaque that honors Khan's sacrifice, his parents, Khizr and Ghazala Khan, announced the scholarship in their son's memory. Khizr Khan talked about the influence of the University in his son's life.
"Mrs. Khan and I were blessed to have Capt. Humayun Khan for 27 years," he said. "We only brought a high school graduate to this institution. The rest of all that he learned was by being a student of Mr. Jefferson's University, in the classrooms here, and by being member of the Army ROTC. He was well-taught by the excellent faculty and other mentors here at the University."
Khan said the University gave his son a world-class education and taught him "the rare values of honor, dignity, service to others, patriotism and pride in our liberty and democracy."
"We used to speak with him about his experiences here at the University and he always said coming to the University of Virginia was the best decision he made," Khizr Khan said. "He was very proud of his alma matar and his friendships here."
While the scholarship is in his son's name, Khizr Khan said it also honors UVA's values, "which are taught to all who come to attend it from far and near. Today we honor his teachers and his mentors who turned an ordinary citizen into a courageous patriot." 
He noted that while college costs have increased nationwide, 34 percent of the students at UVA receive need-based financial assistance, with the University's Board of Visitors voting in September to dedicate funds from the Strategic Investment Fund to scholarships through the Bicentennial Scholars Fund.
"We are grateful to the University for its generous and innovative support of its student body," Khizr Khan said. "We are honored and delighted to endow from family funds the Capt. Humayun Khan Memorial Bicentennial Scholarship Fund. We urge all to join and support the Bicentennial Fund so our future leaders can be taught the sacred values necessary for our nation to continue to enjoy liberty, freedoms and the rule of law, unique features of our democracy regardless of the challenges we face today."
Khan also thanked the scholarship's other donors.
"We are grateful to the University; other alums, especially Mr. Clemens; and other friends who continue to support Humayun's legacy of public service, honor, patriotism and, regardless of peril, standing up for our freedom and protection of those under leadership," he said. "All this was learned and adopted here on the Grounds. So this scholarship is a tribute to the University and its values."
Clemens, a retired lawyer, first heard Khizr Khan speak of his son in an address to the Democratic National Convention in the summer of 2016, and realized that Humayan Khan had also attended UVA. Both Khan and Clemens had been members of UVA's Army ROTC program, 38 years apart.
"I had established a scholarship in my name at the Law School, but I had not done anything at the College yet," Clemens said. "I had scholarships throughout my time as a student."
After Clemens received his degree in the political science honors program in 1962, he received a deferment of his Army service until he completed law school in 1965, then was assigned to the Pentagon as part of the Judge Adjutant General's Corps, where he rose to the rank of captain. After leaving the military, Clemens joined a major international law firm, Sidley Austin of Chicago, where he spent the rest of his career.
He noted that Capt. Khan had planned on being a lawyer.
Clemens, who said he had fond memories of his time at UVA – which included a stint as president of the Jefferson Literary and Debating Society – said he had never met the Khans, but did receive a copy of the U.S. Constitution from Khizr Khan, a copy that Khan had signed.
"Mr. and Mrs. Khan's gift is a fitting tribute to their son's legacy as a student of our University, a son who proudly served his country and gave his life for it," Mark. M. Luellen, UVA's vice president for advancement, said. "With this gift, the Khans are helping make a University of Virginia education – one of the best in the nation – accessible and affordable to deserving students who might not otherwise be able to attend our University. For decades to come, outstanding students with financial need will benefit from the support provided by the Capt. Humayun Khan Memorial Bicentennial Scholarship, honoring his memory in perpetuity. We are deeply grateful for the Khans' gift and the commitment to affordability, access and excellence that it represents."
The Khans moved to Charlottesville from Bristow in 2005, shortly after their son's death, to be near their two younger sons, both UVA students at the time. They have remained in Charlottesville and involved with the ROTC program, baking cookies for the cadets and inviting them to their house for meals.
Khizr Khan said that because of their health and their schedules, he and his wife have had to cut back on these dinners, but one mainstay on their calendars is the annual joint commissioning ceremony for the three ROTC programs on Grounds, held during Finals Weekend, at which a fourth-year Army ROTC cadet is awarded the Capt. Humayun S.M. Khan Memorial Award.
"We wanted to be involved with the cadets because we felt the same as did Humayun: these are exceptional people, most honorable, caring, leaders of our nation and patriots – the best of the University," Khizr Khan said. "It also reminded us of our son. In each and every one, we see a reflection of Capt. Humayun Khan."
In May, a plaque was added to the wall of the Rotunda honoring the University alumni who were killed in the Iraq War. Capt. Humayun Khan's name is the only one on the plaque.
The Bicentennial Scholars Fund is a permanent endowment established by the Board of Visitors in September to support student scholarships. Backed by a combination of philanthropic support and matching funds from the Strategic Investment Fund, the overall endowment could grow as large as $300 million. The fund is an important part of the University's commitment to meet 100 percent of demonstrated need with a need-blind admissions process. UVA is one of only two public institutions in the U.S. with such a program.
For information on the Khan Scholarship or the Bicentennial Scholars Program, contact Adrienne Gardner at AGardner@virginia.edu or 434-297-6978. 
Article Information
June 16, 2017
/content/khan-scholarship-will-preserve-alumnus-memory-sacrifice