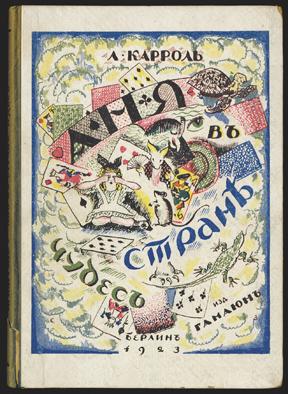 Jan. 2, 2007 — The names of leading Russian artists and writers Marc Chagall, El Lissitzky, Aleksandr Rodchenko, Osip Mandelshtam, Vladimir Nabokov and Boris Pasternak are familiar in the world of art and literature. What might surprise many is that they and numerous others created children's books.
"The Firebird and the Factory: Modern Russian Children's Books," an exhibit at the University of Virginia's Harrison Institute and Small Special Collections Library, features more than 100 Russian children's books, original artwork and posters that illuminate the sweeping changes in Russian life and politics from the late Imperial period through the early Soviet era.
Children's books often do not survive the hard use by their readers. Russian works for children are especially rare because so many were lost to the ravages of revolution and censorship. The artwork and original editions that have survived are valuable cultural artifacts that document early 20th century history, literature and arts, and are being rediscovered by Russian graphic designers and art historians.
The exhibit, on view through April 9, features works on loan from the private collection of Russian art and book collector Sasha Lurye and items from U.Va. Special Collections. The exhibit was curated by Kelly Miller, affiliate U.Va. librarian and Slavic languages and literature scholar, and Margarita Nafpaktitis, assistant professor in Slavic languages and literature at U.Va.
Notable items on display include:
Books illustrated by Marc Chagall, El Lissitzky and Vladimir Tatlin
Vladimir Nabokov's 1923 Russian translation of Lewis Carroll's "Adventures of Alice in Wonderland"
Russian editions of works for children by Hans Christian Andersen, Rudyard Kipling and Mark Twain
Children's books by the Russian poet and prose writer Boris Pasternak, author of the novel "Doctor Zhivago"
Russian alphabet books designed by artists associated with the World of Art and the Ballets Russes, including Alexandre Benois and Mstislav Dobuzhinsky
Russian fairy tales illustrated by Ivan Bilibin
Original editions of works by beloved Russian children's authors Kornei Chukovsky and Samuil Marshak
Children's books by the great Russian poet Osip Mandelshtam
Books designed by influential Russian women artists of the avant-garde, such as Olga and Galina Chichagova, Olga Deineko and Vera Ermolaeva.
For more information on the exhibit, call 243-8969.