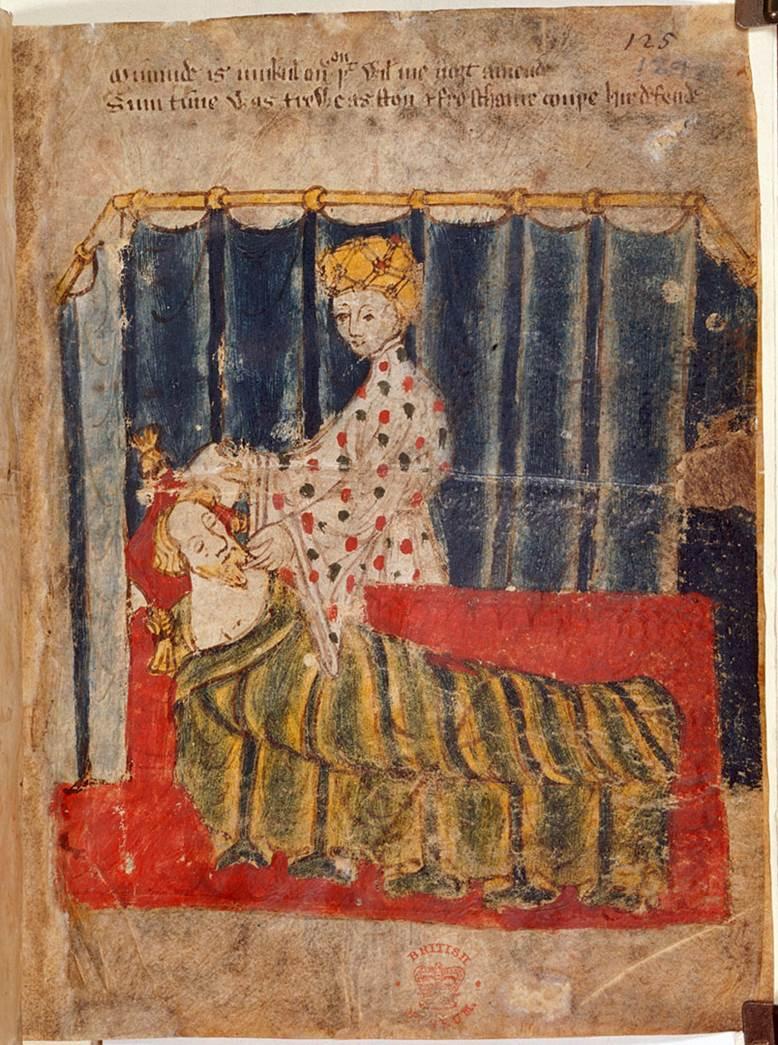 It's one of English literature's most enduring poems. "Sir Gawain and the Green Knight" dates to the 14th century, its author anonymous.
For faculty and students in the University of Virginia's English department, however, the poem is a perfect example of the timeless value of great literature.
"It's so visual," Clare Kinney, associate professor of British literature, said. "If the Gawain poet were living today, he would be writing screenplays or he'd be a great cinematographer, because of the visual sense, the point of view, the use of perspective."
With more than 65 professors, U.Va.'s highly regarded English department – it was ranked No. 10 for its Ph.D. programs in the 2013 U.S. News & World Report rankings – is bursting with expertise about literature through the ages.
Kinney sat down recently with colleagues Elizabeth Fowler, an associate professor who specializes in medieval and Renaissance literature, and Tony Spearing, William R. Kenan Jr. Professor of English, to talk about this unusual story of one of the knights of King Arthur's court.
As in many legends of Camelot – and especially in this story of Sir Gawain – the hero's quest is full of intrigue, hardships, social commentary and adventure.
"One of the great things about great poetry is that it changes so much in time. It begins to mean something different to you as you move through your life," Fowler said. "It grounds us and reminds us of what we value."
She vividly remembers teaching the poem in class the day after Sept. 11, 2001. "Sir Gawain and the Green Knight" spoke to her students and her in an entirely new way, she said.
The beginning of the poem hearkens back to the fall of Troy and talks about the burning of towers. "It was a way of making sense for us of what had happened with 9-11, and why it was the sky-scraping towers that were the object of that violence – that they stood for a kind of imperial history that meant something around the world that was quite different than what it meant to Americans usually," Fowler said.
"So it was suddenly a much more sobering and dangerous poem, the entirety of it – the beheading game, the violence in the poem, which coincides with the intricate etiquette and manners of this incredibly stylish court. ... I'll always think of it in a different and more complex way," she said.
Here's a plot summary: During a New Year's Eve feast at King Arthur's court, a strange figure, referred to only as the Green Knight, pays an unexpected visit. He issues a challenge, saying that he will allow any knight who accepts it to strike him with his own axe, on the condition that the challenger find him in exactly one year to receive a blow in return. Sir Gawain takes the challenge and chops off the head of the Green Knight, who, to everyone's surprise, picks up his severed head and rides away.
As the year's end approaches, Gawain leaves Camelot in search of the Green Knight. After a long journey with hazardous adventures, Gawain finds a castle where he is welcomed by the lord and lady. The lady tries to seduce Gawain several times, to no avail. Then Gawain must leave, to seek the Green Knight and to meet his fate.
"Sir Gawain and the Green Knight" survives in only one manuscript – "one small, messy vellum manuscript in the British Library, and it contains four poems, which we think are all by the same poet. 'Sir Gawain and the Green Knight' is one of them," said Spearing, who has published a dozen books on medieval poetry.
"We don't know anything about the poet for certain," he said. "What scholars tend to think nowadays is that he was a cleric, because there is a lot of religious material in his poems, and that he might have been a cleric from the area where the dialect of the poems comes from – the northwest midlands of England."
Whoever the author was, he describes many aspects of daily life at the time, from what Gawain's armor was like to how the table was set and decorated at a castle feast.
"The poet imagines events, and it feels like it's happening before your eyes," Spearing said. "It's probably the earliest description of a winter landscape."
Kinney's students appreciate the poetic techniques of the writer as well as the relevance they've found in reading the poem. Jake Phipps, a third-year student double-majoring in English and philosophy, said the writing has raised the hairs on the back of his neck.
"I have read this poem for four out of the last five semesters and never tire of it," he wrote in an email. "There are always more things to go back to. ... The 14th century was anything but a dark age. I am humbled by this poem and its ability to delve into issues of faith and morality that are still quite pertinent today."
Fourth-year student Charlie Tyson, who is majoring in English and political and social thought, wrote, "Gawain is a hero with whom many of us can identify, even today."
"Gawain's central dilemmas – his longing to be good counterbalanced by his desire to survive his contest with the Green Knight – are problems that we all, in some form, encounter from day to day: we want to do the right thing, but we also fall victim to self-interest. And words, not swords, are the weapons most of us wield."
For Kinney, the poem also stands out in that way: Rather than giving readers a moral at the end – a convention at the time – Sir Gawain's anonymous author makes judgments in multiple voices, leaving it up to readers to decide the outcome of the complex ethical situations in which Sir Gawain finds himself.
WTJU radio's show, "Soundboard," aired the professors' conversation Oct. 9, including an excerpt that Kinney translated into contemporary English, which Spearing recited in the original middle English.
"While WTJU has primarily focused on music outreach, our public affairs department has also been searching for ways to engage more with the U.Va. community," Lewis Reining, WTJU public affairs director, said. "This radio project allows us not only to introduce our audience to literature they might otherwise overlook, but also to showcase the talent and enthusiasm of the U.Va. faculty."
Media Contact
University News Associate Office of University Communications
anneb@virginia.edu (434) 924-6861