Addressing the sold-out crowd amassed to see the 29th annual Virginia Film Festival's closing film, "La La Land," festival director and University of Virginia Vice Provost for the Arts Jody Kielbasa called this year's festival the best he has ever been a part of.
"It has been an incredible festival," Kielbasa said. "I have been doing this 18 years, eight years here and 10 in Sarasota, Florida. To date, from my perspective, this is the strongest program and the most incredible list of guest artists."
Lines to see "La La Land" – an upbeat musical starring Ryan Gosling and Emma Stone – wrapped around Charlottesville's Downtown Mall on Sunday, the last of many record crowds that turned out in support of the festival. More than 300 community volunteers also lent their support, along with 10 UVA student interns who helped with planning, marketing, event coordination and many other tasks.
This year's four-day festival included guest appearances from actress Shirley MacLaine, filmmaker Werner Herzog, actor-director Liv Ullman, actor and producer Colin Firth and actor and comedian Danny McBride.
Below, UVA Today takes a look back at some of the highlights.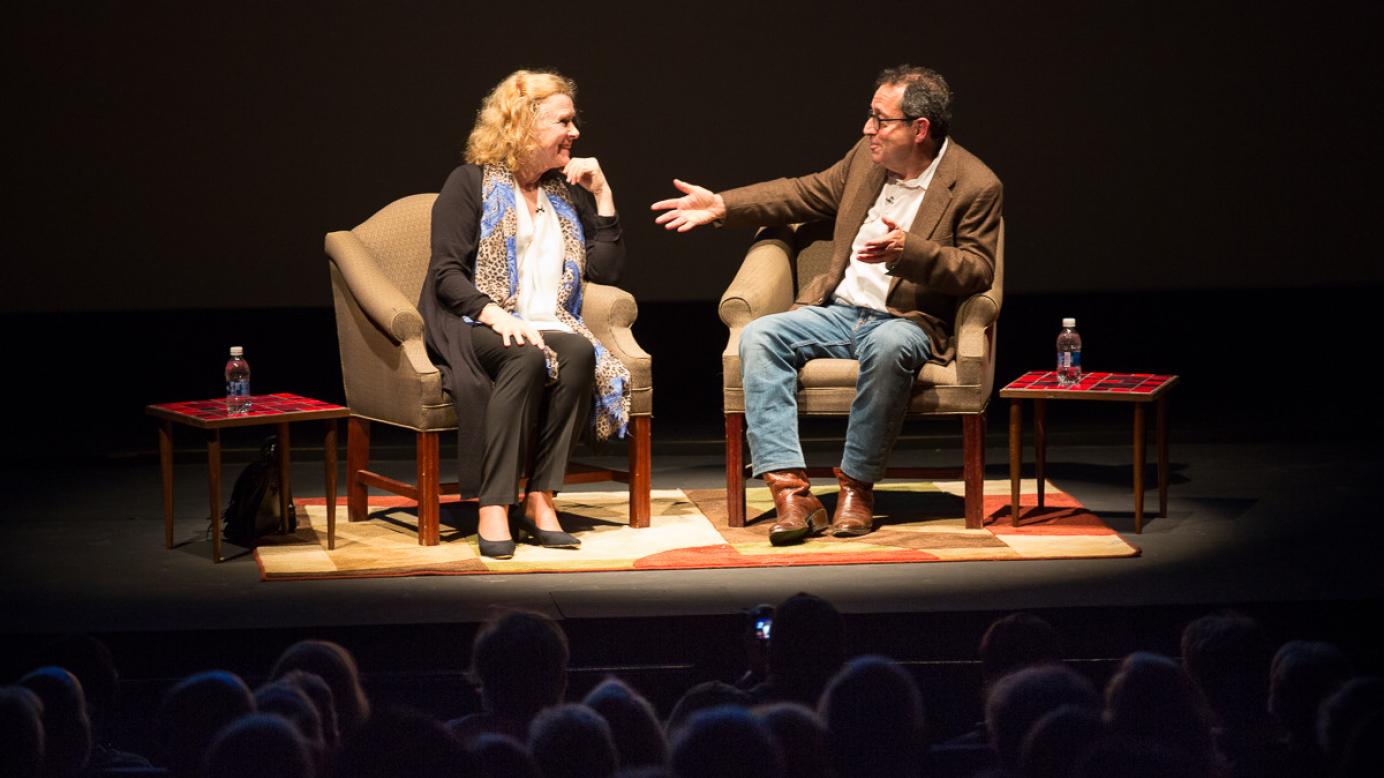 Norwegian actress Liv Ullmann, pictured at right, was among the first of several guests to appear at the festival. She joined Michael Barker, co-president and co-founder of Sony Pictures Classics, for a Thursday afternoon discussion. (Photo and header image by Jack Looney)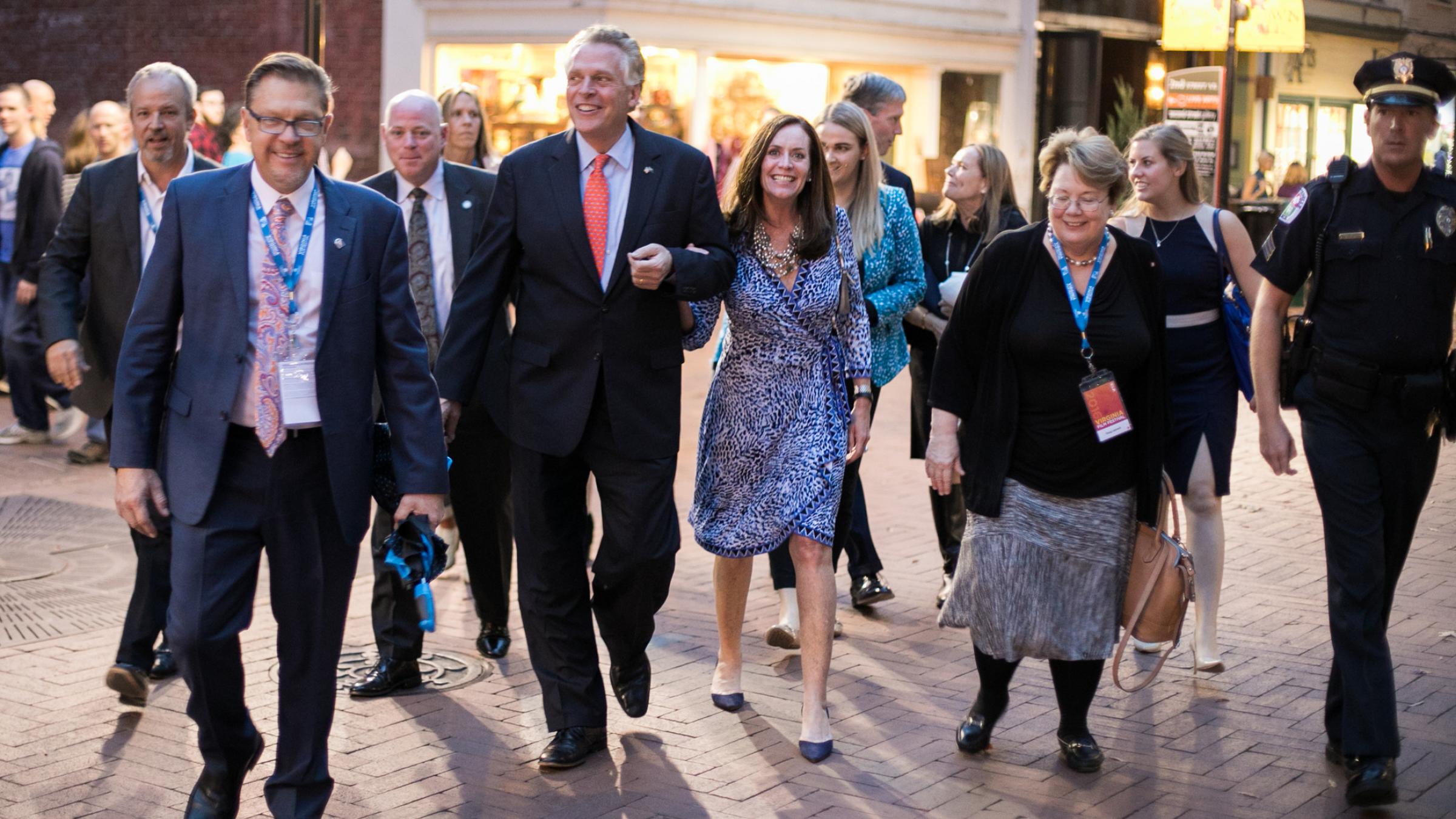 Virginia Gov. Terry McAuliffe, pictured above with Kielbasa, front left, first lady Dorothy McAuliffe and UVA President Teresa A. Sullivan, right, was in Charlottesville for the festival's opening film, "Loving." The film chronicles Virginia couple Richard and Mildred Loving's fight against laws prohibiting interracial marriage, which were ultimately overturned when their case reached the Supreme Court in 1967. (Photo by Tom Daly)
"Loving," which is already generating Oscar buzz, provided a star-studded start to the festival, including an appearance from producer Colin Firth, who decided to take a turn behind the camera after hearing the Lovings' powerful story. Firth, shown at left between director Jeff Nichols and producer Oge Egbuonu, spoke at a press conference before Thursday's screening. (Photo by Jack Looney)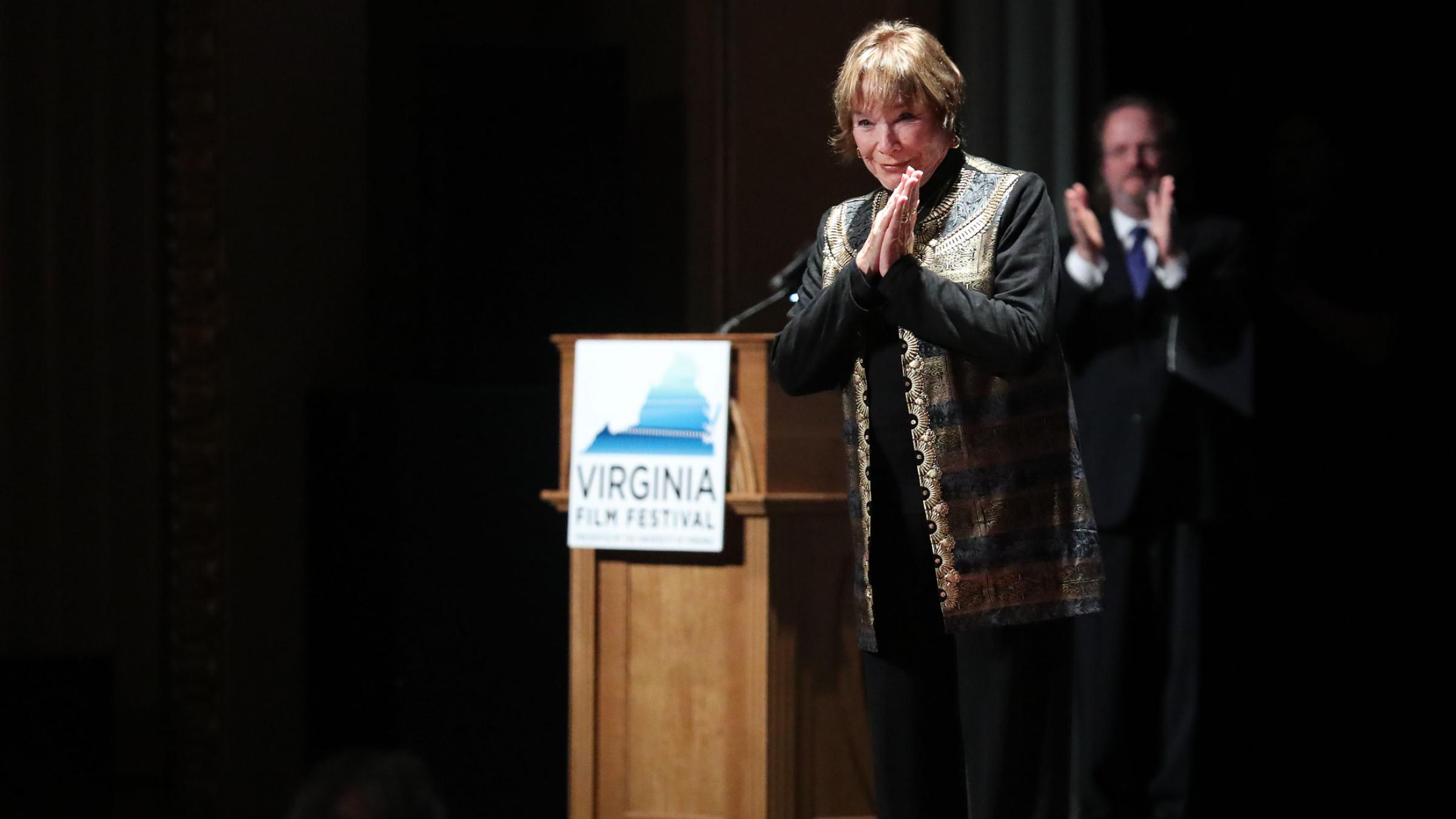 Richmond-born actress Shirley MacLaine returned to Virginia to talk about her life and career during the festival's "A Salute to Shirley MacLaine" event on Friday. A famed film, television and theater actress, MacLaine has performed in 72 films; won 44 awards, including an Oscar; and received 69 additional award nominations. (Photo courtesy of the Virginia Film Festival)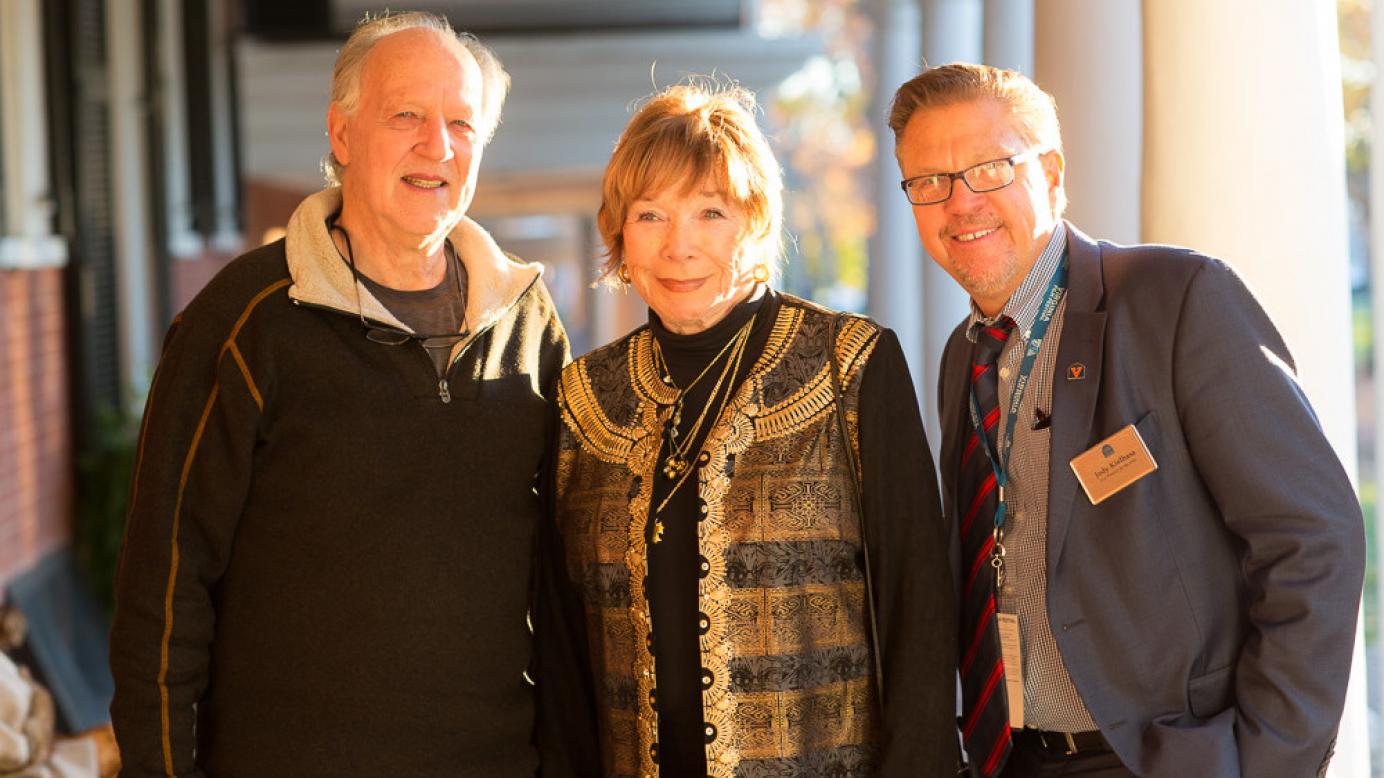 German-born filmmaker Werner Herzog, pictured with MacLaine and Kielbasa during a gathering on the Lawn, was also in Charlottesville for the film festival. (Photo by Jack Looney)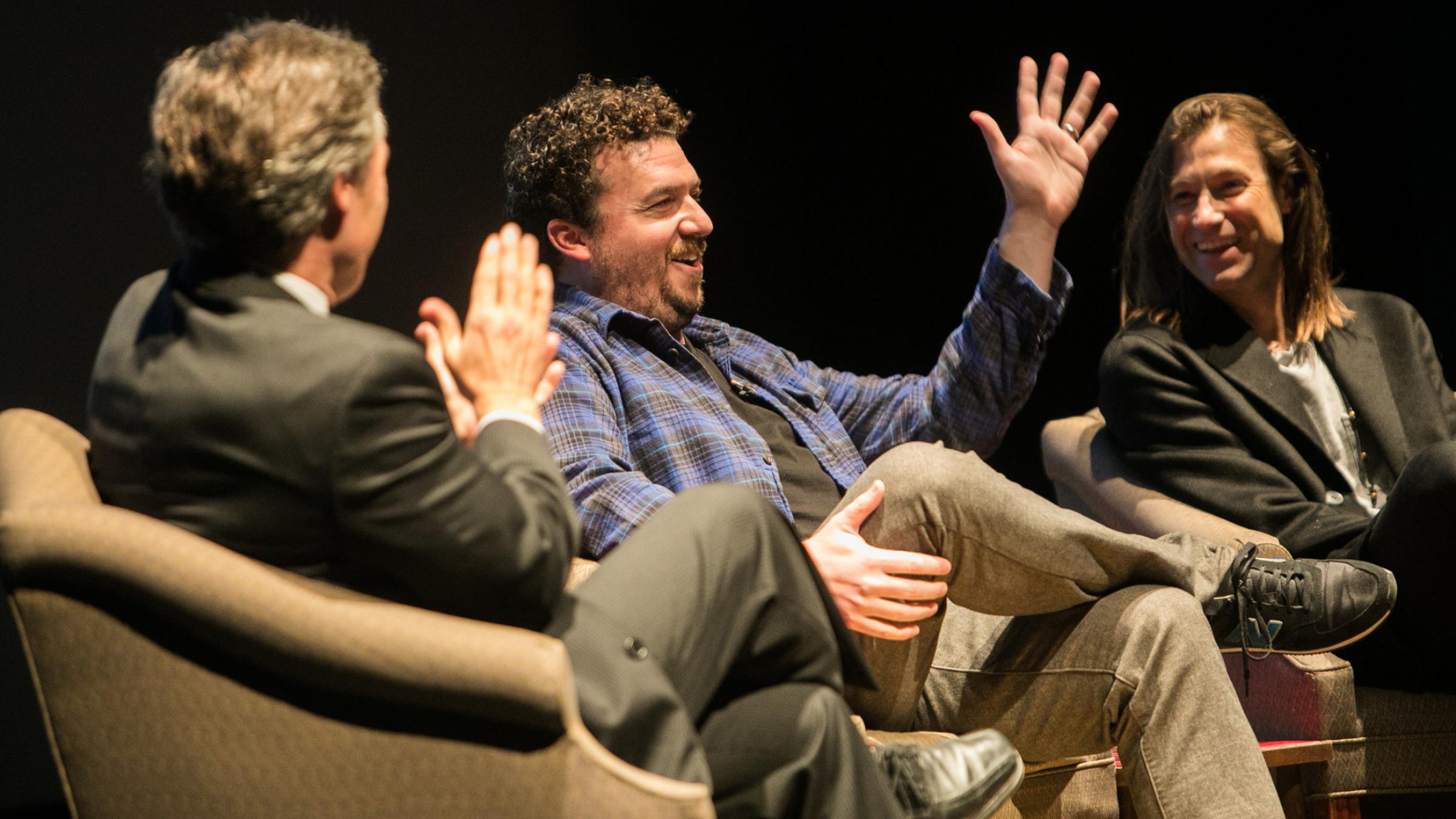 Also on Friday, comedian Danny McBride, who grew up in Spotsylvania County, was on hand for a screening of his popular HBO television series, "Vice Principals." McBride, known for his comedic turns in films like "Tropic Thunder" and "Pineapple Express," is the star, writer, co-creator and executive producer of two HBO series, "Vice Principals" and "Eastbound & Down." (Photo by Tom Daly)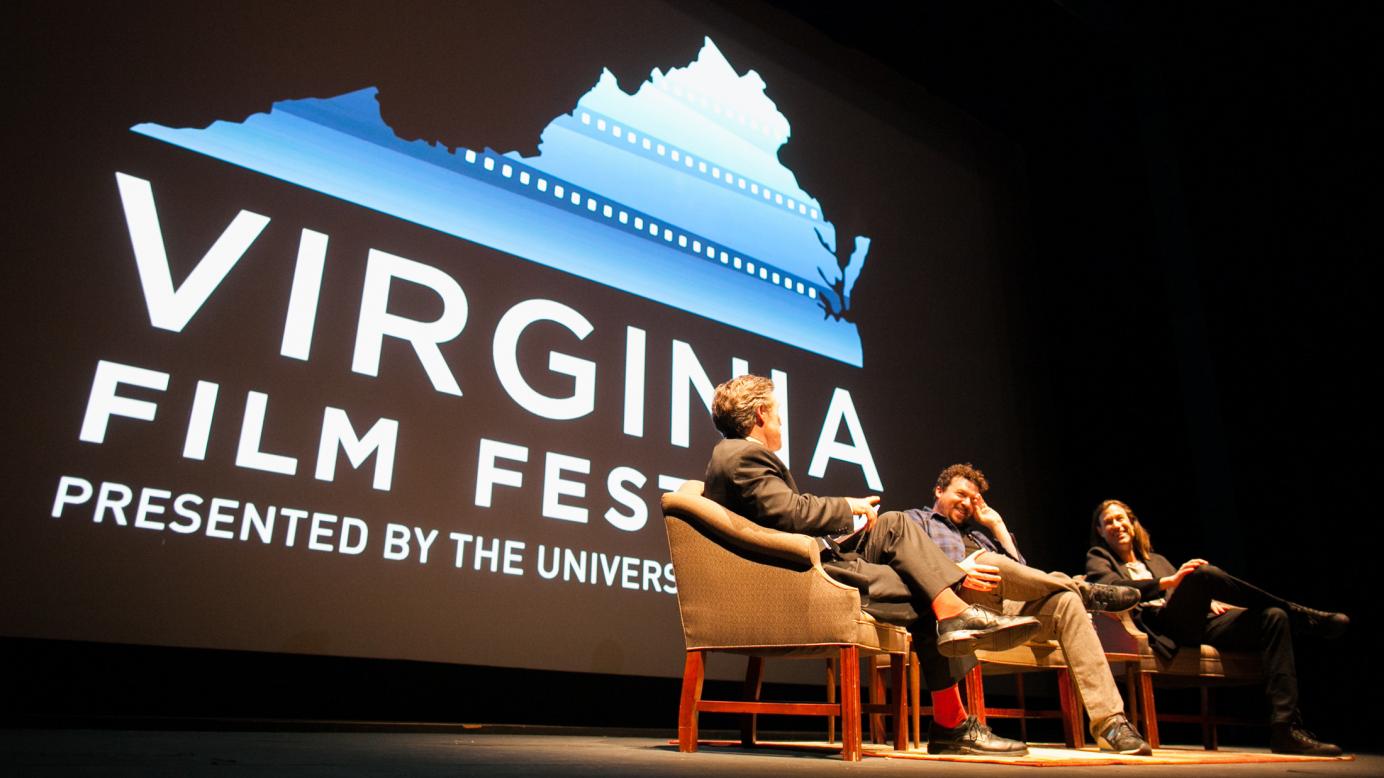 McBride joined co-creator Jody Hill and moderator Coy Barefoot for a post-screening discussion. (Photo by Tom Daly)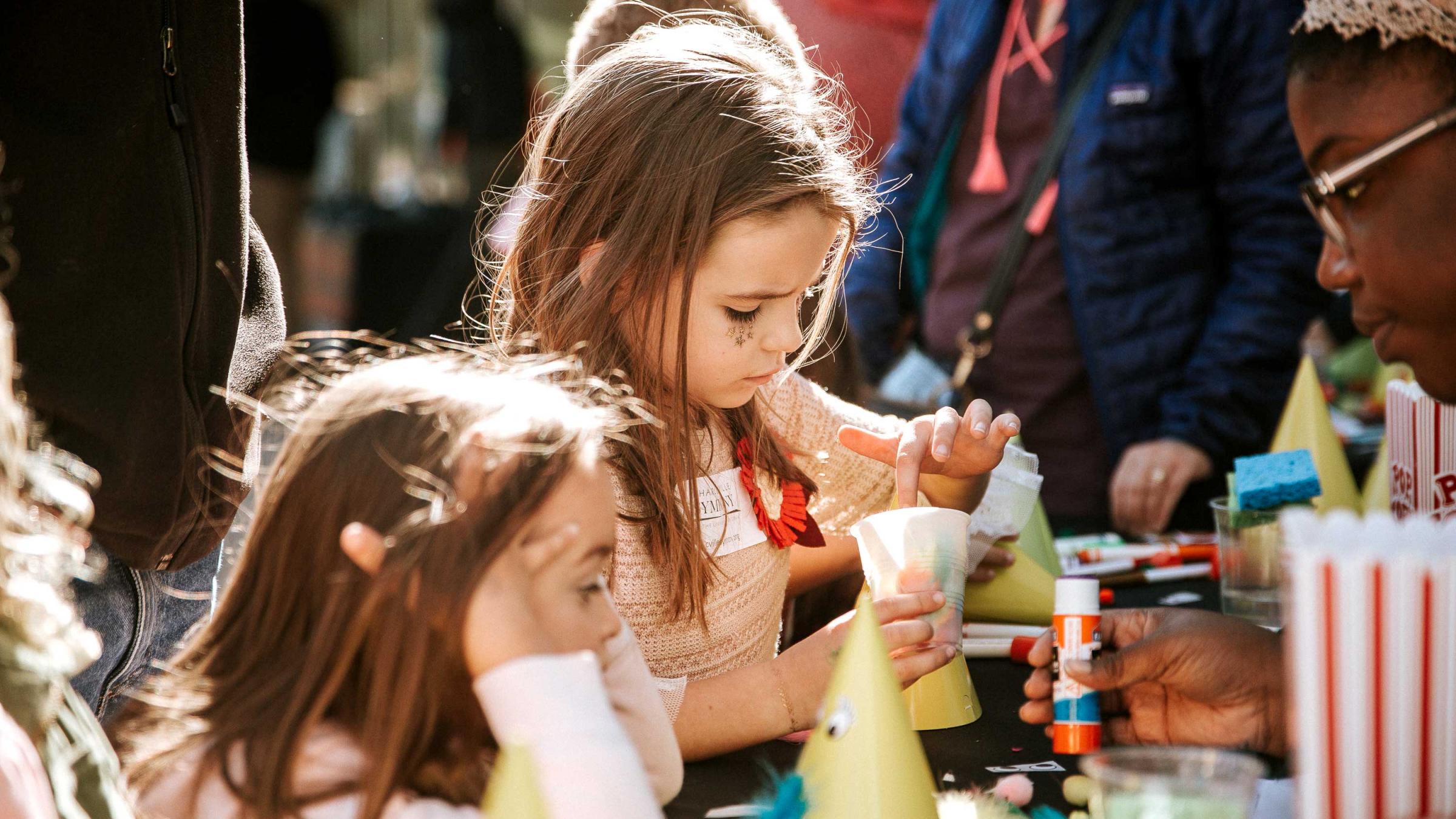 On Saturday, even the youngest film enthusiasts got in on the act during the festival's Family Day. Families gathered for a 20th-anniversary screening of "James and the Giant Peach," a musical instrument "petting zoo," crafts, face painting and other activities. (Photo by Ézé Amos)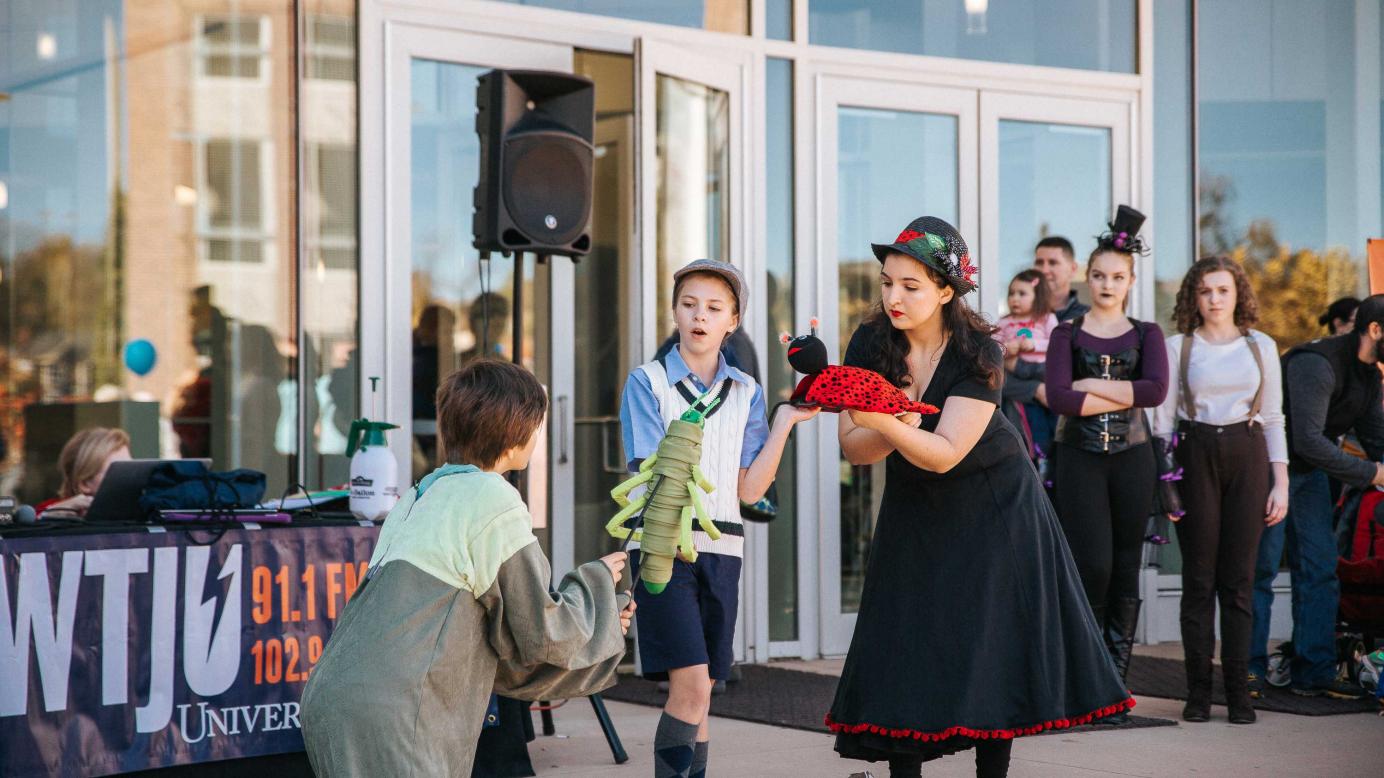 The Family Day event also featured work from more than 600 local elementary and middle school students who participated in the festival's Young Filmmakers Academy. (Photo by Ézé Amos)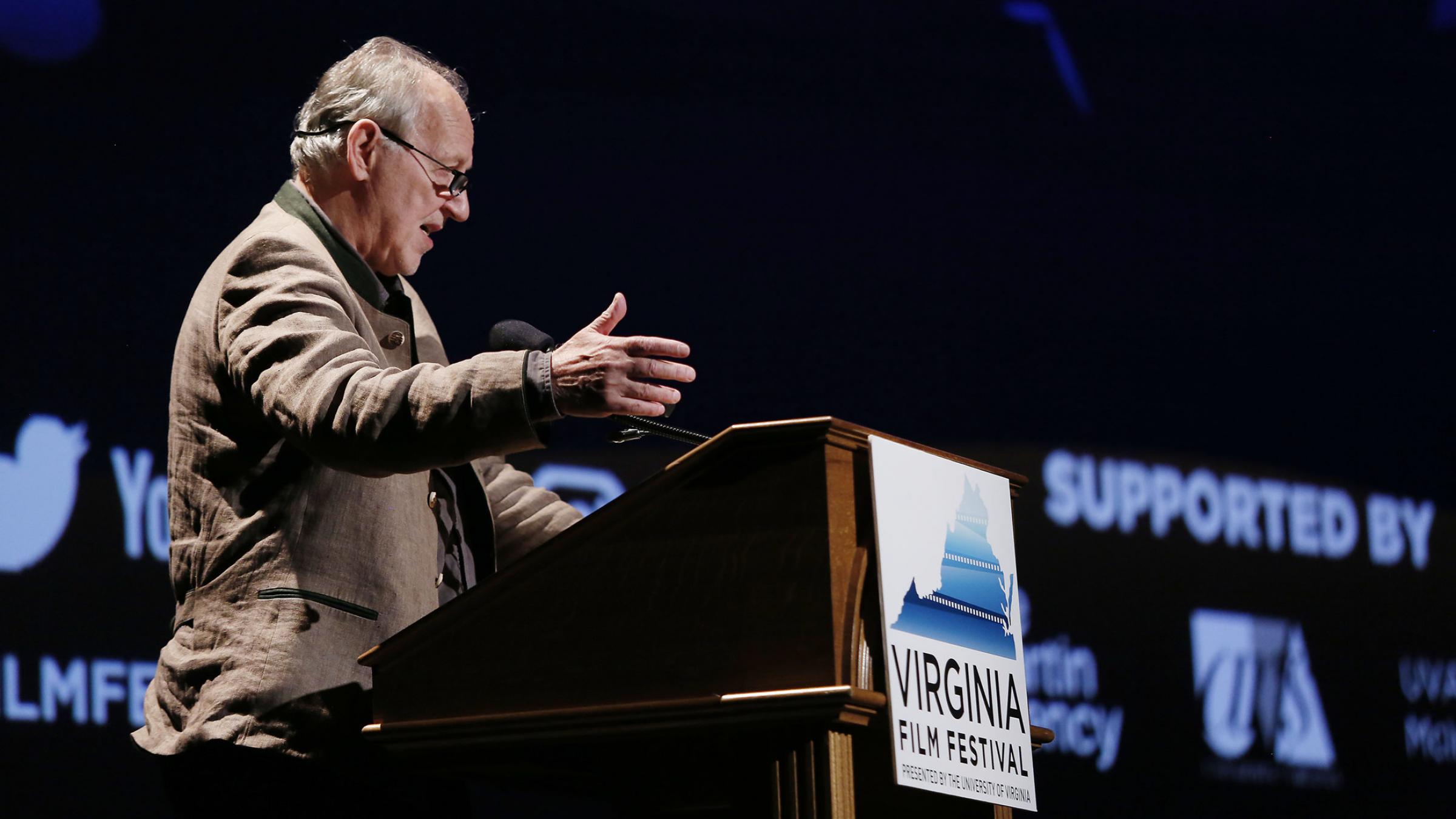 Also on Saturday, Herzog regaled his audience with tales of his filmmaking career, which often has included filming in far-flung and even dangerous locales. He screened two documentaries during the festival: his 1974 classic "The Enigma of Kaspar Hauser" and a new documentary, "Into the Inferno," which required him to travel to several active volcanoes. (Photo by Amanda Maglione)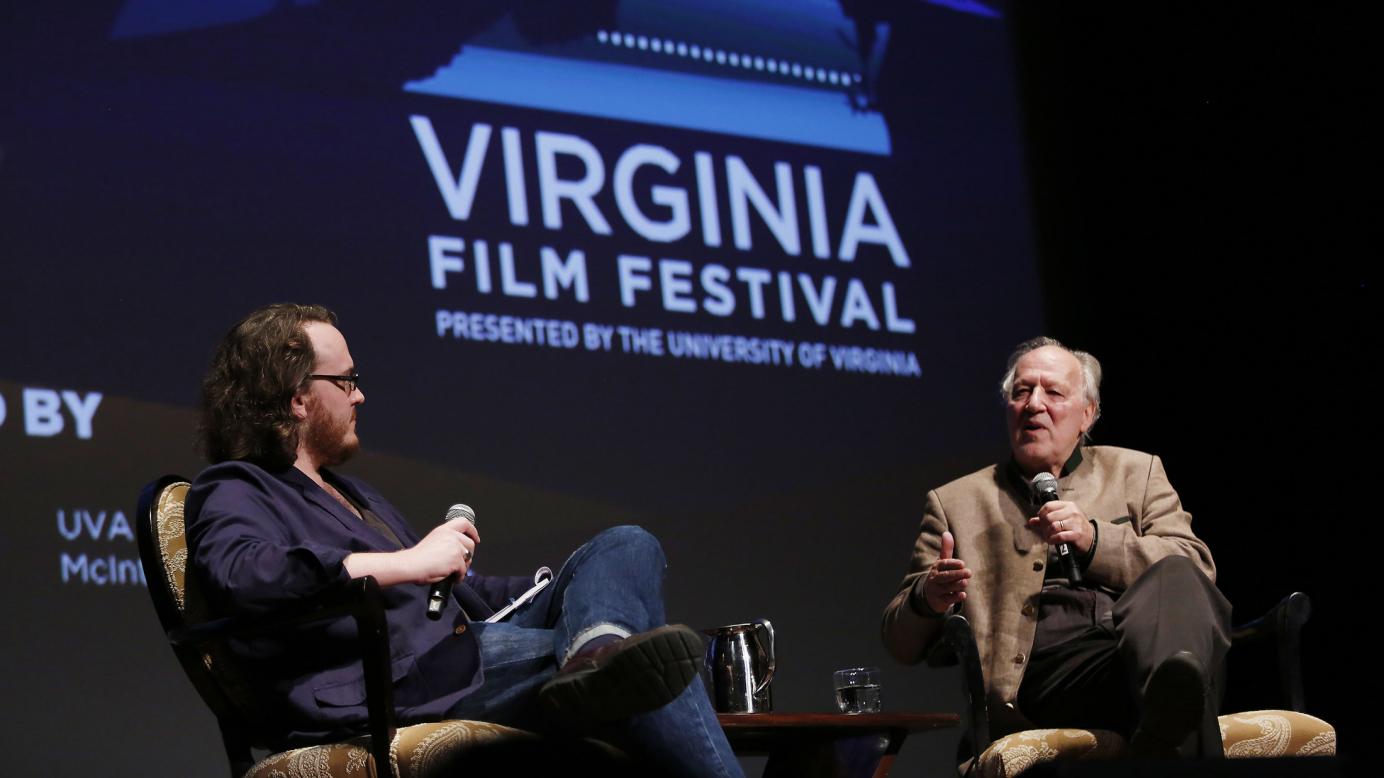 Herzog joined the festival's programmer and operations manager, Wesley Harris, pictured at left, for a Saturday afternoon discussion. He also spoke with UVA art students and faculty on Friday during a discussion held by art professor William Wylie. (Photo by Amanda Maglione)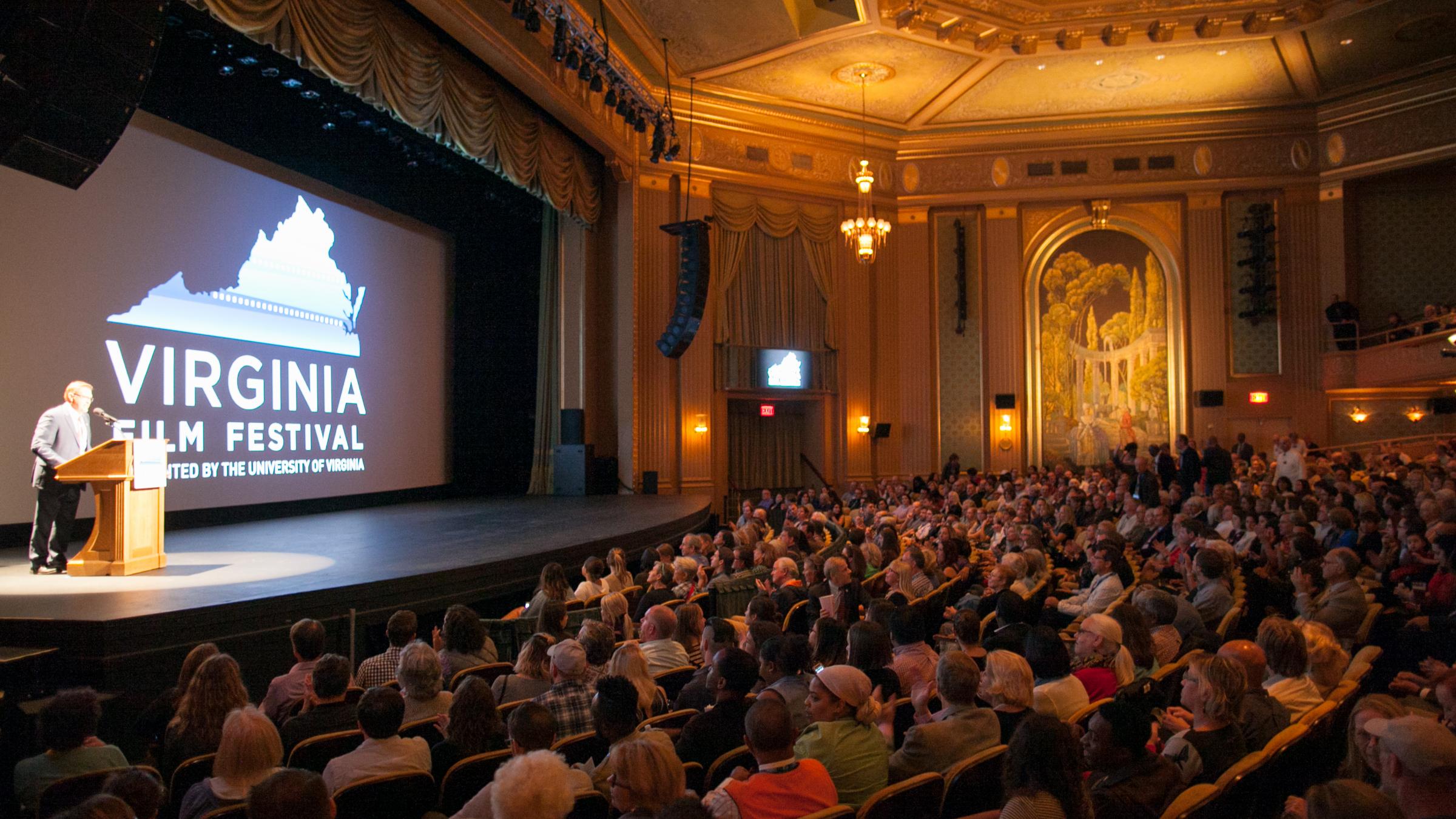 The festival closed just as it began, with another sold-out screening at the Paramount Theater. This time, audiences were treated to "La La Land," which Kielbasa called an "absolutely joyous" film, worthy of the Oscar buzz it has already received. (Photo by Tom Daly)