He earned his bachelor's degree in civil engineering from the University of Virginia in 1995, but Charles Way has never worked in that field. His professional life led him down other paths.
After graduating from UVA, Way spent 21 years in the NFL, first as a player and then as an executive, and he now works primarily in real estate. Still, if he's never actually been employed as engineer, he's made good use of the skills he learned in a demanding curriculum at the University.
"Problem-solving is always a key component of any engineer's purpose," Way said on a Zoom call from his home in Wayne, New Jersey. "So being in player development, just trying to figure out how to get things done and how to make players and coaches and ownership work together, is a task in itself, and that's what I did for almost 15 years."
Way, a bruising fullback who was a team captain at UVA, joined the New York Giants as a sixth-round draft pick in 1995. In his five seasons with the Giants, he rushed for 1,356 yards, caught 118 passes and scored 14 touchdowns.
A knee injury ended Way's playing career, but he found other ways to contribute to the organization. He spent 14 years as the Giants' director of player development before leaving the team in 2014 to head the NFL's Department of Player Engagement. In that role, he oversaw the programs and services that were provided to all NFL teams.
Way, who's from Philadelphia, grew up in a family that stressed the importance of education.
"I had people throughout my entire life always putting those expectations on me," he said. "They were like, 'I know football is your dream, but if it doesn't work out, you need to have a backup plan.' And fortunately for me, I had two great parents who encouraged me and sometimes forced me to do some of the things that I didn't want to do.
"In Philadelphia at the time, when I graduated eighth grade, they had just started a program to introduce minorities into engineering. And so that was during the summer, and as reluctant as I was about spending my summers in school again, I did that, and I enjoyed the time. We had a chance to experience college life while also getting exposed to the different fields of engineering, which was helpful, because it actually helped me prepare for the curriculum for my ninth-grade year and all the subsequent years after. And so I enjoyed it. It did one thing, if nothing else: It did tell me what I wanted to do and what I didn't want to do, and it helped me actually pick the school that I eventually went to."
He enrolled at UVA in the summer of 1990 and redshirted during a season in which the Wahoos rose to No. 1 in the polls. His ascent on the depth chart began in 1991, and as an upperclassman Way ranked among the nation's top fullbacks.
A powerful blocker, he was also a gifted runner who averaged 4.9 yards per carry as a Cavalier. Way twice rushed for more than 100 yards in a game, totaling 136 (and three touchdowns) against the University of Maryland in 1994 and 132 (and one TD) against North Carolina State University in 1994. He finished his UVA career with 1,330 rushing yards.
During his five seasons in head coach George Welsh's program, the Hoos finished 8-4, 8-3-1, 7-4, 7-5 and 9-3, respectively.
Were he entering college football today, Way noted, he'd probably be a linebacker, the other position at which he starred at Northeast High School in Philly. Fullbacks are a vanishing breed in the modern game.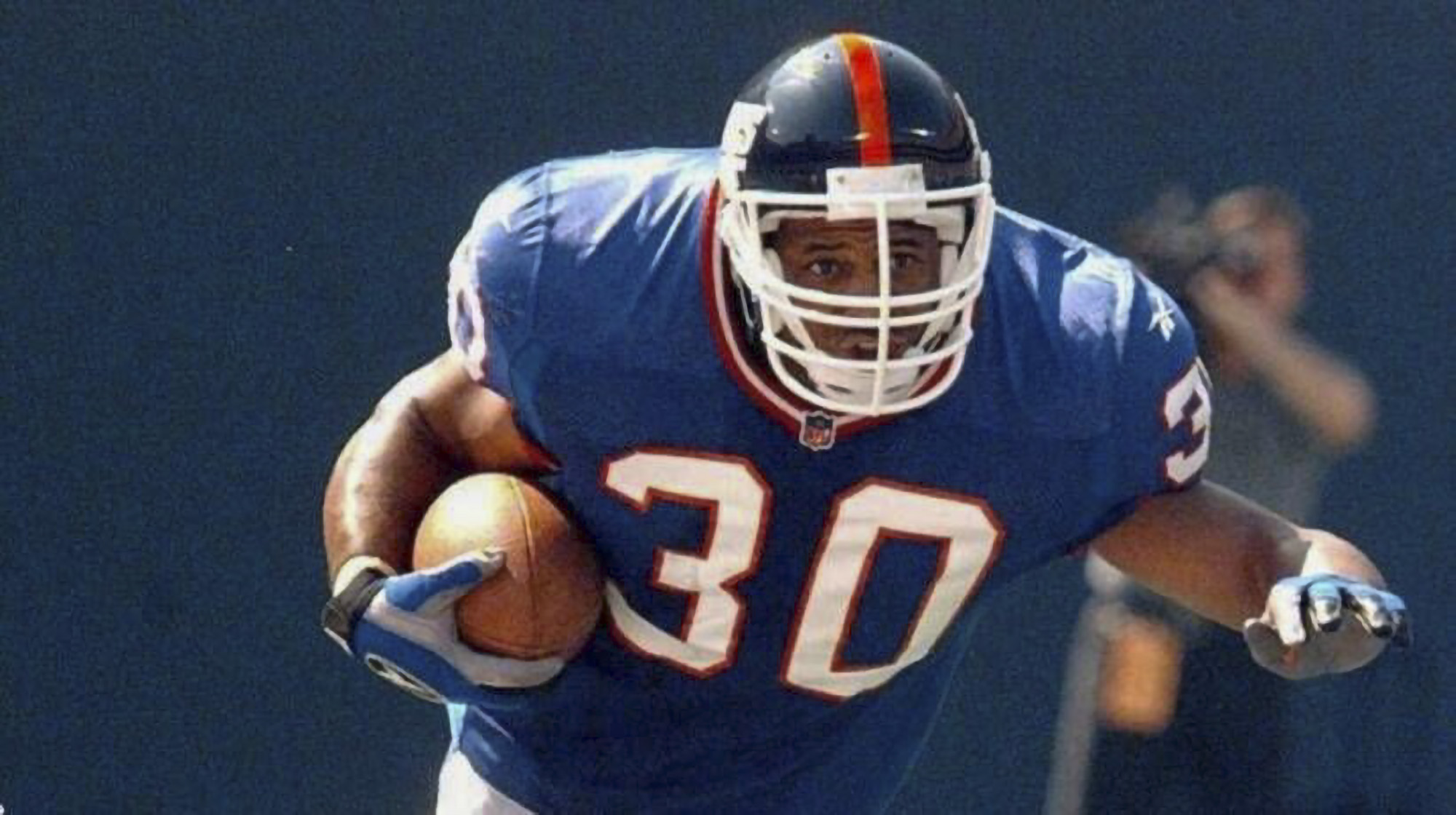 "I've been thinking about that," said Way, who was listed at 6-foot, 245 pounds in the NFL, "and there really isn't a position for a player of my stature on the offensive side, because I wasn't that fast, and that's not what the game has kind of trended toward."
Way and his wife, Tahesha Way, have four children, the youngest of whom is 7 years old. Their daughter Faythe is in her first year at UVA, where she's on the dance team, and her parents are looking forward to supporting her at football and basketball games whenever their schedules allow.
The Ways were in Charlottesville for the UVA-Duke University football game at Scott Stadium. Way said he found himself reminiscing about his college days, especially the people he met.
"I'm not just talking about the students and the staff, I'm just talking about the town," Way said. "People in general, in Virginia and Charlottesville, were different than where I came from."
He laughed. "In Philadelphia, people didn't talk to you when you walked down the street. So you're walking past a person [in Charlottesville], and they're speaking to you and saying, 'Hello, how are you?' And you're like, 'What is going on here? You don't know me.' In Philly, you only speak to people you know. And so just the welcoming and caring people that were there is one of the first things that stuck out to me when I came to Virginia.
"The second thing is, you just can't beat the environment, being around people that care just about you as a person even if they don't know you. Even my daughter said this to me this past week, 'I'm having more fun here than I would have had if I would gone to any other school.' It's that environment, that culture that Virginia is cultivating, which I love. I love the fact that when you go to Virginia, everyone feels as though they're a part of one big family."
Since leaving the NFL, Way said, he's seen the impact of his college education.
"The one thing that I can say that gives me credibility when I walk into an office is the fact that I have a UVA degree, and they are surprised that I studied civil engineering," Way said. "That Virginia education lends a lot of credibility when you're finished playing, and you're not labeled as a football player in [others'] eyes, wanting to be given things just because you played in the NFL."
Way left the NFL in 2016 and began working as an equity fund manager. He wanted to spend more time with his family, and he likes taking on new challenges.
"I love helping players, I loved to help guiding them into careers after football and exposing them to different opportunities that I wish I would have been able to take advantage of when I played," Way said. "So that was always an exciting piece for me in that role. But once I think something has run its course, I want another challenge and for me, I think that was getting out of my comfort zone."
That's one reason why he took the job with the NFL in 2014, Way said. "Being with the Giants was a comfort zone, and [the NFL position meant] getting a little bit more uncomfortable and doing something a little bit different."
Way said he enjoyed "working with all 32 teams and seeing how all 32 teams operate. Obviously, they don't operate the same, so you're making sure that you can provide the same type of quality service for everyone in their unique situation. So that was exciting, and it exposed me to corporate America and how a good executive can get things done when you have so many different opinions and views and not everyone is always aligned. It exposed me to that culture and gave me the ability to feel comfortable exploring different opportunities, like I'm doing now. I think I'm actually practicing what I've been preaching to players for roughly 25 years: Don't be afraid to get uncomfortable, because that only allows you to grow in the areas that you're weak in and become stronger individually."
Another reason he left the NFL, Way said, was to support his wife's career. Tahesha Way, who graduated from the UVA School of Law, has been New Jersey's secretary of state since February 2018.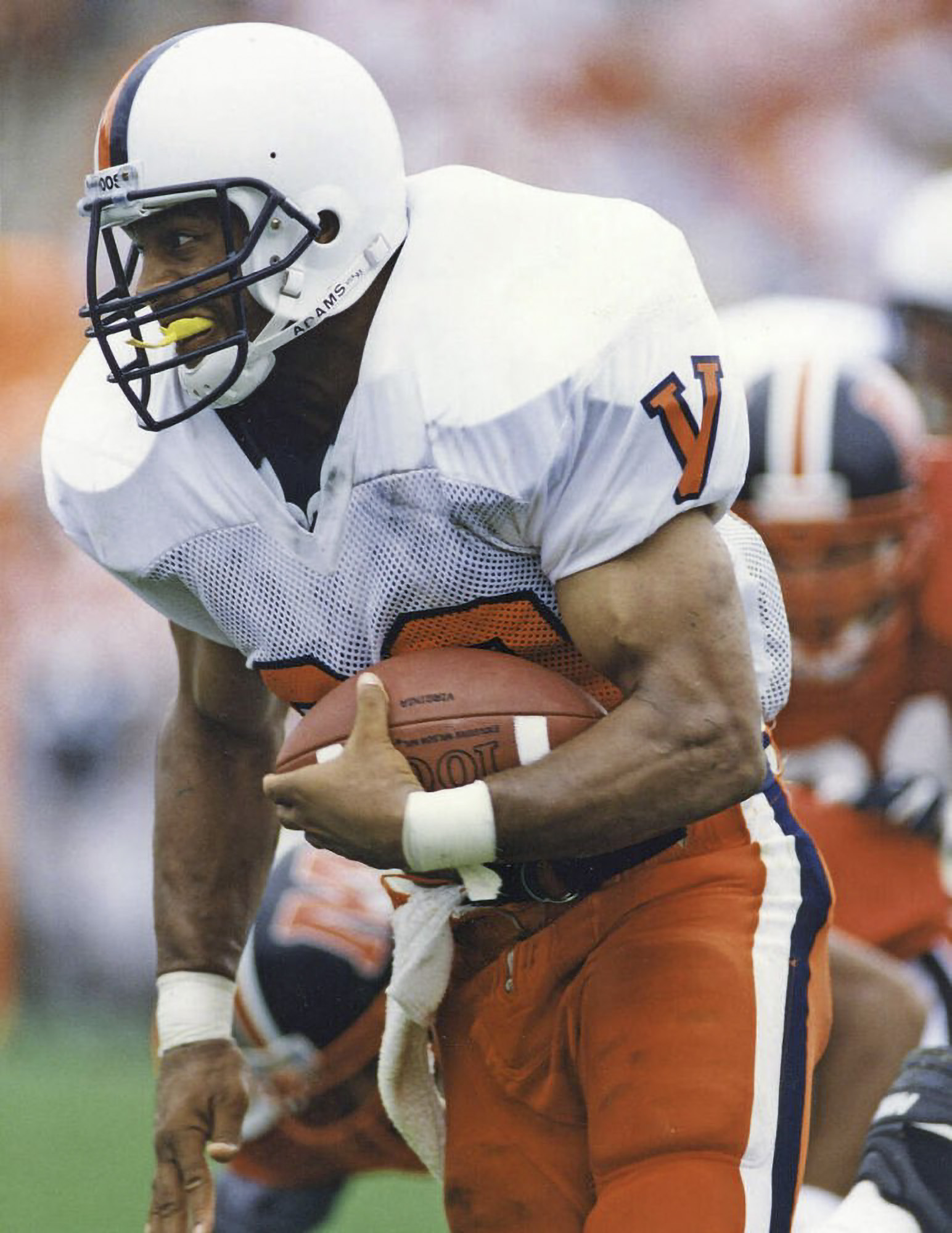 As his wife's political career was taking off, Way said, "I really was in a position to kind of take a step back and let her see her dreams through as well."
He's built good relationships at UVA with athletics director Carla Williams and head football coach Bronco Mendenhall. If it helps them reach their goals, he's happy to share his thoughts on how the University has benefited him.
"I think what I would bring to the table is letting people know that when you come to Virginia, you come for not only the experience of going away [to school] and getting away from your family and getting a great college education," Way said, "but you're getting the history behind that, the academic history, the academic credentials, that will propel you to success in your career after college."
The Hoos, who play at Brigham Young University Saturday night, are in their sixth season under Mendenhall.
"I've been around the game a very long time and around different coaches," Way said, "and I can see his vision and where he wants to go."
He likes that Mendenhall will "listen to others' opinions and just take it in and think about doing things differently," Way said. "I think he's one that does think outside the box. And not everyone's opinion is right, but if you just listen to them, maybe you can grab a piece of that opinion that may be helpful to making the program the way you want it to be. And I think he tries to do that, and I'm just excited to see where it goes."
Williams, who took over as athletics director in December 2017, is focusing much of her energy on upgrading the Cavaliers' facilities. The first phase of the department's Master Plan was completed in the summer of 2020. The centerpiece of the next phase is a new operations center for the football program.
"We've actually been able to speak very often," Way said. "So it's been really good to get to know what her plan is for Virginia and how she plans to accentuate a lot of the positives and grow in some of the areas that we're not as strong in."
Article Information
November 3, 2021
/content/making-his-way-former-fullback-now-real-estate-keeps-close-tabs-hoos