Find the latest information on the University's response to the coronavirus here.
This time last year, Mamadi Diakite had just hit the shot that kept the University of Virginia men's basketball season alive, arcing the ball over a 7-foot-3 defender to send the Hoos to overtime against Purdue University, and then to the Final Four and the program's first-ever national title.
It was a historic moment in a season full of them, but now, Diakite is dealing with a different kind of history, a global moment that feels very far removed from the raucous, joyful, not-at-all-socially-distanced celebrations of a year ago.
Instead of defending their national title in the 2020 NCAA Tournament, Diakite and his teammates are holed up in apartments or houses, seeing each other only on video chat. His classes are online as UVA, like so many other universities and institutions, works to combat the global COVID-19 pandemic. The NCAA Tournament is canceled, as are all spring athletic events, too.
Diakite's last game in a UVA uniform, although he didn't know it at the time, was on March 7 at John Paul Jones Arena, where he walked off the court arm-in-arm with fellow senior Braxton Key after defeating the University of Louisville, 57-54 on Senior Night.
Now, the 6-foot-9 forward is on a Zoom press conference, talking to reporters about a season and a semester that suddenly vanished.
"We were confident. We were ready to surprise the world [in the NCAA Tournament]" Diakite said of the Cavaliers, who were riding an eight-game winning streak before the sport shut down. "But we all understand and respect that safety must come first. … I thought [the cancellations] were very alert, something that had to happen in order to save a lot of people."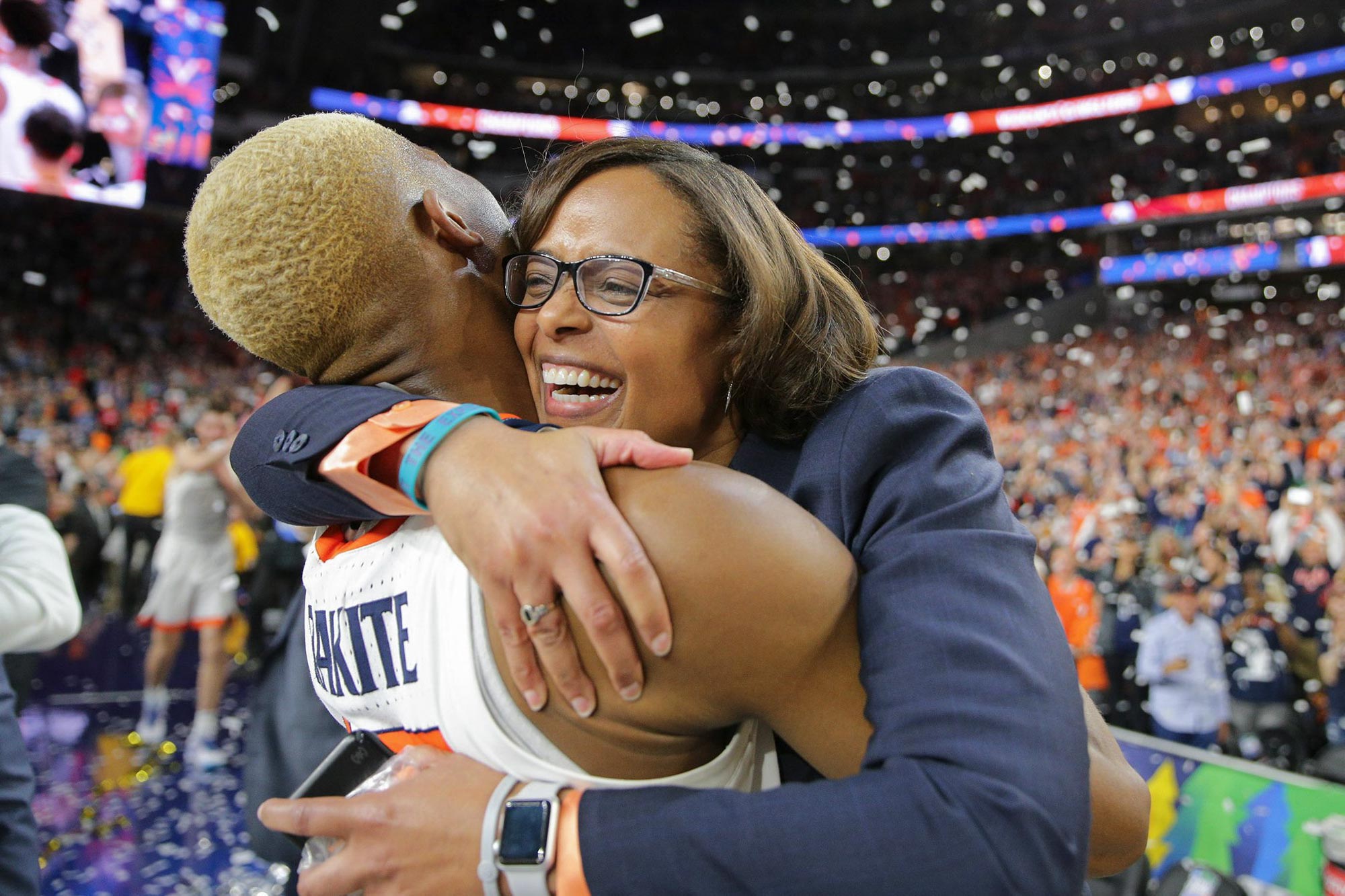 Diakite and his teammates were looking forward to defending their 2019 national championship, which he celebrated with UVA Athletic Director Carla Williams. (Photo by Matt Riley, UVA Athletics)
One thing hasn't changed: Diakite's positive outlook. Known for his big smile and joyful demeanor on and off the court, he's a firm believer that a positive attitude can make even a dire situation a little better. 
"To me, in hard moments, being able to smile, being able to enjoy and see the positive in anything, is my strength," he said. "That helps a lot of people around you, your teammates, just everyone. Especially this year, when everything was hard, I know people look up to me, and I hope they see I still have that smile and can get through the ups and downs."
Like most of us, Diakite has had to adjust his routines in this time of isolation. He could not return home to be with his family in Conakry, Guinea, so he is isolating in Charlottesville, leaving his apartment only to go work out, alone, as he eyes the 2020 NBA Draft, currently scheduled for June 25.
"I'm just doing what I can to stay home, stay away from others," he said.
The isolation has given Diakite more time to reflect than usual. He's even had time to watch re-runs of last year's NCAA Tournament, something he had not done before. When CBS replayed the national title game a few weeks ago, Diakite watched just as eagerly as many UVA fans.
"It felt like I was back in that moment again, like it had not really hit me this whole year until now, when I am not doing anything," he said. "Being able to watch that again, I realized I was a part of something very special."
Looking Back
Many young basketball players grow up dreaming of their "one shining moment" cutting down the nets. Diakite was not one of them.
Growing up in Guinea's capital city as the youngest of four siblings, Diakite lived and breathed soccer. It wasn't until an extraordinary growth spurt hit that he began to think about basketball.
Turns out, he was pretty good at it.
By 2013, Diakite had earned a spot at the Blue Ridge School, a private all-male boarding school outside of Charlottesville that attracts many international students. There, the naturally athletic teenager excelled in soccer, track and, of course, basketball.
In 2015, after a competitive recruitment process, he accepted head coach Tony Bennett's offer to join the Cavaliers – mostly, Diakite said at the press conference, because of Bennett's kindness, integrity and his clear interest in helping his players grow on and off the court.
"I made that decision because of who he was and what he meant to me," Diakite said.
Five years later, Diakite, like most of his graduating classmates, is reflecting on all that resulted from that one decision to attend UVA.
"It's incredible, looking at the difference between my first time on campus and now," he said. "I'll miss my teammates and the staff the most, and the fans and all those around Grounds who were supporting us every day, through those ups and downs."
Diakite is a French major and took many courses focused on literature and art in French-speaking countries like his native Guinea.
Associate French professor Kandioura Dramé, Diakite's adviser, said Diakite's personality shined through in the classroom as much as on the court. Diakite met Dramé early in his UVA career, and has said that the French professor reminds him of his father. Cultural similarities between Diakite's home in Guinea and Dramé's home country of Senegal, where Diakite often traveled growing up, gave them more common ground.
"In the classroom, Mamadi was obviously a focal point for his classmates, not only because of his great height and basketball fame, but also because of his quick, bright smile and his pleasant demeanor," Dramé said.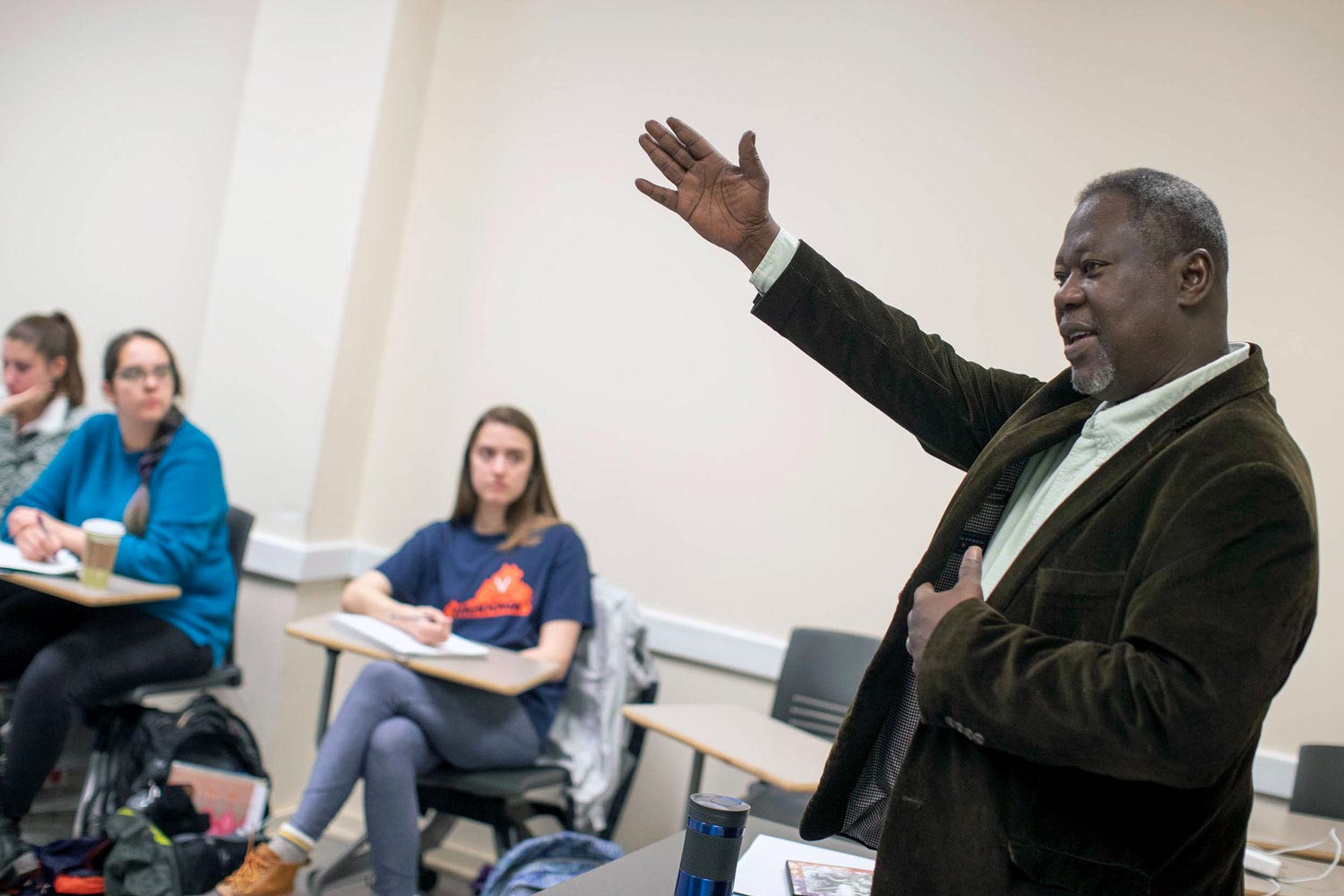 French professor Kandioura Dramé said Diakite was as much a key contributor in the classroom as he was on the basketball court. (Photo by Sanjay Suchak, University Communications)
"The fact that he was never too shy to offer a comment about a reading assignment helped encourage others to contribute to discussions in class. He was at his best during discussions of Francophone African films and literature. He often helped create a lively and congenial ambiance in the classroom."
Diakite was able, the professor said, to balance his coursework with the demands of the basketball season, even during the busiest periods.
"With the help of T.J. Grams, his academic adviser in the Athletics Department, Mamadi learned to balance basketball and the requirements of his French major, and became a successful student we are very proud of," Dramé said. "It is a joy for me to see him graduate with a major in French, and I believe his parents will be delighted to know that Mamadi has completed his academic career at the University of Virginia at a distinguished level on the basketball court and in the classroom."
Looking Ahead
Though his college basketball career has ended, Diakite's time on the court is far from over. He has signed with an agent and will enter the NBA Draft after receiving promising feedback from teams that evaluated him during last year's advisory period.
Former Hoos and current NBA players like Malcolm Brogdon and DeAndre Hunter are helping him to prepare for the next level.
"Last year, Malcolm told me it was good for me to go through the [advisory] process and that, this year, I had to be all in, just come back and be a killer," Diakite said.
Diakite, it seems, took that advice. He was a leader on this year's team, in both points and spirit, and a consistent force on offense and defense. He finished the season just three points shy of 1,000 career points, a milestone he surely would have reached in tournament play. His dunks, blocks, three-pointers and clear love of the game consistently brought John Paul Jones Arena to its feet. And, coaches say, his attitude and potential for growth would be an asset for pro teams.
"Mamadi brought a level of enthusiasm and passion to UVA basketball that will forever be remembered," associate head coach Jason Williford said. "He loved to play the game and compete against the best, and always brought that infectious smile and childhood exuberance. He will be greatly missed.
"As a pro, someone will get a competitor and very skilled athlete who will only continue to get better. Mamadi will work to be the best he can be, and bring tons of energy to whatever team gets him."
Asked about his expectations for this year's draft, Diakite left the projections to the experts.
"All I can say is that I am a player who will play wherever you want to play me. I'm ready for it," he said. "I will be there to do the job."
And, he pointed out, he will approach the next level armed with all of the lessons that Bennett and UVA taught him.
"I will always remember Coach giving me the opportunity to come here," he said. "I think it paid off. I am a different man than when I first got here."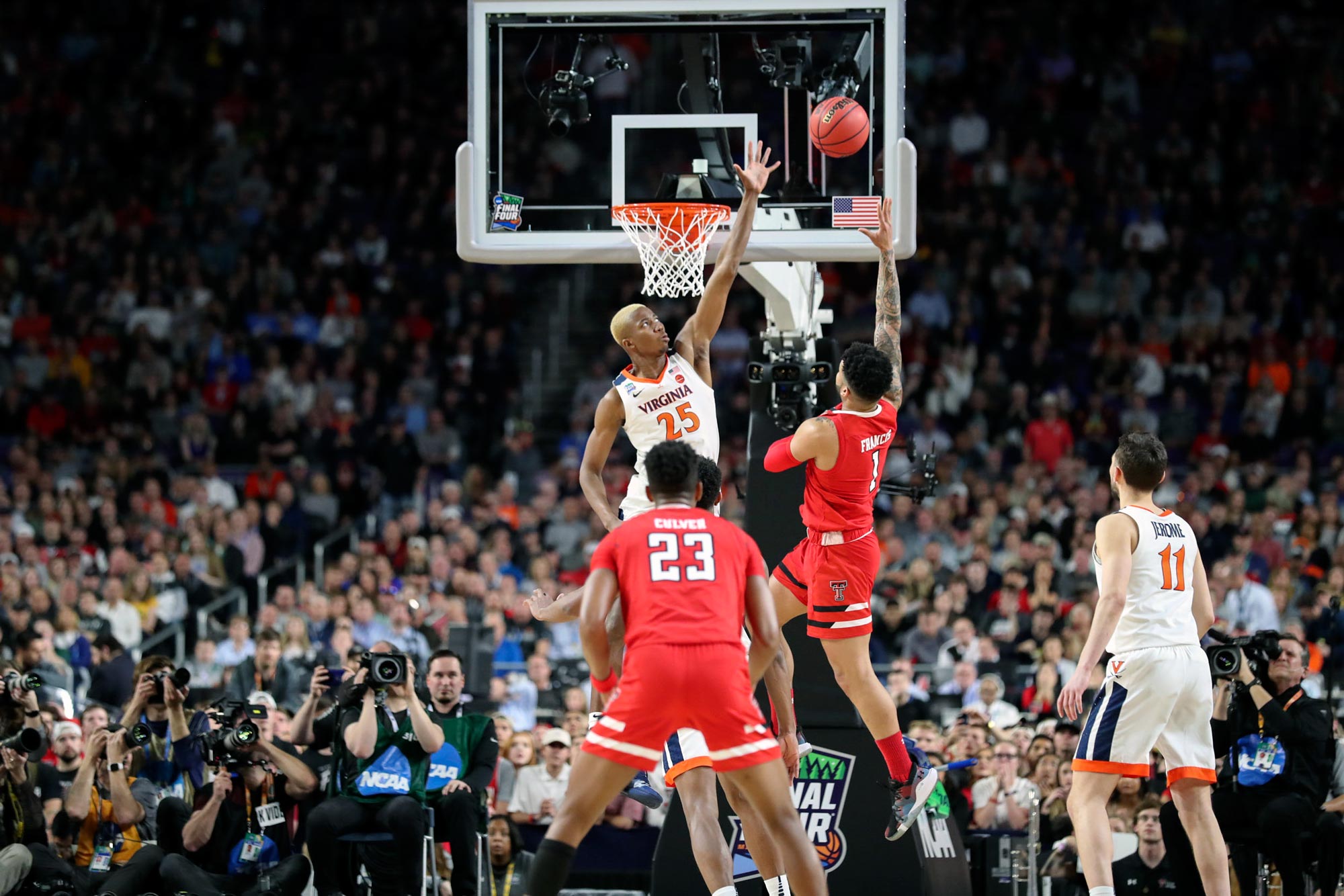 Diakite, here blocking a Texas Tech player's shot in the 2019 NCAA title game, is preparing for life as a professional basketball player. (Photo by Matt Riley, UVA Athletics)
Media Contact
Article Information
April 6, 2020
/content/mamadis-last-word