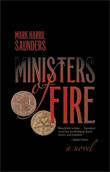 The Wall Street Journal named it one of the top 10 mystery novels of 2012 and the Washington Post listed it as one of the 50 notable works of fiction of the year. It's Mark Harrill Saunders' "Ministers of Fire."
Saunders, assistant director and currently interim director of the University of Virginia Press, earned his master of fine arts degree from U.Va.'s Creative Writing Program in the College of Arts & Sciences. Swallow Press published the novel – Saunders' debut – in May.
"The spy novel in 2012 is subject to questions of whether it can adapt to the post-Cold War era. I wanted to capture the geopolitical situation and amplify certain themes to create larger meaning," Saunders said in talking about the book earlier this year.
From China's alliance with the U.S. during the Soviet Union's war in Afghanistan to the aftermath of the Sept. 11 terrorist attacks, "Ministers of Fire" follows the mid-life career of fictional CIA station chief Lucius Burling and his involvement with the fate of a Chinese dissident.
Media Contact
University News Associate Office of University Communications
anneb@virginia.edu (434) 924-6861