How can big data reduce stroke fatalities in America's southeastern "Stroke Belt?"
How do stakeholders treat female CEOs and male CEOs differently?
How can we prevent cyberattacks like those that crippled Yahoo or even the Democratic National Committee?
On Friday morning, 10 faculty members in the University of Virginia's McIntire School of Commerce shared research addressing these questions and many more in 10-minute TED Talk-style presentations. The first six speakers presented research tackling broad social questions or problems, while the final four speakers focused on curricular innovations they are leading to prepare Commerce students to solve the problems of the future.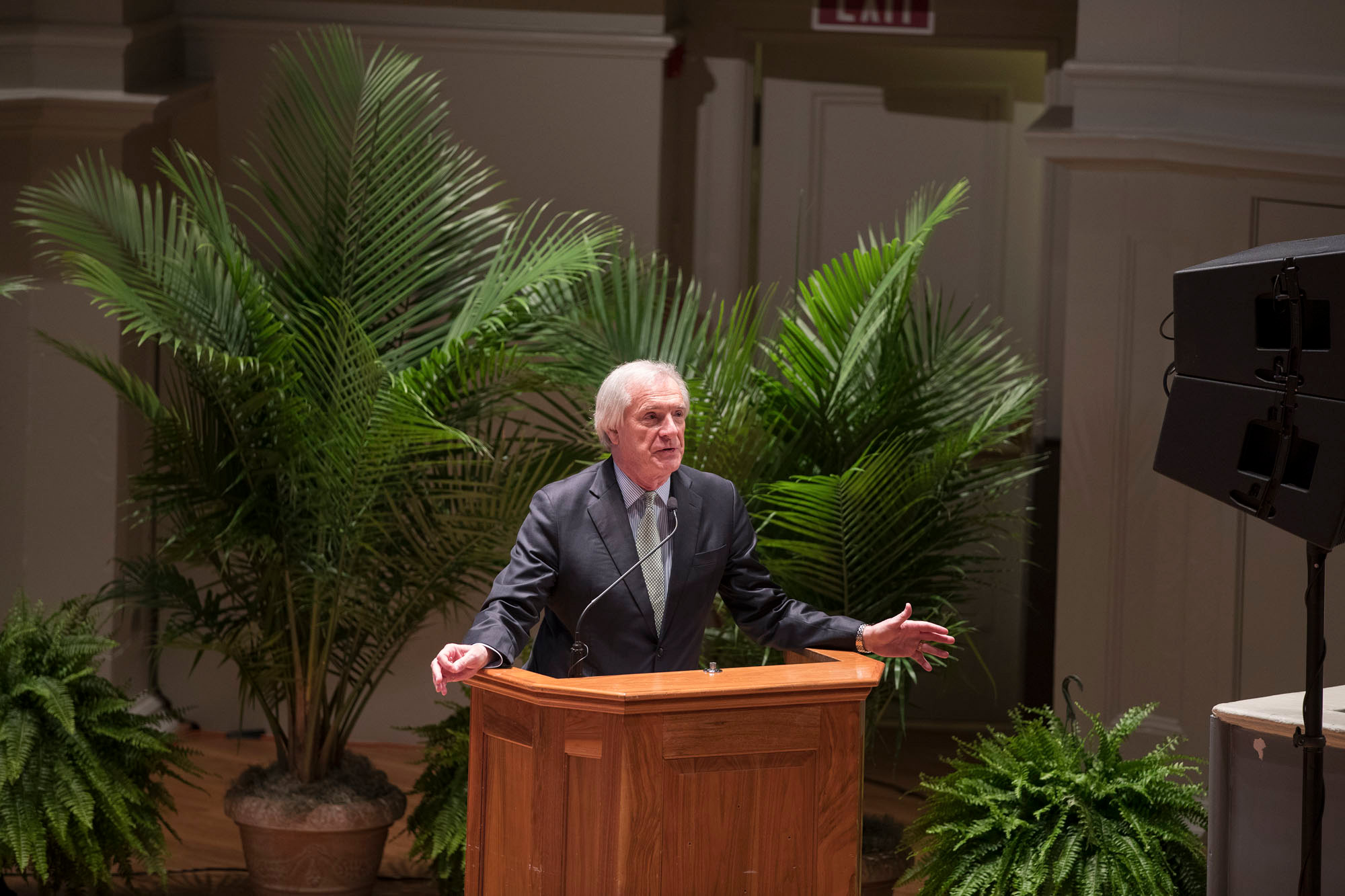 Carl Zeithaml, dean of the School of Commerce, addresses the audience before faculty members take the stage.
"I was very impressed today, and always, with our faculty members' ability to articulate their work, and get others excited about it," said alumnus John Griffin, a member of the McIntire Foundation Board of Trustees and founder of the McIntire Center for Financial Innovation. "The world is changing rapidly. And the Commerce School, which has a very energetic, forward-looking faculty, is addressing this change with research that will help solve problems that are relevant today and in the future."
One of the first speakers, Ahmed Abbasi, opened his talk with a grim statistic: during the roughly eight minutes he would talk, he said, about 12 people across the United States would suffer a stroke.
Abbasi, an associate professor of information technology who directs the school's Center for Business Analytics, is part of a team of researchers using data analytics to help at-risk individuals in America's "Stroke Belt" – a swath of states from Texas to West Virginia where stroke rates are about 40 percent higher than the national average.
Over several years, the team has conducted interviews and surveys with stroke patients and used data analytics to identify patterns and risk factors. With a grant from the National Science Foundation, they are using that data to develop a mobile-based patient platform that, when paired with wearable devices, can track warning signs and alert patients and physicians to possible problems. The program is being piloted in Atlanta and Dallas, with later pilots planned in Virginia.
"The problem will not be solved overnight, but we believe a patient-empowered perspective is crucial to enhancing the clinical view," Abbasi said. "I know the journey is challenging, but I believe the destination is worth the effort."
Other talks focused on similarly broad issues with monumental social implications. Associate Professor of Management Amanda Cowen presented her research, conducted with fellow faculty member Nicole Montgomery, on how consumers, investors and other external stakeholders treat male and female CEOs differently.
Cowen and Montgomery presented focus groups with two articles about corporate failures – one involving a company led by CEO Adam Clayton, the other a company led by CEO Abigail Clayton.
If the failure resulted from an ethical lapse, consumers were more likely to blame and sanction the female CEO. Similarly, if the female CEO denied the failure, consumer backlash was severe. If she apologized, it was less severe. 
On the other hand, if the failure resulted from an unintentional error, perceived as a lack of competence, male CEOs experienced a stronger backlash. If the male CEO denied the failure, the backlash was less severe. If he apologized, it was more severe.
"As we move into a world in which leaders are increasingly more diverse in many different dimensions, these types of outcomes are very important to study and understand," Cowen said. "We cannot fall into the trap of thinking that these outcomes are foregone conclusions. Stereotypes influence us the most when we lack other relevant information, and organizations have the power to change that."
Other talks focused on how human behavior or rapidly changing technology are impacting business markets. Finance Professor Michael Gallmeyer presented research on showing how disagreement among investors about inflation rates can lead to higher interest rates. Natasha Zhang Foutz, an associate professor of marketing, discussed neuromarketing, which uses new technologies to analyze consumers' eye movements, facial expressions, voice tone, perspiration, heart rate and brain activity.
Associate Professor of Information Technology Ryan Wright focused on cybersecurity, specifically on how companies can improve employee training to build a "human firewall" and prevent the human errors that cause 95 percent of major breaches.
Montgomery, in her own talk at the end of the lineup, startled the audience with statistics about how much they use their phones. The average adult, she said, spends about six hours per day on a phone or other connective device, including two hours on social media platforms. That adds up to about five years of our lives, she said, and for teenagers it is even more: they spend nine hours a day on social media alone.
"For marketers, we have not seen such a drastic change since the advent of television," she said. "We are working as hard and as fast as we can to create curricula in response to this changing consumer environment and fast-paced digital industry."
Montgomery's was one of four talks focusing specifically on how McIntire is leading innovation in business education. Ryan Nelson, an associate dean of the undergraduate program, discussed how the school is using design-thinking strategies to take a fresh look at its curriculum and improve the student experience. Roger Martin, associate professor of commerce, showed how online learning could help students both in Charlottesville and around the world. Eric Martin, director of the Galant Center for Entrepreneurship, talked about the importance of giving students hands-on experiences and chances to create and fail – creating the "nimble minds" needed to thrive even as technologies change at a dizzying pace.
Professor Thomas Bateman, who heads the school's leadership minor, perhaps best encapsulated the message of the day when he talked about the importance of proactivity.
"Proactivity is actually very unusual," he said, citing a story from economist Thomas Schelling who found himself stranded in traffic for an hour only to find that the bottleneck was caused by a mattress in the road. Car after car inched around the mattress instead of moving it.
On the other end of the spectrum, Bateman said, are triumphant human moments like John F. Kennedy's declaration that America would make it to the moon or, more recently, Elon Musk's determination to colonize Mars. Or – in more earthbound problems – Bateman said that proactivity was desperately needed to tackle major issues like climate change.
"Proactivity is the bridge – the key link – between having a good idea and actually acting on that idea," he said, leaving the audience with a challenge. "Choose an issue that is personally important to you and go on a productivity mission. Decide to do it."
Media Contact
Article Information
April 28, 2017
/content/mcintire-faculty-tackle-todays-big-questions-10-minute-ted-style-talks