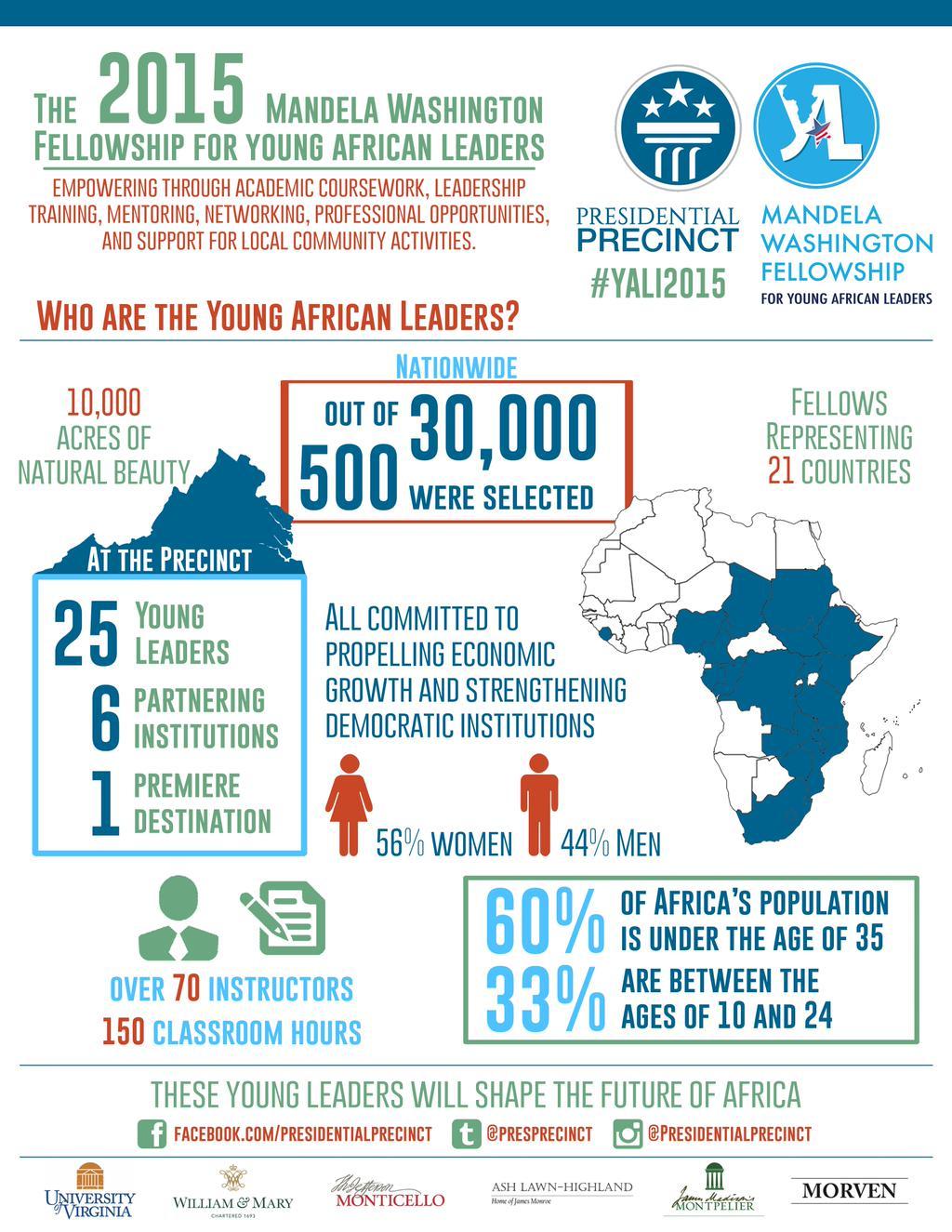 The University of Virginia, as part of the Presidential Precinct, is kicking off the Obama administration's signature Africa initiative Monday at Garrett Hall, home of the Frank Batten School of Leadership and Public Policy.
Twenty-five young emerging leaders from Africa, hand-selected by the Department of State for a prestigious fellowship, will be welcomed to Virginia at a luncheon ceremony in the Great Hall at noon. The event is part of the Young African Leaders Initiative program, now beginning its second summer.
Johnnetta Cole, director of the Smithsonian Institution's National Museum of African Art, will give the keynote address. Before coming joining the museum in 2009, Cole served as president of Spelman College and Bennett College for Women. She is the only person to have served as president of these two historically black colleges for women in the United States.
President Obama has dubbed the young leaders "Mandela Fellows" to honor the life and work of former South Africa President Nelson Mandela. They are a highly select group.
More than 30,000 women and men, aged 25 to 35, applied to become part of this year's 500-member fellowship class. The program is designed to support a very young Africa, where nearly one in three people is between the ages of 10 and 24, and approximately 60 percent of the total population is below the age of 35. The fellows will disperse to universities across the United States this summer to study business and entrepreneurship, civic leadership, or public management.
The fellows coming to Virginia will study civic leadership. They come from 19 countries across Africa, including Nigeria, Ethiopia, Kenya and Chad, and include members of government, journalists and rights activists.
U.Va. is a member of the Presidential Precinct, a consortium that includes the College of William & Mary, U.Va.'s Morven and the homes of three Founding Fathers: Thomas Jefferson's Monticello, James Madison's Montpelier and James Monroe's Ash Lawn-Highland.
While in Virginia, the fellows will take part in training, coursework and mentorship opportunities; participate in workshops, roundtable discussions and more, drawing from the expertise at each of the precinct's six sites. More than 70 distinguished instructors from academia, the private sector, government, civil society, non-governmental organizations and local communities are scheduled to take part.
On the 4th of July, they travel to the home of Thomas Jefferson for Monticello's annual Independence Day Celebration and Naturalization Ceremony. The program culminates in August when the various fellow groups will converge in Washington for a summit with Obama.
Media Contact
University News Associate Office of University Communications
jak4g@virginia.edu (434) 243-9935