Every Friday night for 43 years, Dave Rogers has hit the Charlottesville airwaves as "Professor Bebop," a jive-talking radio host leading listeners on a tour of rhythm and blues.
Rogers' two-hour show, which begins at 11 p.m., has long been a staple at WTJU, the University of Virginia's student- and community-run radio station. He has volunteered as a disc jockey since moving back to Charlottesville in 1973, three years after graduating from UVA. Despite retiring from education in 2014 – he worked for 44 years as a middle-school teacher and principal – Rogers has no plans to give up the gig that allows him to indulge his lifelong love of music.
"Music is my number one passion," he said. "I think it is the greatest art there is. It expresses so much – joy and fear, horror and comedy. It can make you introspective, or make you understand something you have not thought about."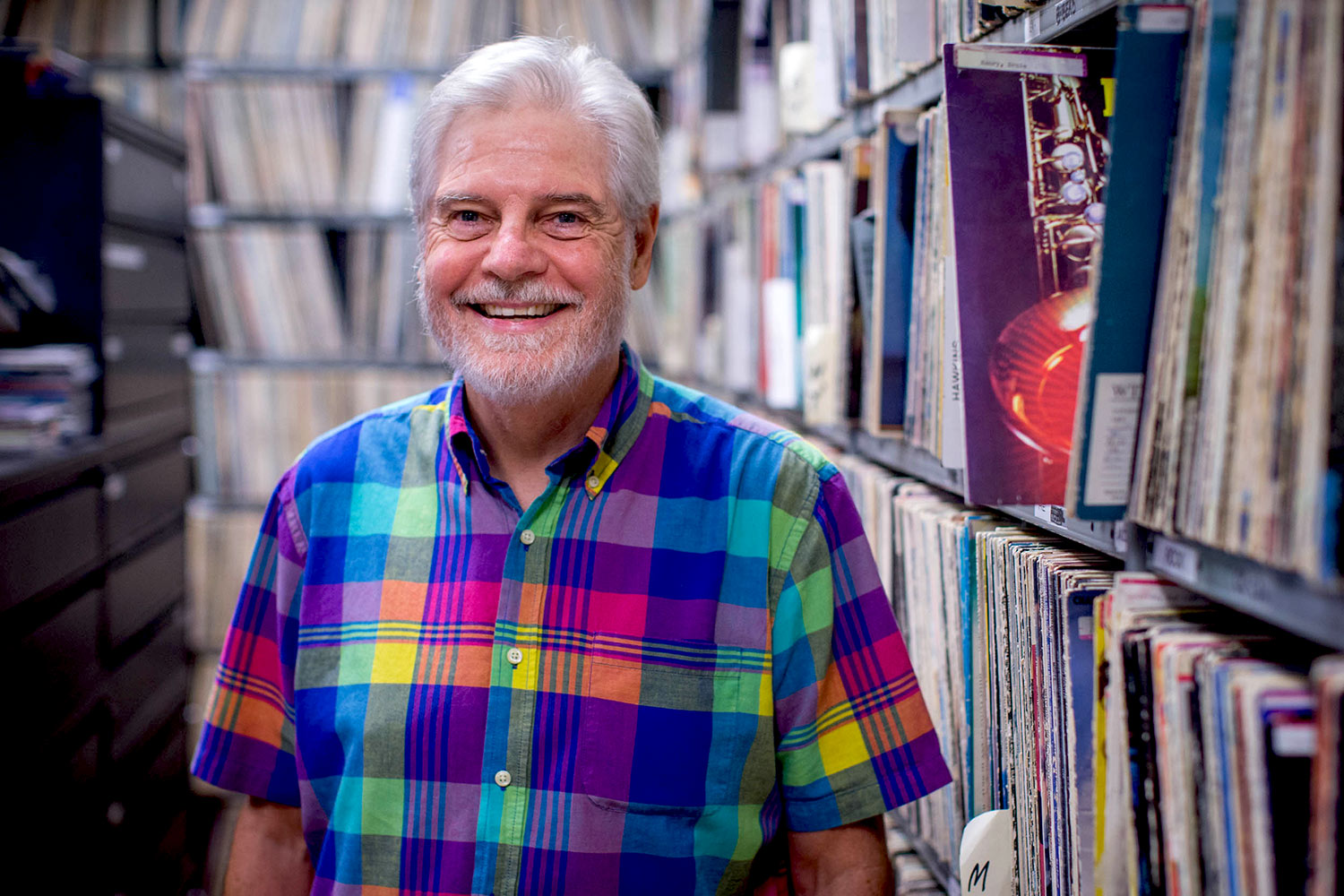 43 years into his career as a DJ at WTJU, Dave Rogers still loves going into work on Friday nights. (Photo by Sanjay Suchak/University Communications)
Unlike most commercial Top 40 stations, which play an average of about 100 unique songs weekly, WTJU and its 200-plus student and community DJs play more than 1,100 songs per week, including rock 'n' roll, classical music and everything in between. This gives Rogers plenty of room to experiment with genres ranging from rhythm and blues to punk rock, psychedelic or African music.
"In college radio, and particularly at WTJU, the whole landscape is open," he said. "Everyone understands that you are playing to an audience, but the audience tends to be a lot more open, too."
Among WTJU's staff and listeners, Rogers is something of a legend.
Station manager Nathan Moore recalls a Richmond colleague's delight when he recently learned that Professor Bebop is still on the air. The man had listened to Rogers' show while growing up in rural Greene County, considering it a lifeline connecting him to the wider musical world.
"He has been such a fixture at the station, and listeners all over the place know Professor Bebop," Moore said. "He does so much to help behind the scenes; he's a terrific host and just a great guy to have around."
Rogers' Professor Bebop persona was inspired in part by a 1940s African-American DJ called Dr. Hepcat. Rogers discovered Hepcat's work while researching a vocal group from that era and was immediately struck by Hepcat's jive talk, a form of slang associated with jazz. He realized the jive talk offered important historical context for the jazz and blues music he played on his show. Eager to learn more, Rogers began an ongoing correspondence with Hepcat, sharing favorite techniques and styles. Eventually, Hepcat sold Rogers a copy of his jive-talk dictionary, which helped Rogers craft his signature "Professor Bebop" style.
"I thought it would be interesting to use the jive talk during breaks in the music, especially when I was playing music from the '40s and '50s," Rogers said. "I still do the opening that I created 30 years ago, a jive number with a music background."
These days, Rogers is playing vintage Elvis tracks and exploring the evolution of Southern soul music for a series of shows chronicling music in Memphis.
"People will hear some big hits that they are familiar with, but also get the soundscape of what was going on in Memphis one year to the next, how that music changed over time and who was instrumental in bringing that together," he said.
Other Professor Bebop shows have focused on themes ranging from cars – Rogers spotlighted quirky auto-themed tracks like Collin Raye's "Midlife Chrysler" – to more serious topics like politics, racial violence or family dynamics.
"I try to offer more than one perspective on an issue, to build a balance," he said.
Whatever the track, Rogers' mission is the same: he wants his listeners to learn something new and, hopefully, discover music they love.
"All of us at the radio station are not just playing a format. We want to really lay something out there that people can hear and wonder about," he said. "As a student at UVA, I was exposed to a lot of things, in classes and in the community, that were really eye-opening and exciting. That is what we are all about at WTJU, and what I am all about."
That mindset worked well during Rogers' career as a middle school teacher and principal, ending his career at Sutherland Middle School. He spent 44 years working to make learning appealing to kids going through what he calls "a wonderful age that kind of has a bad reputation."
"Their brains are retooling, weeding things out and re-growing," he said. "They are becoming much more insightful about differences between people and how people are treated. There is so much going on in their heads, and if they are interested in something, they will 100 percent sink themselves into it. As an educator, it is your job to work with that and find the things that catch their interest and excite them."
Most of Rogers' students knew about his side career as a DJ, though some proved a bit skeptical. Once, when a student in his first-period class was showing a new student around the school, Rogers overheard an amusing description of himself.
"He said, 'Mr. Rogers, he's a pretty good guy, he's OK as a teacher, but he stays up late on Friday nights and acts like a fool,'" Rogers said, laughing.
It might not be the most flattering description, but it accurately captures just how much Rogers enjoys sharing his passion for music with the community he and his wife have long called home.
"I love it here in Charlottesville and I love the University," he said. "WTJU is like my second home."
Media Contact
Article Information
July 27, 2016
/content/meet-professor-bebop-uvas-longtime-late-night-radio-dj