Dr. Hans Olav Riddervold, a former professor of radiology at the University of Virginia, died peacefully on July 14 in Oslo, Norway, surrounded by his family.
Riddervold was a faculty member in the UVA Department of Radiology and Medical Imaging for 50 years, from 1967 until his retirement in 2008.
He was beloved by his colleagues and the medical students and residents he trained at UVA. As a radiologist and teacher, Riddervold had high clinical and professional expectations. But he was also eager to share hard-won lessons about life, humility and compassion that he had accumulated on his journey through four continents, two wars, other conflicts and his escape from Nazi-occupied Norway.
Above the Arctic Circle
Riddervold was born in Kirkenes, a small town in the far north of Norway, above the Arctic Circle and near the eastern border with Russia. His father, Julius, was a physician. Shortly after Hans was born, his family moved to Sauda, a fjord town in southwestern Norway.
Riddervold's father was the only doctor in Sauda and worked long days away from his family. At 15 years old, Hans pitched in by helping his father process X-ray films. Thus began a lifelong love of radiology, which was a rapidly developing practice in the 1930s.
But everything changed for Hans and his family with the rise of Nazi Germany and, on April 9, 1940, the start of the Nazi assault on Norway and Denmark.
War, Occupation and Freedom
The Norwegian Army surrendered mainland Norway to German forces on June 10, 1940. The toll of the German occupation was heavy on Riddervold. His best friend lost his life when the ship he was on was torpedoed in the Atlantic Ocean. Other friends were sent to Germany and died in concentration camps, while still others joined the Nazi Party and departed for the eastern front to fight for Germany.
Hans himself barely escaped occupied Norway after a brief imprisonment by the Germans. In September 1944, he decided to leave Norway and hid in a cabin in the woods near the Swedish border. He was able to enter Sweden using a fake passport and then made his way to Britain. For the rest of his life, he would remember the long days spent waiting at the cabin before he attempted the border crossing, his intense fear of informers, and finally, his flight to Scotland.
Riddervold was in Edinburgh when World War II ended in Europe on May 8, 1945. He traveled home to Norway on a troop transport ship that departed the port city of Glasgow. Two destroyers escorted them on the journey to Norway. The ship came up the Vestfjord, a long fjord in northern Norway, under the midnight sun and Hans was ecstatic to see Norwegian flags flying on both sides of the fjord. For the rest of his life, he ended his signature with the phrase "Everything for Norway," a slogan the occupying Nazis had banned.
World Travels and True Love
In 1951, Riddervold received his degree in medicine from the University of Oslo. He spent the next decade alternating between practicing radiology in Norway and serving as a field doctor for the Norwegian Army in conflicts across the globe, including the Korean War and the Suez Crisis in Egypt.
He returned to Korea in 1959 to practice at the Scandinavian University Hospital in Seoul, where he met Anna Greta, a nurse at the same hospital. They fell in love, but she moved to Ethiopia to work in a hospital run by Swedish development aid and Riddervold again returned to Norway. But they were not apart for long: They married roughly at the mid-point between Norway and Ethiopia – Rome – before he joined Anna Greta in Addis Ababa.
A Journey to Central Virginia
In 1967, Riddervold, Anna Greta and their two young children took another long journey, this time to Charlottesville. Hans was following in the footsteps of Dr. Ivar Enge, a well-known Norwegian interventional radiologist who was a professor at UVA and founded the UVA Division of Interventional Radiology.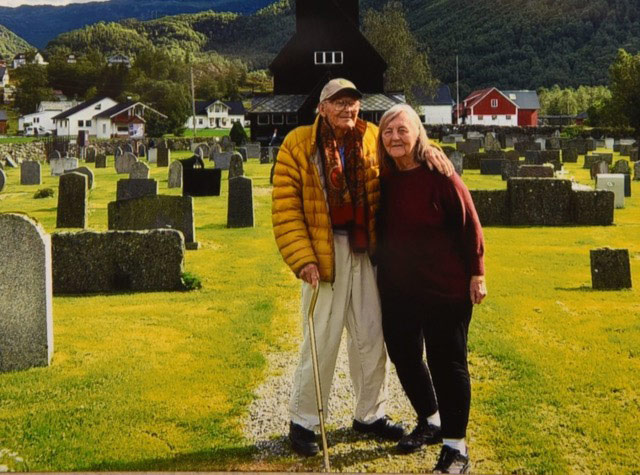 At UVA, Hans Riddervold was a devoted teacher and exacting radiologist who specialized in diagnosing hard-to-detect bone fractures. After living on four continents and through many conflicts and challenges, his energy and passion for connecting people and pursuing mutual goals was stronger than ever. To that end, he founded the Virginia/Norwegian Radiologic Society in 1970 and the Department of Radiology's alumni society in 1979.
Together with his wife, he was also at the forefront of the burgeoning Virginia wine industry in the late 1970s. They produced several award-winning wines at their Keswick vineyard, which they called Vinland, after the name given to the New World by the Vikings when they first set foot in North America.
Since 2005, the Radiology Department has hosted the Riddervold Open Golf Tournament, named in his honor, during its biennial alumni homecoming weekends. Riddervold was still supervising the tournament as recently as this April, including selecting prizes for the winners.
Riddervold's perseverance, spirit and humility carried him through his remarkable life spent against the backdrop of major historical events. To those he trained in radiology at UVA and whom he worked alongside, it is his kindness, his pursuit of knowledge and, above all, his dedication to serving others that represent his lasting legacy.
Riddervold is survived by his wife, Anna Greta; daughters, Hanna Riddervold, Kirsten Riddervold, Kari Riddervold, Anna Maria Riddervold Nordin; sons, Julius Riddervold and Leif Riddervold; 11 grandchildren, and five great-grandchildren.