Henry J. Abraham, a University of Virginia professor emeritus who escaped Nazi Germany as a teenager and lived to become a foremost scholar of judicial law, died Feb. 26 in Charlottesville at the age of 98.
Abraham taught in UVA's Department of Government and Foreign Affairs (now the Woodrow Wilson Department of Politics) from 1972 to 1997. He continued to teach for many years through the Osher Lifelong Learning Institute, which is affiliated with UVA and offers classes for senior adults.
He was devoted to constitutional law and judicial studies, writing textbooks still used today and teaching thousands of students.
Abraham also had the esteem and friendship of several U.S. Supreme Court justices, including the late Antonin Scalia and Ruth Bader Ginsburg, ideological polar opposites though they might be.
When Abraham retired, Scalia sent him a congratulatory letter, writing, "I know from many sources, including children of mine in attendance, what a force you have been in keeping alive on the Grounds a veneration for the Constitution." Scalia included a photo of the court signed by all of the justices, writing that they "strive to be worthy of the trust and respect of men such as you."
Barbara Perry, a professor who directs the Presidential Studies project at UVA's Miller Center of Public Affairs and was a doctoral student of Abraham's in the 1980s, said Abraham didn't judge people based on their politics, ideology, religion, race or gender. He was not only a brilliant scholar and lecturer, she said, but also an incredible listener and one of the nicest people you'd ever meet.
If he had stayed in Offenbach, Germany, where he was born, who knows what would have happened. He had already been targeted and bullied for being Jewish.
Abraham's life changed abruptly in 1937 when he left Germany – alone – at 15 to avoid the Nazis, urged by his mother. She and his brother were later able to join him in Pittsburgh, bringing his father, who had been released from the concentration camp at Dachau and never regained his health.
In America, Abraham first worked to help support his family before being drafted into the U.S. Army in 1942. He became a U.S. citizen a year later. His service included interrogating enemy prisoners of war and reviewing German documents, gathering evidence that was eventually used in the Nuremberg trials. He also returned to the town of Offenbach that he felt compelled to leave, this time as part of the force that conquered the Nazi regime.
When he could go to college on the G.I. Bill, Abraham attended Ohio's Kenyon College, majoring in political science and graduating first in his class in 1948. He joined the University of Pennsylvania faculty after pursuing a master's degree at Columbia University in 1949 and earned his Ph.D. at Penn. After 23 years there, he came to the Grounds.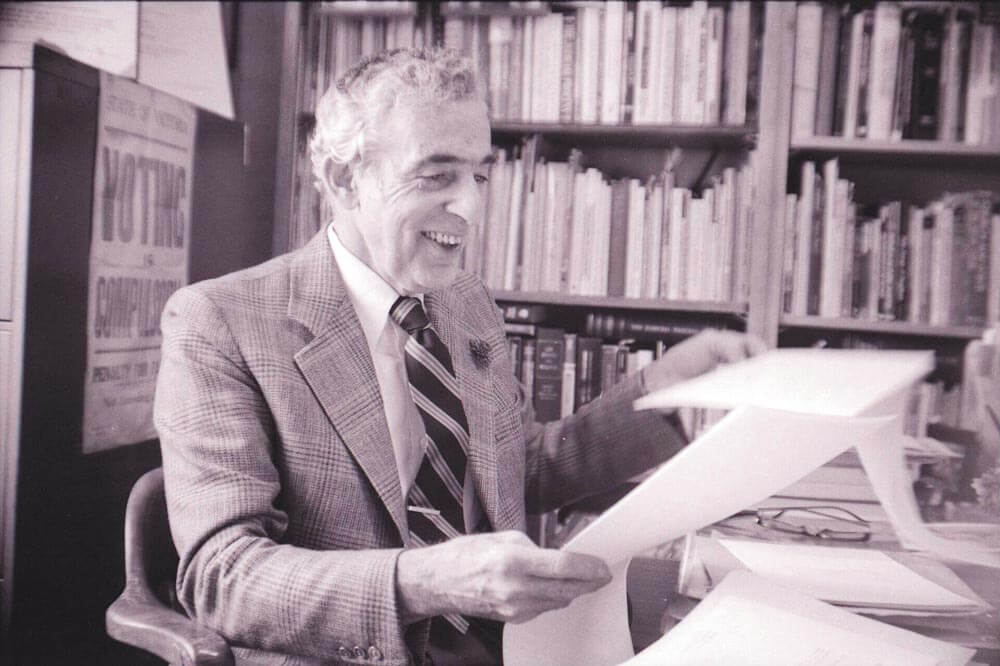 After a quarter-century of teaching at UVA, Abraham continued to share his expertise through the Osher Lifelong Learning Institute for senior adults. (Photo by David Skinner, 1984, UVA Albert and Shirley Small Special Collections)
Abraham's son, Philip, who graduated from UVA's School of Law, said his father "firmly believed in and exemplified the power and value of education." In his 50 years of teaching, Abraham taught more than 20,000 students, his son said. Phil Abraham sat in on a class or two of his father's and wrote, "He was a joy to watch in the classroom and it was one of the places where he was always the happiest."
Over the years, the University bestowed its highest honors on Abraham, including the Thomas Jefferson Award in 1983, as well as the Alumni Association Distinguished Professor Award, the Z Society's Distinguished Faculty Award and the IMP Society's Outstanding Contribution to the University Community Award.
Larry Sabato, University Professor of Politics and founding director of the Center for Politics, was both a former student and colleague. He described Abraham as "the most gracious, kind, sweet individual, in addition to being a world-class scholar in the judicial field and wonderful teacher."
He added, "He had the kind of style in the classroom that helped you remember for many years or even decades the lessons he was teaching."
Another colleague, politics professor James Ceaser, said Abraham was already a dominant figure in constitutional law when Ceaser joined the faculty in 1975. "He was a terrific person, beloved by students because he was an excellent teacher – and larger than life," Ceaser said.
Perry remembered being a bit dismayed when Abraham asked her to teach one of his lectures that he uncharacteristically had to miss – because "he was the most gifted public speaker I've ever encountered," she said.
"I was bowled over by his intellect and knowledge," said Perry, who holds the Gerald Baliles Professorship. She came to UVA for a Ph.D. partly based on a recommendation to take Abraham's classes, she said.
She was thrilled when he asked her to co-write an updated edition of his book, "Freedom and the Court: Civil Rights and Liberties in the United States," first published in 1967 and now in its eighth edition. It is one of several of his classic texts, according to Perry and others.
Those other titles include: "Justices, Presidents, and Senators: A History of U.S. Supreme Court Appointments from Washington to Bush II," in its fifth edition; "The Judicial Process: An Introductory Analysis of the Courts of the United States, England, and France," in its seventh edition; and the 10th edition of "The Judiciary: The Supreme Court in the Governmental Process."
He wrote books not just for the classroom, but also published shorter versions for the wider public, Perry said, especially when he perceived a gap in information about civil liberties, the Supreme Court or comparative judicial law.
Perry and other former students, friends and family established the Henry J. Abraham Distinguished Lectureship more than 20 years ago that was typically held in the Law School's Caplin Auditorium. The lecture was relocated after the August 2017 Unite the Right white supremacist rallies, out of concern for protestors.
Perry said he was deeply alarmed that "it was happening again" after watching TV coverage and hearing the anti-Semitic chants that reminded him of the persecution he had endured in Germany.
Abraham is survived by his wife of 66 years, Mildred K. Abraham, who worked at both Alderman Library and Special Collections, as well as being a volunteer and friend of the library; and their sons, Philip, and his wife, Janet; Peter and his wife, Anne; and grandchildren Benjamin, Lauren, Marnie and Liesel.
A memorial service is being planned for a later date.
Article Information
March 5, 2020
/content/memoriam-henry-abraham-brilliant-judicial-scholar-and-legendary-lecturer