Mortimer Caplin, the University of Virginia School of Law professor emeritus who served as Internal Revenue Service commissioner under President John F. Kennedy, died Monday, days after reaching his 103rd birthday.
Caplin taught at UVA Law for 33 years and co-founded the widely influential Washington, D.C., tax law firm Caplin & Drysdale.
Caplin had a deep commitment to public service and was a lifelong supporter of education, including at UVA, his alma mater. The "double 'Hoo" earned his Bachelor of Science in 1937 and his LL.B. from the Law School in 1940.
"My father was a wonderfully kind man, full of zest for everything," his son Michael Caplin, a 1976 graduate of the Law School, said. "He believed deeply that everyone has a debt of service to their country, and he lived his life with purpose and a commitment to the common good. I know his spirit will continue to nourish and inspire everyone who knew him."
Shortly after Kennedy's election in 1960, Caplin, who had taught at UVA Law since 1950, was asked to join the President's Task Force on Taxation. He and the Kennedys were already familiar. Caplin had taught the president's brothers, future public servants Robert Kennedy, UVA Law Class of 1951, and Ted Kennedy, UVA Law Class of 1959.
"I didn't wait very long to give the answer," Caplin recalled in a spring 2016 article for UVA Lawyer honoring his 100th birthday.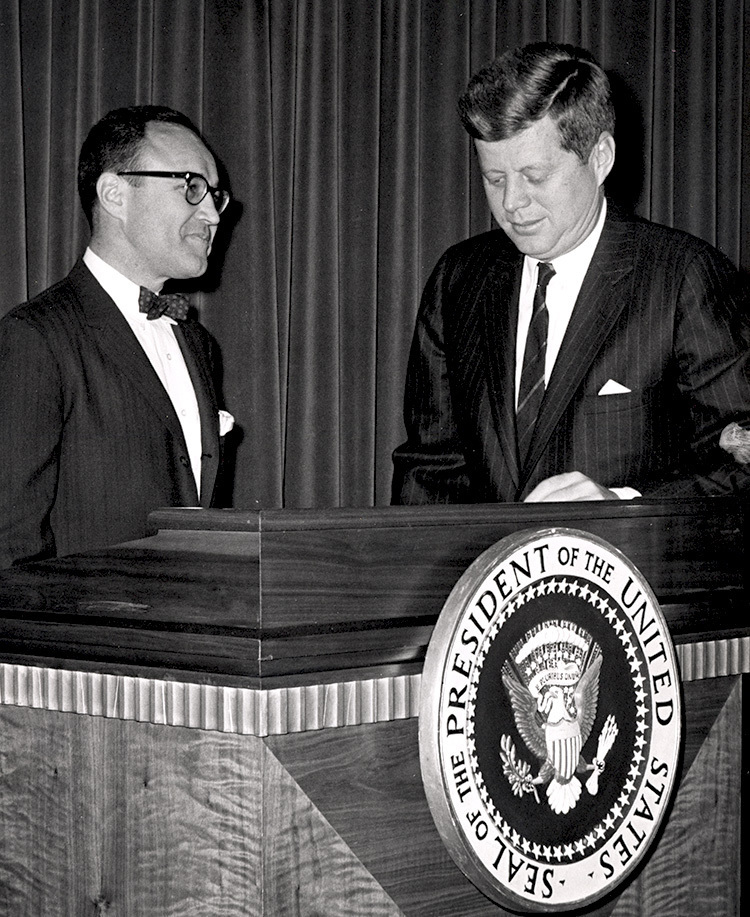 As president Kennedy's IRS commissioner, Caplin sought to soften the tax-collection agency's public image. He earned the Treasury Department's highest award.
The opportunity led to his being appointed U.S. commissioner of internal revenue in 1961. During his tenure, Caplin aspired to create a kinder, friendlier IRS. He hoped Americans would, in turn, look at paying their taxes as a cheerful civic duty.
"We put the emphasis on better self-assessment and not so much on putting people in jail," he told UVA Lawyer.
Notably, Caplin was also the first commissioner to computerize federal tax returns and was the first to host a president at the IRS building, according to The Washington Post.
He appeared on the cover of Time magazine in 1963 to discuss his government role. He remained in the post until July 1964, when he resigned to form his law firm with Douglas D. Drysdale, a 1953 UVA Law graduate.
"Our style of practice was aimed at minimizing our clients' tax liabilities without compromising the ethical principles that are essential to the integrity of the tax system," the two founders wrote in a message on the firm's website.
Drysdale died last year at the age of 94.
Despite entering private practice, Caplin continued to teach at the Law School from 1965 to 1988 as a visiting professor.
Caplin loved UVA, where many of his formative years were spent. As an undergraduate, he was an intercollegiate boxer and dabbled in acting. Later, he was editor-in-chief of the Virginia Law Review and graduated first in his law class.
Caplin, a double 'Hoo, was an intercollegiate boxer during his undergraduate years at UVA, and also dabbled in acting.
He served as a law clerk to Judge Armistead M. Dobie of the U.S. Court of Appeals for the Fourth Circuit after graduation. He then practiced law in New York City from 1941 to 1950, with time out for military service in the U.S. Navy during World War II.
During the Normandy invasion, Caplin served as U.S. Navy beachmaster, and was cited as a member of the initial landing force on Omaha Beach. (NPR interviewed him about the experience in anticipation of his 100th birthday.)
He earned an S.J.D., an advanced law degree designed for aspiring academics, from New York University School of Law in 1953.
Caplin's lifelong dedication to service, including within education, was extensive.
He served as trustee of the UVA Board of Visitors, the UVA Law School Foundation, George Washington University, the Board of Overseers for the University of the Virgin Islands, Peace Through Law Education Fund, Arena Stage, Shakespeare Theatre and the Wolf Trap Foundation.
He served on the governing council of UVA's Miller Center, on the board of directors of the Environmental & Energy Study Institute, and as chair of the board of advisers of the Hospitality & Information Service in Washington, D.C.
He chaired the UVA Council for the Arts for more than a decade, and afterward was made honorary chair. He and his wife, Ruth Sacks Caplin, who died in 2014, donated the funds for the Ruth Caplin Theater on UVA Grounds.
The couple had five children: Lee, Michael, Jeremy, Cate and Mary Ellen Caplin. Lee Caplin is a 1972 graduate of the Law School.
At UVA Law, Mortimer Caplin's charity is reflected in Caplin Auditorium, where a painting of the famously bow tie-clad alumnus hangs outside, and in Caplin Pavilion, the Caplin Reading Room and the Mortimer Caplin Public Service Center.
"Mortimer Caplin was a person and a public servant of the highest ethos," UVA Law Dean Risa Goluboff said. "His contributions to the Law School are almost innumerable. He helped make the Law School a major player in tax law, a legacy that still flourishes more than 60 years later.
"He also, of course, is remembered for his generosity, which is reflected in such physical structures as our Caplin Pavilion and Caplin Auditorium, as well as in financial aid and funding for public service opportunities for students. The lives of so many of our faculty and alumni have directly benefited from the extent to which he so loved his alma mater. We will remember him always with affection, admiration and gratitude."
David H. Ibbeken, UVA Law Class of 1971 and president emeritus of the Law School Foundation, remembered Caplin for his dedication to improving the Law School's financial standing, including as a capital campaign chair.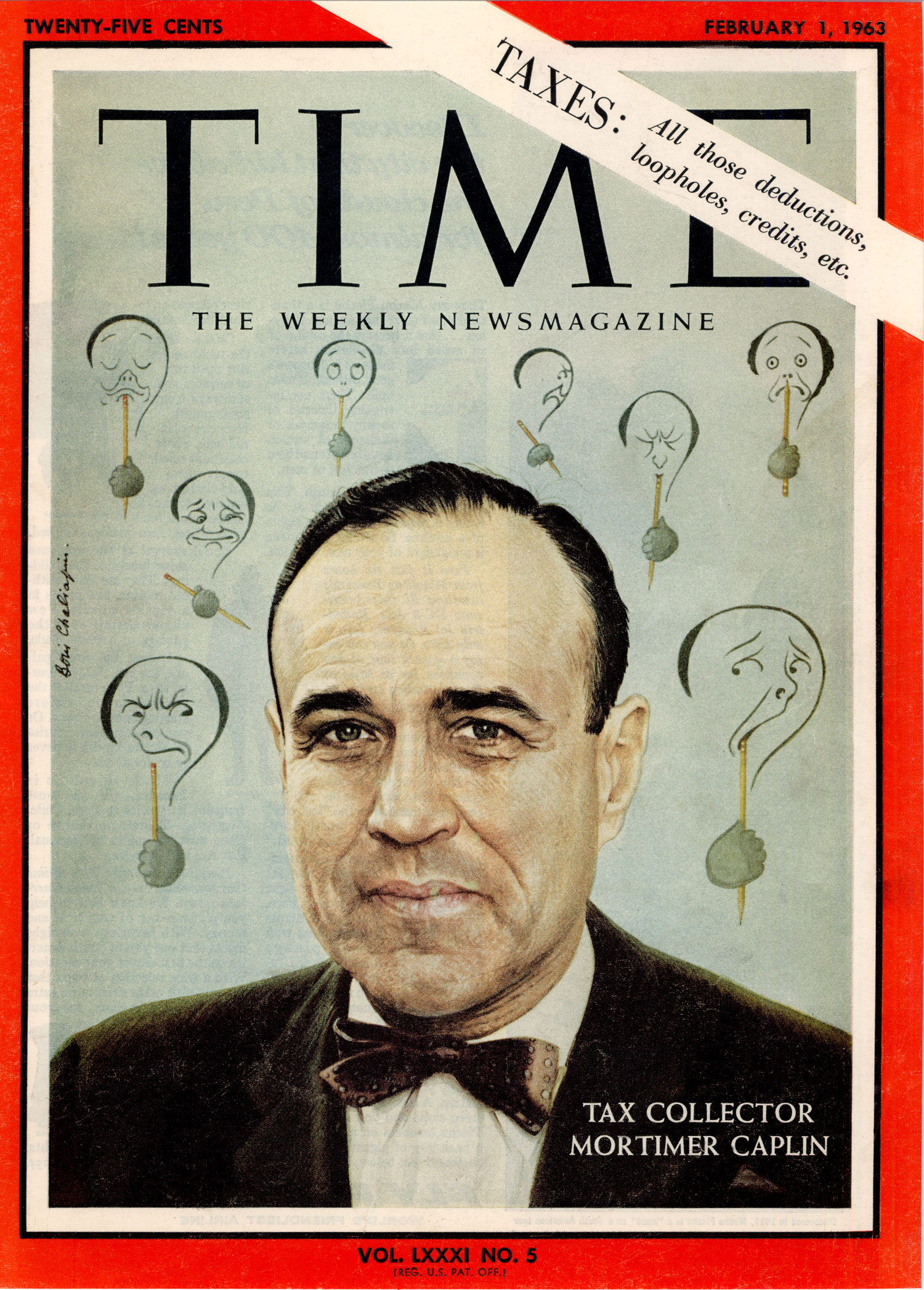 Caplin is the only IRS commissioner to appear on the cover of Time magazine.
"Morty was as devoted an alumnus as there has ever been," Ibbeken said. "He wanted desperately for the Law School to succeed at every level, as evidenced by the range of projects he supported in his lifetime. As chair of our capital campaign in the 1990s, he led the way with his own giving and he inspired others to reach in their support. He took great pride in the fact that our campaign raised more than any other law school at the time and he was particularly proud that over 70% of our alumni contributed to the campaign."
Caplin's service and accomplishments were recognized by many awards, including the Thomas Jefferson Medal in Law, the University's highest external honor, in 2001.
On leaving the U.S. government, he received the Alexander Hamilton Award, the highest award conferred by the secretary of the treasury, for his "distinguished leadership."
He was also the recipient of the Achievement Award from the Tax Society of New York University; Judge Learned Hand Human Relations Award, American Jewish Committee; Tax Executives Institute Distinguished Service Award; Veterans of Foreign Wars Public Service Award; and the Virginia State Bar and Virginia Society of Certified Public Accountants Award.
He received honorary degrees from the University of South Carolina, Washington College and St. Michael's College.
Caplin celebrated his 103rd birthday on July 11. He was among the oldest living alumni of UVA Law.
Article Information
July 16, 2019
/content/mortimer-caplin-public-servant-and-uva-law-professor-emeritus-dies-103