When psychologist Vikram Jaswal began his professional career at the University of Virginia in 2003, most of his work focused on how preschool-aged children learn.
Then his daughter was diagnosed with autism and his research began to shift toward questions about the condition and communication.
Jaswal, an associate professor of psychology, and his wife, Tauna Szymanski, recently wrote a piece for the Washington Post, provocatively titled, "Why Our Second Grader is Not Going Back to School." In it, they lament that for a third year in a row, their school system had decided their daughter would have to spend at least half of each day in a segregated, "self-contained" classroom with other children with autism – despite research that shows children with disabilities do better when given the support they need in a regular classroom with their non-disabled peers. Disappointed with the school's decision, Jaswal and Szymanski decided to educate their daughter in the community instead of the public schools.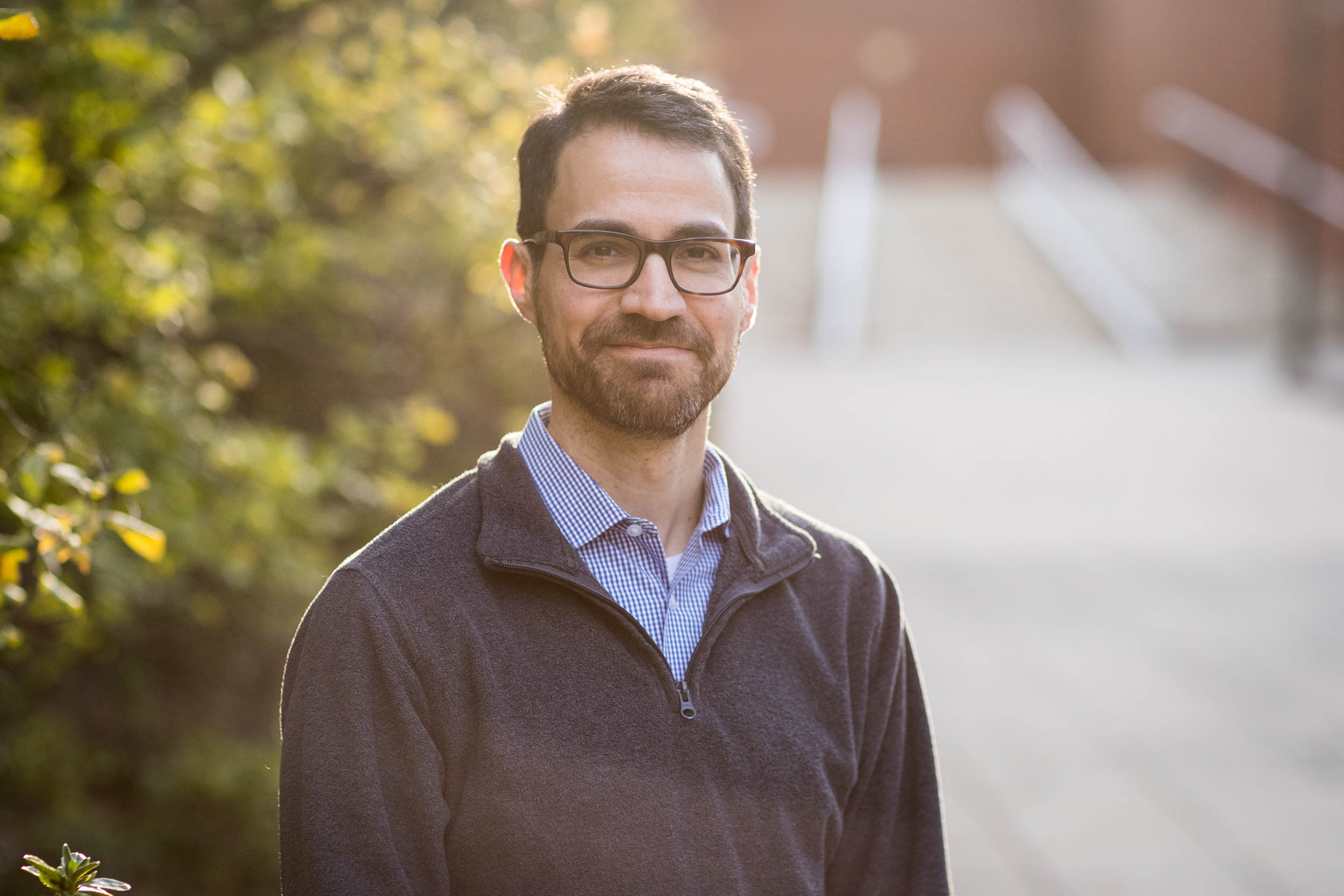 Psychologist Vikram Jaswal said one of the frustrating things about autism is that it is so heterogeneous. "Most of the research is pretty gloom and doom and didn't reflect the experiences that my wife and I had with our child," he said. (Photo by Sanjay Suchak, University Communications)
Jaswal is using his personal experience and his professional skills to teach a new course.
"In 'The Science and Lived Experience of Autism,' we are grappling with the disconnect between what a good deal of peer-reviewed science says autistic people are like, and what autistics and their families say they are like," he said.
The course is one of four new, yearlong civic and community engagement seminars being offered in the College and Graduate School of Arts & Sciences. Through the course of the year, 20 UVA students will work with 10 college-aged, nonspeaking autistic people in Northern Virginia who refer to themselves as "The Tribe."
The autistic students meet as a group each week with a speech-language pathologist and are participating in the seminar virtually, doing some of the readings and contributing typed comments and posts to the class's online discussions.
Jaswal said one goal is for the UVA students to collaborate with members of The Tribe to develop new research questions that reflect concerns and interests of some in the autism community. The groups will meet in person several times during the academic year.
A Meeting of the Minds
Their first face-to-face meeting was held last month in Herndon. "We had a mutual assignment to come ready to discuss a particular article," said Mike Giovinco, a fourth-year student double-majoring in cognitive science and drama. The students discussed a prominent metaphor for autism called "mindblindness" – the idea that those with autism are unable to understand that other people's thoughts, beliefs and goals might differ from their own.
"What was different for us was that we had to learn their ways of communicating, specifically through letter boards, and though it might take a little bit more time, they were able to produce just as complex thoughts as we can. And they obviously have a lot more to say on the subject," he said pointedly.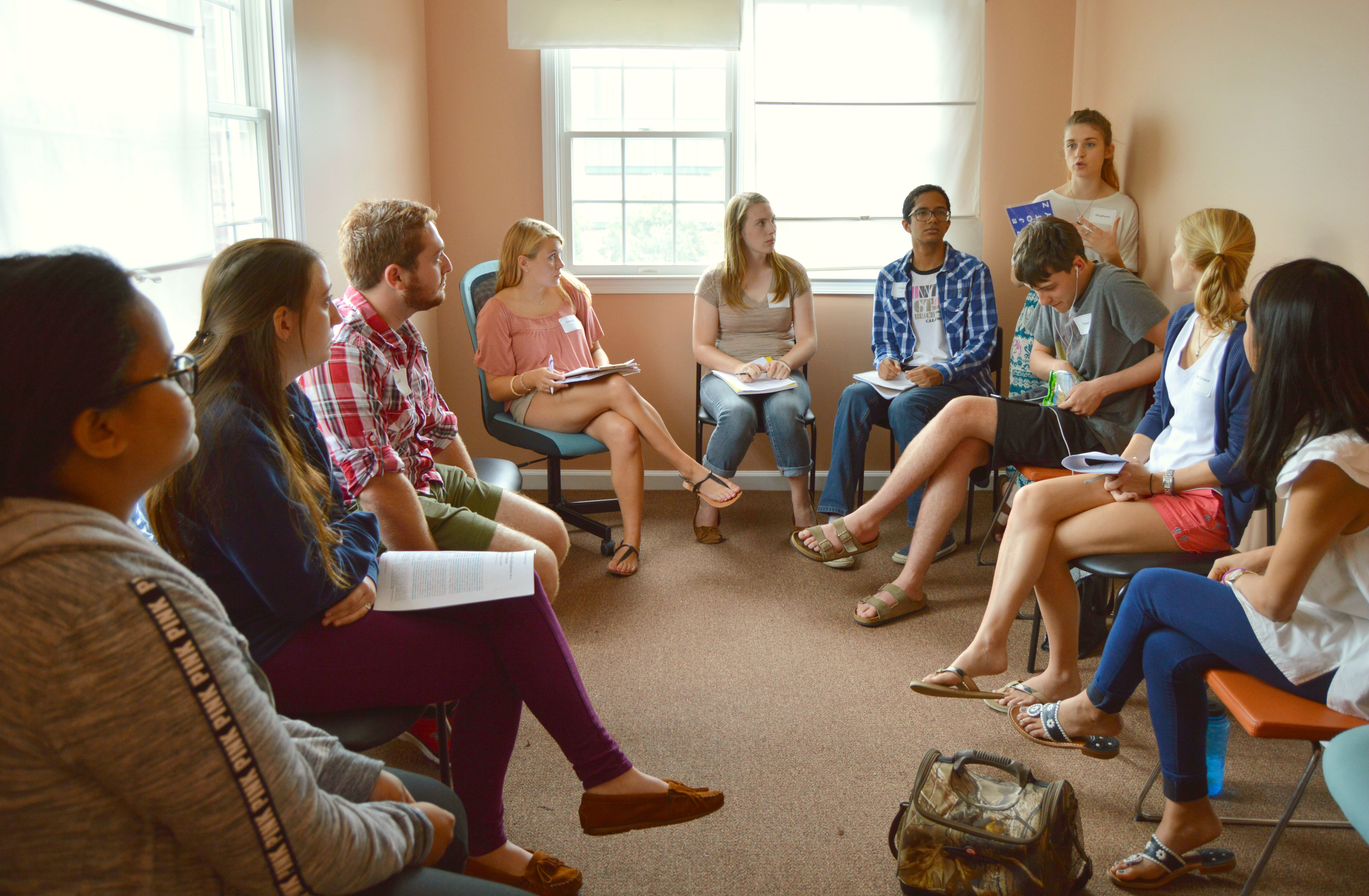 The students had their first meeting Sept. 17 in Herndon. (Photo courtesy of Tiffany Hwang)
Danielle Campion, a fourth-year speech pathology and psychology double-major, agreed. "They all use bigger words than I use and have such profound thoughts that I'm just, like, 'wow.' I wouldn't have thought about it that way," she said.
Not even halfway into the course, Campion said the experience completely changed her professional ambitions. "It was life-changing. I thought I wanted to work in a hospital, but this completely changed my perspective on what I want to do," she said. Campion now wants to work with nonspeaking autistic people.
For fourth-year psychology major Thuy Vuong, the course has a uniquely personal dimension. His younger brother, Huan, is a member of The Tribe.
"Vikram had mentioned he had a connection with a group of nonspeaking individuals in Herndon and it wasn't until I'd heard from my mom and little brother that I learned they were corresponding with UVA," Vuong said.
Vuong said one of the reasons he enjoys the course so much is that it puts him on the same level as his brother. "This is the first time I get to work on an intellectual standpoint where I am equal to my little brother and he is equal to me. It's like we are both learning about what autism is and everything about it," he said.
Thuy Vuong, seated in his class at UVA, is taking the course with his brother, Huan, who is a member of The Tribe. (Photo by Sanjay Suchak, University Communications)
The two brothers met up again over the weekend during The Tribe's first visit to Charlottesville. They came together around one of the city's marquee events, the Virginia Film Festival. Jaswal arranged for his class to have dinner Saturday with Pulitzer Prize-winning journalist and 1981 College alumnus Ron Suskind. He was in town to attend the screening of a documentary based on his best-selling book, "Life Animated," which is about his autistic son, Owen. This is a brief video about the gathering.
A class discussion earlier in the day was about the scientific and ethical issues that surround efforts to cure autism.
Jaswal said the idea of a cure is controversial. "In the neuro-diversity world, there are some autistics themselves who would be all in favor of a cure if one were ever possibly available," he said.
"Then of course, there are people on the other extreme who think, 'All this focus on a cure really undercuts my identity; I am autistic. One of the reasons I am the way I am is because I am autistic. If you say you want to cure me, you're basically saying you wish I were a different person.'"
The course will be offered for two more years.
Article Information
November 7, 2016
/content/new-course-connects-students-autistic-tribe