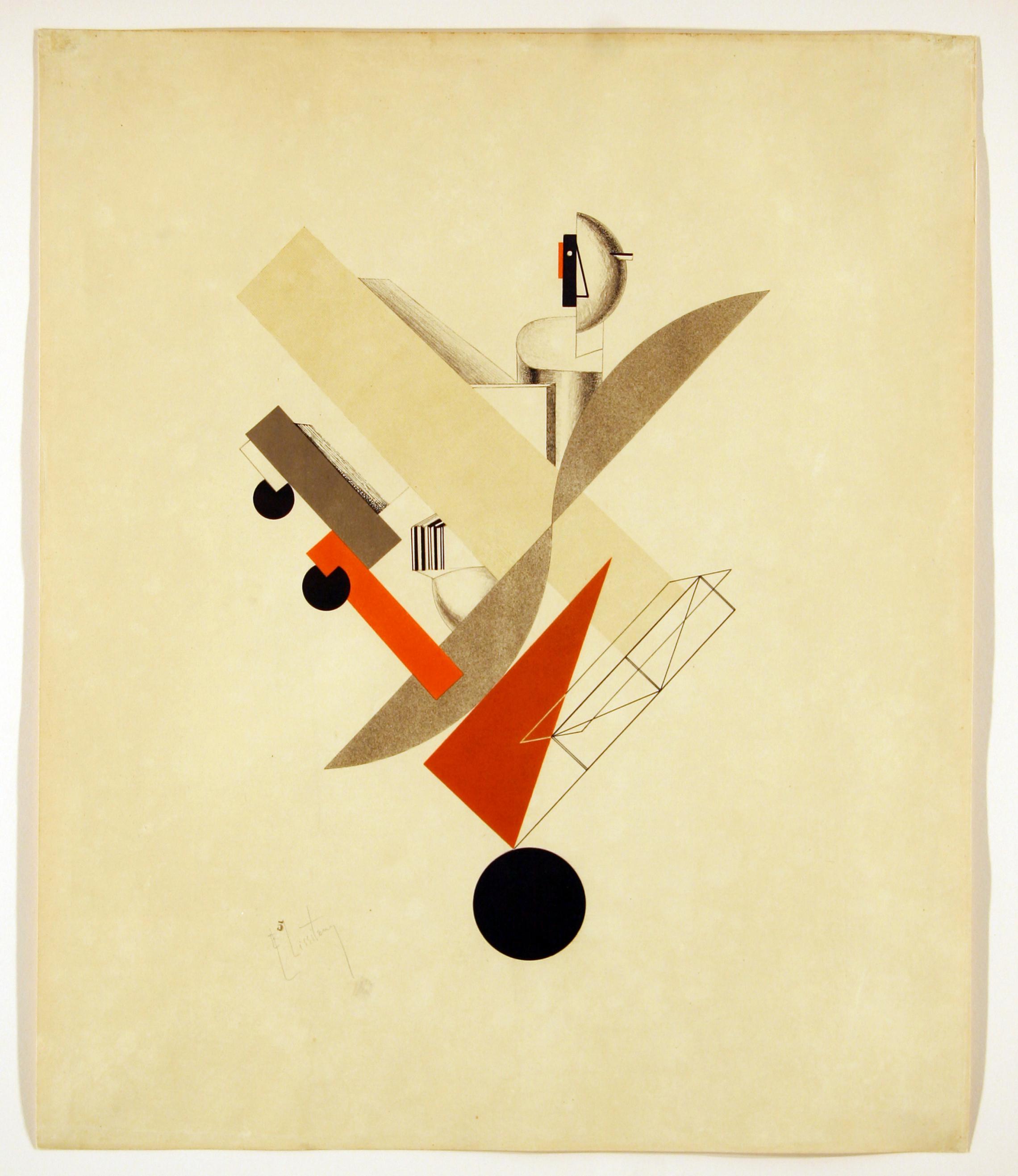 September 18, 2008 — "El Lissitzky: Futurist Portfolios" opens Sept. 26 at the University of Virginia Art Museum.
The exhibition features two complete sets of the influential Russian abstract artist Lazar Markovich (El) Lissitzky's futuristic portfolios, commissioned by the Kestner Society in 1923. Twenty prints in all are highlighted; eight from his "Proun" portfolio, which he intended as a prototype for future mechanical and architectural designs, and 12 from his "Victory Over the Sun" portfolio, created to commemorate Kasimir Malevich's 1913 futurist opera of the same name.
Between 1923 and 1928, Lissitzky took his "Proun" prints into a three-dimensional space, building abstract rooms.
In the U.Va. exhibit, contemporary artist Hideyo Okamura will recreate Lissitzky's 1923 Berlin "Proun" room by considering the architectural elements of the museum's White Room (formerly the Pine Gallery), where the prints will be displayed. Okamura will paint the "Proun" room with Lissitzky's preferred architectural tones and shapes, which will wrap around corners and ascend to the ceiling of the gallery to create wall-size abstractions that give viewers a three-dimensional experience of the artists' work.
Okamura has been working to transform the gallery since Sept. 8 and patrons are invited to visit the museum often to witness his progress. 
Okamura will give a public lecture on Sept. 26 at 5 p.m. preceding the museum's Final Friday reception in the museum. For additional programming associated with the exhibition, visit the museum's Web site, www.virginia.edu/artmuseum.
 "El Lissitzky: Futurist Portfolios" will close Dec. 28.
The exhibition installation is designed by Okamura and curated by Elizabeth Turner, vice provost for the arts and interim director of the U.Va. Art Museum, and by Elsa Smithgall, associate curator of The Phillips Collection in Washington, D.C.
"El Lissitzky: Futurist Portfolios" is made possible with the support of the U.Va. Art Museum Volunteer Board, Arts Enhancement Fund and Arts$.
— By Jane Ford