The University of Virginia had the distinction of receiving the most grant funding from the National Endowment for the Humanities of any university in the endowment's July funding cycle. Of the $1,745,414 granted to UVA programs, $324,554 went to Neatline, an innovative digital humanities software created by the Scholars' Lab.
"Neatline is a way of making online exhibits based on a map, a timeline and often a text," said Eric Rochester, manager of research and development at the Scholars' Lab. "It allows people to easily create custom data presentations and tell stories based off a map and timeline."
Illustrated maps appear as users open a Neatline project, each marked with clickable dots sprinkled throughout the landscape. In some exhibits, elements of the ancient world spring to life with visuals and vivid descriptions when clicked upon. Other Neatline projects track an author's trajectory, taking readers through the geography of both fiction and non-fiction. Dates run along the bottom of the screen to anchor each element of the Neatline project in time as well as space.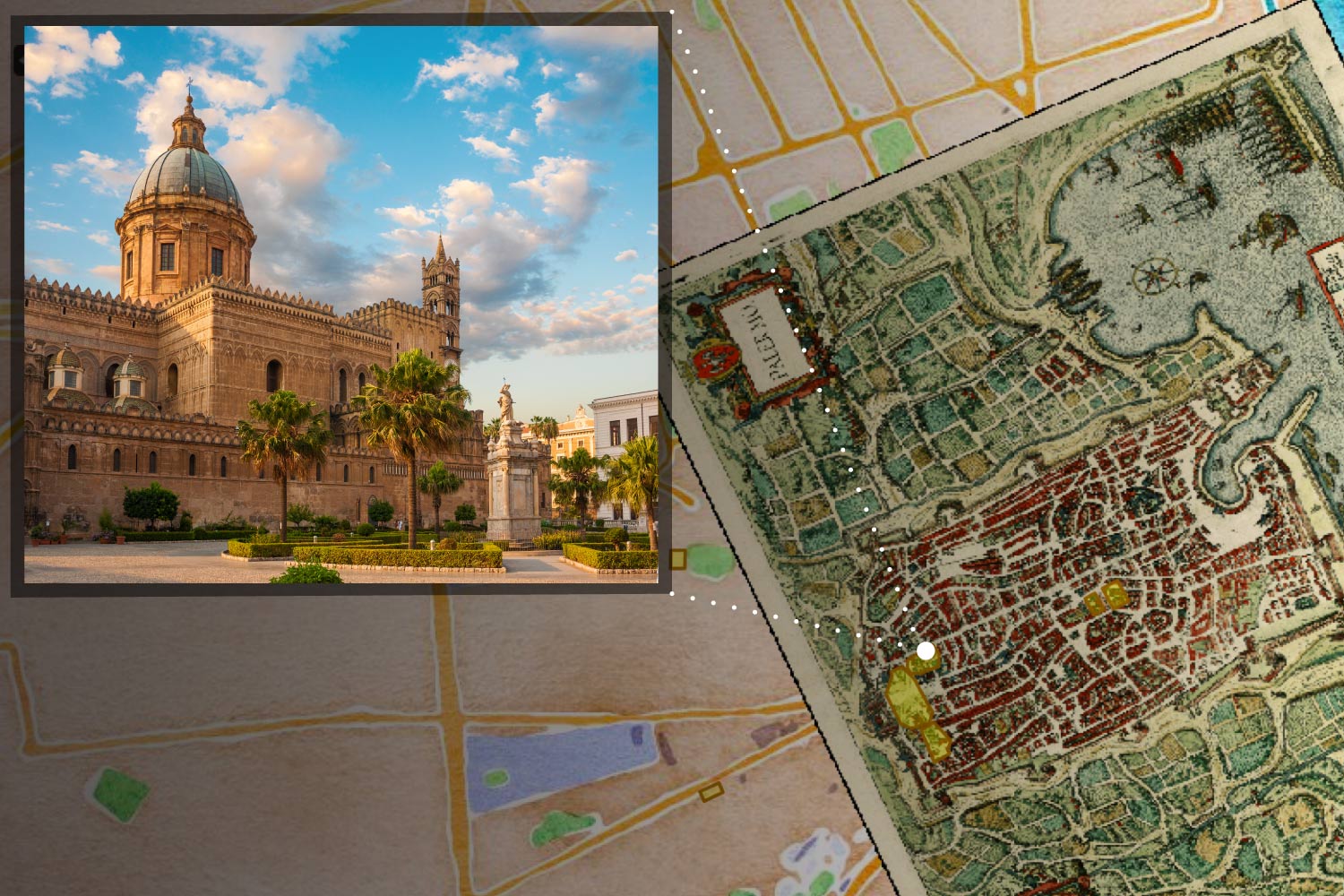 This rendering of Neatline elements shows an image of the Cathedral of Palermo and its location on the medieval map of the city. Lisa Reilly's architectural project has a full description of the cathedral that appears when it is clicked on the map.
Neatline – designed for humanities projects – is meant to help scholars think about their research and data in spatial terms. Overlaying portions of text and research information with maps and timelines make it easier to spot patterns and identify new avenues for inquiry.
"Neatline began in response to an interesting trend in digital humanities to become more spatial and to think about the importance of global information systems. There was a boom in accurate data about space," said Alison Booth, the director of the Scholars' Lab and a professor of English. "The platform is distinctive because it's tailored to the humanities. It caters to messy data and things that require continual interpretation."
She estimates that four to five UVA courses use Neatline every semester for research and presentation, but it's open to anyone and scholars all around the world have used it to further their studies. Today, there are more than 750 public Neatline exhibits available online and many others hosted on private servers.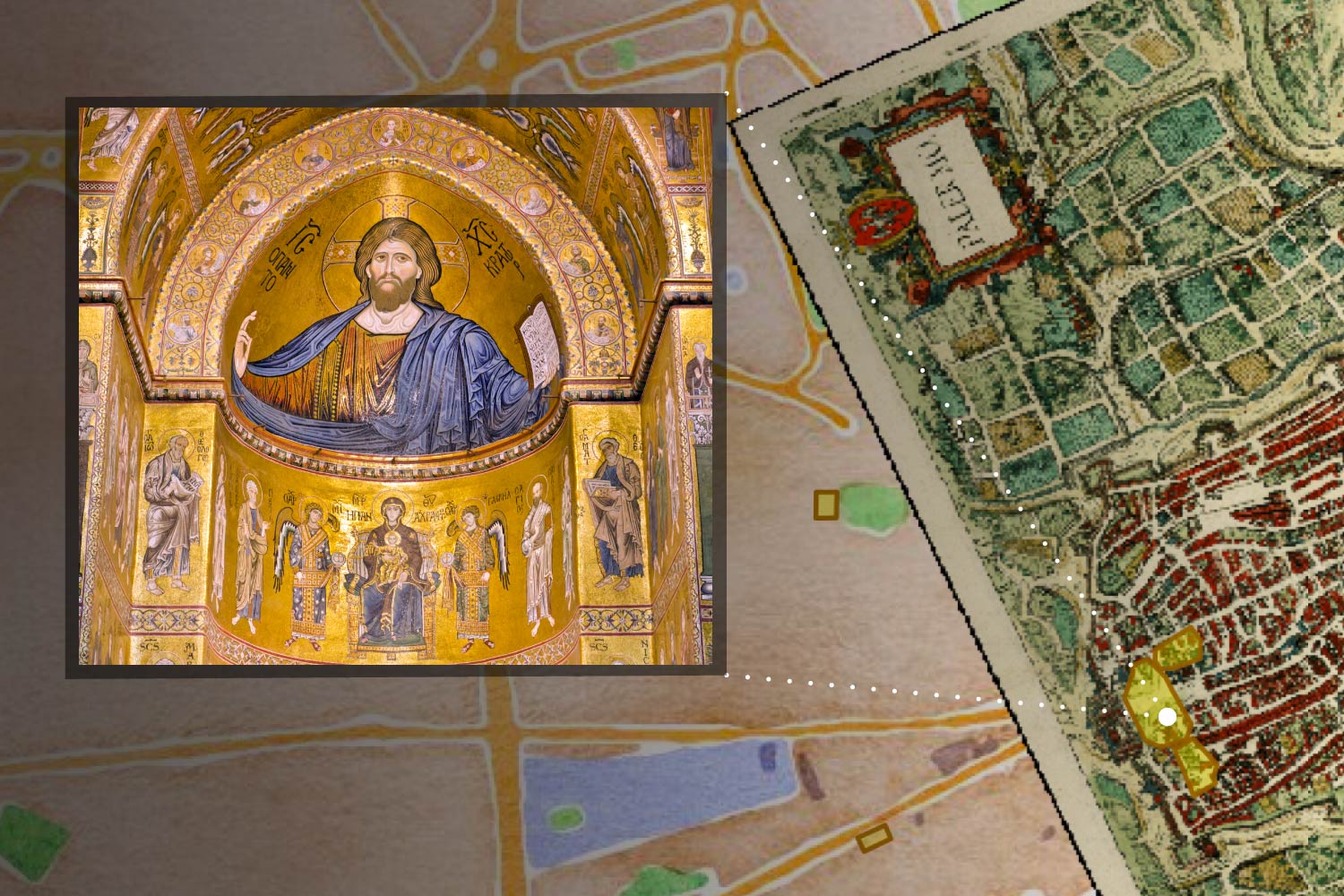 This rendering of a Neatline element displays an inner mosaic in the Cappella Palatina in Palermo.
Lisa Reilly, an associate professor and chair of the Department of Architectural History, has used Neatline in class as a way to help her students recreate the architectural past and map the evolving construction of cities over time. Students in her course, "On Haj with Ibn Jubayr: Reconstructing the 12th-Century Mediterranean," built one of the most extensive Neatline projects to date.
By using existing research data and the firsthand travel accounts of two Muslim pilgrims traveling through the Mediterranean on their way to Mecca, Reilly's students were able to map and describe the changing layout of major regional cities over hundreds of years. In historic cities like Palermo in Sicily, they show each new layer of architecture and shifts in design as the city transitioned from a heavily Islamic-influenced society to one dominated by Norman Christian culture.
"The project helped my students become more comfortable with digital tools, but it also let them do things they couldn't otherwise do. One thing I try to emphasize with digital tools is asking, 'What can we do with this that we couldn't do before?'" Reilly said.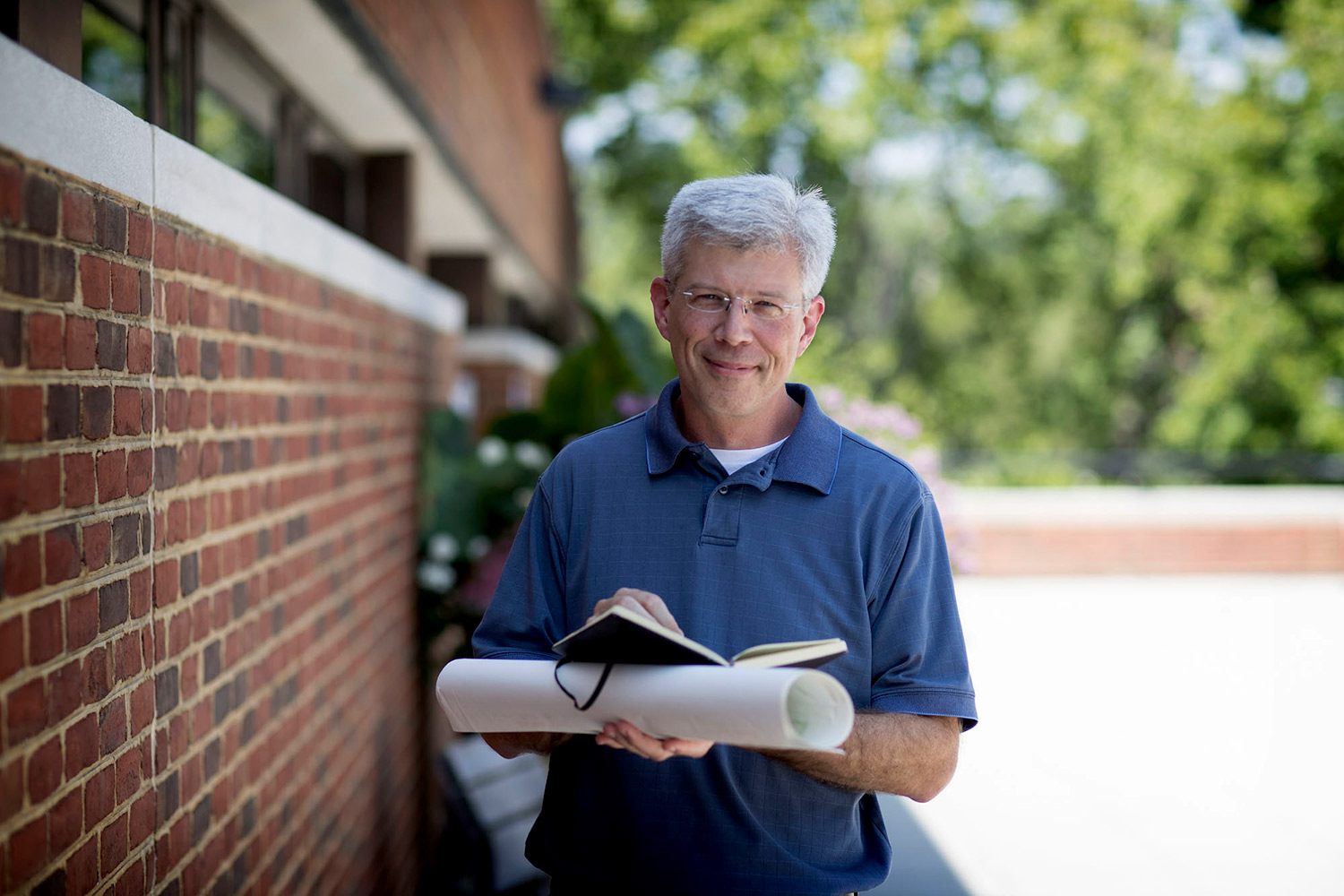 Eric Rochester is the manager of research and development at the Scholars' Lab and has helped develop Neatline to its current form. (Photo by Dan Addison/University Communications)
In this case, Neatline allowed Reilly and her students to create a visual representation of two differing accounts that would have been difficult with traditional tools. They juxtapose the detailed personal accounts of the cities by Muhammed Abū'l-Qāsim Ibn Ḥawqal in the 10th century and Abū l-Husayn Muhammad ibn Ahmad ibn Jubayr al-Kenani two centuries later.
Though Reilly's course delved into historical data, Neatline is also used to make visual explorations of the literary world.
"A lot of literature students are not necessarily well-trained in thinking about maps and visual argument so they can gain new insights, and Neatline helps them acquire design-thinking skills that they might not already have," Booth said.
Booth pointed to graduate students of hers who used Neatline as a new way to analyze Mark Twain's "A Tramp Abroad." By mapping Twain's real-life travels through Europe, they were able to better theorize about which experiences were the inspiration for the episodes Twain describes in the book.
"That project reconstructs the chronology in a way the book does not, so you learn something you wouldn't have if you hadn't had those maps," Booth said.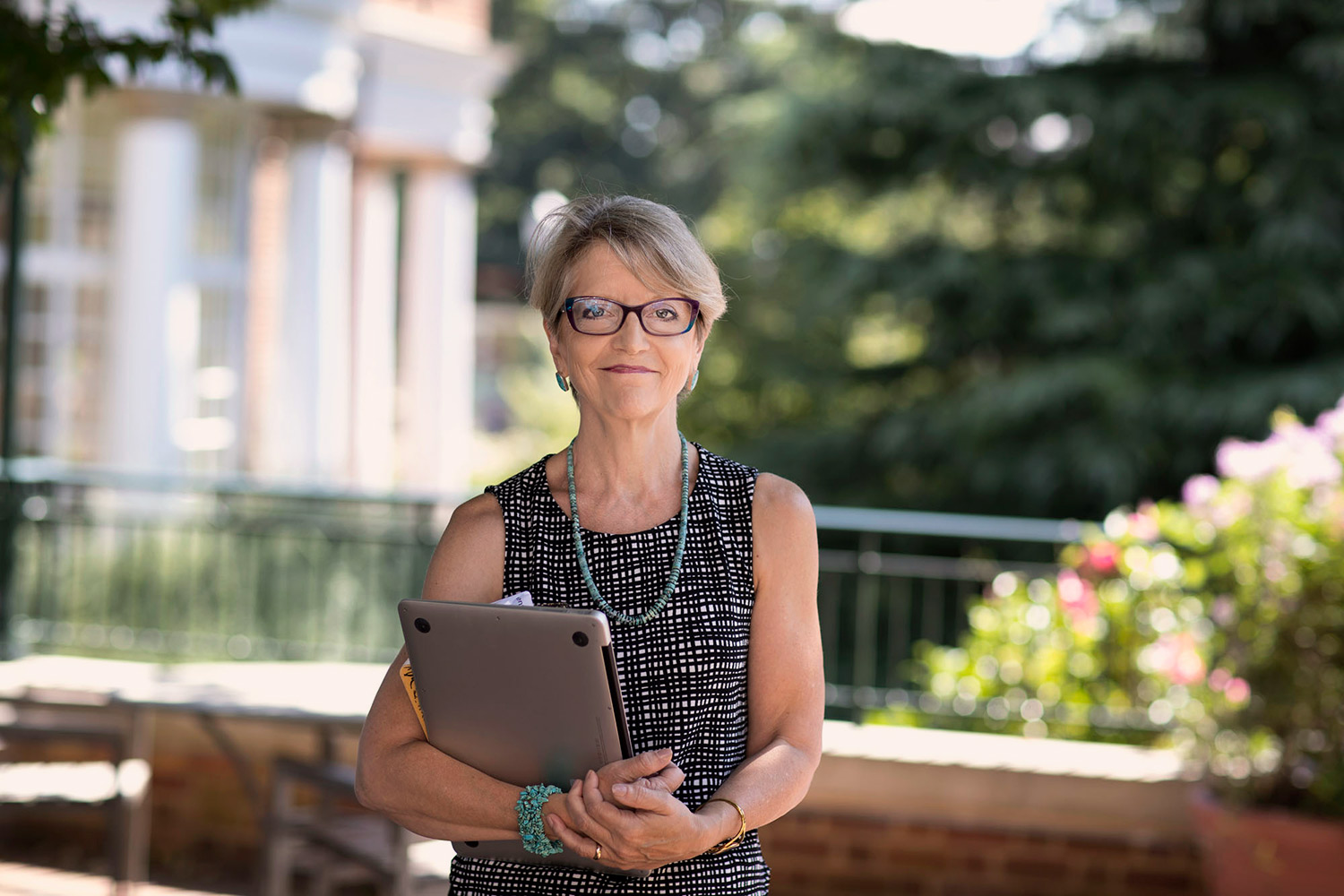 Alison Booth is the director of the Scholars' Lab and a professor of English. She uses Neatline in her graduate literature courses. (Photo by Dan Addison/University Communications)
The software works by plugging into a program called Omeka, a WordPress-like creation designed to help small to midsize libraries create digital exhibits. Neatline has been in constant evolution since 2011 as developers at the Scholars' Lab add new capabilities and methods for customization. It's become more flexible in recent years, allowing users to input larger amounts of data and discard certain applications like the timeline tool where necessary. With the recent grant funding, they hope to expand the platform even farther with new mobile and touch screen options.
"There have been major advances in mobile technology since the platform was first created," Rochester said. "With new mobile capabilities, we could add more hands-on drawing features with a stylus or your finger. So in a sense, you could get your hands dirtier."
The Scholars' Lab would also like to experiment with the eventual incorporation of virtual reality technology into the Neatline toolkit. In the meantime, they have plans to expand training with the platform to even more students and faculty in the hopes that they will spread it to more classrooms at UVA and beyond.
"It's not simply mapping something," Booth said. "It's coordinating the spatial with the textual and the argumentative. That's what makes it Neatline and not just putting points on Google Earth."
Article Information
August 26, 2016
/content/new-grant-boosts-unique-digital-humanities-platform