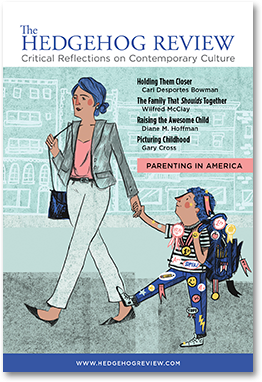 Parenting is a hot topic in America today. Addressing that theme, the fall issue of The Hedgehog Review attempts to "answer a deeper question about how the relationship between parents and children is undergoing a very fundamental transformation," said Joseph E. Davis, editor of the journal, which is published by the University of Virginia's Institute for Advanced Studies in Culture.
Whether a parent or not, he noted, "everybody has a stake in the future of children. How we think about children is a kind of window on the future."
"Parenting in America" opens with an essay by Carl Desportes Bowman, director of survey research at the institute, and draws on original research conducted by the Institute surveying 3,000 parents on their child-rearing beliefs and practices. Bowman explores why parents today might approve of, or even encourage, their children returning home after graduating, and why more and more parents want to be best friends with their children.
In other parenting-related articles: anthropologist Diane Hoffman takes on Americans' curious obsession with raising superlative, even "amazing" children; historian Wilfred McClay discusses the anxiety that some parents feel about imposing moral imperatives on their children; Penn State professor Gary Cross explains parenthood through images depicting childhood from the 19th century to the present;; and institute fellow Stephanie Muravchik surveys the extensive recent literature on parenting in her bibliographic review, "The Cultural Contours of Parenthood." 
Also, the fall issue includes John H. Zammito's "The Nagel Flap," an astute examination of the controversy surrounding philosopher Thomas Nagel's book, "Mind and Cosmos"; Geoffrey Hartman's "Terror and Art," a meditation on the power of art to respond to the phenomenon of terror in our time; and Steven Philip Kramer's "The Return of Spain's Sephardim," a piece about the Spanish government's effort to make amends for the expulsion of most of its Jewish population in 1492. The issue also runs a tribute to scholar and public intellectual Robert Bellah by his friend and former colleague Richard Madsen.
This issue of The Hedgehog Review is also the first one published under new executive editor Jay Tolson and new managing editor Brianne Warner Alcala, both of whom joined the staff this summer.
 Although the majority of contributors to the journal are scholars, they write to inform "thoughtful citizens or scholars in other fields," Alcala explained, which makes The Hedgehog Review "more accessible than what you might find in a peer-reviewed journal."
While each issue of The Hedgehog Review focuses on a theme, the journal also includes essays on a wide range of topics. Recent themes have included "The American Dream," "Work and Dignity" and "Science and Moral Life." The upcoming spring issue will concentrate on Europe, its future, and questions dealing with European identity.
The Hedgehog Review is published in the fall, spring and summer. To subscribe, visit hedgehogreview.com. Copies are also available at select Barnes & Noble bookstores around the country, at U.Va.'s main bookstore and at the Darden School of Business bookstore.
Media Contact
Executive Editor/The Hedgehog Review Institute for Advanced Studies in Culture
jtolson@virginia.edu 434-243-8022